11 Inspiring Charity Campaign Page Examples (and Why They Work)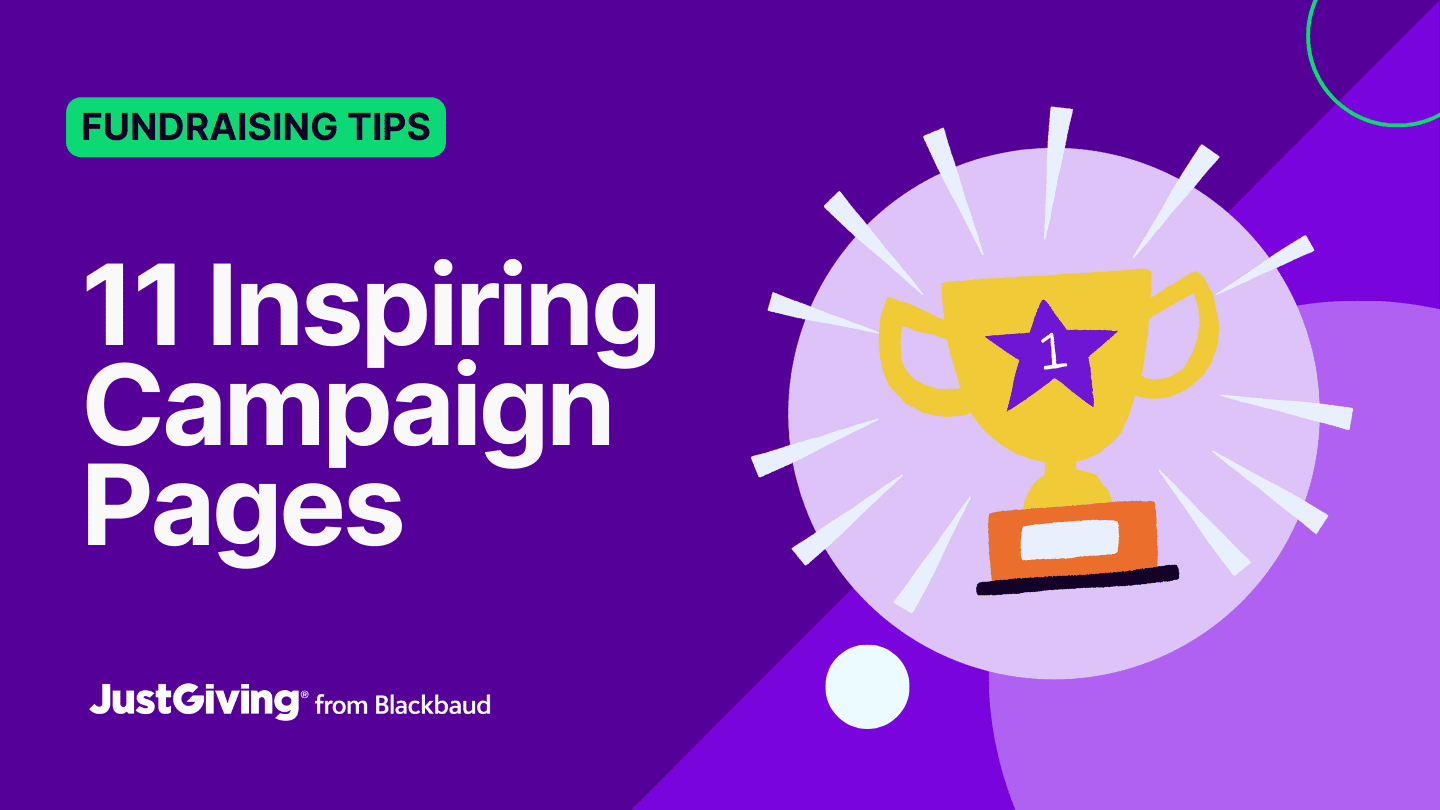 Since we launched JustGiving, we've been all about helping charities like yours raise more money.
While there are many ways to use JustGiving for this, Campaign Pages are one of the simplest and most effective.
And better Campaign Pages = better fundraising!
We're excited to show you 11 campaigns that get the basics right…, then go a step further by using all the JustGiving tools available.
These pages motivate fundraisers to raise more, donors to give more, and each charity's community to get behind their mission.
Get ready to be inspired! Let's jump in. 
Back Up
Back Up's #NoLimits London to Paris campaign raised £118,143 by nailing the Campaign Page basics. The page leverages a clear photo at the top depicting its fundraising activities.
The page also uses JustGiving's Quote Text feature to make the most important text pop out, and embeds YouTube videos to share even more information about the campaign. 
St Rocco's Hospice
St Rocco's Hospice smashed its fundraising goal by raising £16,758 with its Strictly St Rocco's 2022 campaign. The charity uses a header image made specifically for the campaign, a reachable fundraising target to inspire supporters, and embedded YouTube videos to share more information.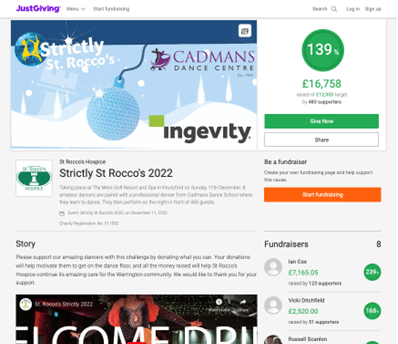 Mind
Mind made its Campaign Page for London Marathon personal by highlighting its amazing fundraisers and why they're supporting Mind. 
Education Endowment Foundation (EEF)
EEF features clear shoutouts to the impact of its Sunday Times Charity Appeal campaign by separating each section by location and including links to the schools involved. This makes it easy to see where donors' money is making an impact – driving more people to want to .give. 
Myeloma UK
Myeloma UK partnered with Joe Lycett for his Ireland tour and promoted the campaign's QR code at in-person comedy gigs to bring more donations online. You can create a QR code for your own campaign page, then share with people via email, social media, and on your website, or in person! 
Club Peloton
Club Peloton used the Teams function to split out groups that are fundraising together for its Cycle to MIPIM 2022 campaign. On a Campaign Page, you'll also get a leaderboard so you can inspire healthy competition within your community and track your supporters' fundraising progress. A bit of friendly rivalry to help you raise more!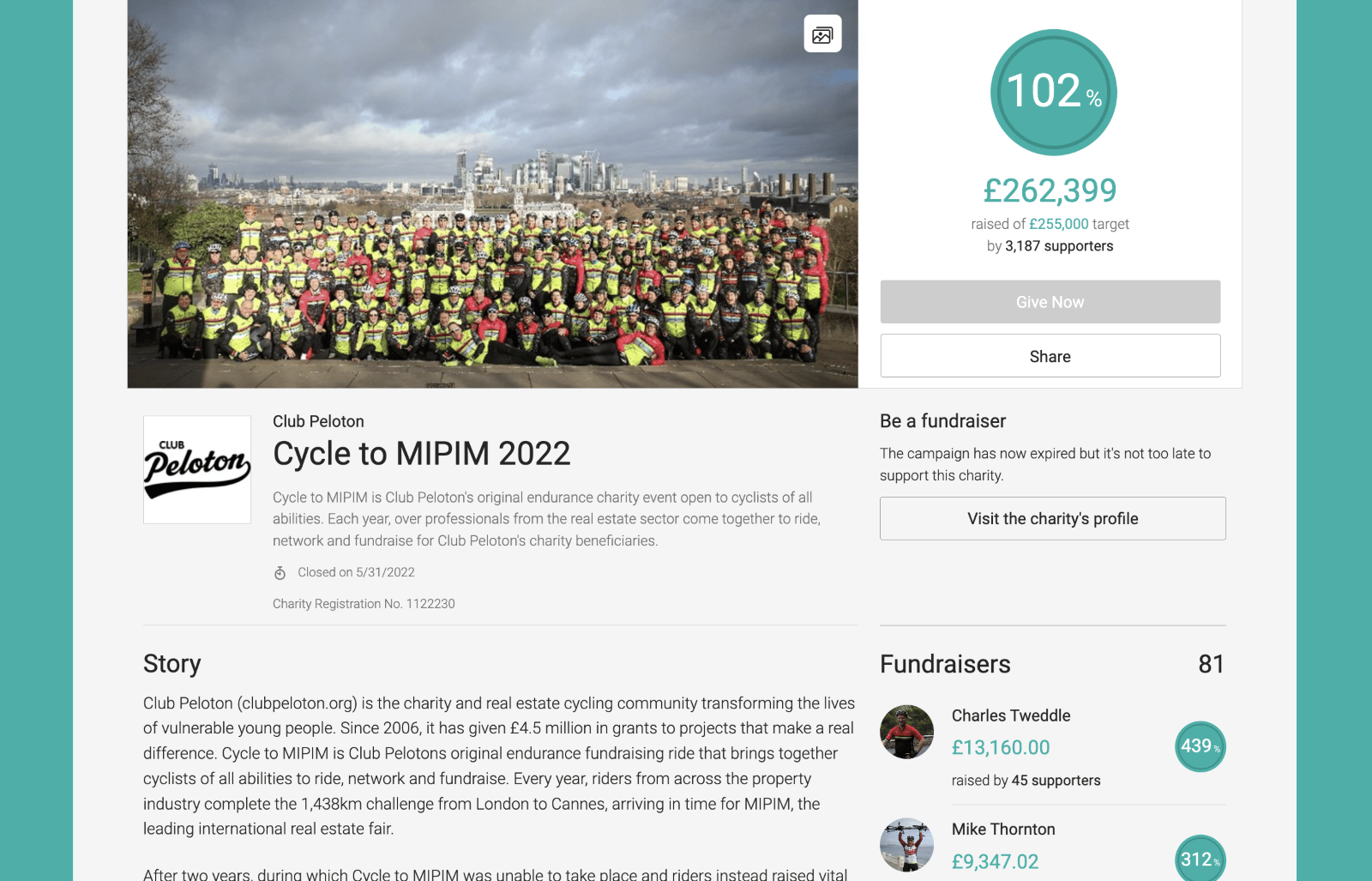 Hospice of the Good Shepherd
The charity ran its £50 Corporate Challenge, a great name that immediately makes the fundraising challenge and ask clear. This is a great example of working with corporates in a simple but effective way. 
The Wildlife Aid Foundation 
The Wildlife Aid used a clever way of updating donors on the progress of its Simon's Last Wish campaign that kept people coming back for more. The charity recorded a new YouTube video and edited its Campaign Page every time they wanted to share an update. A great way to keep your donors in the loop! 
Tommy's, the baby charity
Tommy's encouraged supporters to link fitness apps using JustGiving's integration with Strava and Fitbit for its London Landmarks Half Marathon campaign. The hashtag #TeamTommys was front and centre to encourage sharing and created a sense of community for everyone taking part. The team at Tommy's also set up a Club on the Strava app supporters could join too.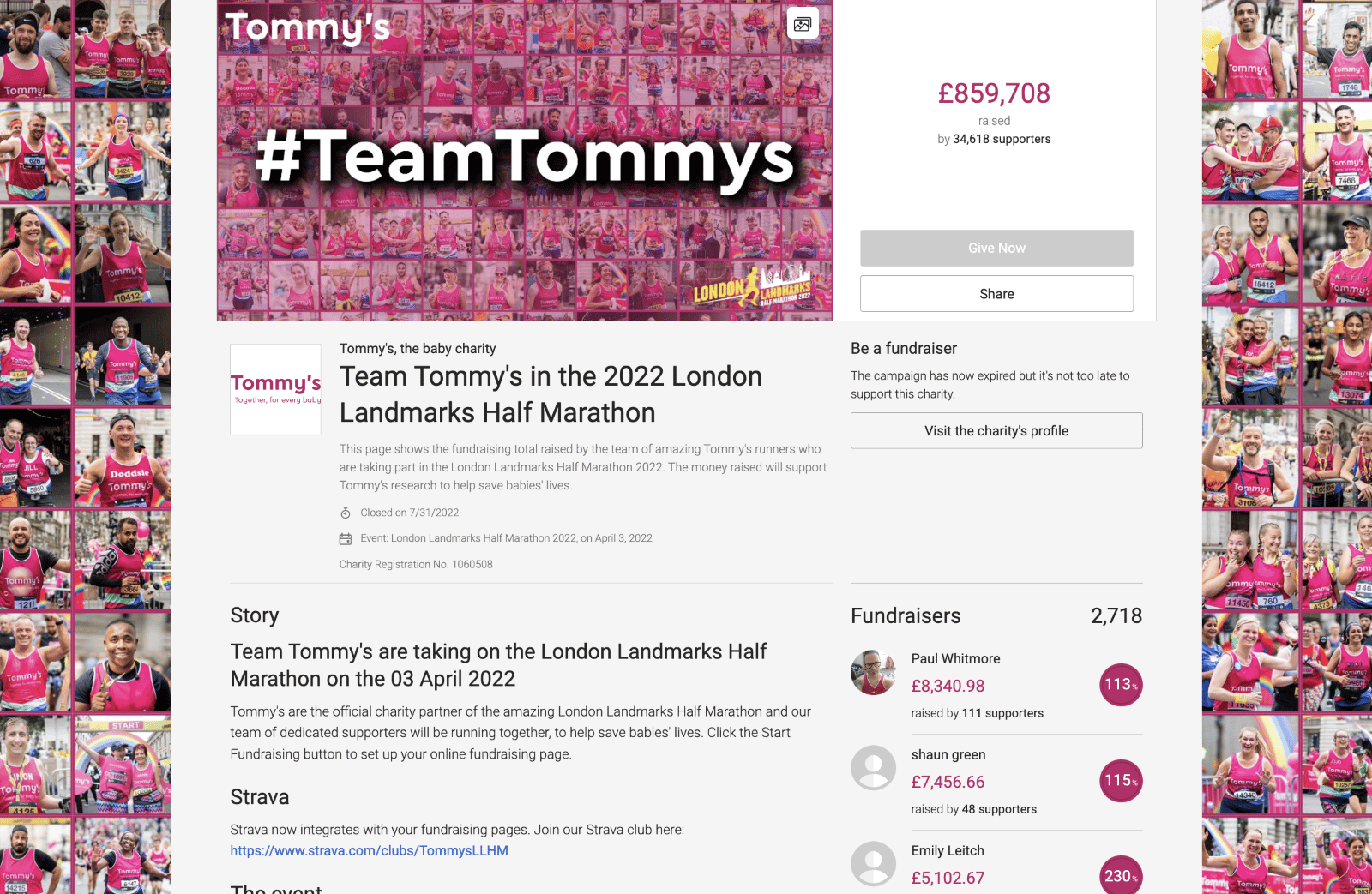 Cancer Research UK
The Bowelbabe Fund, launched by Deborah James (aka Bowelbabe), used its Campaign Page to share updates from the charity and Deborah's family, and soon became a place that brought together the huge wave of support in one place. A wonderful tribute to both Deborah James and the incredible work that The BowelBabe Fund does.  
The British Red Cross Society
The quick reactive campaign creation from the British Red Cross Society saw millions raised in just days. The charity used a JustGiving Campaign Page for its Ukraine Crisis Appeal to share the scale of the Ukraine crisis and inspire more giving.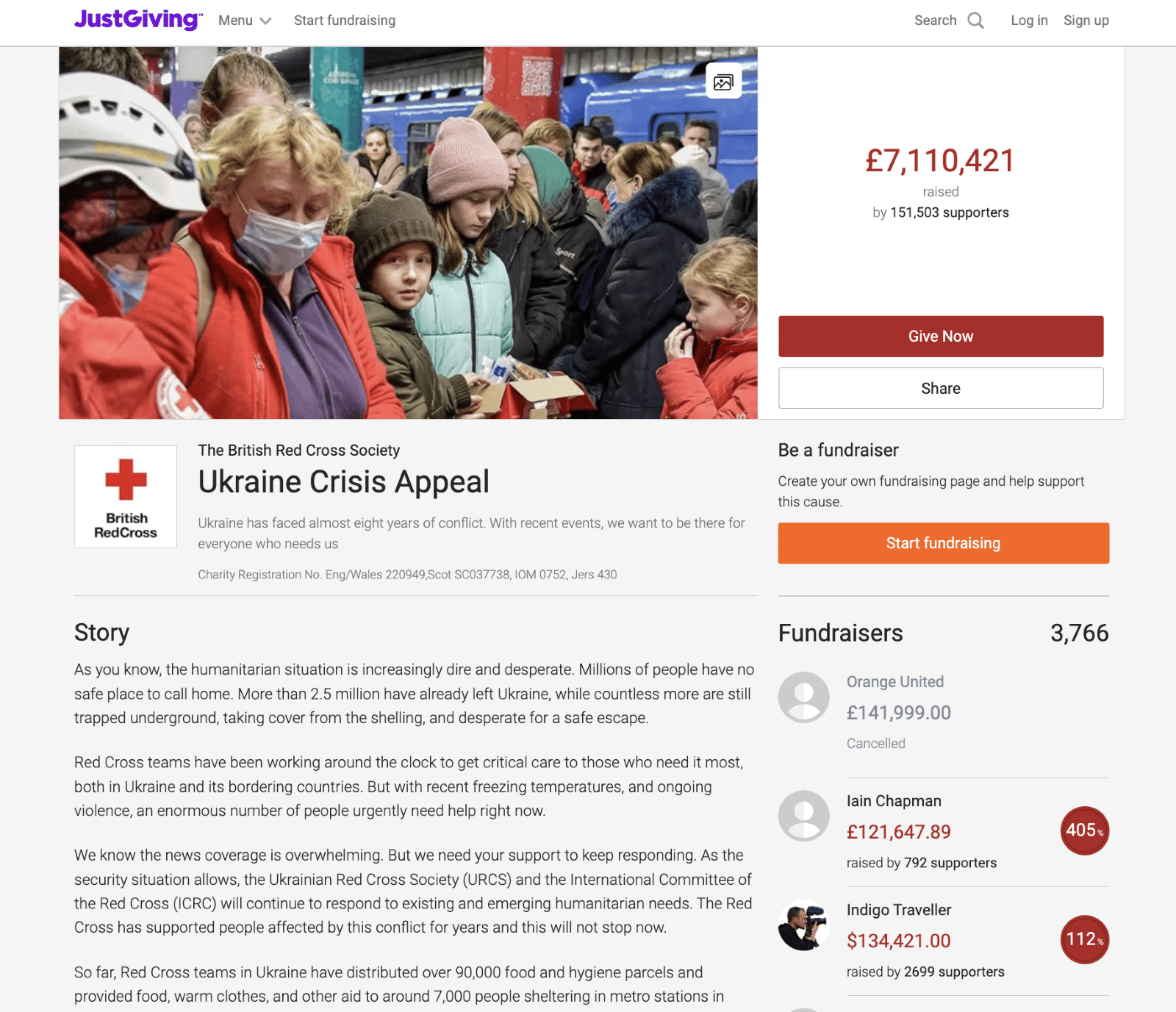 Planning a fundraising campaign for 2023?
Campaign Pages are the best ways to bring your supporters together and raise more money!
It's your super-powered fundraising toolkit: raise more money with integrations, leaderboards, and other charity-favourite campaign tools, all for free.
Feeling inspired?
Get inspiration in your inbox!
Don't miss out on digital fundraising tips, tools and trends.
Brian is on the Community and Content team at JustGiving. He's passionate about sharing online fundraising tips, research, and inspiration to help fundraisers raise more money, build their brand, and grow their cause.