16+ Inspiring Ways Alzheimer's Research UK Raised £1.2 Million in London Marathon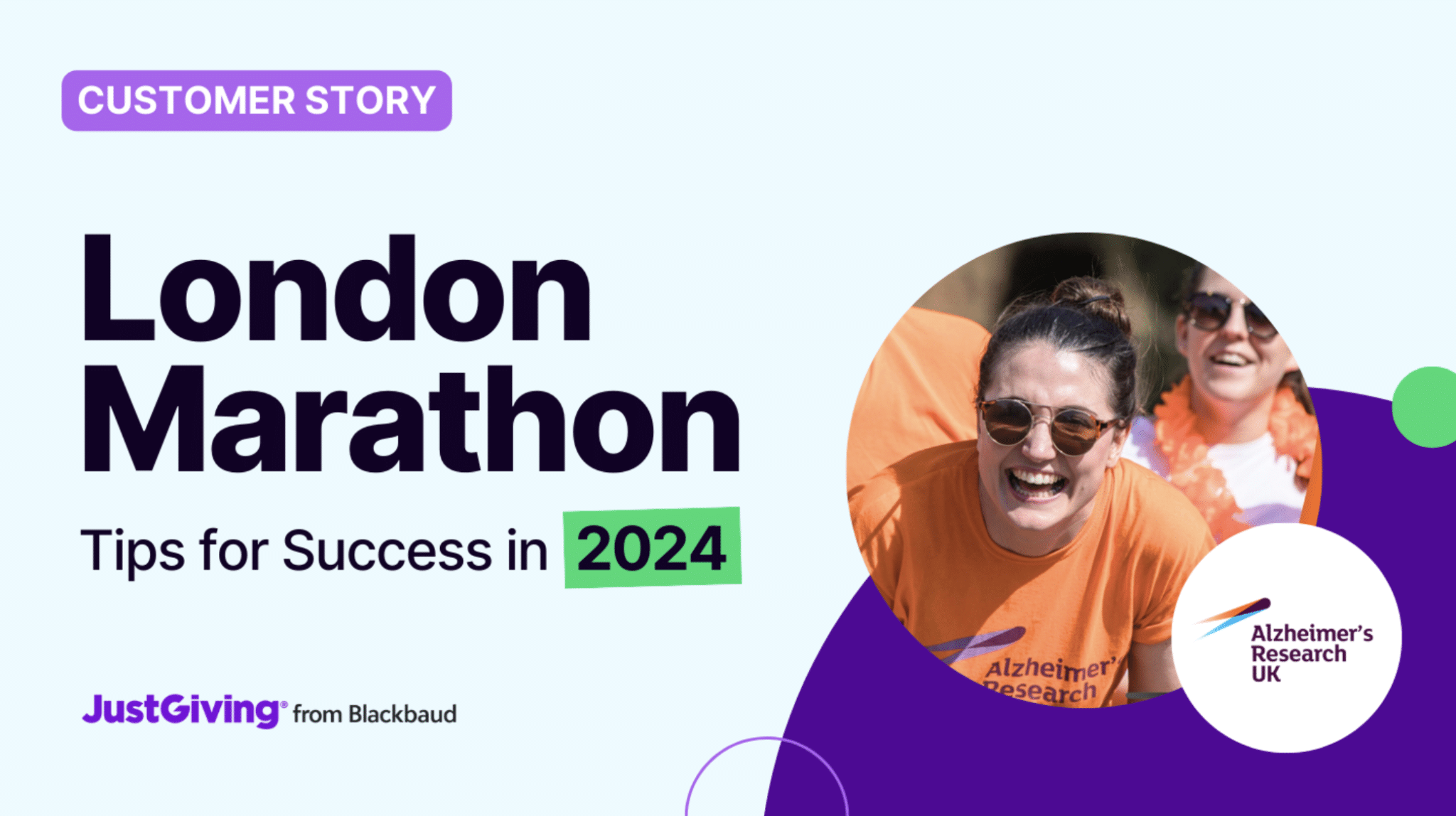 London Marathon is the most popular marathon in the world. That means it's also one of the biggest charity fundraising opportunities of the year! Get this: charities that raised money in London Marathon 2023 raised an astronomical £39 million on JustGiving combined.
Get to the starting line
Do you have your London Marathon campaign page set up for 2024? 28% of charities polled already do! Our data shows that setting up your campaign early raises more.
Learn how to set up a London Marathon campaign step-by-step
Alzheimer's Research UK is the UK's leading Alzheimer's research charity, aiming to find a cure for dementia. This means raising a lot from major community events like London Marathon is critical for the charity.
Ready to get inspired? We talked with the event team's Aimee Cowling and Ellie Shelford to learn how they attracted a community of 462 runners who managed to raise £2692 on average online, with an incredible average of £3007 on JustGiving. Together, they raised an incredible £1.24m in London Marathon 2023.
How to welcome new fundraisers
Here's how the team at Alzheimer's Research UK selects and welcomes new fundraisers to #TeamARUK.
1. Choose the most passionate fundraisers 
Each year, charities get a specified number of entry places for London Marathon. This allows a limited number of participants to join their official fundraising team on race day.
2. Learn about your new team 
"When fundraisers apply to join #TeamARUK, we organise a phone or Zoom call with all our successful applicants. This might include learning their story and personal connection to the cause.
We want to give that personalised touch and make sure they feel valued. If they're the right fit for our team, we offer them a place!"
3. Send a welcome email 
Once our team is chosen, we send a welcome email, which includes:
How to connect with fundraisers during a campaign
It's all about the connection! Alzheimer's Research UK ensures their runners feel supported and motivated through their journey. Here's how.
4. Bring your fundraisers together 
Alzheimer's Research UK leverages Facebook Groups to connect with former and current fundraisers.
"A key to staying in touch with our amazing community is our Facebook Group. This helps new fundraisers immediately feel they're part of something bigger."
Over the years, the group's grown to include as many fundraisers as they can get from each year. This means that when new fundraisers join, they can see training and fundraising tips from former runners.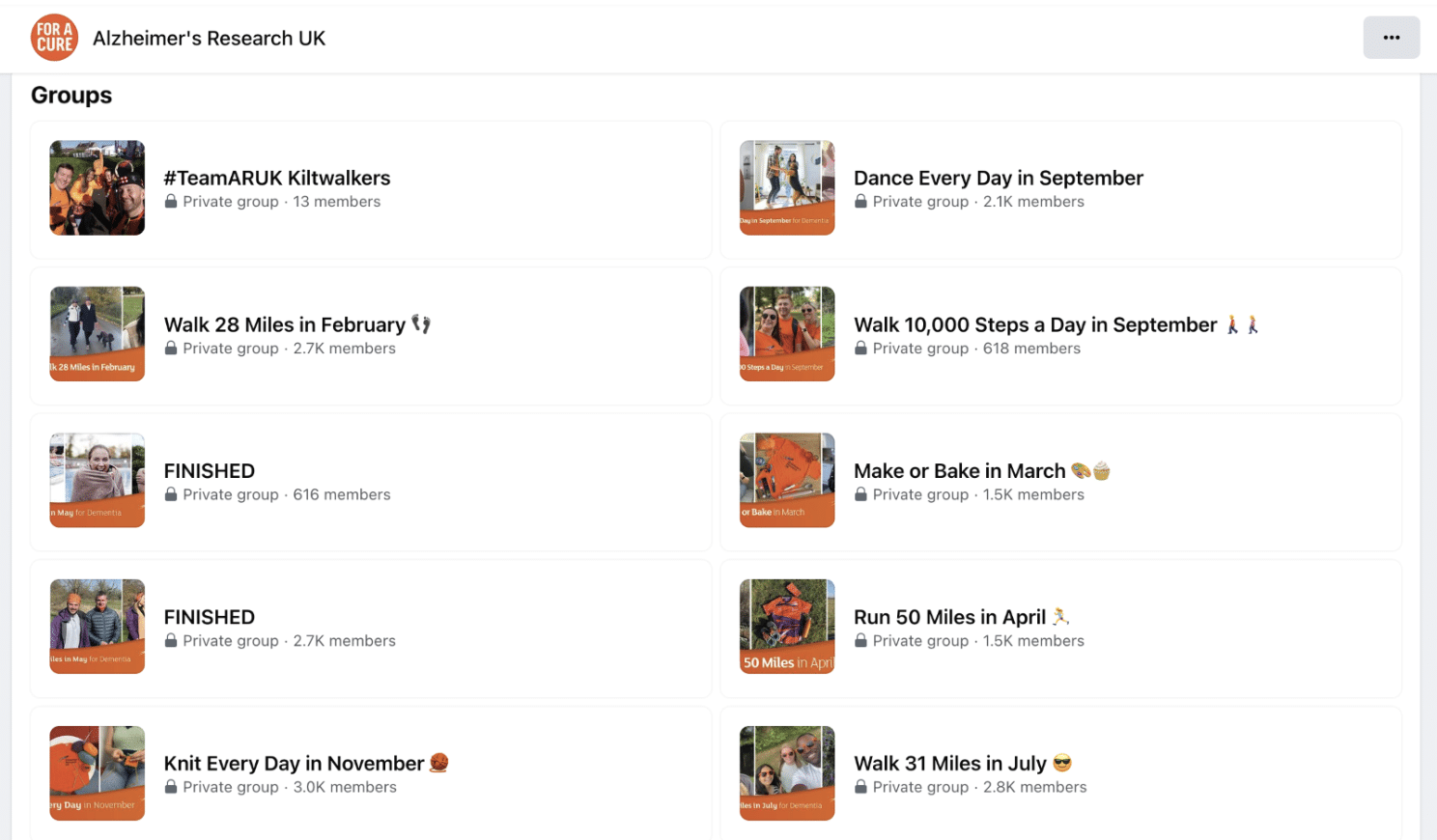 5. Host an event for your fundraisers 
Another initiative the charity runs to help connect with fundraisers (and connect them with each other), is their Training Day.
"This is an opportunity for fundraisers to meet each other face to face to talk training and fundraising. We coordinate snacks like biscuits, tea, and coffee, and it's a great way to meet others raising for the same cause."
6. Make regular phone calls 
Make welcome calls to welcome supporters to the team. Alzheimer's Research UK also encourages them to set up their JustGiving fundraising pages right from the first phone call.
Make check-in calls to maintain momentum and improve activation.
Say thank you. Alzheimer's Research UK's "Thank You Friday" sees the team aim to call three supporters each Friday to say thanks and check in!
Make "good luck" calls in the week leading up to London Marathon to give them that extra push.
7. Send monthly emails 
"Email is crucial. We send a monthly email that includes fundraising tips, videos from our coach, fundraising updates, and more."
Want to offer your runners training support but don't have the resource? We've got you covered. Our partnership with Runna will set your runners up for race day success.
8. Send text messages to your fundraisers 
"We use software to send SMS text reminders, team fundraising updates, motivating updates, and say good luck the morning of the race!"
The best ways to motivate fundraisers
Here are a few special ways Alzheimer's Research UK motivate their fundraisers to reach their goals during their campaign.
9. Share top fundraising tips
"We share JustGiving's top tips for supporters to help them make the most of their fundraising page."
A few of the pro tips we share with our fundraisers include:
Personalising your page's story section helps raise up to 72% more
Setting a fundraising target helps raise up to 66% more
Connecting a fitness app helps raise up to 8% more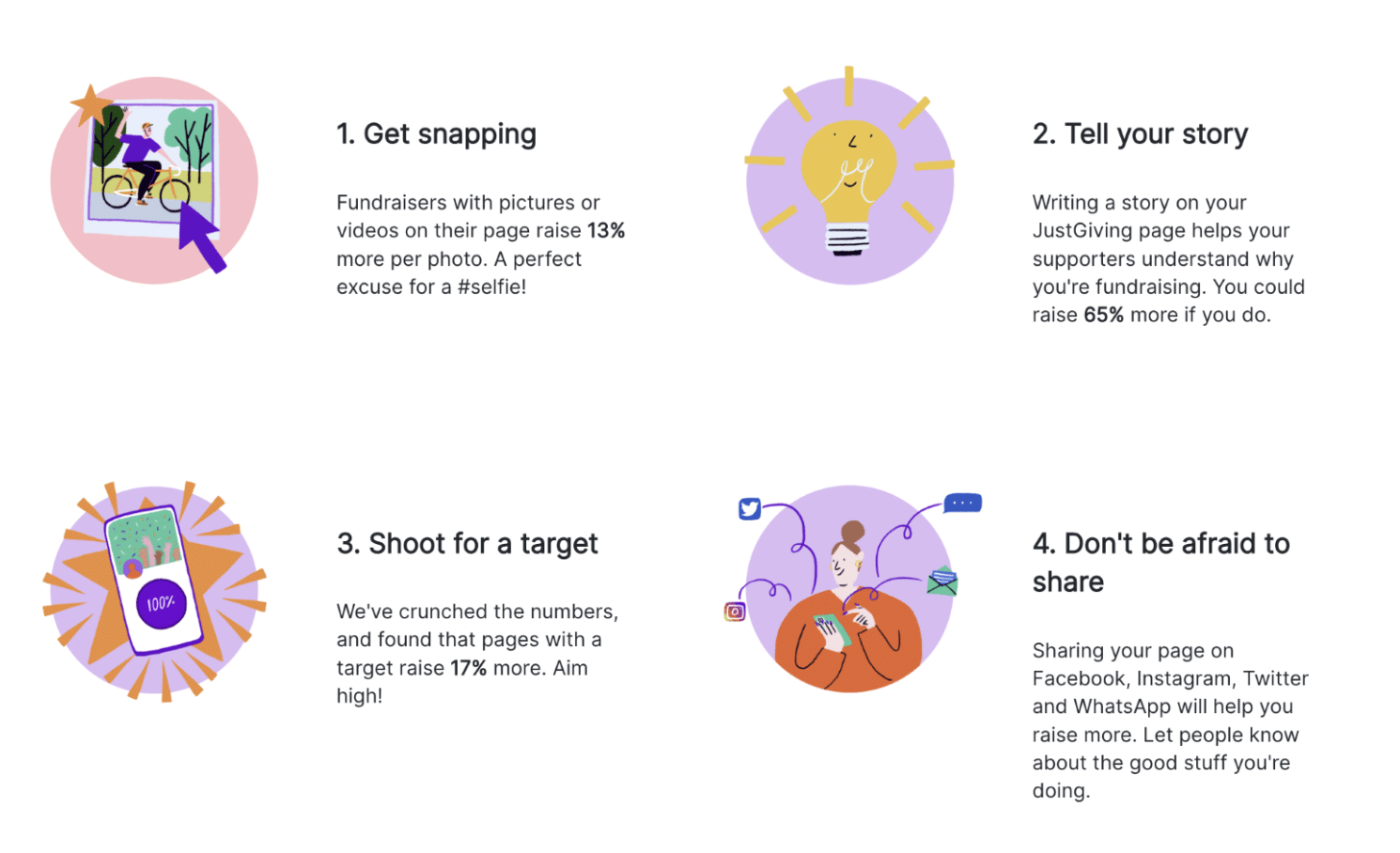 Did you know…
68% of all London Marathon fundraising happened on JustGiving in 2023. It's no wonder why 96% of London Marathon fundraisers on JustGiving said they're Likely or Extremely Likely to use JustGiving again!
10. Get the first donation fast 
"We encourage our supporters to self-donate the amount of a coffee or pint each week or month." This is an easy way to get people to get that first donation themselves – which leads to them raising more in the long run!
11. Offer incentives 
"We encourage supporters to hit 50% of their goal milestone by January to have the chance to win a spa day or bundle from one of our corporate partners."
12. Share plenty of updates 
"We celebrate our team's wins and share team milestones in our Facebook Group."
13. Show them some love 
"We share Valentine's Day messages to inspire runners they start their long training runs leading up to London Marathon."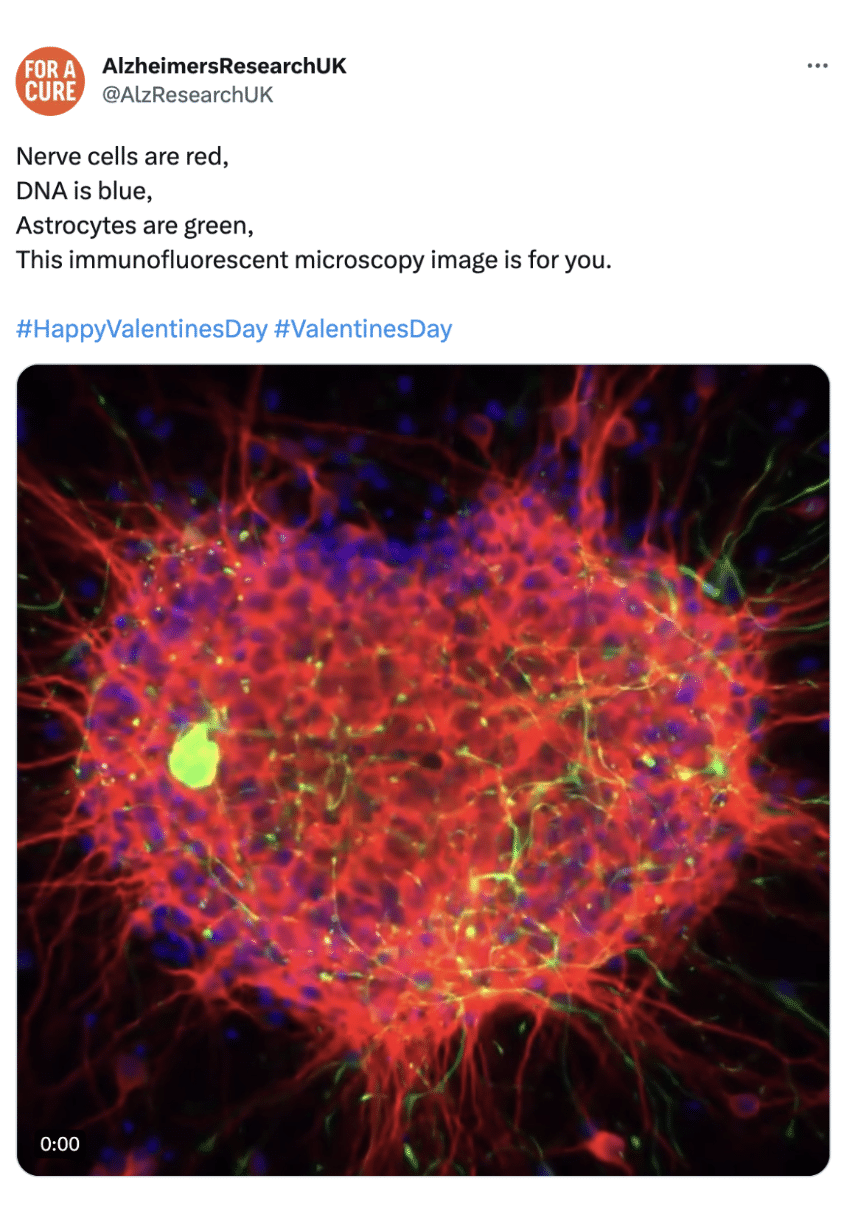 14. Offer special sessions 
"We offer our runners 1:1 sessions with our team running coach."
15. Let them see your charity's progress 
"We share videos from our scientists to show what we're working on and how their dedication is making a difference."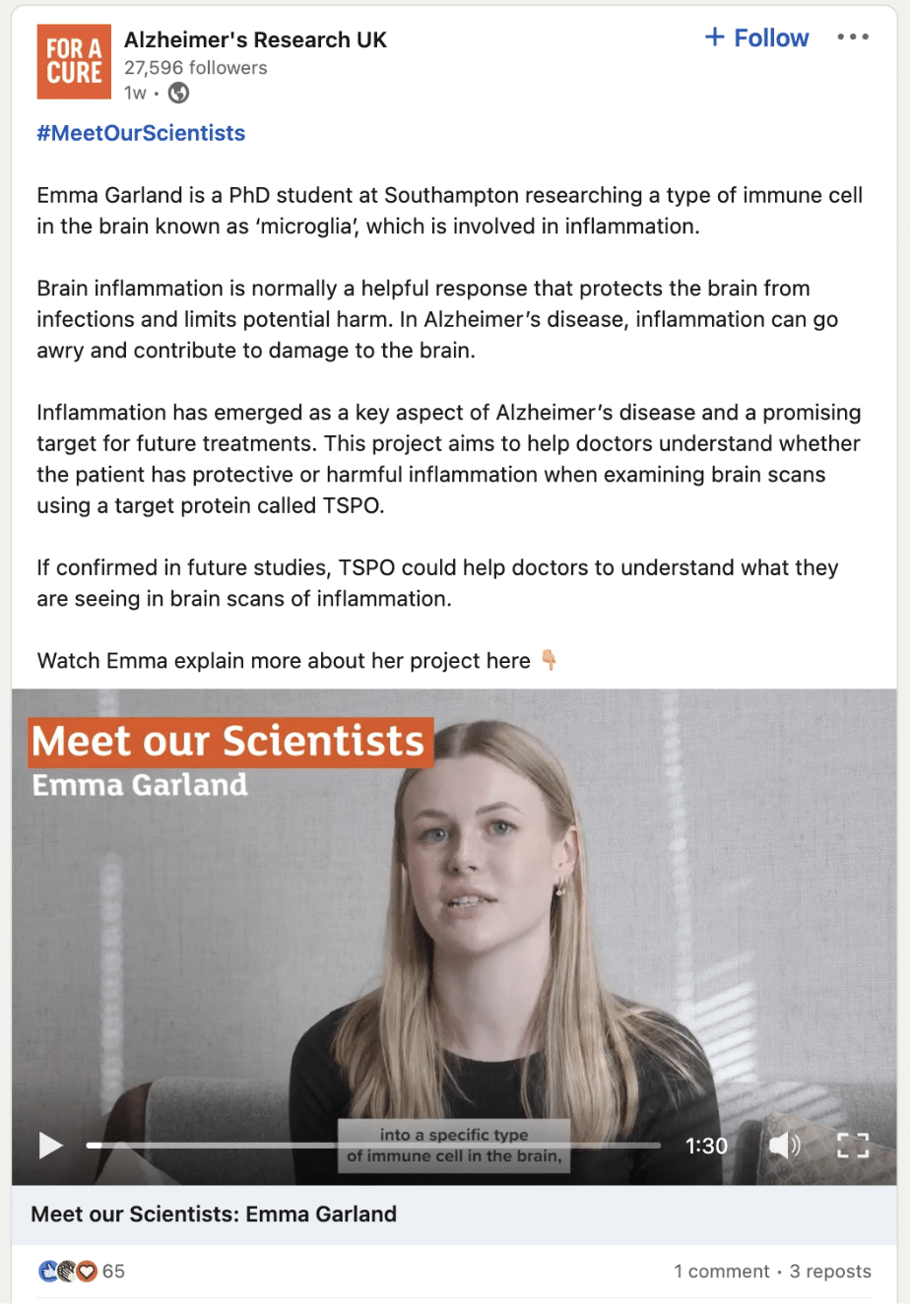 16. Make your runners famous 
"We provide "press templates" with top tips from our Communications team. This includes all the info media outlets might ask for when doing a story on the runner.
The supporter simply fills out the document we send them and sends it to media outlets.
This helped get us 673 pieces of local press coverage in April 2023. Sometimes our fundraisers have even ended up on the front page of a newspaper!"
How to connect with fundraisers after a fundraising campaign
Even when the fundraising event ends, Alzheimer's Research UK continues to go the extra mile for their supporters.
They send supporters handwritten cards, completion certificates, and personalised photos… just to say thank you.
The charity also can be found cheering runners on when it matters most – on race day! Alzheimer's Research UK don't just stop there, either – they host a post-race party, and offers discounts for future events too!
If your charity team can't make it to London for race day, know that our JustGiving cheer squad will be there, making lots of noise and cheering your runners on!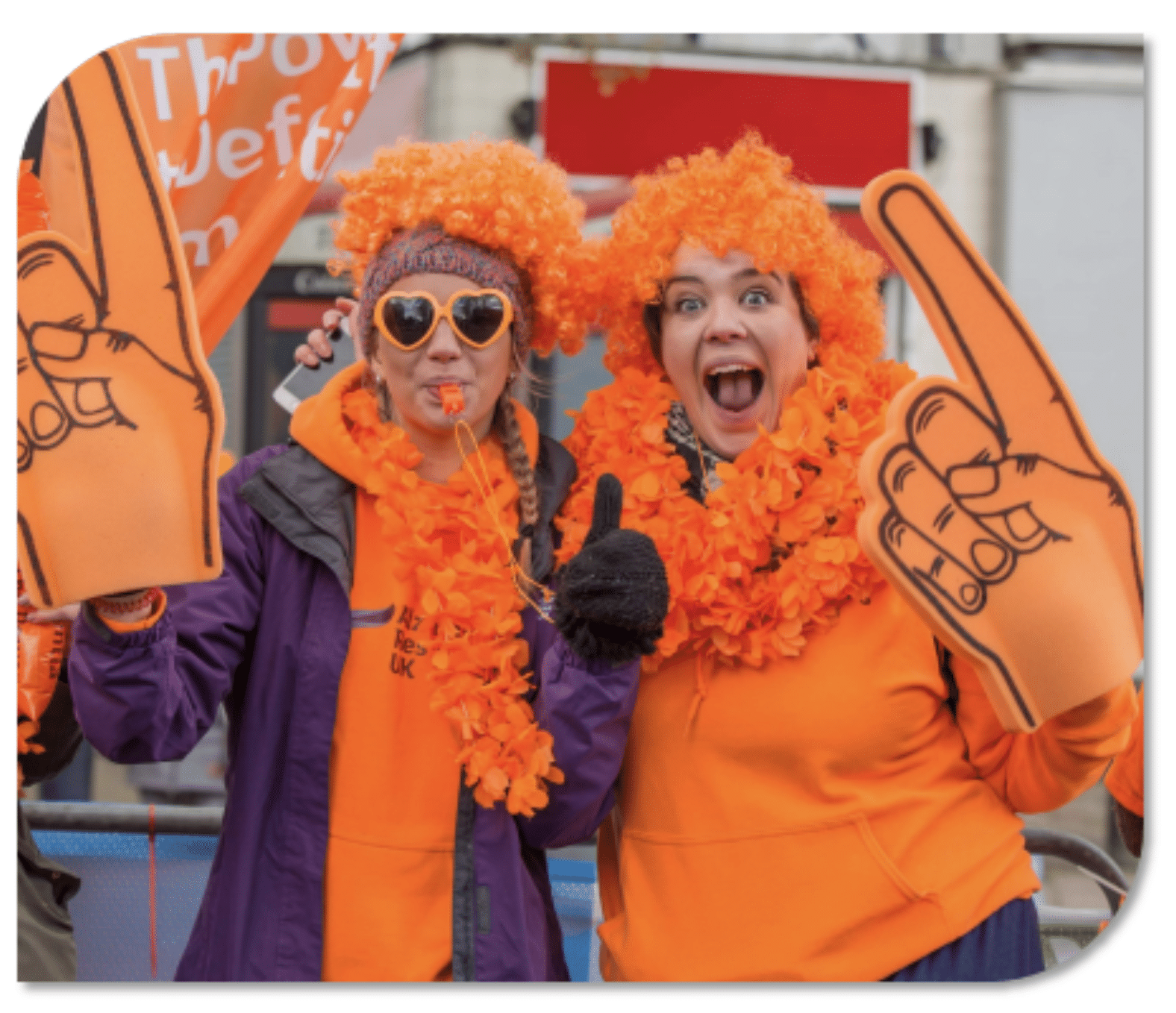 Create your London Marathon campaign page! Get on the start line for 2024. It's as simple as creating a page, connecting the event, and sharing your link! Get everything you need to know to succeed in London Marathon 2024 here: https://justgiving.com/for-charities/london-marathon
Get inspiration in your inbox!
Don't miss out on digital fundraising tips, tools and trends.
Sophie is Head of Brand at JustGiving. With over 7-years experience in the world of fundraising, she knows her stuff about building brand strategies and championing thoughtful marketing.