Easy reporting tips to make the most of your JustGiving data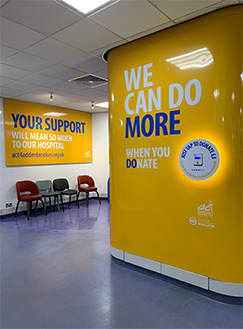 The reports available to charities registered on JustGiving have a lot of valuable information in them that can help you nurture your supporters more effectively, track your online income accurately and spot trends to help you raise more money.
Here's our quick tips to help you get the most out of your JustGiving Reports:
Easily reconcile your donation and Gift Aid payments
To get a breakdown of the donations which we have paid to your charity, download a Donation Payment Report. Simply log in to your charity account, click on the Reports tab and select Payment Reports. Each line in the report is a donation we are paying over to you.
If you're a UK charity and we claim gift aid on your behalf, make sure that you are also downloading your Gift Aid Payment Reports to view what Gift Aid you are being paid.
Make your Payment Reports easier to read
There's a lot of data included in your reports, so you can always be sure you have the information you need, but if you don't want to view all the columns you can remove the ones you don't need and save your column selection. This will save you time as the next payment report you download will only show you the columns that you previously selected.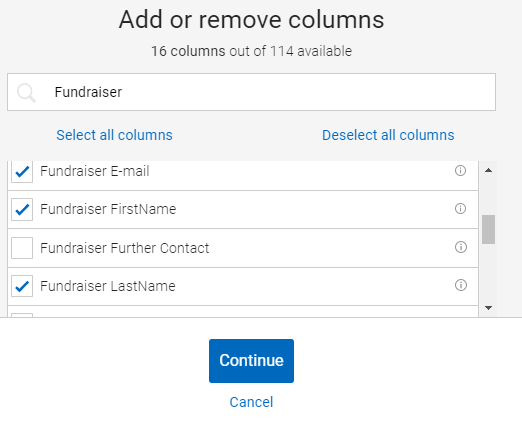 A quick way to get a list of your online fundraisers
You can use the 'Quick search' facility in your charity account to find your fundraisers easily. You can then access a summary of your fundraisers' details and even download and print a breakdown of the donations made to their pages.
Identify people fundraising online for your charity
Your Fundraising Page Report is perfect for identifying the people fundraising for your charity on JustGiving. It includes all the information you need to thank them, congratulate them when they achieve certain milestones and send them a 'well done' when they've completed their fundraising. This FAQ will help you get to know all the data available to you in this report and there's a spreadsheet you can download that explains what's included in each column.
Create a fundraising report for an event
Want to find out how much an event has raised? To make a report of the Fundraising Pages for a particular event, such as Great North Run or London Marathon, you can enter the date and select 'With an event date' when downloading the report.
After applying a filter to the Event Name column look for the 'Total Donations including Gift Aid' column. Click AutoSum, which you can find under the formulas tab, to show the total of the column in the bottom cell. This is a quick way to see how much the fundraising pages have raised in total.

Check whether your fundraisers are part of a team
Our new and improved Team Fundraising experience make is easy for people to fundraise together. By looking at the Fundraising Page Report you'll be able to find the 'Fundraising Page Team Name', 'Fundraising Page Team URL' and 'Fundraising Page Team Member Role' – this identifies if the fundraiser is either a 'member' of the team or  'captain'. The captain created the team page and manages it, so you may want to give them the VIP treatment to help everyone in the team raise more money.
Identifying donations made to a Campaign Page
Look at column BL called Appeal Name in your payment report to identify the donations made to a campaign. The campaign name will show in this column. Apply a filter to this column to show only the donations made to a campaign. The next tip shows you how to do this.
Find information quickly using Excel's filtering tool
To find information more quickly in your reports, we recommend you apply a filter. When you have a report open in Excel, select the top row that has the names of each column in it, click on the Data tab and then select the Filter button. Click on the arrow next to the column header to view a drop down, just put a tick next to the data you want to single out.
Filter the Fundraising Page URL column to only show donations made to a particular fundraising page.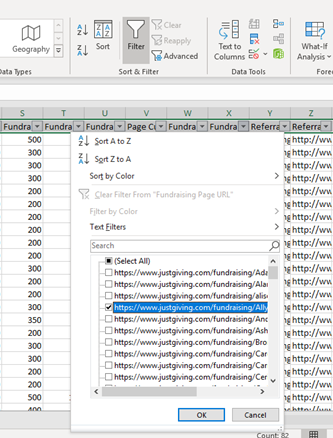 Viewing donations made on a specific date
Where your Payment Reports show you a breakdown of what you've been paid, your Donation Report shows you all donations made within a specified time period. Log in to your charity account, click on Reports and select Donation Reports.
If the donation hasn't been paid yet, then its Transaction Status (column AI) will be Pending. If a donation has been paid, you'll see the payment date in the column titled 'Donation Payment Reference Date'.
Identifying donations made directly to your charity
If there is a blank cell or a '0' under Fundraiser User ID (column A in your donation and payment reports) the donation has been made directly to the charity and not via a Fundraising Page.
Improve data matching in your database
You can make it easier to import and match data in your fundraising database by adding Custom Codes to your data. They can be added to Events, Fundraising Pages and Campaign Pages. The Custom Code area can be found in your charity account under the Reports tab. Learn more about Custom Codes.
Integrate with your CRM tool
Integrating JustGiving with your database makes it a lot easier for your charity to retrieve fundraising and payment report data. If you're considering investing in a new CRM tool, we recommend that you read 'How to choose a fundraising CRM'. It's a free guide that looks at the factors to consider when choosing a CRM, including the points you need to keep in mind for after you've gone live. Download your copy of the guide here.
Our colleagues at Blackbaud offer the CRM solution eTapestry, a cloud-based system which has been designed specifically with small, medium and growing charities in mind. It also offers JustGiving integration. This means you can seamlessly transfer any data collected on JustGiving straight into your CRM overnight, every night.
---
Editor's note: This post was originally published in July 2015. It has been completely revamped and updated for accuracy and comprehensiveness.
Get inspiration in your inbox!
Don't miss out on digital fundraising tips, tools and trends.
Georgie is a charity support specialist at JustGiving. She has advanced knowledge of the charity account and enjoys helping charities use the platform to raise more money for their causes.