London Marathon 2023: £39 Million Raised on JustGiving by Unstoppable Charity Supporters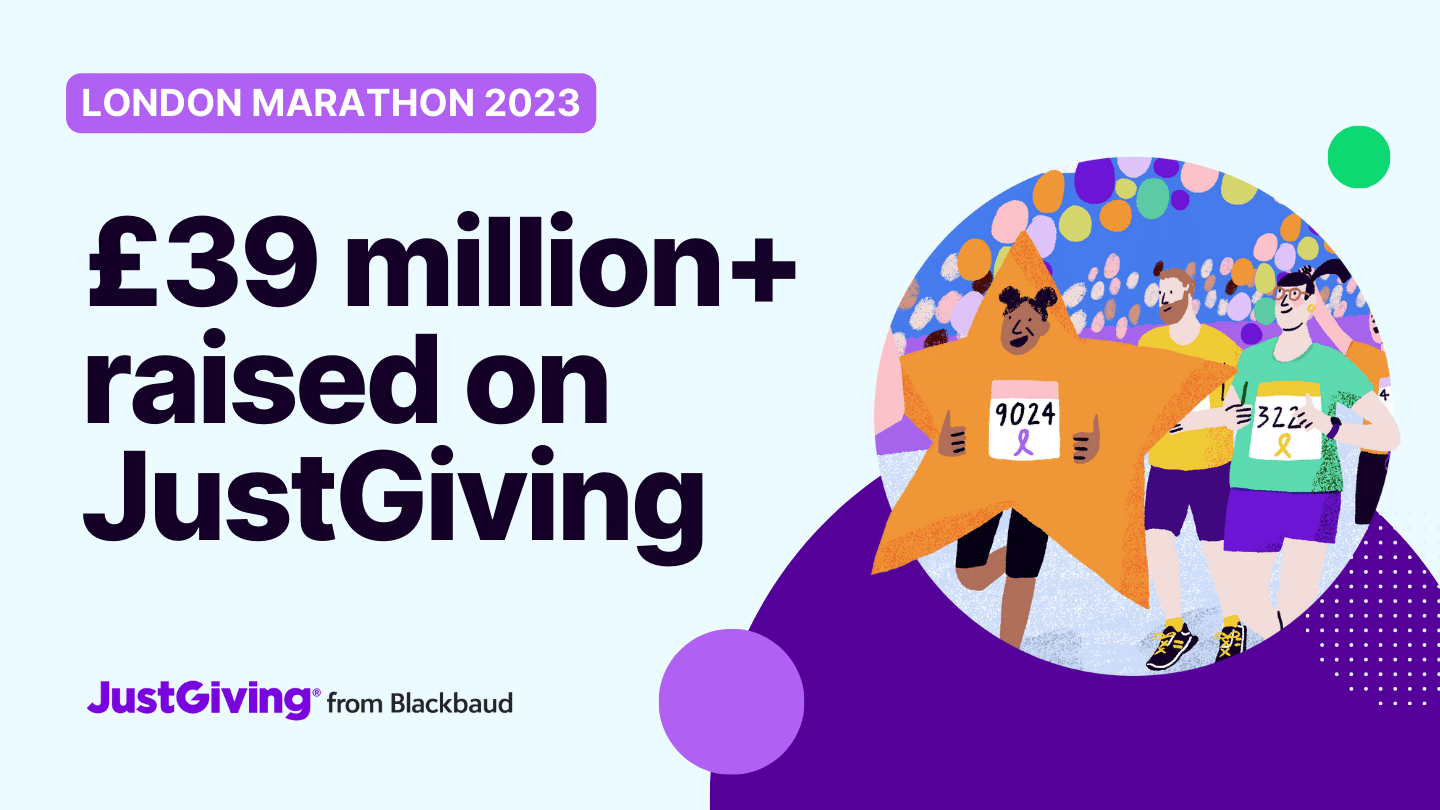 Editor's Note: this post was last updated 23 May 2023.
Congratulations to all the incredible London Marathon 2023 charities and fundraisers!
You've been there every step of the way for your supporters. You gave them the confidence to get on the start line for your cause. And you coached them throughout their fundraising.
And together, the JustGiving community raised a massive £39 million in London Marathon 2023 for life-changing causes like yours.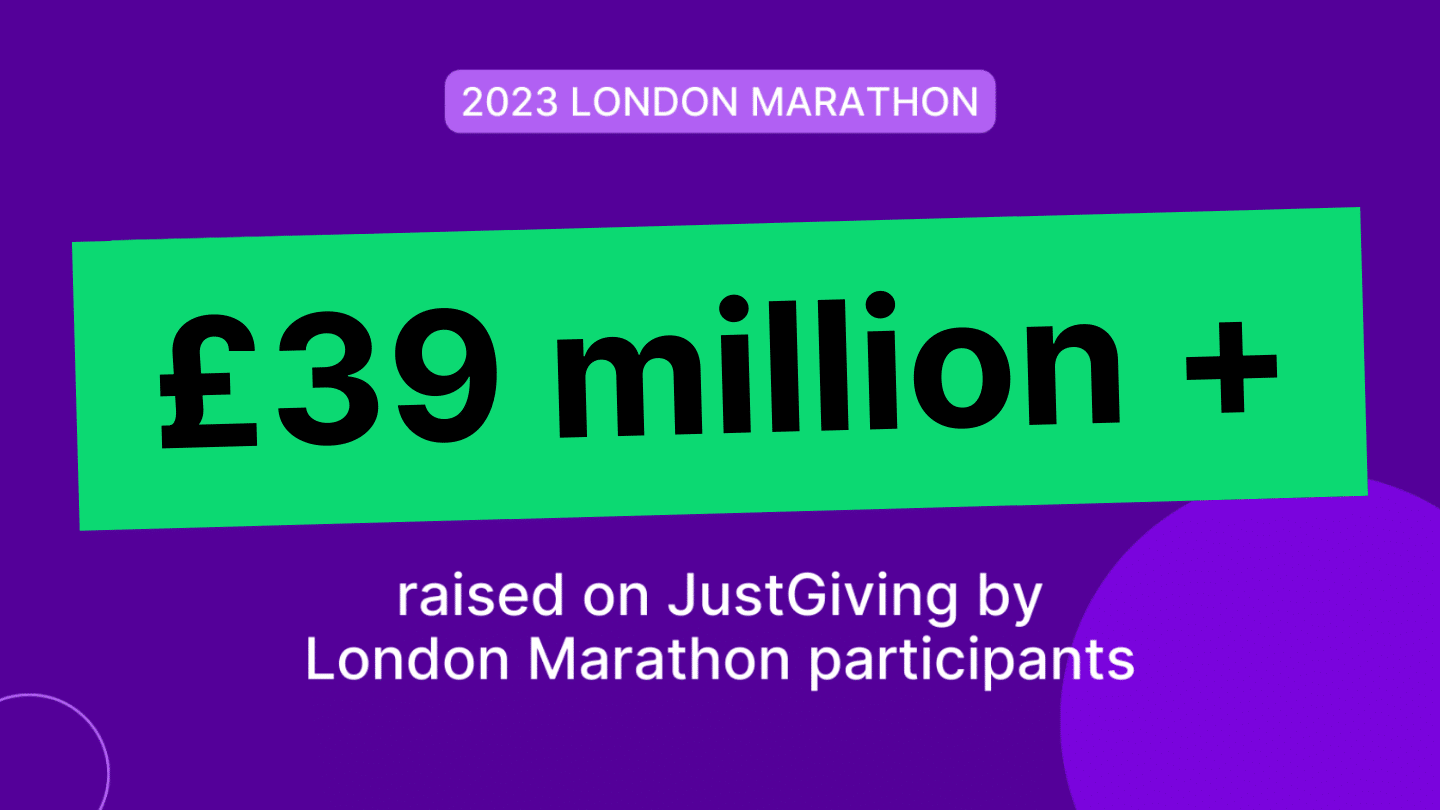 London Marathon 2023: JustGiving's key fundraising stats
And together, the JustGiving community raised a massive £39 million (and still climbing) in London Marathon 2023 for life-changing causes like yours. (Note: this figure is up-to-date as of 26 April 2023).
This much-deserved money goes straight to the 1,700 charities that inspired these people go above and beyond.
But that's not all. This year, JustGivers reached even more jaw-dropping achievements for the charities they love. Here's a snapshot of the impact people made:
£39 million raised for charity 
19,000 unique fundraising pages 
850,000 donations 
£2,029 average page value (that's 19% higher than 2022) 
Relive the memories
Here are a few of our favourite JustGiving campaign pages, fundraisers, and memories from London Marathon 2023.
Children with Cancer UK
"At Children with Cancer UK, our vision is a world where every child survives cancer. We raise money for vital research to save the lives of every child with cancer and keep their families together."
Children with Cancer UK raised over £800,000 with its JustGiving campaign page, which they decked out with a featured video, background image, and more. The engaging page helped its 700+ fundraisers and 20+ teams clearly understand the impact they could make for the cause.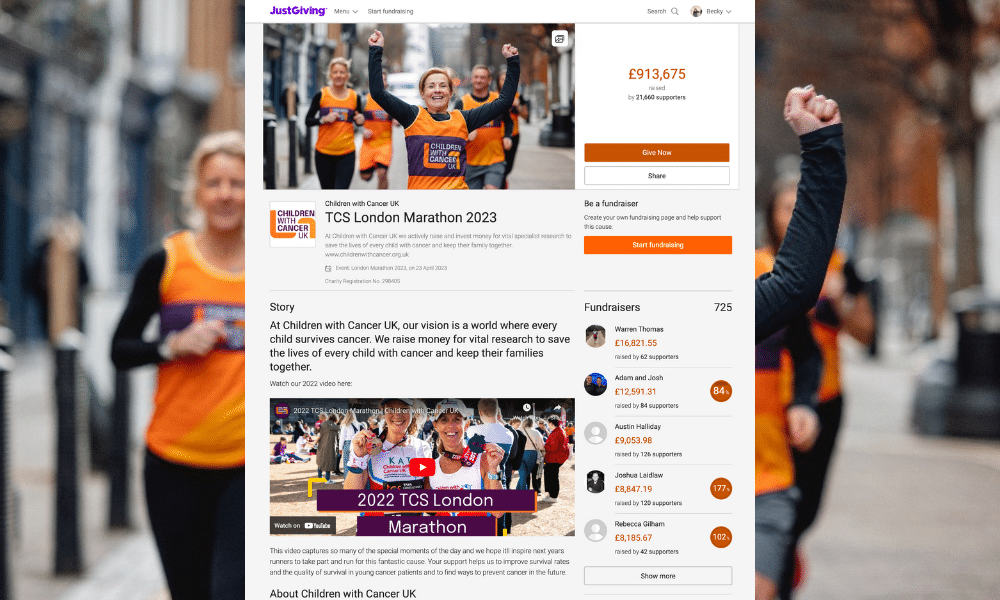 The Eikon Charity
"#TeamEikon will be taking on the epic London Marathon challenge, raising money to help young people in Surrey to have the wellbeing and resilience they need to thrive."
The Eikon Charity didn't hold back when it came to their London Marathon campaign page, engaging fundraisers and donors using a variety of tools and mediums. The photos, videos, donation amount suggestions, and quotes brought the page to life!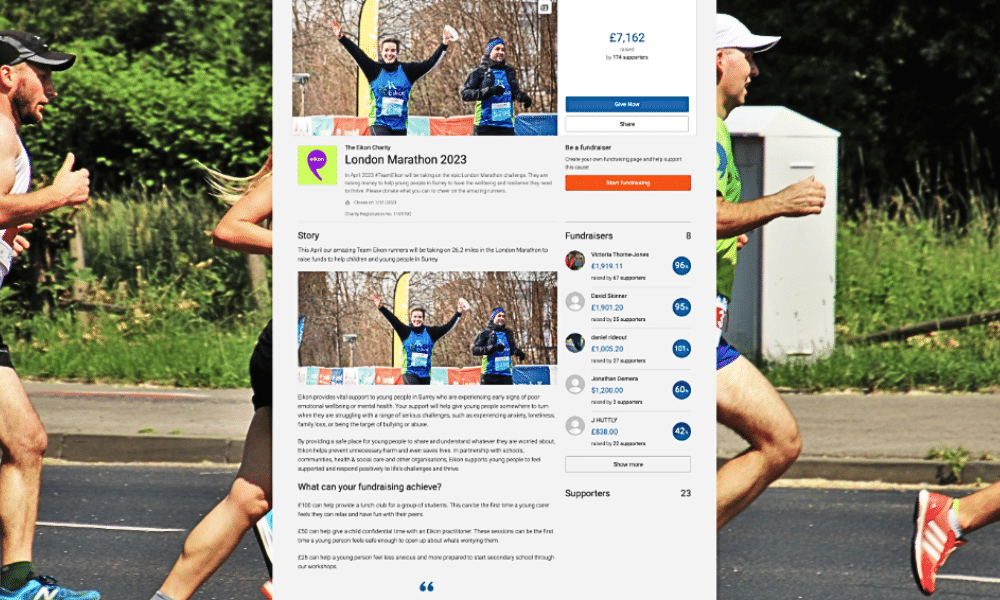 Here are only a few of the fundraising teams and individuals that went above and beyond for their chosen charity.
Caterpillars for Cancer
ALDI's Caterpillars for Cancer team of Dan Ronald, Oliver King and Graham Hetherington raised more than £41,000 for the Teenage Cancer Trust, while running the entire marathon together dressed as Cuthbert the Caterpillar!
Now that's dedication.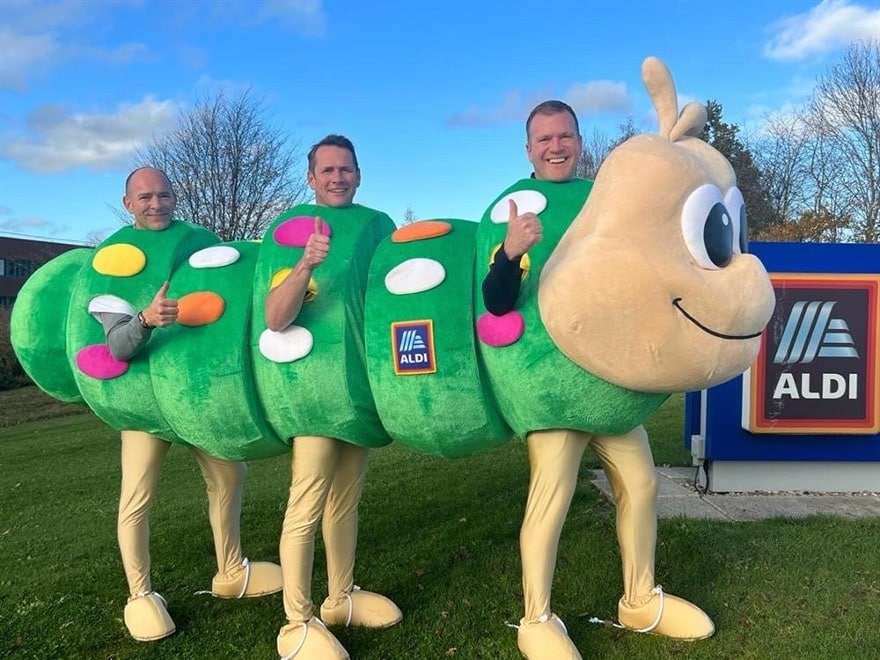 Gary Qualter isn't your average marathon runner: he's the running milkman, who set a new Guinness World Record in London Marathon 2023!
Gary (who's actually a milkman in real life) took on the challenge of running the fastest London Marathon dressed as a 1950's milkman, in memory of his mum. And he raised more than £4,200 for Cancer Research UK in the process.
He ran with the traditional white shirt, cap, tie, and milk bottles in hand, inspiring others to support Cancer Research UK too.
Another world record done for charity!
Paul showed up to the London Marathon start line in a tunic with cape, headpiece, cuffs, belt, knee high boots, and clutching a sword and shield!
Paul ran all 26.2 miles as the "fastest marathon dressed as a knight" while raising money for Ambitious about Autism. Paul trained for months to support this personally meaningful cause, as his 9-year-old son was diagnosed with autism at age 3.
He smashed it, reaching 239% of his goal and raising over £4,800 for the cause.
"More than the challenge itself, this is my way to raise funds and raise the profile of an amazing organisation called Ambitious about Autism – the national charity for children and young people with autism."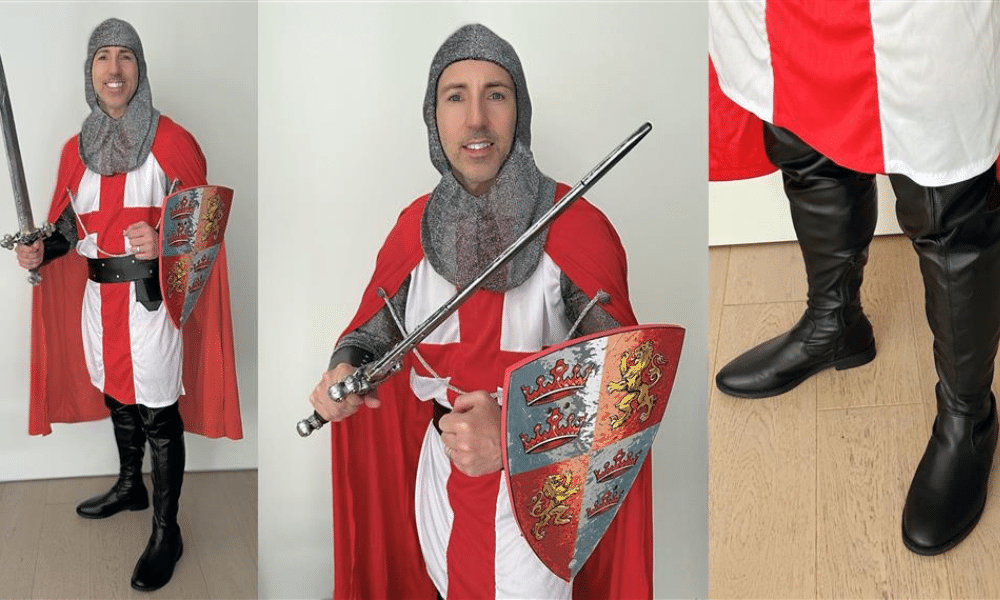 People are simply amazing, especially when driven by the cause they care about. And this includes celebrities too!
A few of the notable names we saw raising money for charity at London Marathon include Mumford & Sons singer Marcus Mumford, Harry Potter star James Phelps, English rugby coach and former pro Kevin Sinfield, and more.
Thank you for everything you do
JustGiving President and General Manager Pascale Harvie, said:
"I'm in awe of all of our incredible fundraisers who took part in the London Marathon this weekend. The commitment and strength they've shown to support the causes closest to them is remarkable and collectively, they've raised an astonishing amount of money. Congratulations to all of our fundraisers from everyone at JustGiving and thank you, on behalf of our 1700 charities that will benefit from your hard work and determination."
We can't say it enough. We're honoured charities and runners put their trust in us year after year. And we can't wait for the next one.
…
Okay, we can't resist, one more photo. Our JustGiving cheer squad on the Tower Bridge cheering on all the charities and runners at London Marathon!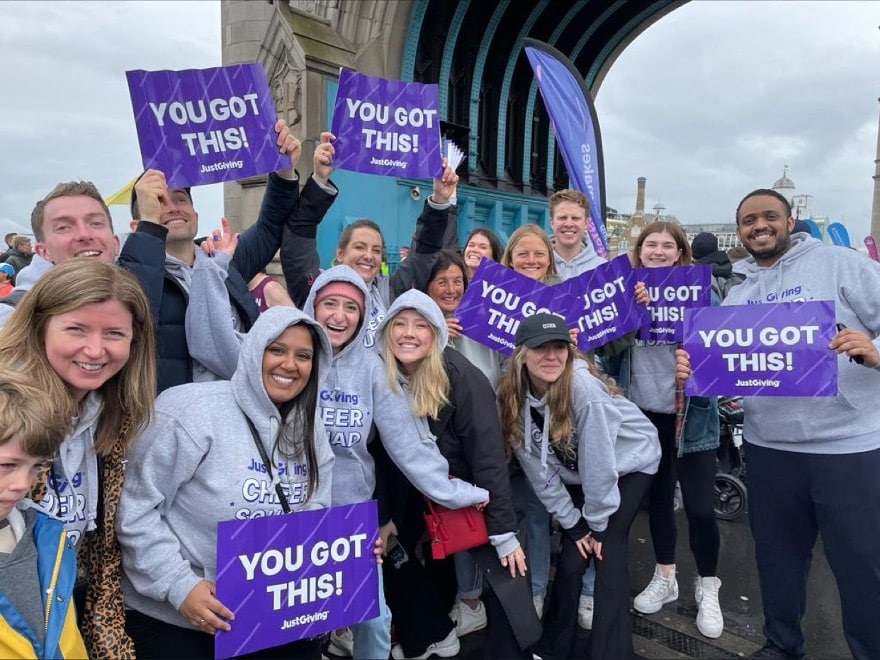 Create your 2024 London Marathon campaign page
Charities that start early raise even more! Get a head start on 2024 and create your JustGiving campaign page now.
Please note: Figures quoted relate to fundraising activity on JustGiving only. JustGiving is one of many fundraising platforms that people can choose from when fundraising for events such as the London Marathon.
Get inspiration in your inbox!
Don't miss out on digital fundraising tips, tools and trends.
Brian is on the Community and Content team at JustGiving. He's passionate about sharing online fundraising tips, research, and inspiration to help fundraisers raise more money, build their brand, and grow their cause.