4 inspiring non-profit examples of digital storytelling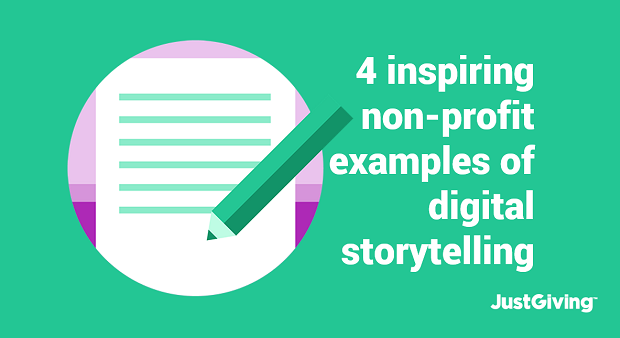 Digital storytelling is somewhat of a buzzword across all sectors, but charities have been rivalling commercial marketers in their creativity and originality. Powerful storytelling can have a huge impact for your organisation, helping you to raise awareness, recruit supporters, fundraise and support the people you advocate for.
So where to start? Here's some fabulous examples of digital storytelling to inspire you.
1. @NHS
Launched just under a year ago by NHS England the @NHS Twitter account is my favourite example of digital storytelling.  The aim was to show just how many lives are touched by the NHS and the pride taken by its staff in caring for so many.
Each week a new patient or staff member takes over and curates the @NHS account for five days, posting their own content. Through their tweets they have been given an opportunity to tell their personal NHS story.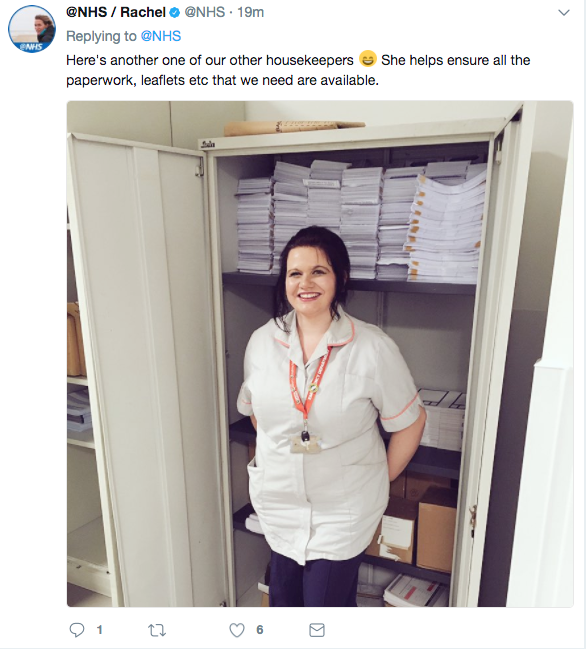 @NHS started off as a 13-week trial and in that time they got 11,000 followers, had 80,000 video views and 18,000 minutes of video viewed.
It is such a simple idea and really shows the face of the NHS. It is authentic, engaging, creative and inspirational. It sounds like the account is here to stay with plans to launch on Facebook and Instagram shortly.
If you're not following it, you're missing out:  
2. #ThisGirlCan
A powerful message, Sport England's #ThisGirlCan campaign launched in January 2015 to get more women playing sports, and decrease the gender gap. It got 1.6m women exercising in its first year with the original 90-second "This Girl Can" film watched more than 100m times on Facebook and YouTube.
At the heart of this brilliant campaign was the stories. Videos, photos, quotes were crowdsourced from real women from all over the country, playing all different sports. The stories were simple, but authentic and relatable.
As well as the stories lead by Sport's England, #ThisGirlCan gathered a huge following on social media with over a million tweets on the hashtag. User-generated content is effective way to get the public involved in your cause.
The campaign worked so well because it managed to unite many different people, and encouraged more and more to share their stories on social media creating a digital storytelling snowball effect.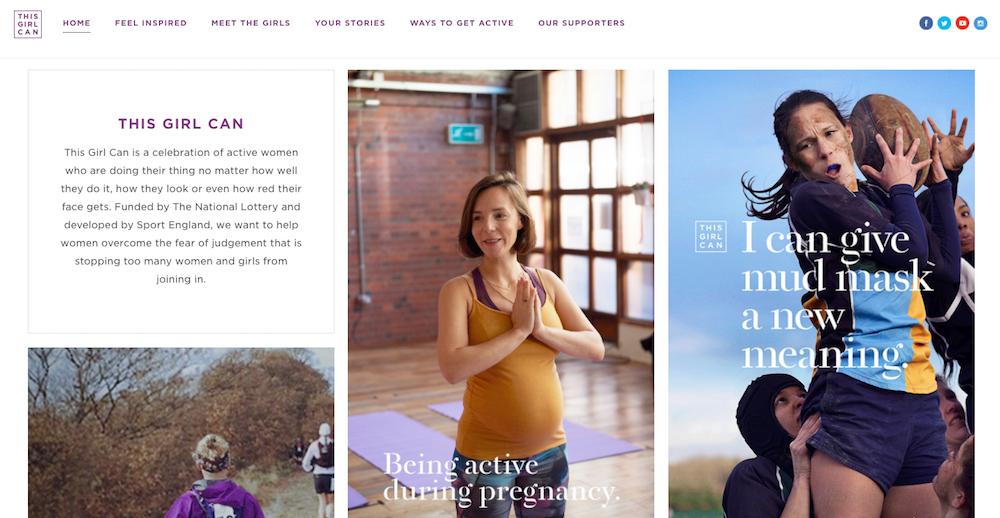 3. Crisis – Everybody In
Homelessness charity Crisis turns 50 this year, but in the context of rising homelessness they would say that's nothing to celebrate. There are many stereotypes about the types of people who become homeless and the charity is working hard to shatter those myths.
They created their Everybody In campaign to tackle these stereotypes by sharing real stories of the whole range of people who are homeless in the UK. The storytellers share different experiences; of how they became homeless, how they were reunited with their families, how homelessness changed their lives for both the better and the worse.
The approach to the campaign really helps to create empathy rather than sympathy for those sharing their stories.
It's simple storytelling, a powerful photo and the firsthand story shared in their own words. This type of storytelling is accessible to organisations of all sizes.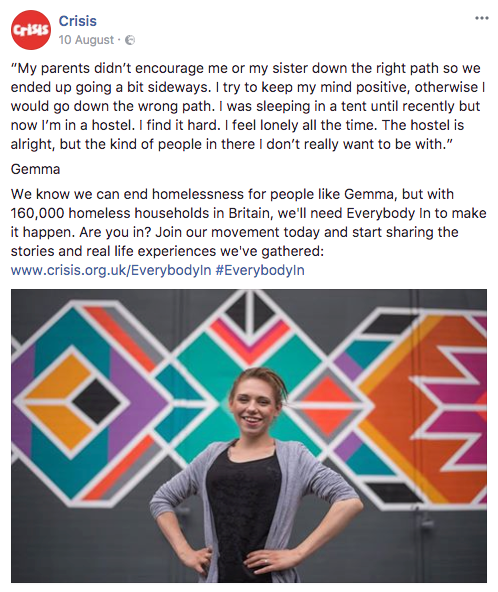 See some other posts from the campaign on the Crisis Facebook page. 

4. Humans of New York – Turns to Video
I've always loved the posts from Humans of New York for their authentic stories putting a spotlight on the most diverse of experiences. So we were excited to hear of the news they were turning to video.
The team spent four years gathering 1,200 interviews on film to create a series of videos around different themes: home, star and time so far.
It's a great method of sharing varying stories under an umbrella theme, showing different perspectives and experiences alongside one another. Your charity could use this to put a spotlight on an issue or topic important to the people you support.

If you haven't already, take some time to watch the films.
Being the Story – Friday 20 October, London
How can charities tell powerful stories and give a platform to the people they support?
Being the Story from sounddelivery is a one-day immersive storytelling event featuring the thought-provoking insights of people with extraordinary stories. Think TEDTalks meets the charity sector. 
The line up of dynamic speakers includes a hip hop artist, community activist, tech4good entrepreneur and campaigner – people with personal experience of everything from the care system, gang life, addiction, domestic abuse to childhood cancer.   
But it's not about doom and gloom. The storytellers have used different and in many cases difficult challenges to create real change to the world around us.
Being the Story will get people talking. Find out more www.beingthestory.org.uk.
Get inspiration in your inbox!
Don't miss out on digital fundraising tips, tools and trends.
Jude Habib is the founder of sounddelivery, an award-winning digital media company set up to help charities embrace the changing digital media landscape and find new ways of telling their stories. Find them on Twitter at @sounddelivery.