5 creative ways to bring your charity's impact to life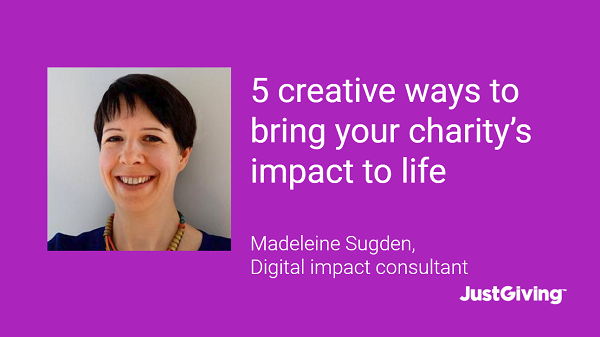 Your organisation does brilliant work. It probably writes about it in an annual report which is then uploaded as a PDF to the website. Which is never clicked on.  
Sharing detail about the impact you make helps to build trust and transparency, as well as attracting new supporters and sources of funding. We should all be better at doing this.
Here are five ways to enhance your impact reporting.
1. Don't hide your report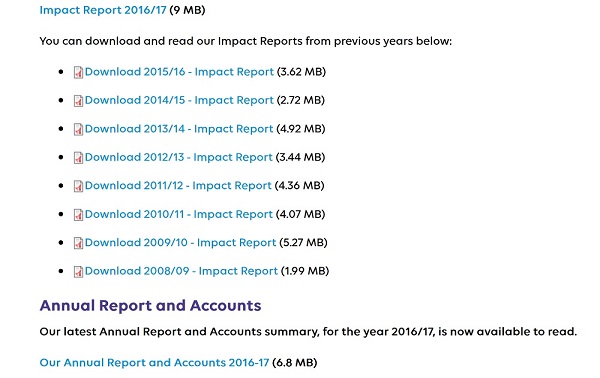 Does the page on your website about your impact look like this?
Having a page of PDF links going back ten years isn't good enough. Your report will have taken lots of work to write and design. To get people to read it, you'll have to work hard to inspire them to open the document. You want the impact report to have an impact! It should be driving donations and changing the minds of decision-makers.
The page linking to your report should be engaging. Show the highlights from the report, include the key achievements, add a strong image. Use the page to whet people's appetites or help them find the information they are looking for.
For example, look at the highlights from London Community Foundation's projects and St Mary's Secret Garden's page about impact.
2. Produce innovative reports
Online impact reports allow the user to interact with data and stories at a deeper level. Many of these produced by large charities (with sizeable budgets) include especially created videos and interactive content (see the Children's Society Impact Report 2015-16).
Adding one video or an infographic to your Impact page can go a long way if you don't have a big budget for a digital-first report.
Impact reports generally show a snapshot of activity over a certain year but what are you doing now? Street League complement their annual review with a live interactive dashboard of their data showing how many young people they have supported.
Reports don't have to follow a standard format. The British Heart Foundation produce timelines of research done on particular heart conditions. Haven House Children's Hospice produce an emoji year in review to accompany their standard annual report. Present your information in a way which is engaging or tells a story.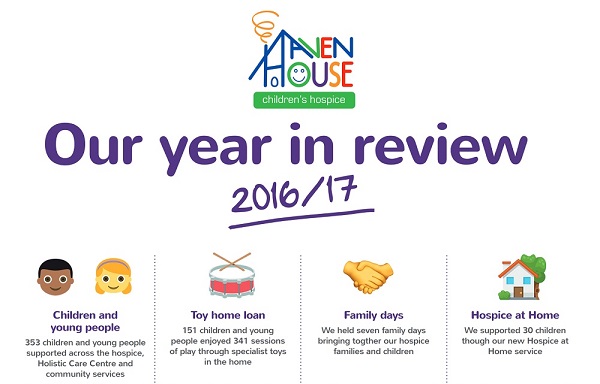 3. Use your report
Don't let your report just sit on the shelf. Help drive traffic to it. Use the source material on an ongoing basis on other channels.
Why not share headlines from the report on social media or on donation pages? Why not write blog posts about where projects are at since the report? What are you most proud of? What have you done better this year? What's changed?
For example, Teenage Cancer Trust shared a gif of some headline stats and link to their annual review.
We've achieved so much thanks to your help! See the impact of your support in 2016/17 and check out our Annual Review https://t.co/3alZXBRaid pic.twitter.com/kRmkGbzpUO

— Teenage Cancer Trust (@TeenageCancer) March 8, 2018
Think about the hooks you can use to share your impact. This could be #GivingTuesday, a topical hashtag, awareness day or anniversary / event.
4. Share stories which show your impact
Case studies are often included in funding application forms alongside impact stats to illustrate an issue or intervention. This can be done digitally too. How can you illustrate what your work means to someone?
Stories don't have to be full-blown case studies. Handwritten comments from Foodbank users in Colchester show the reasons why the service is so vital to people in need.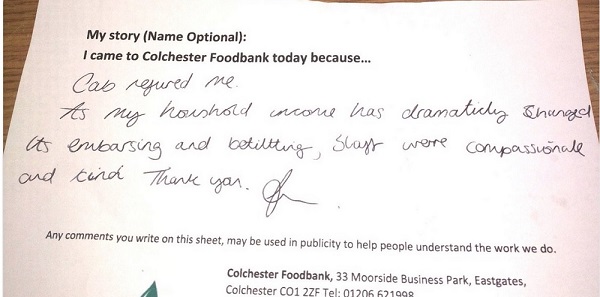 Stories can also be of things. For example this video from Cardiff Foodbank follows the donation of a tin of tomatoes. It shows behind the scenes work and puts a single donation in the context of all the others.
Social media takeovers allow staff and volunteers to tell their stories. Done well this can be a great way to help people understand the value of your work. For example, look at the Lankelly Chase Twitter Moments from their takeovers.   
5. Illustrate your stats
Take your impact reporting to the next level by gathering and sharing data and stories throughout the year in a creative way. Maps, infographics, emojis, images all work well to grab attention. There are lots of free tools which can help you to produce images.
A totaliser can be a good way to involve supporters. This poster on the wall of Dogs Trust Canterbury shows visitors how many dogs have been rehomed this year. It works well on social media too.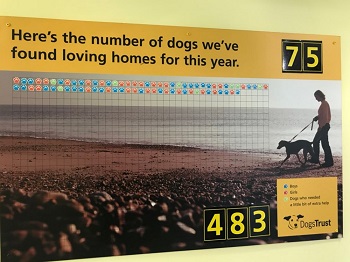 For more examples and ideas, see Madeleine's blog post How to use digital to bring your impact to life.
Get inspiration in your inbox!
Don't miss out on digital fundraising tips, tools and trends.
Madeleine Sugden is a content specialist with over 15 years of experience in digital and charity communications. As a trainer, writer and strategist, she works with organisations of all sizes to improve their skills, processes and output. She helps charities to build storytelling and persuasiveness into their digital content to improve user experience and maximise impact. She tweets as @madlinsudn and writes a blog sharing sector best practice. http://bit.ly/mlnblog