5 examples of how fundraisers are using Strava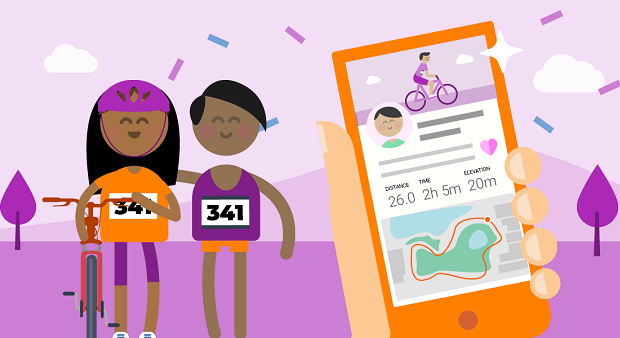 When we launched our JustGiving and Strava integration back in April, we were excited to see just how fundraisers would choose to use the new feature. We knew that fitness apps had the potential to boost charitable donations, with fundraisers who log and share their fitness activity raising up to 40% more for their chosen causes. However, with the UK's lockdown in place it was unknown how this would impact people's routines and fundraising choices.
Well, it turns out that people are embracing exercise! Sport England shared that by week six of lockdown 13% of people were trying cycling and a whopping 63% were walking as part of their daily exercise. We've also seen an amazing number of JustGiving fundraisers take on at-home physical challenges, adding Strava updates into their Fundraising Page story!
We've pulled together five great examples to show you how fundraisers are using Strava on JustGiving to enhance their walking, running and cycling challenges.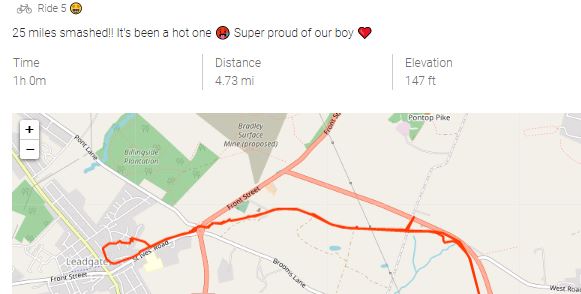 At just five years old, Lucas is the youngest of our five fundraisers. In memory of his great grandad, Lucas decided to cycle 25 miles throughout June to raise money for his local cancer charity, Daft as a Brush Cancer Care. His progress was tracked using Strava, with his mum Kirsty sharing activity updates alongside pictures of the family enjoying their bike rides onto his Fundraising Page. Proving that he's a true pedaling pro, Lucas managed to reach the 25 mile mark in only a couple of weeks, raising £815 in the process.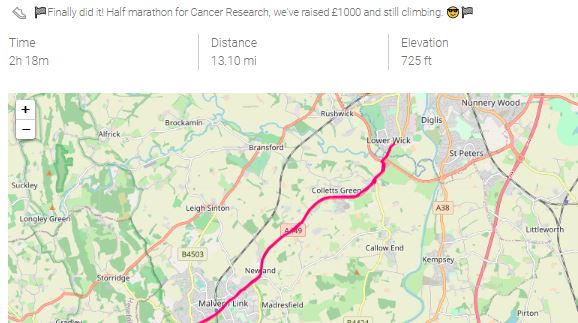 Lots of people have used the lockdown as an opportunity to try new hobbies, and for Andrew that was running. After deciding to start jogging a few times a week, he quickly discovered a passion for hitting the pavement and decided to run a half marathon in aid of Cancer Research UK. His supporters clearly enjoyed his Strava updates as he managed to raise 446% of his original fundraising target! Plus, despite completing his 13.1 miles, he decided to keep on running and sharing Strava updates as a way to boost his fundraising total.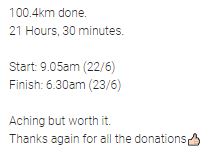 Fancy walking 100km along the Thames in one day? No? Well, that's exactly what Thomas managed to do. Taking a total of 21 hours and 30 minutes he walked the length of the river to raise money for mental health charity Mind. He recorded the entire walk on Strava and uploaded it to his Fundraising Page, shortly followed by a thank you message to donors. Our feet are aching just thinking about this, congratulations to Thomas!
Ultra challenges (distances longer than 26.2 miles) are not for the faint hearted, but friends Ben and Dom thought running 30 miles would be the perfect way to fundraise for Cancer Research UK. The pair decided to break up the distance by aiming to run five miles every four hours. They tracked each block of runs on Strava and uploaded them onto JustGiving, labeling each update run one of six, run two of six etc. They pledged to donate an additional £50 every time one of them walked rather than ran, using Strava to keep them accountable. They completed their challenge at four in the morning with over 120 donations and more than £3,200 raised. Phew!

Players, parents, coaches and supporters of football Southport RFC decided to come together to run, walk or row 16,000km throughout July – the distance it would take to travel from Southport to the South Pole. Each person set up their own Fundraising Page, using Strava to record their distances and make it easier for the whole team to calculate the total kilometres covered. Raising money for the Southport & Ormskirk Hospitals Charity, the team managed to surpass 1,600km in less than a day.
Support your fitness fundraisers!
Help your supporters to combine their love of fitness and fundraising by telling them about how JustGiving pairs perfectly with Strava. We've put together some helpful FAQs that you can share with your supporters, making it super easy for them to get started.
Want to learn more about the benefits of fitness apps in fundraising? Our on-demand webinar Virtual fundraising: How to leverage fitness tracking and achieve fundraising success explores the best ways to capitalise on our new integration feature and explains how it can help your fundraisers raise more. Watch the webinar here.
Get inspiration in your inbox!
Don't miss out on digital fundraising tips, tools and trends.
Toni Gregory is a Content Marketing Specialist and B2B copywriter.