5 Fundraising Top Tips For Hospices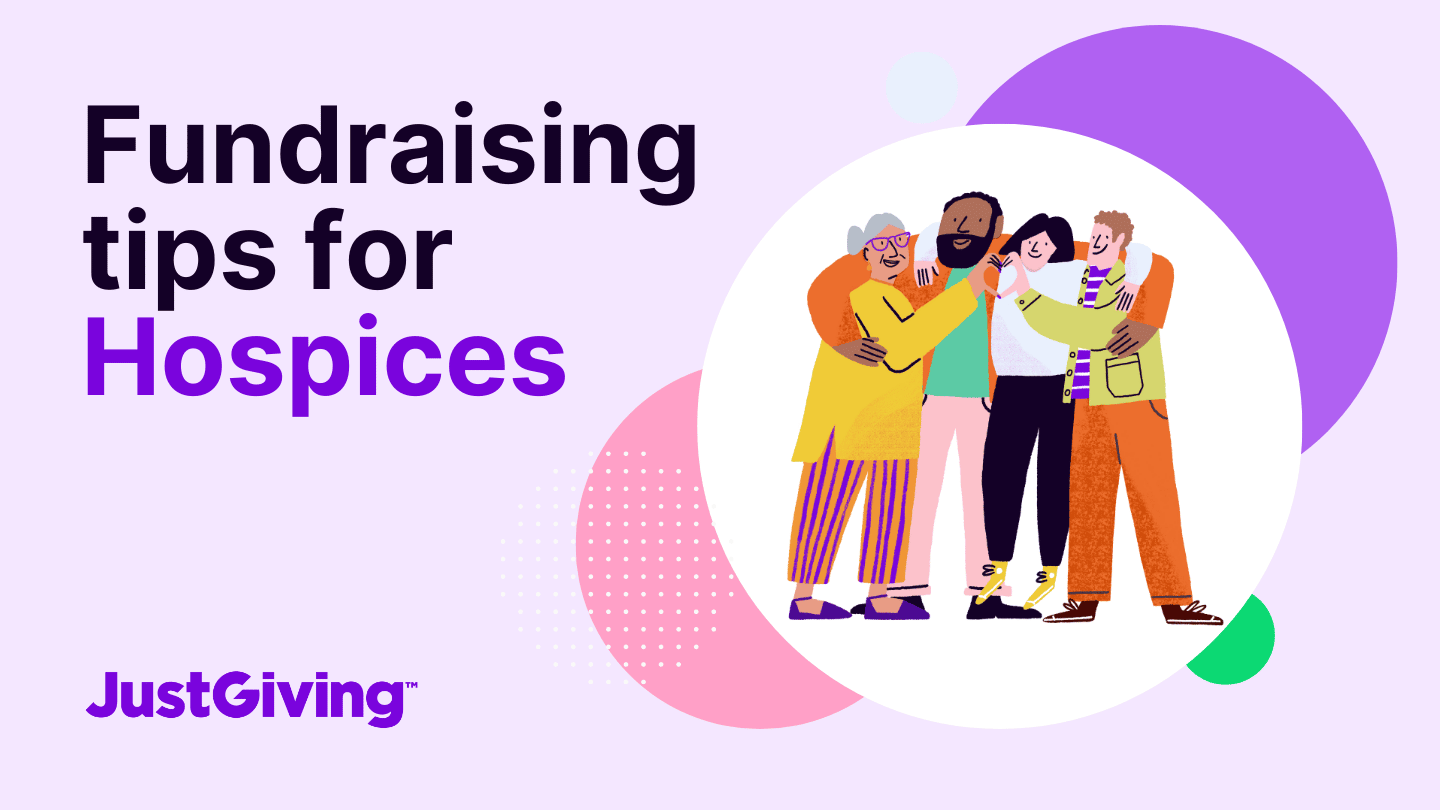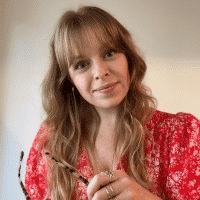 Is your hospice looking to get more donations? Our Customer Success Manager, Phoebe, shares her best tips and insights into the world of hospice fundraising. She'll break down the current trends in the industry and share how you can encourage those vital extra donations.
Let's get started, shall we? 
Measuring your success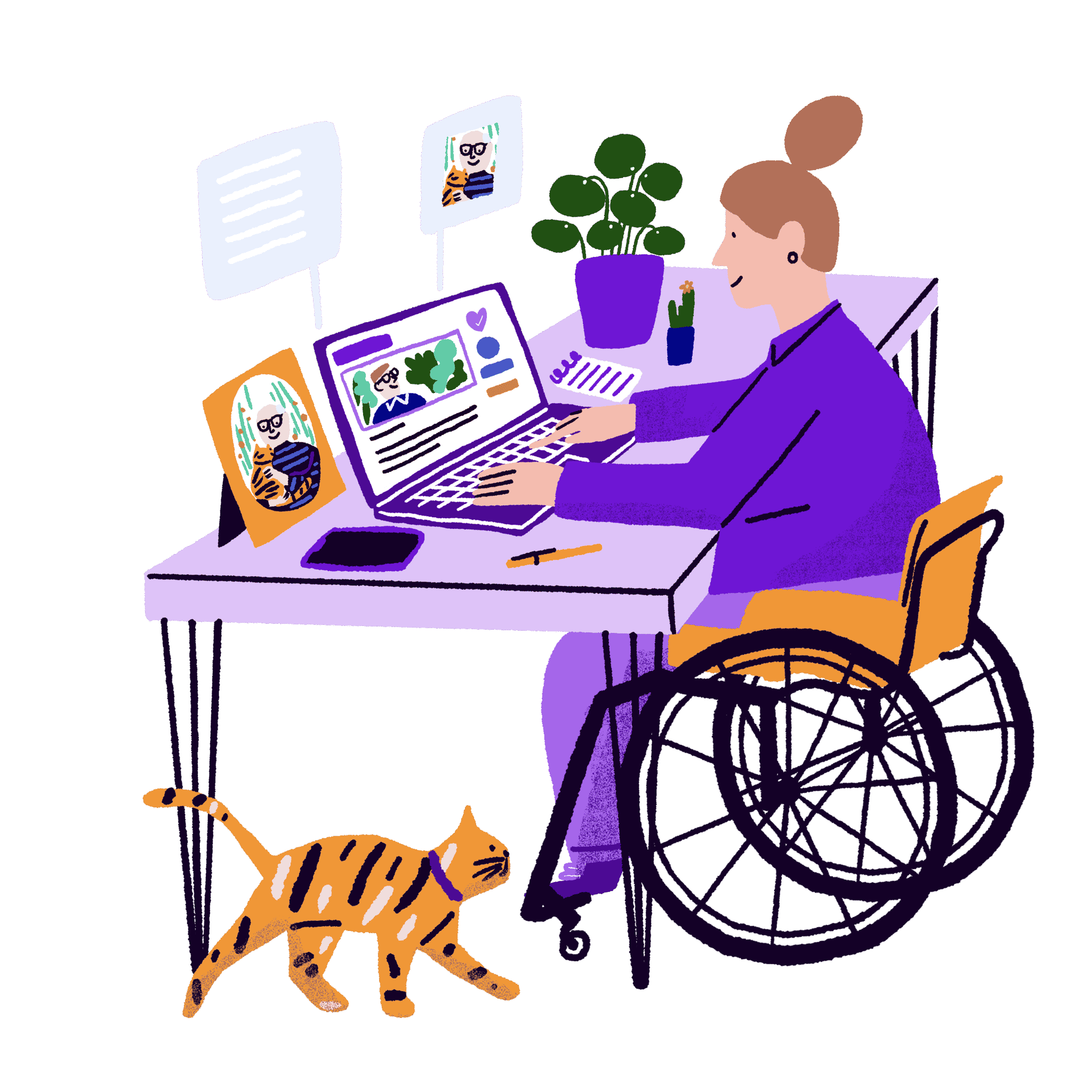 So, how exactly do you measure how successful your current fundraising campaigns are? Here at JustGiving, we recommend looking at these three key factors:
Page creation: how many fundraising pages have been set up by your supporters?
Page activation: how many of those pages have received their first donation?
Page value: how much is being raised by each fundraising page?
Aim high – you want to increase all of these figures!
Current trends: what events draw in the most donations?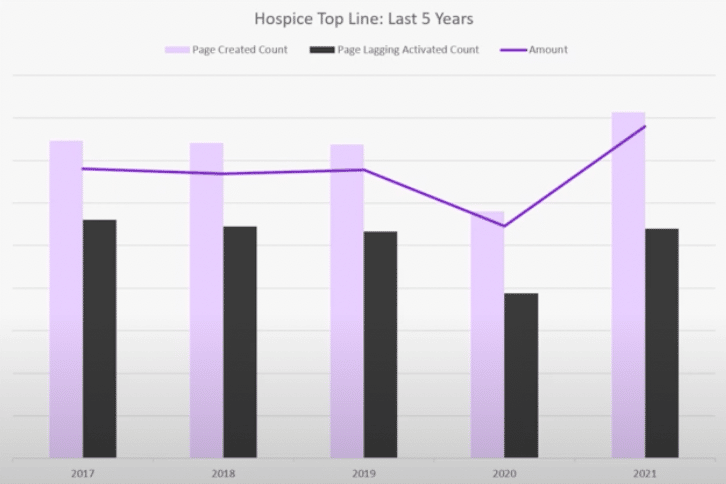 This handy graph tells us what hospice fundraising has looked like over the last 5-years. As you can see, the number of pages created, and amount raised for hospices between 2017 and 2021 has remained fairly consistent – only taking a dip during 2020, during lockdown. This is likely because fewer fundraising events were held, as it bounced back by 40% again in 2021. This upward trend has only continued this year.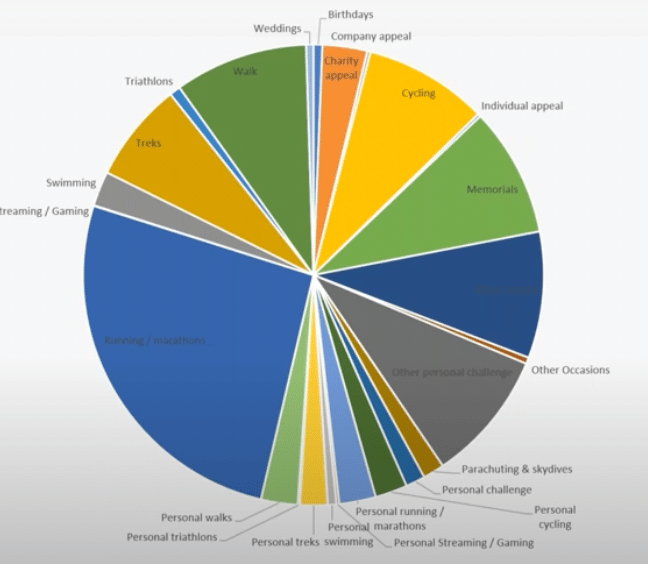 People raising money for hospices are taking on a huge variety of fundraising challenges. The graph to the right breaks down what fundraising events draw in the most donations – with marathons, sponsored walks and in memory pages seeing the most activity.
Interestingly, weddings, swimming and gaming pages have also seen a huge increase in donation activity since 2019. 
Top Tips For Driving Donations
Optimise your event timeline: Get your message out there and give your supporters time to prepare! Have a strong marketing plan and clear communication with your supporters in the lead-up to any large fundraising events – to ensure your supporters are getting their pages created early.

Remember to carry on spreading the word during and after the big day too, with up to 20% donations made after the event date. Encouraging early fundraising page creation can make a huge difference to your campaign's success. Check out our blog on using behavioural psychology to create an impactful fundraising campaign. 

Help your supporters get their first donation: The earlier your supporters receive their first donation, the more they raise in total. You can find out who may need extra support by looking at your reports or campaign page leaderboards. Reach out to any supporters who haven't activated their page – why not send them our best tips for encouraging that vital first donation?

Encourage your supporters to personalise their page: Compelling fundraising pages tell a story. Ensure that your supporters set a fundraising target, share their reasons for fundraising and add photos to their page. Linking fitness apps, like Strava and FitBit, to fundraising pages has also been seen to increase donations by a huge 40%. Here's how.

Streamline your supporter's fundraising journey: Make fundraising for your hospice as easy as possible. Pre-populate details on their fundraising pages (your charity's name, event details and a link to the campaign page).

Check in with your fundraisers: be there for your fundraisers every step of the way. Communication should continue throughout the fundraising journey – send regular tips, updates and words of encouragement across all your social media channels.  

Send regular emails to give your supporters a boost and celebrate key fundraising or training milestones in their fundraising journey using your campaign page creation link – even when they've met their fundraising target and after the big day. Don't forget to say thank you for all of their hard work!
There you have it – our top tips for raising more for your hospice! Keen to hear more? You can watch Phoebe's full webinar here. 
Need extra support? Don't hesitate to reach out to our Charity Support Team (available via email, six days a week at charities@justgiving.com). 
Want to chat more about making the most of your JustGiving account? Reach out to our Success Team on successteam@justgiving.com. 
Get inspiration in your inbox!
Don't miss out on digital fundraising tips, tools and trends.
Becky is the Community Manager at JustGiving. She's passionate about storytelling, and inspiring people to help charities raise more.