A quick guide to hashtag best practice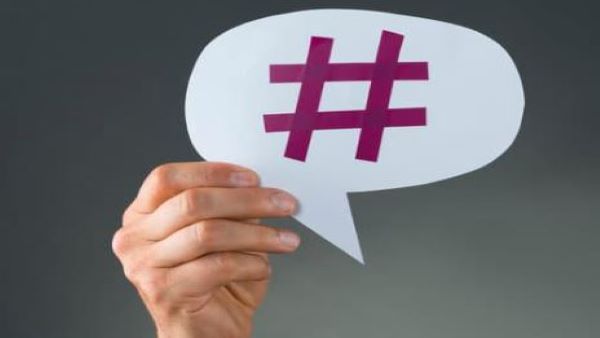 These days it's rare to see a social media post that doesn't have a hashtag. Hashtags, which are easily recognisable thanks to always starting with a '#', are searchable words or phrases that help to categorise social posts. Their use is now widespread across all the main social platforms – Facebook, Twitter, Instagram and LinkedIn.
Why are hashtags useful?
Hashtags can be seen as just a bit of fun as you'll see people use them to add a light-hearted touch at the end of a post, such as #SorryNotSorry or, my personal favourite, #TGIF. But they are so much more than that.
They also offer a quick and easy way for people to identify or discover content that matches their interests. Hashtags can be used at events, such as conferences like #FundraisingLive or sporting events #SuperbowlSunday. They're also a practical tool that allow you to keep you updated in real time with world news and high-profile movements, for example #ExtinctionRebellion.
Accessibility
It's really important to make sure that all of your content – including your hashtags – are as accessible as possible to everyone who might come into contact with it. Capitalising the first letter of words in your hashtag is best practice and something you should all be doing.

How to harness hashtag power
Understanding how people use and interact with hashtags can help your organisation to use them to increase engagement with your posts. Twitter says that hashtags can increase engagement almost 100% for individuals and 50% for brands, and analysis from Hubspot suggests that tweets with hashtags can achieve 12x higher engagement.
There's also the potential for growing your number of followers. If used in the right way, hashtags can ensure that your organisation is present in key topics or conversations that are best aligned with your cause. This will expand your social posts reach beyond your existing followers and enable the content to be discovered by others.
Hashtag best practice – how many is too many?
Lightful, who offer social media management tools, recently shared a helpful guide on hashtag best practice for charities. We've summarised some of their key points below.
Twitter: 1-2 hashtags
Tweets that contain hashtags have the potential for double the engagement. Twitter recommends using up to two hashtags on every tweet. Too many hashtags can make your post look like spam, plus your hashtags count towards the Twitter character limit so you don't want to use up your limited space on words that don't enhance your message. Here's a great example from RNLI on Twitter during #StormCiara: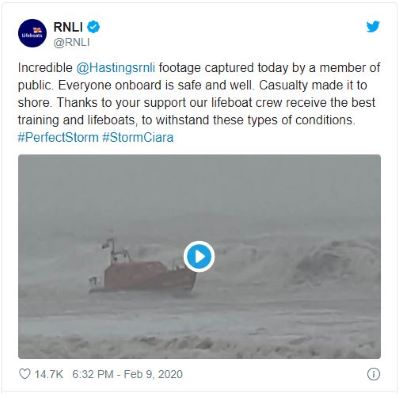 Facebook: 1-2 hashtags
Facebook turns each hashtag into a clickable link which, when clicked on, show a feed of posts that are all about the same topic. You should stick to using only one or two hashtags for each post, keeping your post clear and on topic. An example is:
We're looking forward to cheering on all of our #LondonMarathon runners!
The jury's out as to how effective hashtags are on Facebook, but you might want to try using one or two in a post to see if they're helpful for you.
Instagram: 10+ hashtags
Instagram actively promotes using hashtags as it makes content much more discoverable. You have a set maximum of up to 30 hashtags per post, but the suggested number is around 10.
Hashtags can also be added to Instagram stories; however, you need to make sure that the font is large enough as the platform's algorithm does not recognise hashtags that are too small.
As when using hashtags on any platform, be careful to only use hashtags that are relevant to your post and make sense. Just as people can choose to follow a hashtag, they can also flag a post as 'Don't show for this hashtag' which could impact how often your content is shown.
LinkedIn: 1-2 hashtags
LinkedIn is one of the last social platforms to adopt hashtags, with users only starting to make full use of them in the past few years. It's often a more professional and formal social channel so keep your hashtags short and relevant to the content, as per general best practice.
Examples of popular hashtags
Here's a few examples of hashtags, and how they're used, that you could test on your posts to see if they impact engagement. A word of friendly warning though – hashtags will only help already great content go even further. Popular hashtags, by definition, are the most used and therefore you'll have a lot of competition for views. So, focus on the quality of your content first and then experiment with using different hashtags to improve your engagement.
#MondayMotivation – The hashtag might sound cheesy, but lots of brands use it with direct asks or call to actions as the start of the new week marks the perfect time to be proactive.
#CharityTuesday – One of the sector's main hashtags, it's used to help drive awareness and to provide an easy to find place where people can learn more about different charities without the pressure of face to face interactions.
#WednesdayWisdom – If you browse this hashtag you might be surprised about the things people believe qualify as wisdom, but there is some really good information on there too. Promote infographics or statistics about your cause using this one.
#PhotoOfTheDay / #PicOfTheDay – One to use alongside before and after pictures as it's a great way to help you demonstrate some of the positive impact your work has had.
Additional ways to benefit from hashtags
The benefits of hashtags go beyond growing engagement – although that alone is a great reason to make full use of adding them (sparingly) to your posts. On Instagram, you can now follow specific hashtags. For example, an environmental charity could choose to follow #environment or #sustainability to see the most popular content linked to those topics. Instantly being able to see the type of posts your audience is interested in is like having a free focus group available to you 24/7.
You can of course also create and use your own hashtags to support activity your charity might be undertaking. This can give you a really good way of encouraging people to talk about and share what you're doing – or their own experiences of something. It also allows to you better see what people are saying about your work. A great example of this is Young Mind's #5YearOldSelfie campaign as it utilised the power of the hashtag whilst also including a clear call to action.
It will take time, but the purpose is to gradually encourage your supporters and followers to also start using that same hashtag when posting content that is relevant to your cause. This will expand your visibility as people will be able to follow the hashtag, plus it helps to build up a broader image of your charity and make your posts easier to identify or remember.
What has been your experience of using hashtags?
We'd love to know. Chat to us on Twitter @JGcauses using the hashtag #justgivingblog
If you're raring to go with your social planning, then check out this handy Giving Day wall planner from our colleagues at Blackbaud. It contains the awareness dates that you need to know in 2020, helping you to plan appeal days and research the corresponding hashtags in advance.
Get inspiration in your inbox!
Don't miss out on digital fundraising tips, tools and trends.