5 JustGiving pages for Ukrainians that will restore your faith in humanity 💙 🇺🇦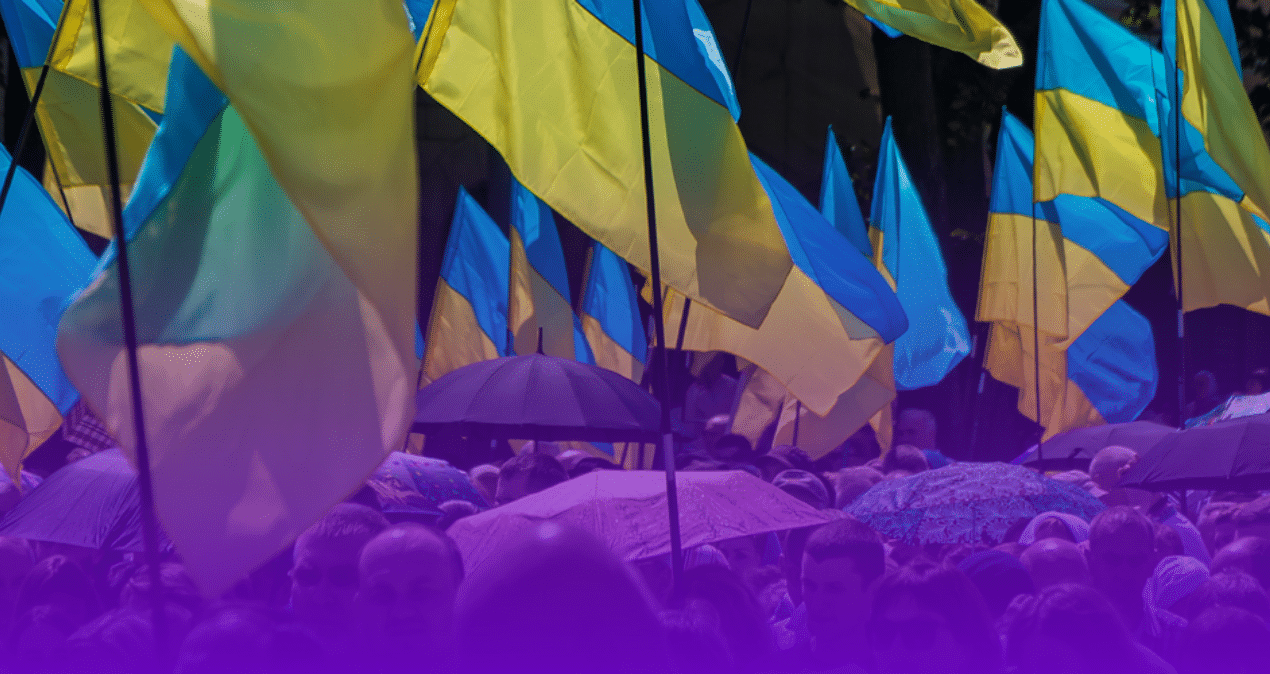 If you feel heavy with the weight of news from Ukraine right now, you should know that even amid such hatred and devastation, there are so many acts of love and kindness happening.
Whether or not your organisation is working to support the people of Ukraine, the news has hit us all hard. We thought we'd share some positive stories from our community to remind you of the power of fundraising and the astonishing impact it has.

When people who care are connected with charities making a difference, incredible things happen. So if you've got a few minutes to yourself today, grab a mug of tea and read these five inspiring fundraising stories.
1. Cook For Ukraine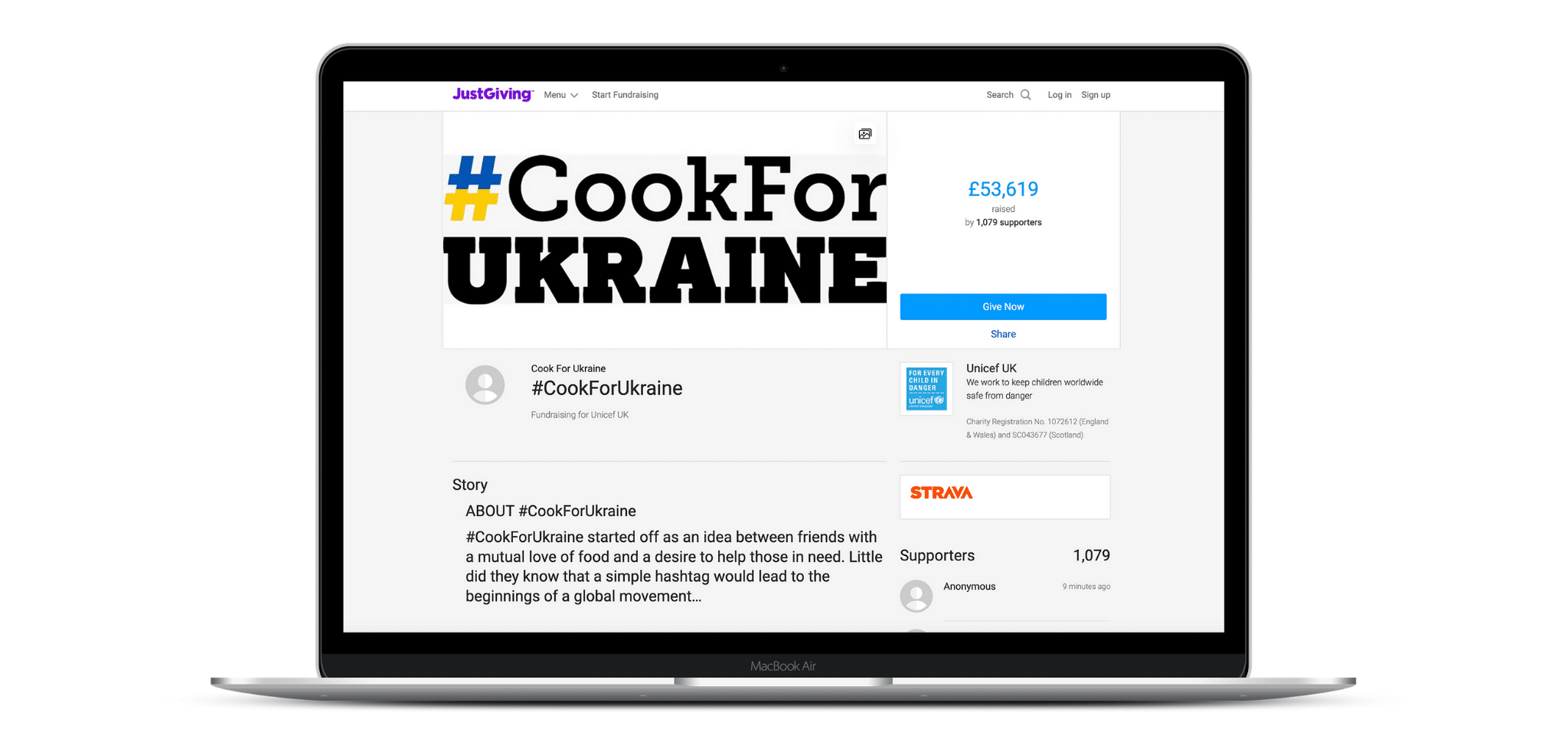 #CookForUkraine started off as an idea between friends with a mutual love of food and a desire to help those in need. Little did they know this would become a viral campaign in a matter of hours. They've inspired people around the world to show solidarity by cooking Ukrainian inspired dishes and posting photos on social media. This incredible fundraising idea is increasing awareness of Ukraine's current humanitarian crisis whilst raising vital funds for UNICEF UK.
There are over 1,500 posts using the hashtag on Instagram alone.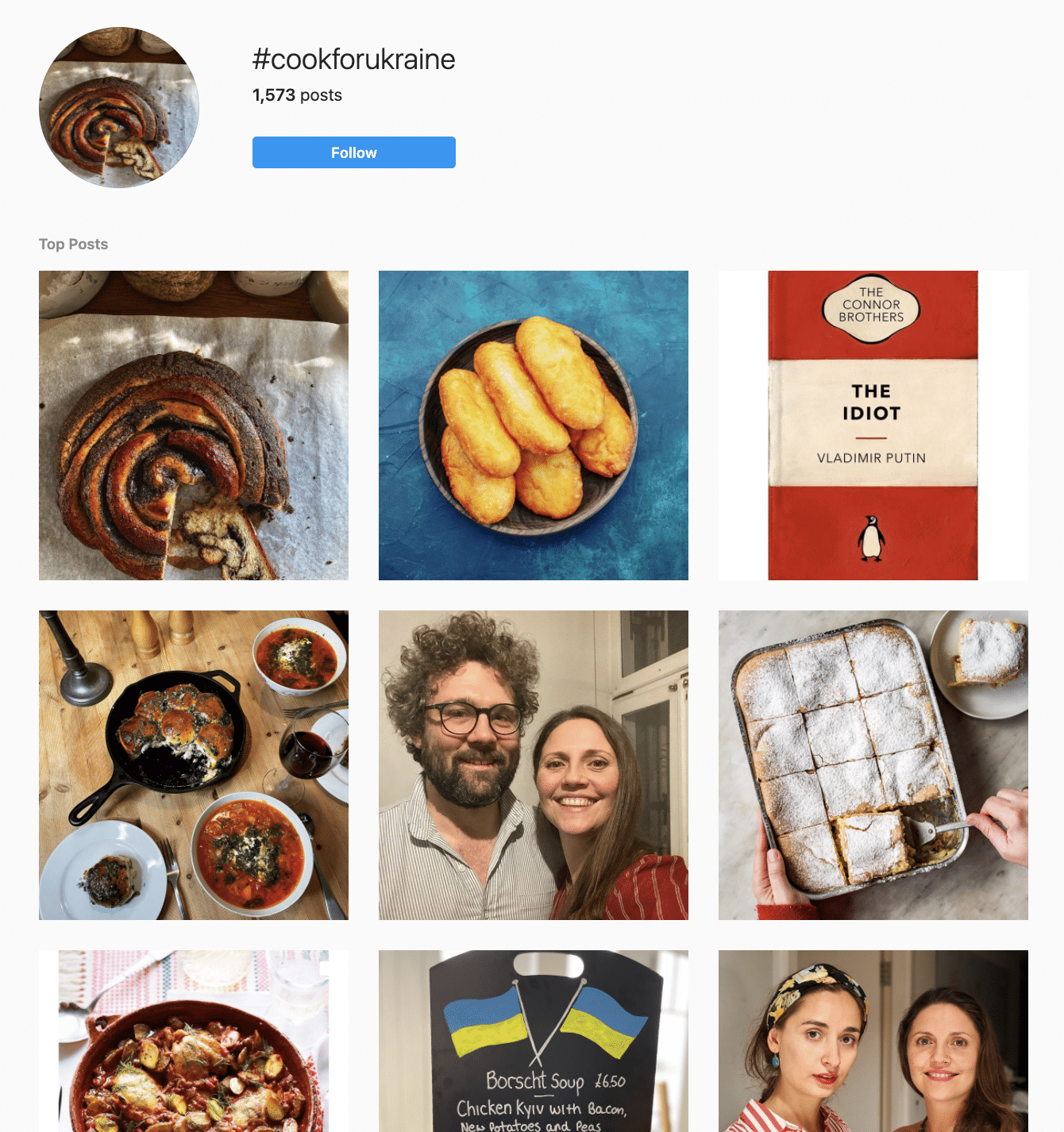 2. Sam's Drum-a-thon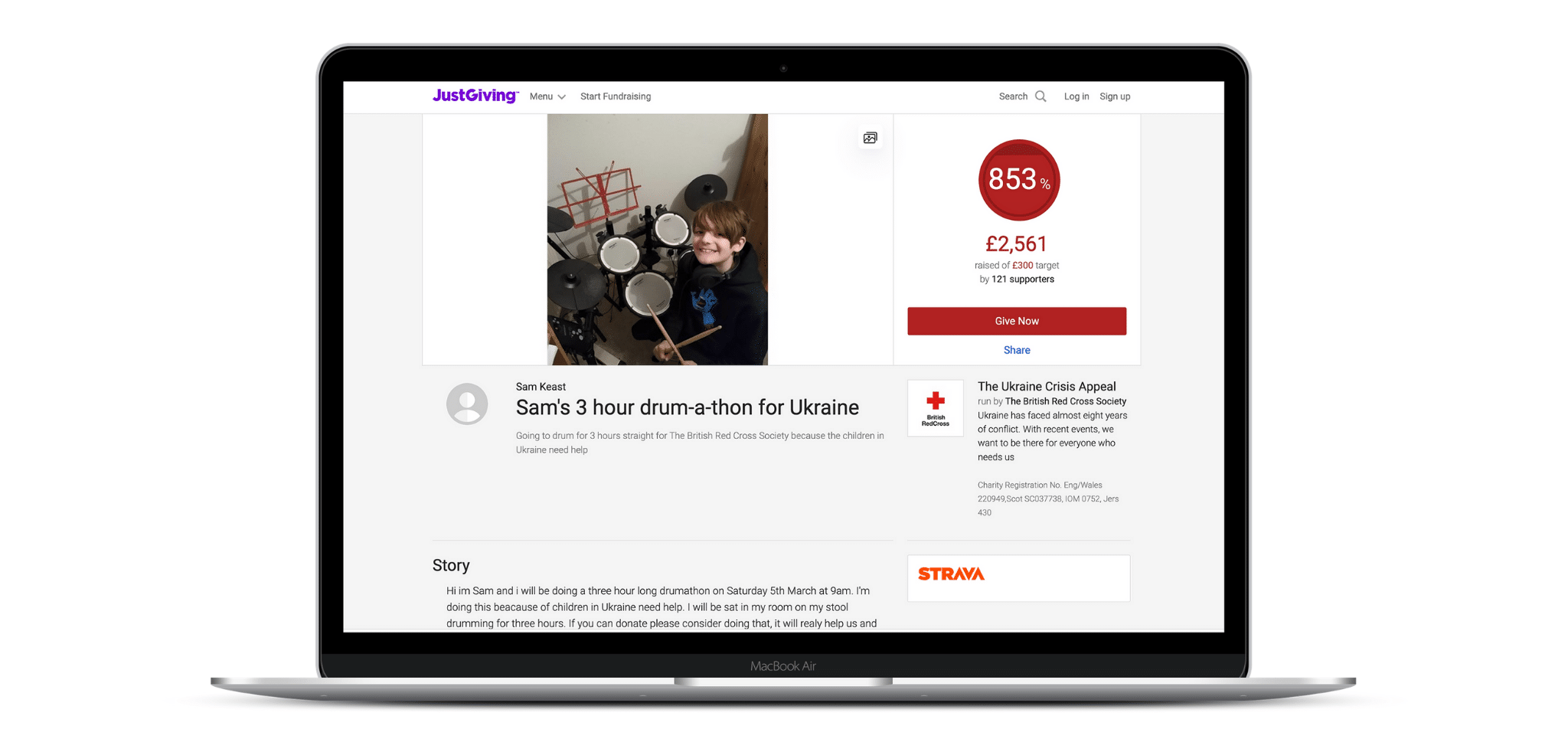 On Saturday 5th March, 9-year-old Sam will be live-streaming his very own drum-a-thon, to raise funds for the British Red Cross' Ukraine Crisis Appeal.
---
"I will be sat in my room on my stool drumming for three hours. If you can donate please consider doing that, it will realy help us and the world."

— Sam, 9
Having the stamina to drum for three hours straight is no mean feat. So far, Sam has raised £2,561 for The British Red Cross – Ukraine Crisis Appeal. Let's hope his neighbours have got ear plugs! You can visit Sam's page here.
3. Small Businesses for Ukraine
A group of small businesses have been doing their bit to help the people of Ukraine. Last weekend alone, they raised over £4500 for The British Red Cross by giving 10% of their takings.
Now, they're running a raffle, with dozens of prizes being donated by small businesses across the country. You can visit their page here.
4. Noah's Football Cone Collection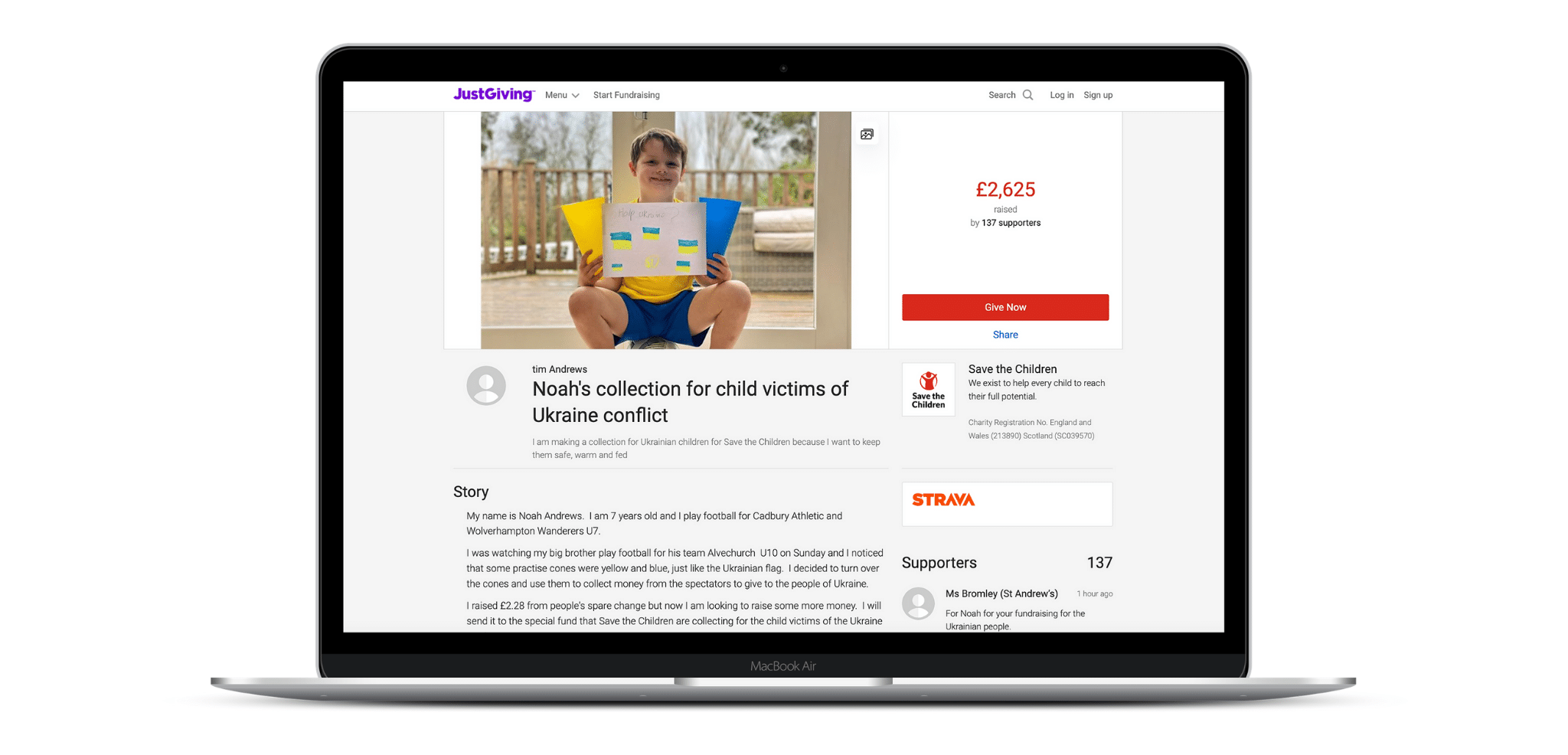 "I was watching my big brother play football for his team on Sunday and I noticed that some practise cones were yellow and blue, just like the Ukrainian flag. I decided to turn over the cones and use them to collect money from the spectators to give to the people of Ukraine."

— Noah, 7
---
Through a combination of offline and online fundraising, Noah has raised over £2,500 for Save The Children. A small act of kindness at a football match, has turned into an incredible fundraising campaign to help the children of Ukraine.
You can visit Noah's page here.
5. Isla's camp out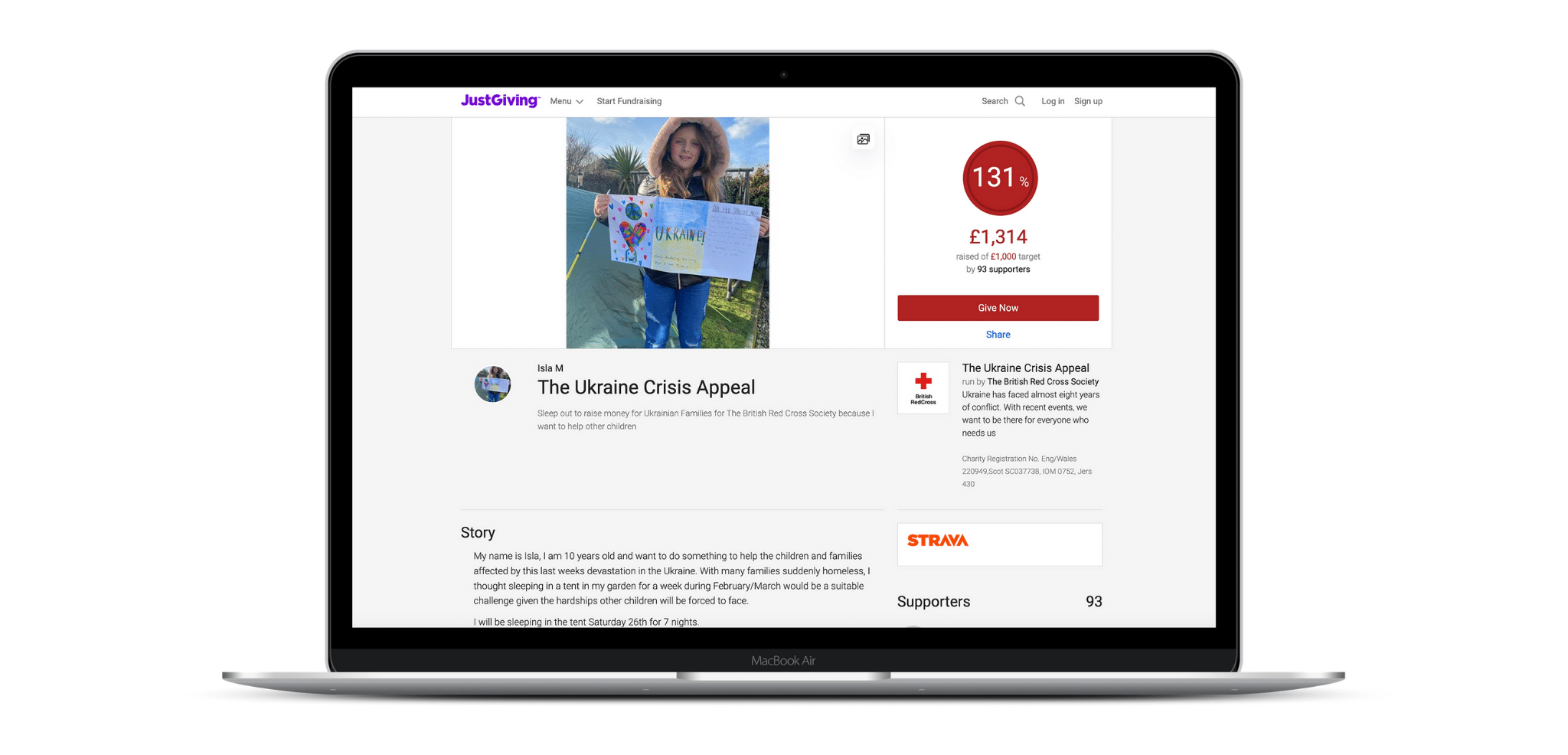 10-year old, Isla shares the same passion to help the children and families in Ukraine. With so many families being displaced, she thought that sleeping in a tent in her garden for a week would be a suitable challenge given the hardships other children are being forced to face. She's raised over £1,000 so far. You can visit Isla's page here.
We've featured all of these stories on our 'How to Help' landing page, created specifically to help sign-post people to charity campaigns and fundraising pages. We know people are feeling helpless right now, so we hope this helps them realise how vital charitable donations are during this time.
Tools for charities providing relief in Ukraine
Make the most of our solutions and raise as much money as possible by:
Encouraging your supporters to set up their own JustGiving page
You've seen above just how much of an impact fundraisers can make. That's why making it easy for them to fundraise for your charity is key. There's a few ways you can do this:
Email your supporters with clear instructions on how to set up their JustGiving page. We've got loads of tips and support available to your fundraisers here. Reassure them about how easy it is, and remind them that we'll send the money they raise to you automatically, without them having to lift a finger.
2. Create a clear CTA (call to action) on your website, like 'Start fundraising' or 'Start a JustGiving page' Here's an example from Help for Heroes website: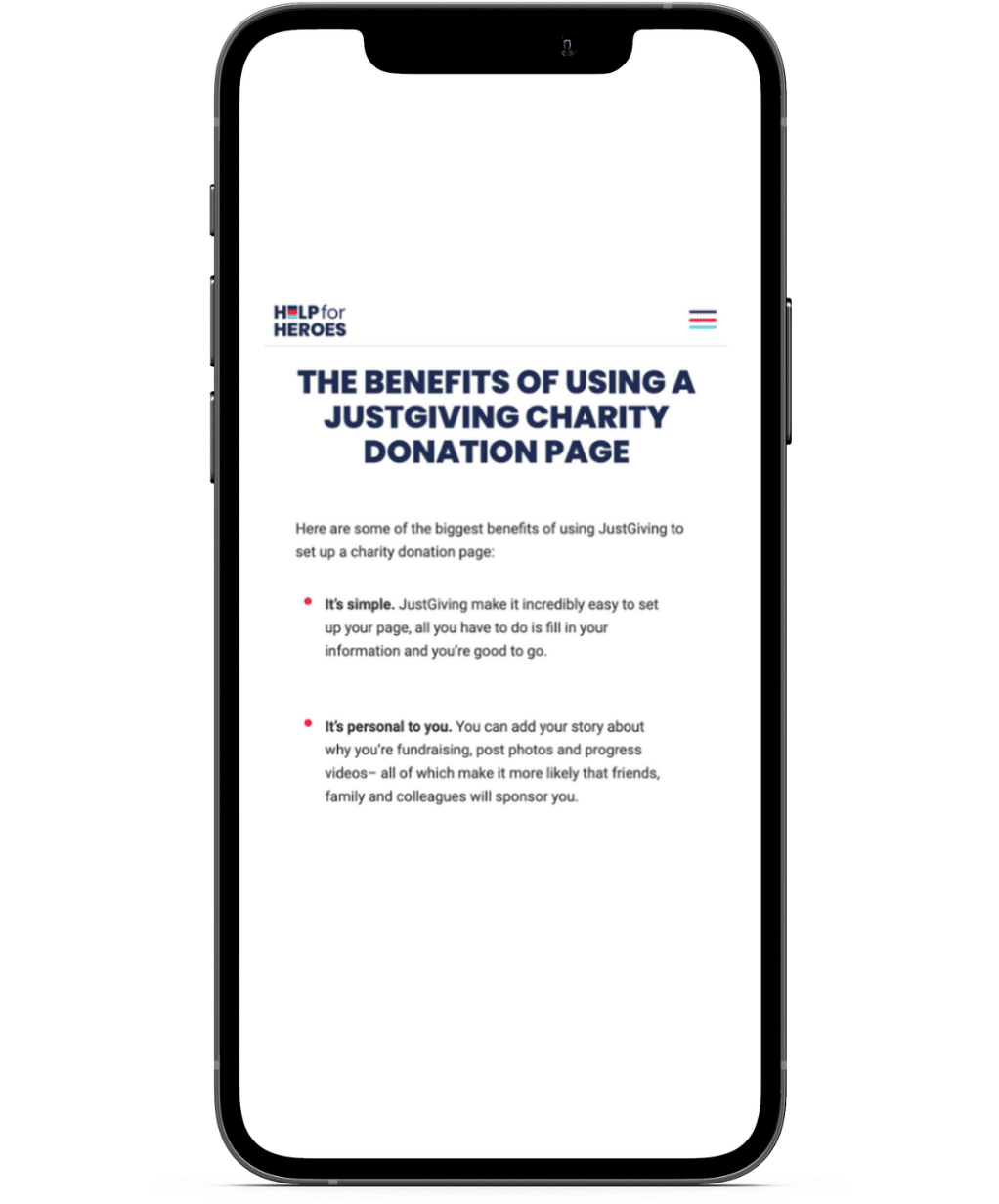 Launching an urgent campaign
Harness the power of the crowd and bring people together with one central hub for your supporters and fundraisers with your very own campaign page. Here's an example of how the British Red Cross have used a campaign page to create urgency and raise over £900,000: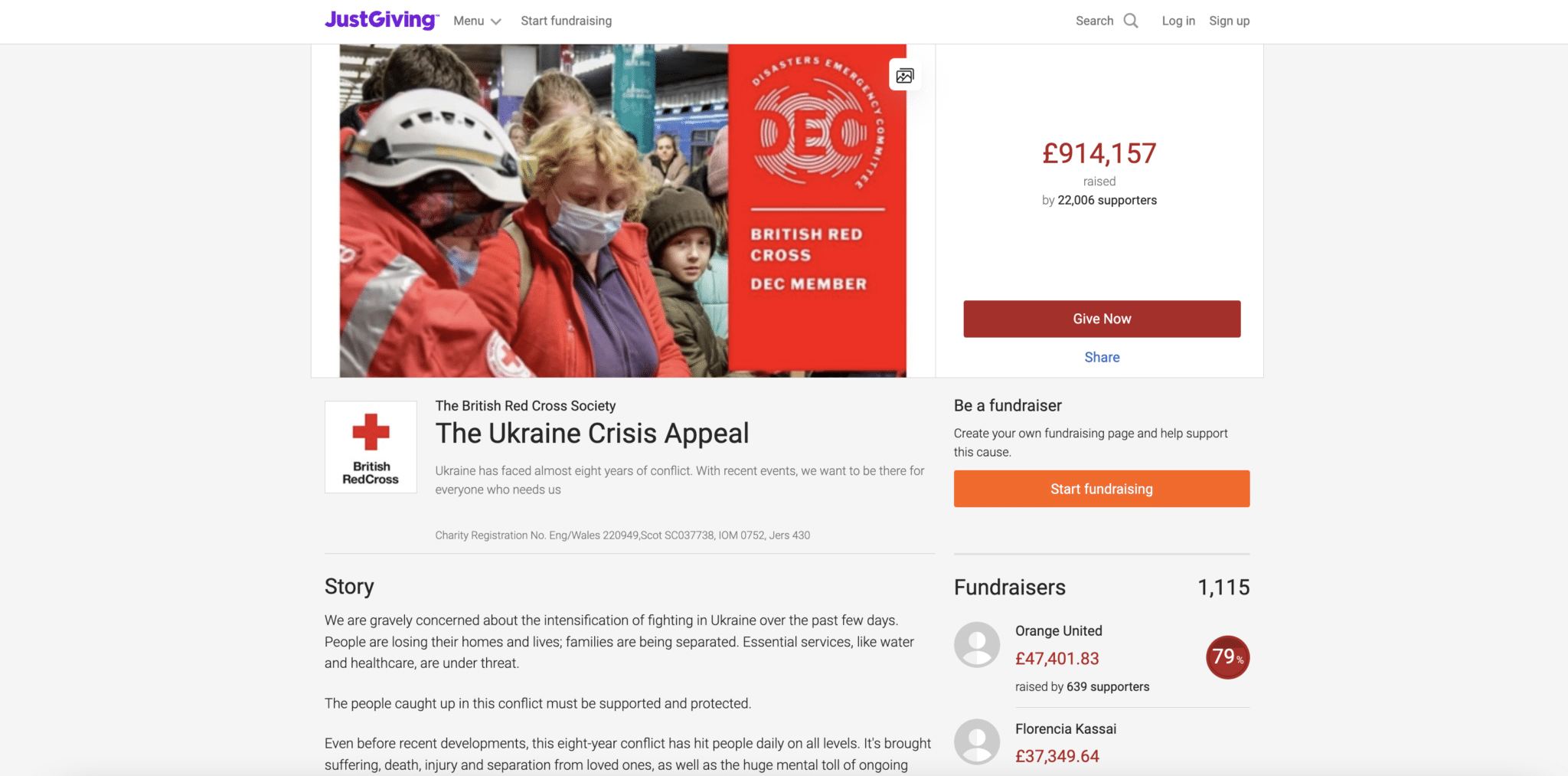 Exploring Giving Checkout
We know how important it is for you to accept online donations quickly right now.
With Giving Checkout, you can create a simple link or use our ready-made donate button to pop on your website, emails or social media, directing donors to give to your charity.
You can even download a QR code to add to your direct mail, fundraising packs and collection buckets so your donors can scan and donate.
Giving Checkout donations have 0% card processing fees, so 100% of each donation goes directly to help your charity support the people in Ukraine. Find out more about Giving Checkout.
Get inspiration in your inbox!
Don't miss out on digital fundraising tips, tools and trends.
Sophie is Head of Brand at JustGiving. With over 7-years experience in the world of fundraising, she knows her stuff about building brand strategies and championing thoughtful marketing.