5 digital lessons from the IOF Fundraising Convention 2018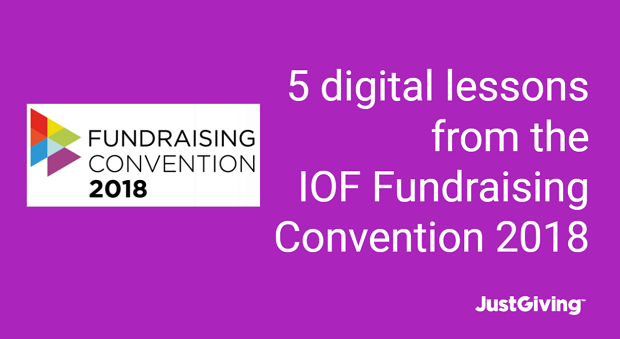 The annual #IoFFC took place in London on 2nd-4th July. Check out the hashtag on Twitter for lots of lovely nuggets of wisdom. I took away five key themes that we can all learn from the sessions I attended.
1) Plan, plan plan
The immediacy of digital channels – especially social – may make it feel like they can be used without much forethought. But to really drive success, planning is crucial.
In their session "Lessons from 8 years as a digital-first charity", we heard from Coppafeel how content is carefully generated at events to use for future advertising.
Meanwhile, MS Society spoke about developing their brand new product "Kiss Goodbye to MS", in response to realising that a key audience was underrepresented in their database. By focusing on this and ensuring strategic goals were being met, they created a successful product and 93% of yr1 participants were in the target demographic. Impressive stuff!
2) Authenticity drives engagement
We heard about authenticity in a range of areas: from Coppafeel, who told us they won't pre-write tweets for their celebrity ambassadors, to Breast Cancer Now, who use images and stories of real supporters, to create rich content that their supporters interact and engage with.
Most striking, for me, was hearing from Autistica about how they realised their images were too positive and cutesy – their audience didn't engage with smiling children with their parents. They wanted to see slightly awkward, genuine pictures of teenagers, which resonated much more with their lived experience.
3) Be geeky
Data is your friend when it comes to fundraising, and digital especially lends itself to taking a geeky approach. We were reminded by Breast Cancer Now that digital is an ideal testing playground – you can create collateral quickly and cheaply, and switch things on and off at the push of a button.
One of my favourite stats of the week came from the Terrence Higgins Trust session on using Facebook to drive regular giving – we heard that they trialled a huge 128 combinations of image/copy/audience to build their learning about what worked best for them!
Both Breast Cancer Now and Terrence Higgins Trust reminded us that purely driving handraisers through social channels isn't a success in its own right; you need to follow through to assess conversion rates, remittance rates, average values.
Ultimately different channels will drive different results in each area, so viewing the whole funnel to understand success is crucial.
4) Understand your audience
Dave Pearce from Dignity in Dying pointed out that his target audience is more like his mum than him, which was a great way of reminding us that we should have our audience in mind always.
In the Content Chaos session, an organisation's homepage was likened to a hotel lobby – no-one wants to be there, they are just on the way to the bar or their room – a useful analogy to keep in mind when everyone is desperate to put their Amazing New Thing on a carousel.
Rebecca from Autistica explained how she had no budget for user research – so she picked up the phone and interviewed people herself to build audience personas. It may take time from your busy diary, but the insight and value gained from spending time truly engaging with your supporters cannot be overstated.
5) Attitude is as important as knowledge
I loved hearing from some excellent women leaders in the digital leadership session. Claire Horton, CEO at Battersea, explained that she sees herself as a provocateur – driving a culture of bravery, agility, adaptivity, transparency and insight-driven innovation with purpose. That's the kind of leader we could all do with!
And Clare Moriarty, joining us from DEFRA, spoke brilliantly about rebels – she believes that they are key to driving change and that leaders have a duty to nurture, protect and develop them.
Melissa Thermidor from NHS Blood and Transport – I think you could safely call her a rebel! – spoke to us about the quite frankly amazing 'Issa Thread' response to accusations of racism on Twitter – check it out if you haven't seen it before.
She explained: "I really thought I was going to lose my job after this thread… We sent it out and waited for the fireworks. There isn't a guidebook on being brave – you just have to trust your gut, really… Stick to your guns and what you believe in and stand up for what's right."
Needless to say, she kept her job.
Get inspiration in your inbox!
Don't miss out on digital fundraising tips, tools and trends.