Five lessons from a mobile app marketer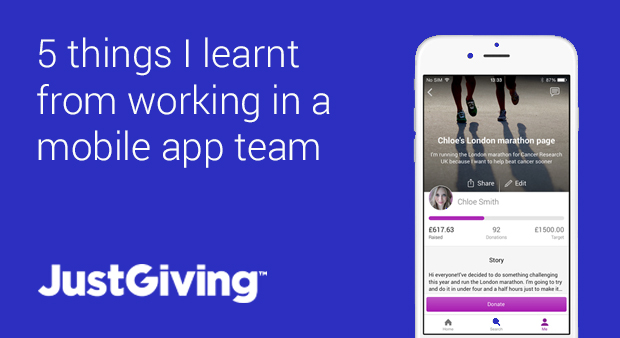 I'm the marketer for the JustGiving App. I work on a small, focused team of six with a product manager, two developers, one tester and one designer. My job is to get people downloading the app and making sure we rank well in the App Store. I thought it was about time I shared some of our learnings.
Heads up – this blog is all about working on our iPhone app. As soon as we've cracked the Android I'll tell you about that too.
Apple review every app that's submitted to the App Store
Every single one. They make sure everything works properly and there's nothing hidden in the app that shouldn't be there. The review process can take between two days and two weeks. As with any other project, you should stick to a clear timeline and remember to factor in this review period when you're scheduling your marketing communications. Apple will also review your app every time you submit a new version, so bare this in mind with any updates that you release too.
Once the app has been accepted by Apple you can either set it to go live automatically, or you can do it manually. We always choose the manual option so we can ensure that the new release doesn't go out at the same time as any major fundraising event, just in case there's an issue.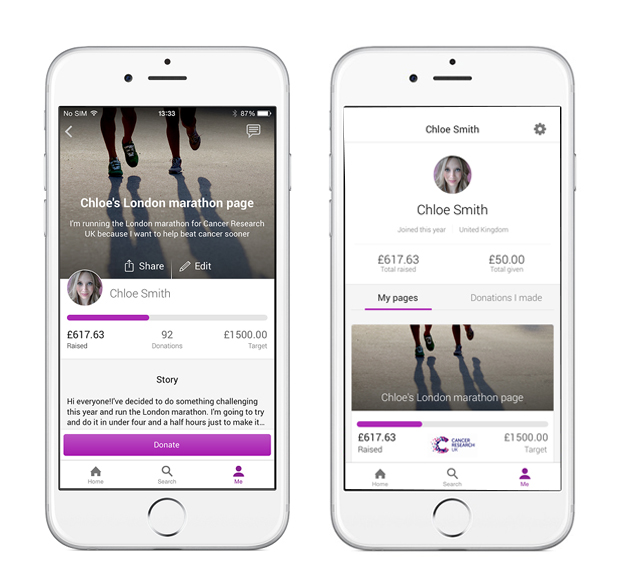 Tech teams move fast – and you need to stay in the loop. 
Our little team is agile, so things can and do change very quickly. People come up with new ideas all the time, and we're constantly trying to improve the app and add functionality. Stand-ups (our short daily meetings) are great for knowing exactly what's been going on. It's important, even as a marketer, to attend them all. Other good ways of staying up to date? Go to user testing and watch people use the app. It will give you ideas about how to promote it as well as insight into how the app itself is working.  You should also keep hold of a phone that has a version of the app that's still in development. This means you'll see all the changes as they happen, and you can give feedback along the way.
You should think about marketing from the beginning
Let's start with App Store Optimisation, or ASO. This is about improving where your app appears when people search in the App Store. It's all about keywords. Start by putting relevant keywords in the keyword section for your app.  Next, write a detailed description of your app and make sure you include the same keywords. Another place for those keywords? In your app title. You've only got 225 characters here so use them wisely.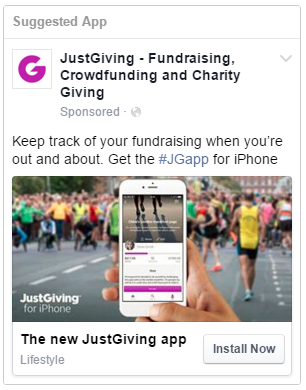 Once your app's out in the App Store there are loads of ways to tell people about it.  On the paid side you can run app ads on social media and add app links to your Google Ad Words. If you don't want to pay you can always use your owned marketing channels.  Email your database, write about it in your blog and in organic posts on social media. You can also add banners to your website so that anyone who browses to it on a mobile is promoted to download your app. With so many different channels it's important that from the start you think about…
App download tracking and measuring ROI
Tracking will give you insight into which marketing channel is working best for you, so you wont waste time promoting your app in a place where people aren't downloading it. You can also use your tracking to calculate exactly how much each download costs you, to see if it's giving you a positive ROI.
There are lots of third party tracking SDKs (software developer's kits) that developers can simply build into your app. Some of these integrate automatically with Facebook and Twitter, meaning you can easily set up app download ads and see which creative is performing best.
It all sounds very technical but once your tracking SDK is set up you can generate tracking URLs in about two minutes and use them everywhere you link to the app. Just make sure you remember to use them all the time so you get a full 360 view of your downloads.
Apple won't allow you to process donations in an app
This is a big one for the third sector. It's an Apple policy that you can't make donations to a charity within an app. What you can do instead is send people out to your mobile website and redirect them back to the app once they've donated. This is what we do with the JustGiving app. It's a bit of a pain, but as long as your donation process is optimised for mobile you should still see donations come in.
So, that's a quick rundown of some key learnings from the mobile app team. I hope it's been useful. And I wouldn't be doing my job properly if I didn't give you a link to download it would I? Go have a look and let us know what you think! http://just.ly/Blog-JG-iPhone-App
BONUS TIP: Developers like biscuits, pizza and beer. They also like being bribed. My most valuable learning of the year? If you want something done fast you should provide one or all of the above. You're welcome.
Get inspiration in your inbox!
Don't miss out on digital fundraising tips, tools and trends.
Deborah looks after JustGiving's paid media channels. She loves creating ads that engage and inspire their community, and spread the word about JustGiving around the world.