5 times gamers did extraordinary things for charity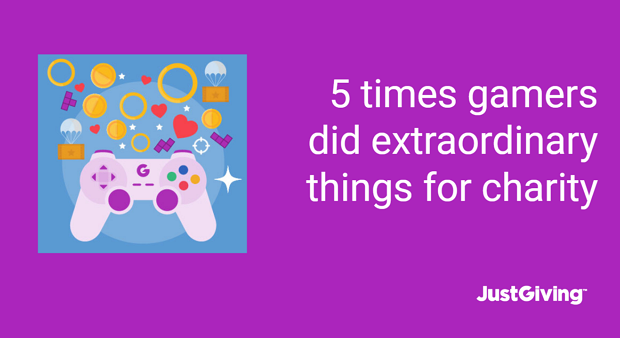 If you're not a gamer, we know what you might be thinking – gamers are lazy and not great at communicating. But you couldn't be more wrong; gaming communities are diverse and full of individuals and teams who are bursting with skills. More importantly, they're using their skills to give back to causes they care about.
Gaming communities are diverse and dynamic. They're bursting with skilled, dedicated individuals. And they're giving.
Wherever there are large communities of people, there are opportunities to fundraise. Here are our top five examples of wonderful ways the gaming community is helping make the world a better place. For an even deeper look take a look at JustGiving's Gaming for Social Good white paper.
This week's Call Of Duty 53-hour marathon
You may not know this, but some gamers can have an absolutely huge fan following. Many of them are revered far and wide for their skills and strategic playing. Call of Duty: Endowment were banking on some of those gamers taking part in their 53-hour gaming marathon this week, which aimed to raise money to help veterans find jobs.
They timed the marathon well because it coincides with the release of Call of Duty: Black Ops 4, and of course there's a link between the nature of the game and the cause they're raising money for.
They raised an astounding $236,000, over twice their target of $100,000, which will help them reach their aim of getting 100,000 veterans into careers by 2024.
Gameblast
Gameblast is a fundraising platform with a twist. They're asking the gaming community to raise funds for gamers with disabilities by organising gaming marathons. Funds raised are put towards custom controllers and keyboards for those who are physically disabled so that they can play games alongside everybody else.
Humble Bundle game buying service
Humble Bundle began as a game bundle distribution service, on which users could choose to pay what they wanted, safe in the knowledge that a portion of whatever they chose to pay would go to charitable causes. Now they sell all sorts of things, including ebooks and software. They also offer a monthly subscription service.
Since 2010, they've raised an incredible $134 million for charities, including WWF, Save The Children and War Child.
Gamesaid
Gamesaid aims to mobilise the skills and passions of gamers in the UK by encouraging them to use their gaming passions to raise money, and then distributing funds amongst children's charities on their behalf.
In September 2018 they donated £213,120 to nine charities, including Autistica, Lifelites, Everyone Can and Special Effect.
Extra Life
Extra Life unites thousands of game players around the world for an epic 24-hour fundraising gaming marathon every year and then uses the money raised to help poorly children. This year, their game day is November 3rd.
Since they started in 2008, they've raised $40 million for sick and injured children. By playing, North American gamers are helping children in their own community, because the funds raised are given to their local Children's Miracle Network Hospital.

Get inspiration in your inbox!
Don't miss out on digital fundraising tips, tools and trends.