5 ways to encourage people to fundraise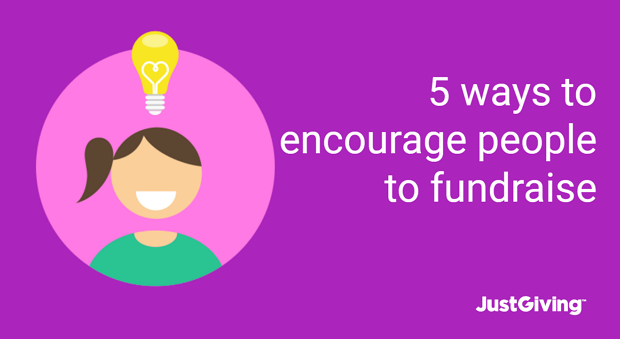 If you have an army of fundraisers behind you, that can only be a good thing. Not only will they raise vital money for your organisation, but they'll tell everyone all about you in the process. It's really important that you invest some real time and attention in recruiting and supporting fundraisers.
At any one time, large organisations like Cancer Research and UNICEF have hundreds of people fundraising on their behalf for organised events, or sometimes of their own accord; just because they feel moved to support the cause and want to do something nice.
Here are our top tips for recruiting passionate, dedicated fundraisers.
Appeal to those who already support you
Most people have a charity they love. You'll be that charity for a lot of people. They'll be following you on Facebook or Twitter, engaging with your Instagram posts, donating to your emergency appeals or signed up to your mailing lists.
A lot of these people would do a little extra to help you if you just asked them, so make sure that you do.
Be really clear about what it is you're looking for. Do you need people to run the London Marathon for you? Post it on your Facebook page and ask the people who follow you there first. Need people to raise money for a new project? Do some analysis of your existing supporters and contact those most likely to give..
What's the story?
If you're looking to inspire people who don't know a lot about your charity, you need to make sure that you're telling the story of your organisation in a way that gets people excited about what you do.
Spend some real time getting your story straight. This can be difficult. It's really important that you take a step back from whatever you're trying to fundraise for and recognise that not everyone will know everything about the situation. To encourage their involvement, you might have to elaborate more than you normally might, but you don't need to tell everyone everything, either, because people only need to know the important stuff.
Consider investing in a copywriter if you can, or a creative agency who specialise in lead generation or storytelling. They'll help you come across in the right way.
Keep people informed
You'll be really surprised just how much support some people are willing to give you once they're inspired. Once people have fundraised for you, it's really important that you don't just forget all about them; firstly because that's rude, and secondly because they might help you more if you keep them updated about your campaign.
Provide them with regular updates about how close you are to reaching your target. Make sure you say thank you – they should feel a warm glow when they think about your organisation and will be more likely to spread the word about your cause.
Make it fun
You might announce that anyone who reaches a certain target gets discounted entry into your next event, or set up a fundraising leaderboard to inspire healthy competition. This is a great way to encourage people to push their fundraising.
Keeping it light will help prevent fundraising fatigue for some of the events with larger targets, such as marathons, and an announcement of an added incentive is likely to provoke a flurry of activity amongst fundraisers.
Go back to the people you forgot about
How many of your previous fundraisers have you allowed to disappear off your radar? If they have raised money for you before, it's really likely that they care about your cause and trust your organisation. Treat them with the love and care they deserve.
Consider devising a strategy to bring them back on board. It needs to be more comprehensive than an email a couple of weeks before your campaign launches asking them to help you. Warm them up a few months in advance, and be kind to them. Consider making a phone call if you have the capacity (and permission!). You'll be surprised how many of them are willing to help you if you'd only ask them again.
Once they're re-engaged, work towards keeping them. Good fundraisers are invaluable, and you should be treating them as the vital supporters that they are.
Get inspiration in your inbox!
Don't miss out on digital fundraising tips, tools and trends.