6 creative ways that charities are using contactless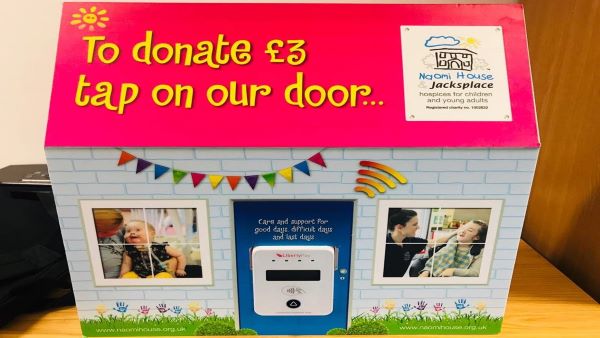 Sometimes the best inspiration comes from our peers, which is why we've taken a look at some of the creative and unique ways charities are using contactless devices. From wall designs to shop window displays, the examples below showcase how contactless giving can be tailored to suit your charity's needs and brand values.
Addenbrooke's Charitable Trust
Addenbrooke's Charitable Trust supports innovation in patient care across Addenbrooke's and the Rosie hospitals in Cambridgeshire. Addenbrooke's originally invested in a handful of contactless points, however they quickly increased the number of points to keep up with their high visitor footfall. They now have six points which are positioned across some of their busiest departments. This includes Outpatients, A&E and the hospital's Main Reception.
To make their contactless points stand out, Addenbrooke's transformed each point into a full wall display. Using bright brand colours and a simple call to action, the points offer a convenient way for visitors to donate a minimum of £3 per tap.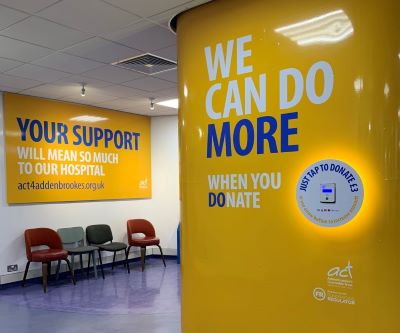 Naomi House & Jacksplace
Located inside of their hospice and shop, Naomi House have turned their contactless donation device into something unique. They have embedded their device inside of a beautifully designed, custom-made house. The house provides an interactive and fun focal point, catching the attention of visitors whilst also conveying the story of their cause.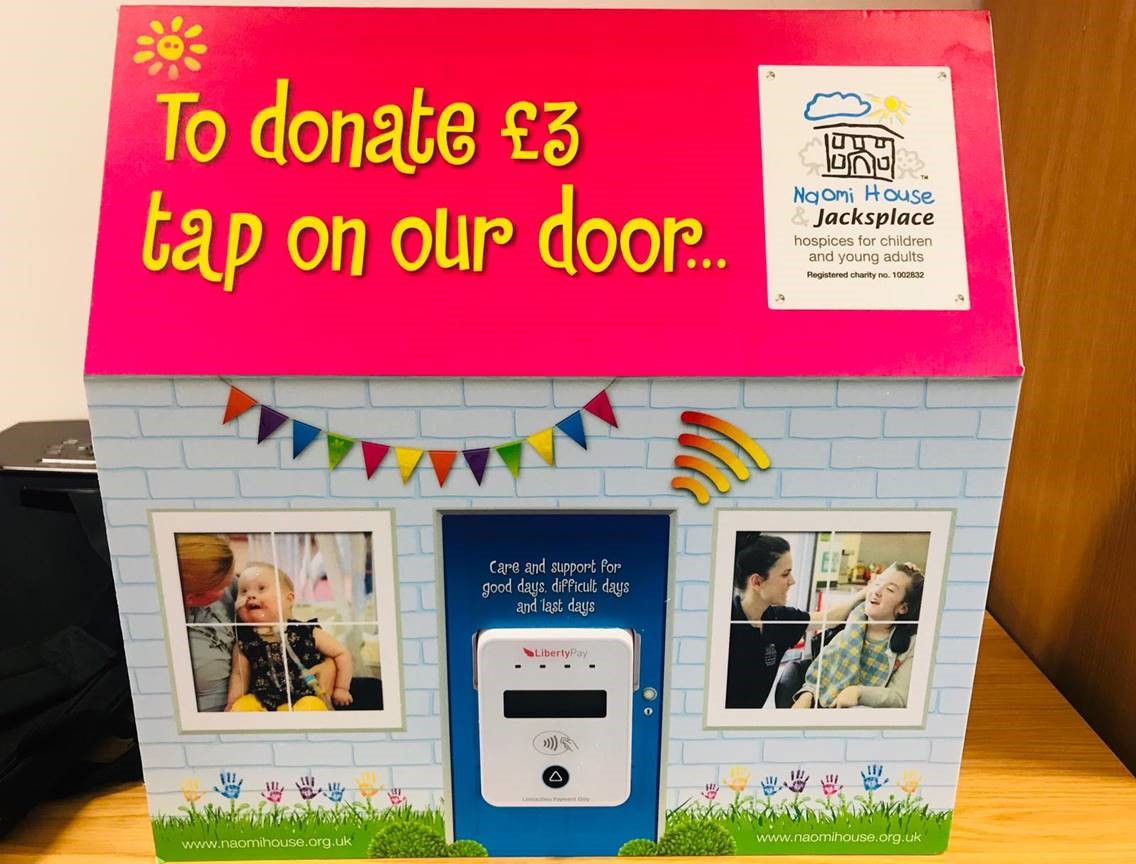 Cancer Research UK
CRUK have become known for their innovative and interactive contactless points. Over the past few years they have trialled a variety of contactless donation points across public areas, such as shop windows and street benches. Their latest trial was a two-week campaign which saw a contactless device placed within an advertising board in Birmingham's busy Bullring Shopping Centre. Created with the help of LibertyPay and JCDecaux, the board used targeted messaging to capture the attention (and donations) of local people that were already in the mindset to spend.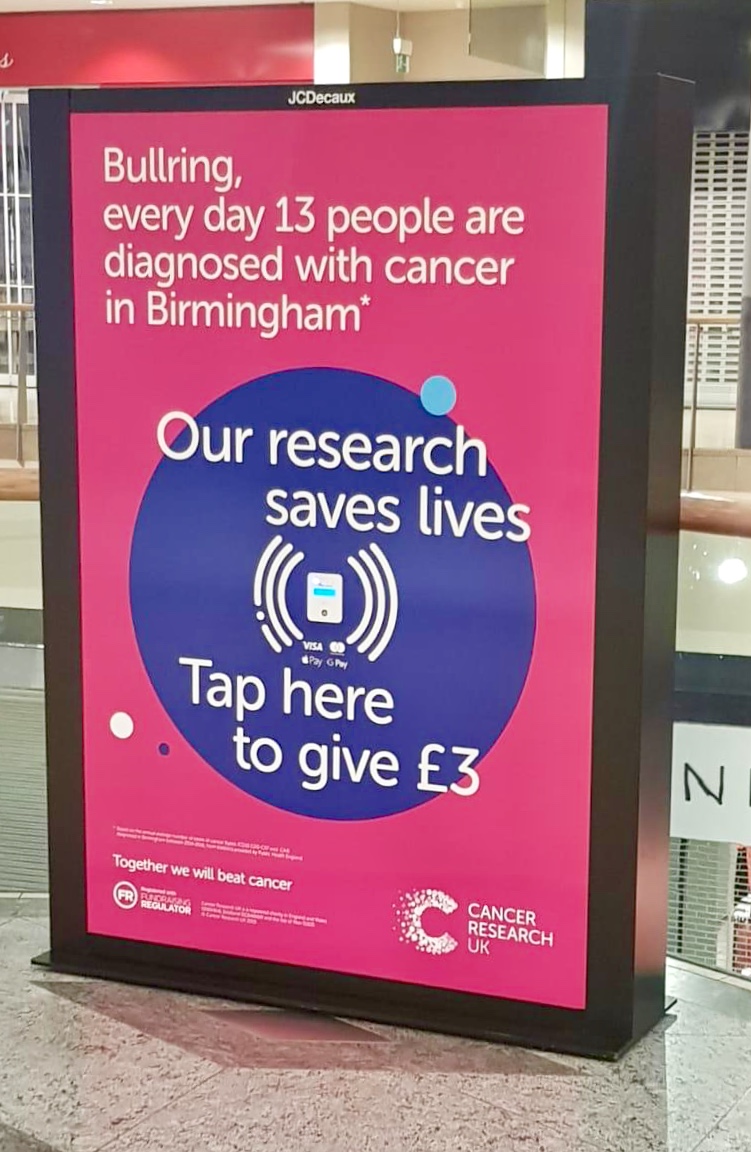 Cambridge City Council
Cambridge Street Aid, set up by Cambridge City Council in 2016, has implemented several contactless donation points throughout Cambridge City Centre. They partnered with various local Co-Ops to have their contactless devices within shop windows. The idea behind this is to make donations possible 24/7, giving visitors and residents the opportunity to make a £3 donation at times that are most convenient to them. The donations go towards the fight against homelessness and to help people on the streets to turn a corner. The council are planning on doubling their number of contactless donation points over the next few months.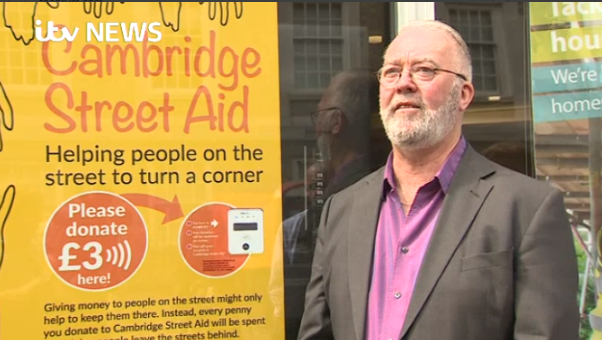 Royal Botanic Garden Edinburgh
The Royal Botanic Garden Edinburgh, which spans 70 acres, replaced their older cash-only giving points at the end of 2018 with three contactless points and two hybrid collection points. Their choice to provide donation points which accepted both cash and contactless was motivated by their high number of international visitors who often carry holiday money. The interactive units have been designed to be large and eye catching with led lights built in. Placed near strategic exit points, the Royal Botanic Garden Edinburgh have seen visitor donations rise by 135% since the units were implemented. They were also shortlisted in the Scottish Fundraising Awards 2019 for Best Individual Giving Campaign.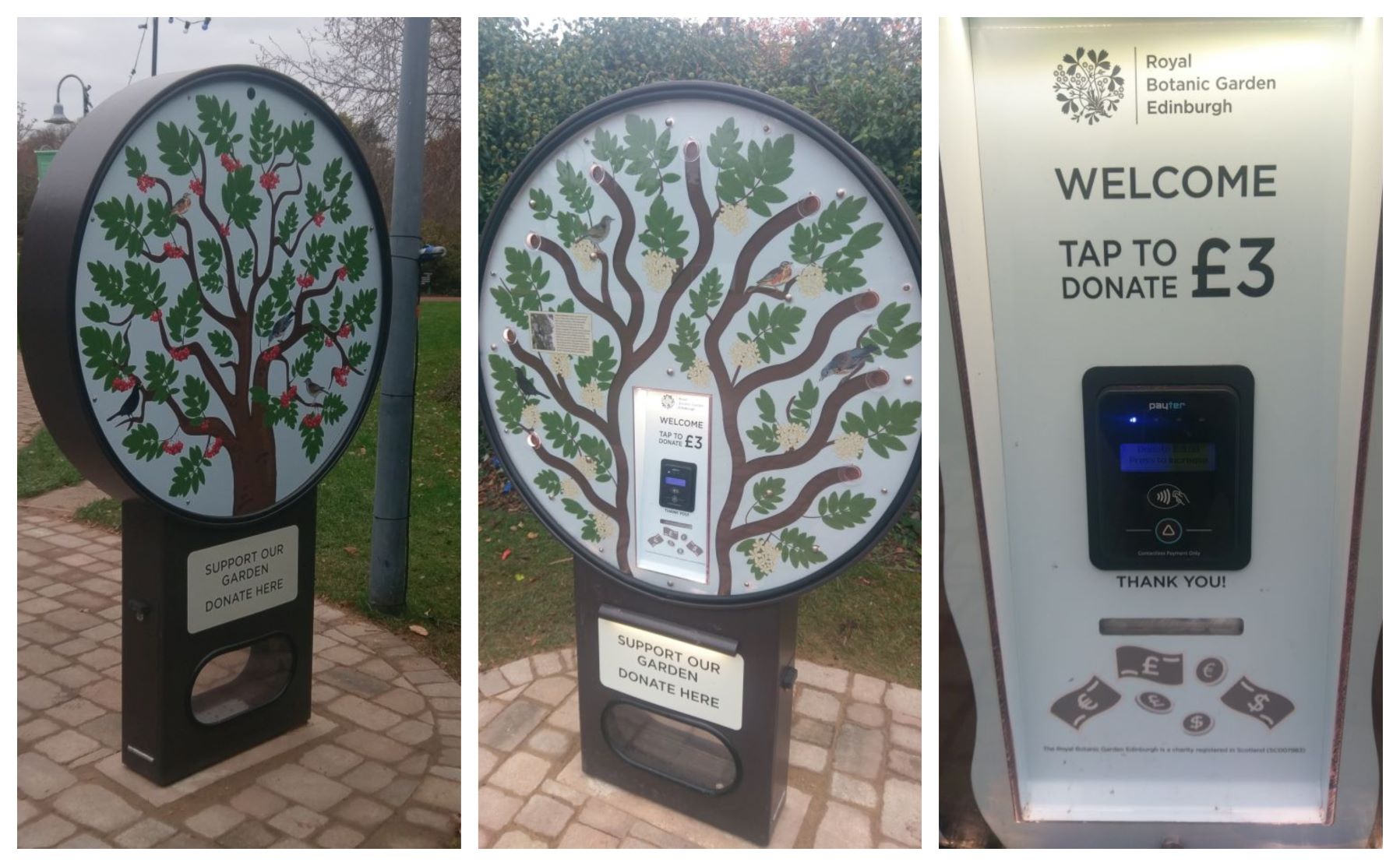 Breast Cancer Now and M&S
Marks and Spencer stores throughout London ran a campaign in support of nationwide charity Breast Cancer Now. The stores worked with partners to offer shoppers a way of making contactless donations towards the cause whilst browsing in stores or at the checkout section when finishing their shopping experience. The contactless devices were used in multiple ways to maximise donations. The first way was through custom built stands, created by The Creative Place. The stands were able to hold the device and provide stationary points for shoppers to go to, allowing regular customers to know where to find donation points. The second use of the devices were store staff using them as portable hand-held devices, giving those just browsing an opportunity to give a donation.

Feeling inspired?
If these examples have your creative juices flowing, then contact our partners at LibertyPay. Their contactless devices seamlessly intergrate with your JustGiving account and they can talk you through all of the fun and unique ways that your charity can create a contactless giving experience within your current supporter journey.
Get inspiration in your inbox!
Don't miss out on digital fundraising tips, tools and trends.
Toni Gregory is a Content Marketing Specialist and B2B copywriter.