A charity guide to #GivingTuesdayNow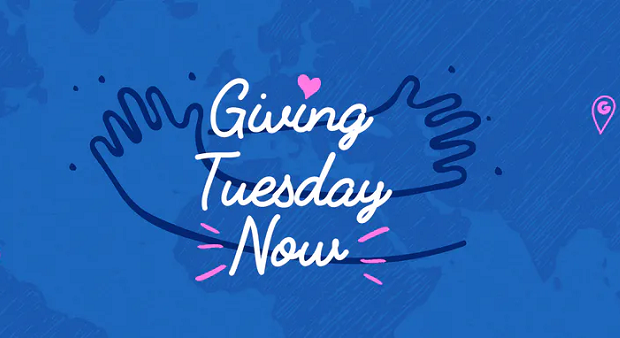 It's fair to say that 2020 is a year like no other, and it's presented a set of challenges to the charity sector that many of us have never faced before. However, as a collective we've shown just how creative and versatile we can be, with some amazing new fundraising ideas coming together in a very short space of time.
One of these great ideas is Giving Tuesday Now. The organisers behind Giving Tuesday have come together with their partners to create a stand alone day which will act as a special response to COVID-19, shining a light on how it's impacted the charity sector.
What do you need to know about #GivingTuesdayNow?
Taking place on 5th May, #GivingTuesdayNow is going to be a global day of unity. The aim is to bring together all non-profit organisations and charitable supporters for a day of recognition, appreciation and support. Of course, fundraisers can organise their own campaign in aid of the day, however the main focus is to get people actively donating and raising awareness about their favourite charities.
The day is a great opportunity for you to highlight your charity's mission, share how you've been affected by COVID-19 and encourage your supporters to give what they can to help keep you running and doing amazing work during these difficult times.
How JustGiving is helping to support #GivingTuesdayNow
We know that now, more than ever, every donation that your charity receives makes a huge difference. To support all of the charities taking part, we've created a dedicated #GivingTuesdayNow microsite. The microsite provides supporters with an a short explanation of Giving Tuesday Now and the meaning behind it. There are also  suggested donation amounts, such as the equivalent of a pint at the local or a weekly bus pass. Plus, we've included an easy charity search function and a countdown which is designed to build a sense of urgency, motivating people to give now.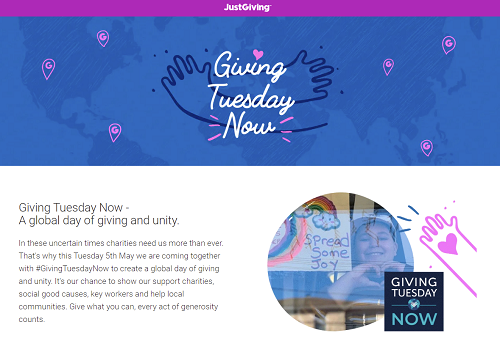 For charities that are already members of JustGiving we have also emailed out personalised donation links, known as campaign deep links, which take supporters directly to a charity's donation page when clicked on. This makes it even easier to quickly donate.
Free resources and marketing materials
You can find free resources to help your charity start its #GivingTuesdayNow campaign in the following places:
4 key tips for making your #GivingTuesdayNow a success
Prepare your links in advance
Decide where you would like to direct your supporters to – such as your charity's donation page – and then have all of the links ready to use. If you receive a personalised JustGiving link then make sure relevant team members have access to it, such as whoever manages your social media channels. For all other links it's a good idea to create trackable version of them (which you can do through Bitly or Google Analytics) as this will help you to monitor which platforms work best for engaging with your supporters
Make full use of the free resources
The free resources listed above are all designed to make your life easier, so take advantage of them as they'll help you to quickly set up a great branded campaign
Know your key messages
Do you want people to donate? Do you want supporters to share messages of thanks? Do you just want to raise extra awareness of your cause? Have a clear idea of what you want out of the day to avoid any confusion
Don't leave your communications until the 5th
Yes, you'll need to be actively communicating with people on 5th May, but you should tell your supporters about #GivingTuesdayNow in advance. Firstly because lots of charities will be reaching out on the day and you don't want your messages to get lost. Secondly, because you want to drum up some excitement and enthusiasm for the campaign, giving people extra time to get involved and be prepared to donate
Good luck! Share your #GivingTuesdayNow activities with us on @JGcauses – we'd love to see them.
Get inspiration in your inbox!
Don't miss out on digital fundraising tips, tools and trends.
Toni Gregory is a Content Marketing Specialist and B2B copywriter.