A jargon-busting guide to Gaming for Good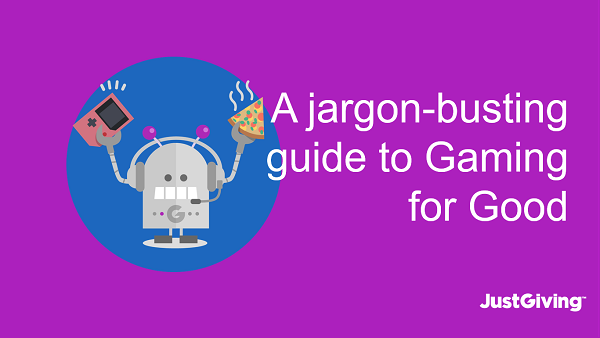 Yesterday, I got the chance to speak at IoF Fundraising Convention on my favourite topic – Gaming for Good. Here's the presentation I shared.
Gaming for Good is when individuals or teams raise money for good causes through playing video games. Typically, people also record themselves when they are playing and broadcast it live for others to watch online. It's a growing trend and we're seeing more and more charities growing their fundraising income by engaging with the gaming community to raise money online.
To help you talk-the-talk with gamers, here's a breakdown of some of the key terms:
1. Streaming
Streaming means that people can watch or listen to content online without having to download it first. For example, every time you watch YouTube you are streaming a video. Most gamers prefer to use live-streaming, which is when content is shared in real-time. It allows the gamer and viewers to interact as the action happens and have a more social experience.
2. Streaming Platforms
Streaming platforms are content hubs where users can log on to access a range of videos and audio suitable for streaming. A common example of a streaming platform is Spotify, which allows you to live-stream music.
There are platforms specifically for gaming, such as Twitch. Twitch is a subsidiary of Amazon.com and one of the biggest gaming platforms. It has over 100 million unique broadcasters every month, and more unique views per month than Netflix! Anyone that wants to try Gaming for Good will need to use a streaming platform to share their gaming publicly. This is why we explain step by step how to link a Twitch account to Fundraising Pages in our online toolkit.
3. Open Broadcasting System (OBS)
OBS is online software that is used to create and customise how a video game will appear when it is being streamed. It has lots of options which enable you to add sound, stickers and something called overlays (see the term below).
The software is integrated with several different streaming platforms, including Twitch. You will start by using OBS to create your stream and when you're ready to start gaming it will upload your content to a platform for others to see.
4. Overlays
Overlays are images and graphics that gamers, and your charity, can add to their gaming livestream to give it a customised look. Think of making content as building a wall and your overlay is the final coat of paint.
We would recommend designing a custom overlay using your charity's colours and logo as it's a great resource to share with your fundraisers, plus it can be used as many times as you want. Alternatively, you can download the free JustGiving overlay.
5. Donation Tickers
Donation tickers are an extra option that can be added in your OBS. Tickers are scrolling displays which appear across the top or bottom of a stream, showing the name of donors and how much they've given in real time. It's a great tool to encourage people watching to get involved and to give a shout-out to supporters.
6. Gaming Marathons
One way to fundraise through gaming is by organising a gaming marathon. This is typically when a team of fundraisers come together to livestream a game for up to 24 hours, asking viewers to donate in real-time. These are great events as they can take place in the comfort of a fundraisers own home.
7. Vloggers and Influencers
Gaming influencers and vloggers are people who are well known within the gaming community for their regular live streams and expert knowledge. They have celebrity status within the community and a large follower base. That's why, as the name suggests, they have a lot of influence and can be great to form partnerships with when promoting your charity's gaming campaigns.
How to get started
Now we've broken down the key terms you're ready to dive into the world of gaming!
The first step in getting started is to create a Campaign Page on JustGiving and use our toolkit to give gamers fun stuff like overlays and buttons.
We can also help you create a fully-branded microsite with our new Digital Services offering.
Want to know more? Send me a message or tweet me @natashakstone
Get inspiration in your inbox!
Don't miss out on digital fundraising tips, tools and trends.
Natasha Stone account manages charities at JustGiving. She's passionate about gaming for good and tech for good!