How to make the most of images on your social channels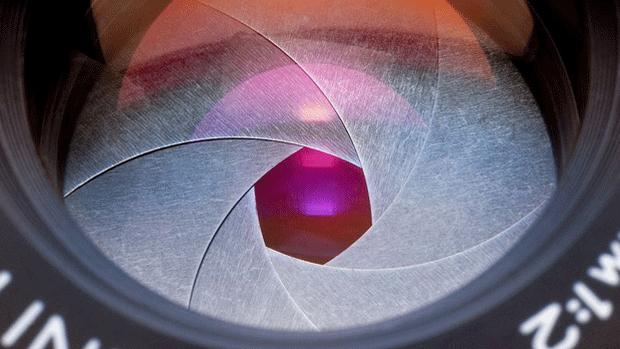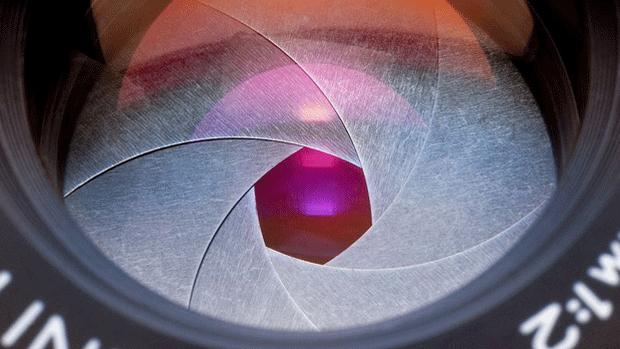 *Last updated March 30th 2015*
Thanks to the rise of smartphones, more and more of us are now walking around with a camera in our pocket. And what's more, we're all using social media to share our photos and tell our stories every day. Of course, sites like Instagram and Pinterest are all about saying it with a picture, but what about the big two, Facebook and Twitter? Well with the development of Facebook's huge cover photo and Twitter's filter tool, it's clear that images are just as crucial for them too.
So how can you make the most of images on your charity's social channels and really engage with your supporters and fundraisers?
It's not only what you post – making sure all of your social assets are top-notch is really important. Here are a few key things to consider when thinking about imagery and social media.
Pick a profile photo that works as a thumbnail
Your profile photo appears in lots of different places and in various sizes. Take Facebook for example. It's 160 x 160 pixels on your charity's page, it's the original size you uploaded it in your photos, and it's a thumbnail in your news feed.
The most important thing is to think about how your profile picture will appear in someone's Facebook news feed and in their Twitter timeline. So it still needs to be recognisable as your charity's brand, even when it's a small thumbnail.
The Disasters Emergency Committee (DEC) is a great example.

The best thing to do is upload a large, square profile photo. Facebook and Twitter will then automatically resize it for your profile and newsfeed.
Our Facebook profile photo is a 960 x 960 pixels version of our logo, so it's nice and big in our photos.
Make the most of your Facebook cover photo and Twitter header image
The most prominent part of your Facebook page and Twitter profile is your cover and header image, so they should really reflect what your charity's all about.
Update them regularly and think about your charity's key message. What's the one thing you really want your supporters to do? Is it to donate to an appeal? Register for an event? Sign a petition? Your cover and header image is a great opportunity to get that message across.
The latest Alzheimer's Society cover photo is a brilliant example. They've showcased their latest event, there's a clear call to action and a way for supporters to act.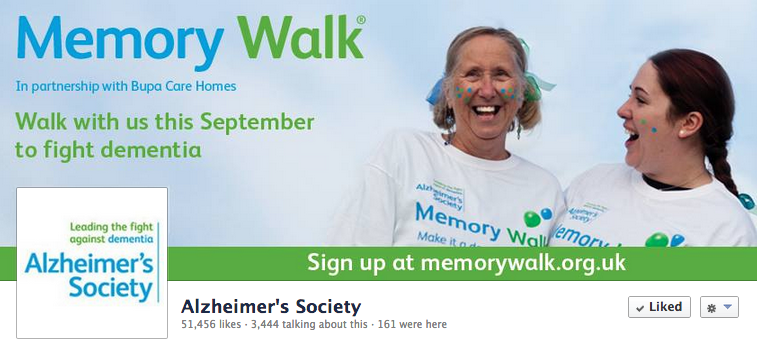 The dimensions of a Facebook cover photo and Twitter header image can be a bit tricky. We've put together the following two images to help you make the most of the available space by outlining how they'll appear on Facebook and Twitter.
Facebook cover photo dimensions
The recommended image size is 851 x 315. Here's how it'll appear on your page.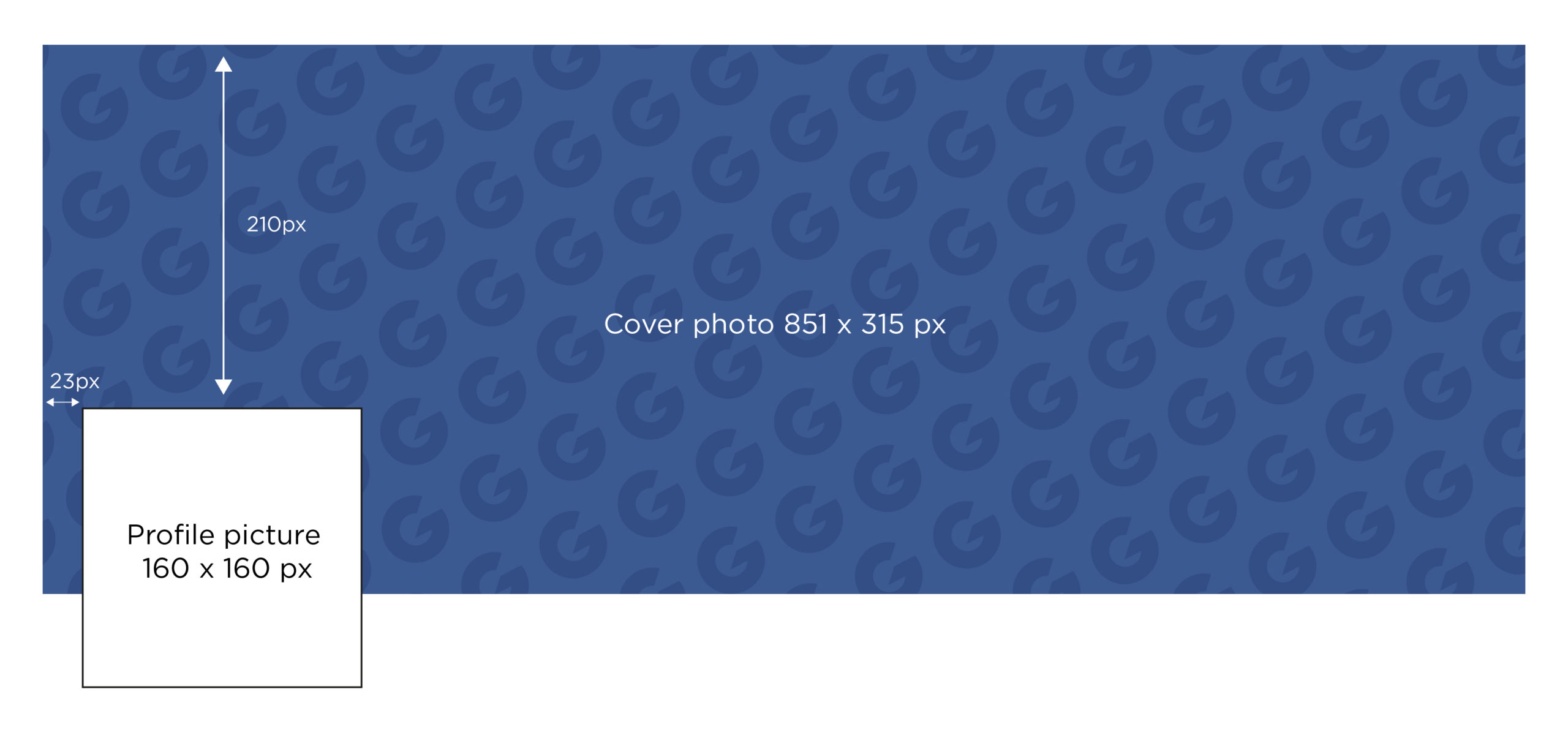 Twitter header image dimensions
The recommended image size is 1500 x 500. Having said that, Twitter profile images are a bit tricky as the whole thing gets cropped, meaning some parts of the image are invisible. This template should hopefully help. It's taken from this blog that also includes a super helpful PSD template.

Add an image to your Facebook posts
Think about you charity supporters scrolling through their Facebook newsfeed. How are you going to catch their eye? Four or five lines of text is not going to compete against status updates, photos and videos from all of their friends. A photo is not only more prominent in their newsfeed, it's a lot more likely to get their attention.
Your photos don't need to be professional and polished. In fact, something simple taken in the office, at an event or by one of your supporters could be ideal – it's a great way to inject a bit of human warmth to your charity's profile.
Again, think about how the image will appear in people's newsfeeds and in your photo stream. Bigger is always better when it comes to your photos and Facebook will automatically resize for your news feed. Always bear in mind that they will appear as a square on your page, so whenever possible, stick to large, square images.
Give your images context by adding text
A picture may tell a thousand words, but it might not tell the important ones. A great photo of a fundraiser is brilliant, but a photo with added text that tells people what the fundraiser did and how they can support them gives it context.
Dogs Trust are brilliant at this. They often share photos of dogs that need a new home. When they do, they add key information like the name of the dog and the number to call if you'd like to give that dog a home.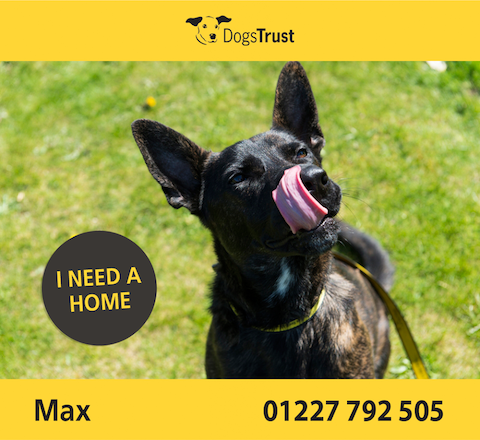 Now when their fans share that photo (and people will inevitably share a photo of a cute dog!), the most important information is shared with it.
How does your charity use images on your Facebook and Twitter pages? Have you got any other top tips to share? Tell us below.
Get inspiration in your inbox!
Don't miss out on digital fundraising tips, tools and trends.