Affordable email tools for charities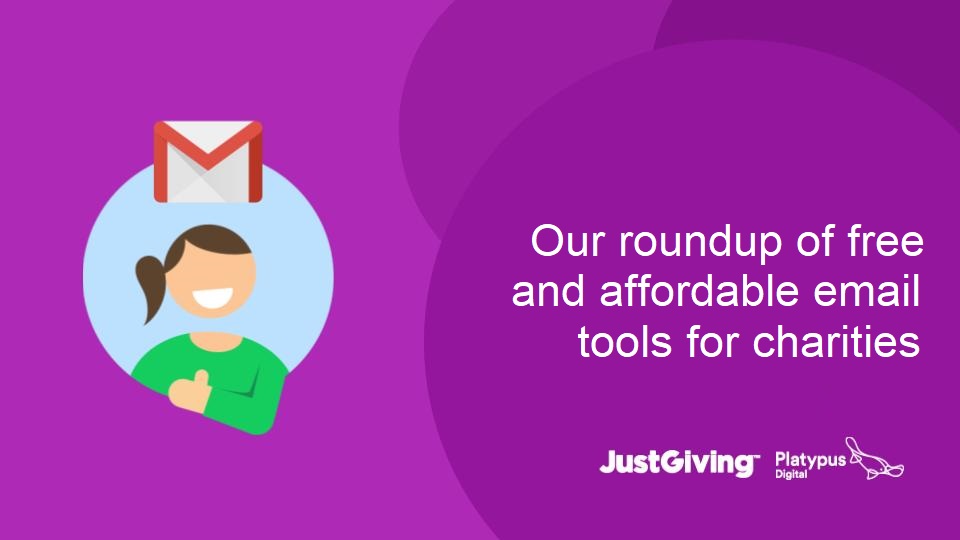 Email marketing has undoubtedly become an integral part of donor retention and gift collection for charities, and there are a range of different tools depending on your needs and priorities, for example cost, functionality and responsiveness. In an ideal world your email tool will be integrated into your wider CRM system, so you get a single supporter view. For example, if you use Blackbaud's Raiser's Edge NXT you have a range of email marketing solutions that can be plugged-in.
If however, you're looking for a standalone email marketing tool, we've put together this quick list to help you get started in your research of the most affordable email tools for charities in 2019.
And while we have you, if you want to take your email marketing to the next level in 2020, skip to the end of this post to find out about our email marketing webinar.
1. MailChimp
USP: Best free tool overall
MailChimp is a household name in email marketing. With both their free and paid plans, they're all about helping users "send better emails".  Plus, they have a 15% discount for charities.
The Forever Free plan allows users to send up to 12,000 emails per month to 2,000 subscribers. No credit card registrations, no unexpected tie-ins. What is unexpected is the amount of functionality offered on the free plan!
There's a useful (if basic) marketing CRM, email templates, single-step automations, some reporting, and integrations with hundreds of approved apps. For non-technical users, this is a tool you can use off-the-shelf, but also one to grow into as you develop more complex campaigns.
MailChimp also has the guidance and easy UI required for inexperienced marketers to get the ball rolling. The Forever Free plan is perfect for charities with fewer than 2,000 recipients who need the basics done well – but without the bells and whistles!
2. AWeber
On the technical side, AWeber offers the best of both worlds:
A huge bank of incredible tools and functionality (for the techies)
An extremely intuitive UI and 24-7 expert guidance (for everyone else!)
Pricing at AWeber is all about the number of subscribers or recipients. Whether you're emailing  300 or 20,000 people, all features are available to all users. This is a contrast to most providers who offer a premium plan with access to advanced features. This means AWeber might suit smaller charities better, since you can access premium features at a relatively low cost. Pricing starts at around £14/month (minus 25% for nonprofits) for 500 recipients.
What truly defines AWeber is its customer service. The service team is available 24-7 at their headquarters in Pennsylvania: the cost of delays and mistakes can be significant, so having an on-call team of experts can be hugely comforting.
3. Benchmark
USP: The most affordable plans
Benchmark is very user-friendly. There are loads of templates, a helpful support team, and to quote the Benchmark team, "an insanely simple user interface".
Benchmark is also very affordable – their Pro service starts from $11.89 and there's a 25% discount for charities and non-profits. That's not even mentioning their 14,000-email, 4,000-subscriber free service. For those who know what they're doing but have a tight budget, benchmark could be a bargain.
The downside is that for the low price, users get a reduced feature set. While the essentials are all there, Benchmark performs best for charities with quite straightforward strategies. If you're going to send out monthly updates or non-personalised offers to an existing audience, Benchmark is perfect.
If you're looking to onboard various segments of donors, educating them with personalised content and complex automated funnels, there are better platforms for doing so.
4. GetResponse
USP: Exceptional automation
While there's no free plan with GetReponse, for just $15 a month users can build landing pages, autoresponders, ads, sales funnels, and access attractive templates. GetResponse also offers up to 50% off for nonprofits.
For charities with bigger budgets who are looking execute more complex strategies (such as personalised content) GetResponse's Plus plan (from £37/month before discounts) offers the a good range of sophisticated automation tools.
GetResponse is a brilliant all-rounder. It offers users every tool you could need for a full-scale email marketing campaign, at a competitive price. GetResponse is probably best used by marketing teams who already have experience with email marketing.
A few honourable mentions
Mad Mimi is a super low-cost batch emailing tool. While it lacks many of the powerful features required for detailed analysis or complex campaigns, it is simple, easy to use, and gets the job done.
Send In Blue offers totally transparent and affordable pricing for non-profits. This tool also offers unlimited automation for up to 2,000 contacts on all of its plans – including the Free and Lite plans!
Constant Contact is designed to make email marketing easy, and the product is advertised as "for small businesses and nonprofits". However, given its limited feature set, the product just isn't competitively priced enough to be super attractive to most charities.
Conclusion
Identifying the right email marketing tool is tough. For charities and non-profits, a poor choice will eat up valuable budget and time. Here's some fast-and-easy recommendations to get you started:
"I have no budget but want to send emails" – MailChimp's Forever Free plan
"I want to balance cost with performance" – GetResponse (with discount!) or MailChimp's Essentials or Standard plan
"I want emailing to be as easy as possible" – Any AWeber plan
"I want the most powerful email tool!!" – GetResponse's Plus or Professional plans
Pretty much every email tool offers either a free plan or a free trial. Since this is probably a major commitment for your organisation, we recommend trying before you buy. Even getting a quick feel for the platform will give you a great idea of how it suits your charity!
Ready for more email marketing tips?
Platypus Digital and JustGiving have partnered to show you what the foundations of a great email strategy are – sign up for the on-demand webinar to watch it now.
Get inspiration in your inbox!
Don't miss out on digital fundraising tips, tools and trends.
Matt Collins is managing director at digital marketing agency, Platypus Digital, and tweets @charitychap