10 Years of Success: Tips from Alcohol Change UK's Dry January®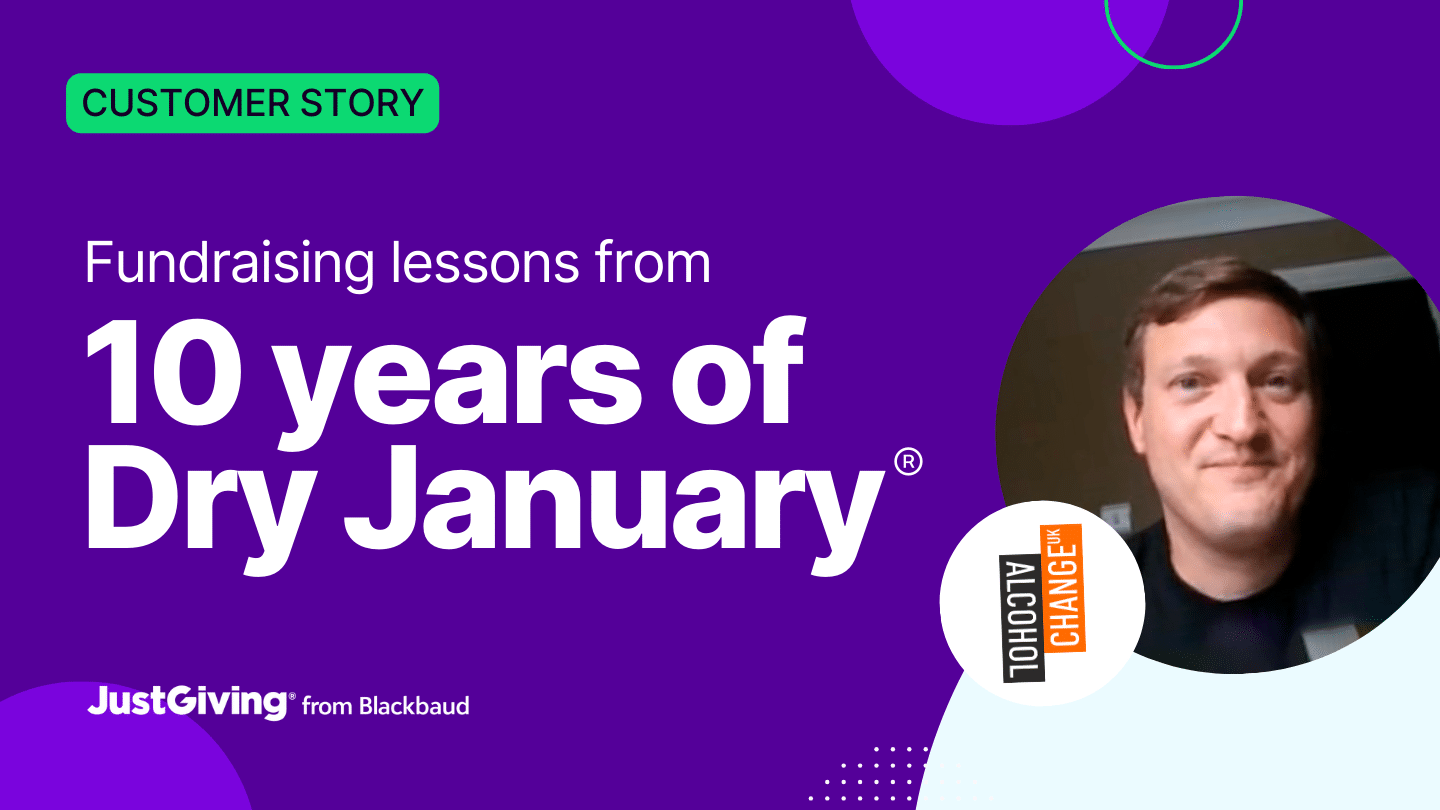 10 years ago, someone decided to run a half marathon…but with a catch.
They also wanted to give up alcohol to improve their training and feel better in the month leading up to the race.
What came from this was a whole lot of interest, questions, and a few inquisitive looks.
But ultimately, the result was far greater than a half marathon personal record. This initiative grew into the viral sensation known as Dry January® – the month-long, alcohol-free fundraising campaign.
The charity behind it is Alcohol Change UK. At Fundraising Everywhere's Members Conference 2023, we talked with Community & Challenge Events Manager, Robin Plowman, on how his team achieved their biggest year ever and continue to maintain fundraising momentum.
Read on for the key lessons your charity can use to build your brand and raise more money.
Jump to a section
Who is Alcohol Change UK?
While the Dry January® initiative is a decade in the works, Alcohol Change UK as a charity is fairly new, coming out of a two-charity merger in 2018.
And while fundraising is a big part of their activities, the charity's mission centres on driving key changes for a world free from alcohol harm.
Their goals include:
Improving knowledge in alcohol harm
Better policies and treatment
Shifting cultural norms and drinking behaviours.
Robin illustrates how Dry January® falls into this, as a major initiative helping the charity advance a change in drinking behaviours.
"It's not a fundraising-driven campaign. It is part of our charity-driven objectives, it's about support and helping people."

Robin Plowman, Alcohol Change UK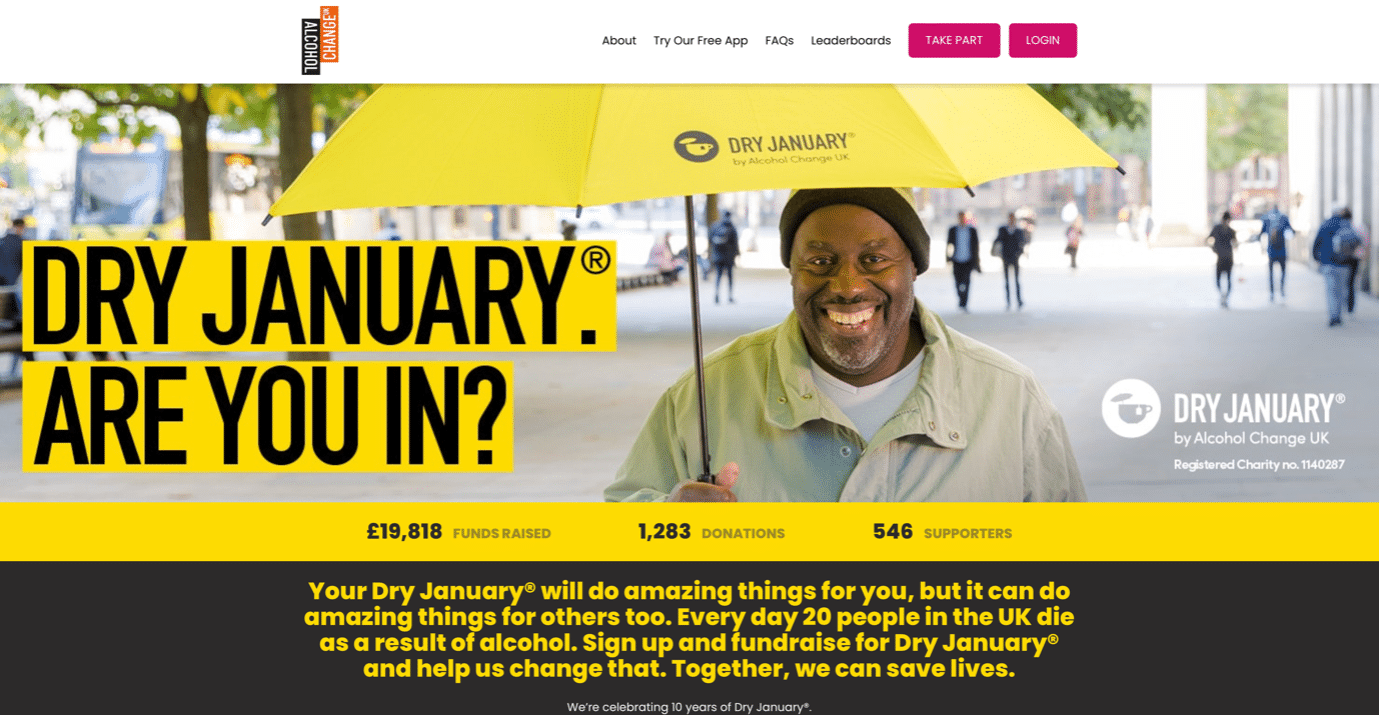 Let's look at some of Robin's top tips for maintaining momentum for the thriving campaign, ten years on and going strong.
Top tips from a decade of Dry January®
For participants, Dry January® is simple: give up alcohol for 31 days.
But for the charity, there's a clear strategy.
What started as a two-person fundraising team is now a team of 10.
And this small team takes pride in a simple practice every charity can use to grow and improve: constantly testing, optimising, and learning what works best.
Keep your mission front and centre.
The Dry January® campaign raised over £19,000 with a slick, customised JustGiving microsite in 2023, creating an unforgettable experience for supporters.
This is something you can do for your fundraisers too, with JustGiving Site Builder™!
But how did it get there?
Robin says, "It's not fundraising-first, but we work with our comms team to make sure we've always got the fundraising messaging there and fundraisers doing the campaign."
It's not a fundraising campaign for the sake of fundraising. It's a behaviour change campaign, which ties right into the charity's core mission.
Make it as personal as possible.
Robin stresses to go the extra mile with personalisation and to leverage the nuggets of information you can find out about people.
If you know someone's raising money in memory of a loved one, you can sensitively check in with them. Or if they're doing a fitness event, see how their training's going.
You might already know about the power of JustGiving's optimised fundraisers email journey. Alcohol Change UK expanded on it by building a custom journey of their own.
"We start by encouraging them to get their page activated in Week 1. We tailor our emails in Week 2 and 3 based on whether they've received a donation or not. From there, they go into the main journey to keep everyone on board together."

Robin Plowman, Alcohol Change UK
Here's what Alcohol Change UK's stewardship timeline looks like leading up to Dry January®: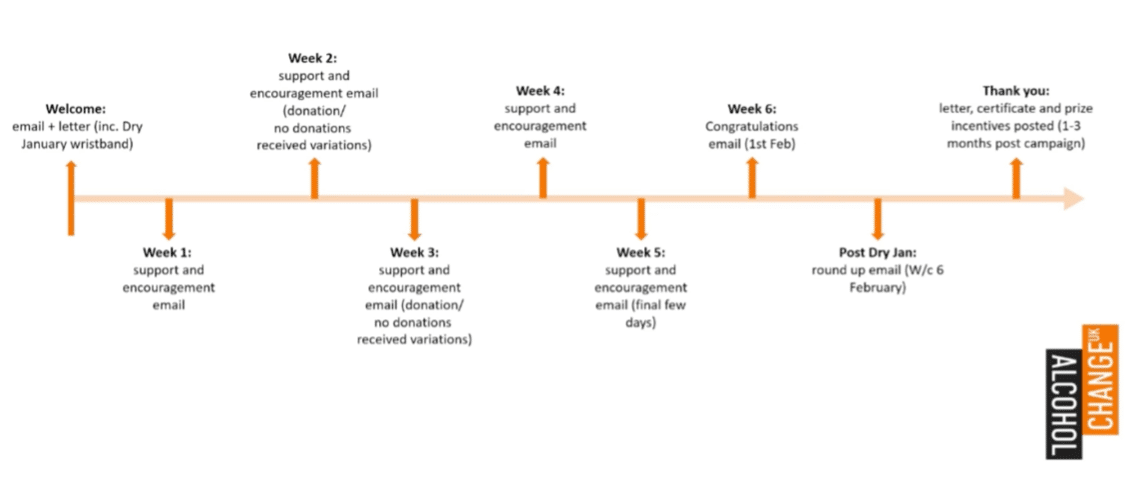 Test and learn to maintain momentum.
Robin and the team at Alcohol Change UK are constantly testing different strategies, resulting in lots of small tweaks to Dry January® since it began.
One of these is with the brilliant ways they communicate with supporters. Here are a few tactics they've launched:
Drop leaflets on people's doorsteps. Theirs includes lots of information and is strategically scheduled for late December to maximise participation.

Launch special incentives for fundraisers. Getting people to start fundraising is one of the most important pieces. Everyone who signs up gets a welcome letter and a wristband. But the team take this further with gifts based on donation milestones. Fundraisers can earn a pin badge for 10 donations, a t-shirt for 15, and a mug for 20.

Create something fun. Alcohol Change UK built a custom app for their supporters to encourage the behaviour change and get fundraisers more involved. But if this isn't an option, there's plenty more you could do to gamify your supporters' experience! For example, could you create digital badges to send them for fundraising milestones, or encourage healthy competition by calling out your fundraising leaderboard?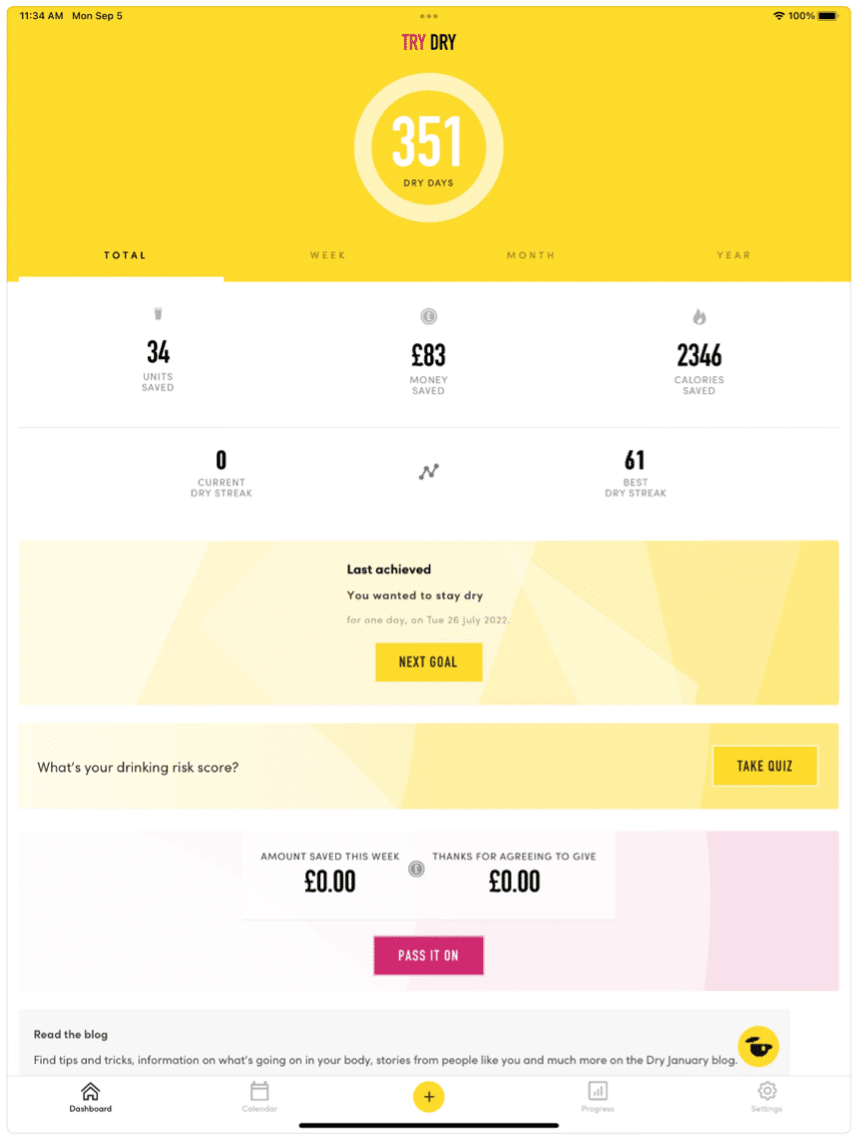 Try in-person events to support your campaign
If your campaign is already centred around an event, you've got it made.
But if you have a virtual campaign (like Dry January®), why not test having an in-person meetup to build connections and boost fundraising even more?
The charity did this for the first time in 2023 with Shoreditch Dry. It was an exciting fundraising meetup that welcomed people down to London for an in-person, fun, and "dry" event, complete with an alcohol-free bar, raffle, and dance music!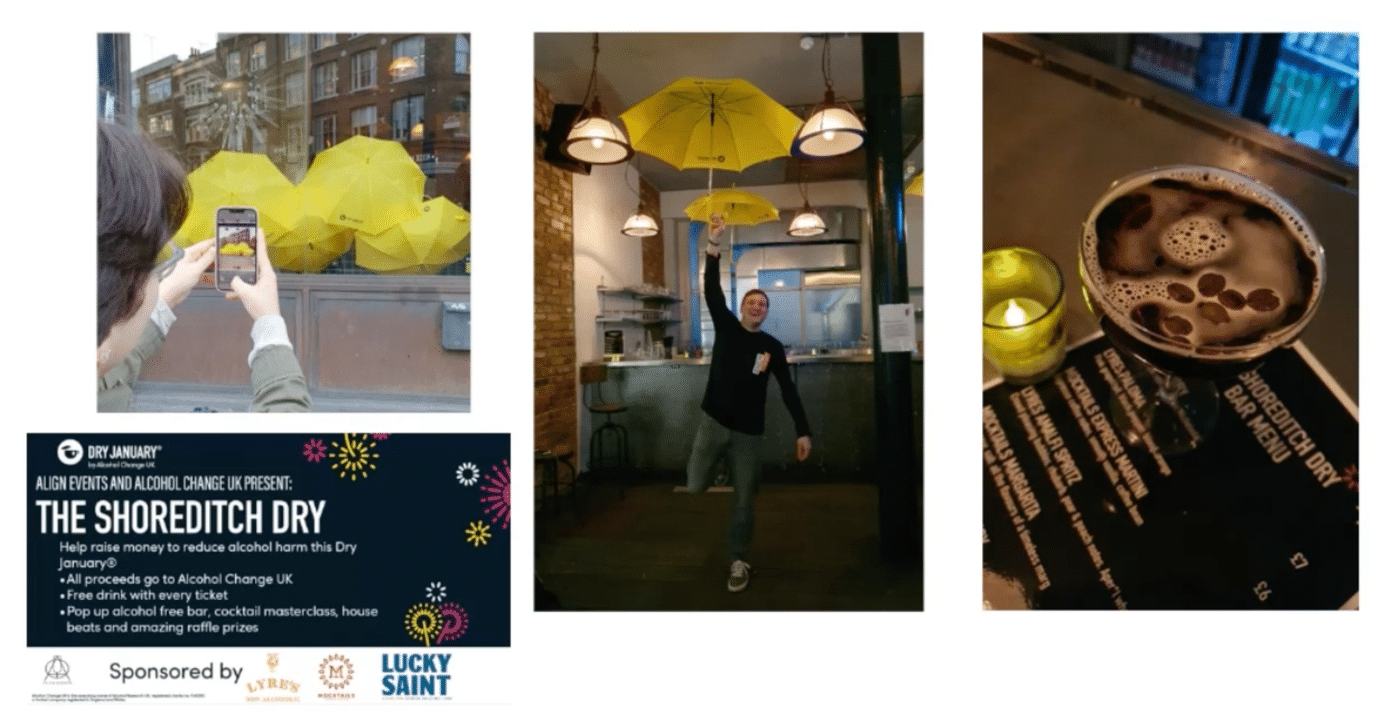 Make multiple streams of income
Alcohol Change UK works with a lot of partners that fit their charity's brand.
Enter stage, alcohol-free drinks!
They've also succeeded with social media marketing segmentation. The team would publish one set of ads around fundraising, and another on the benefits of the campaign in general. In this case, the fundraising-specific ad included a personal story and performed better than the campaign-specific ad.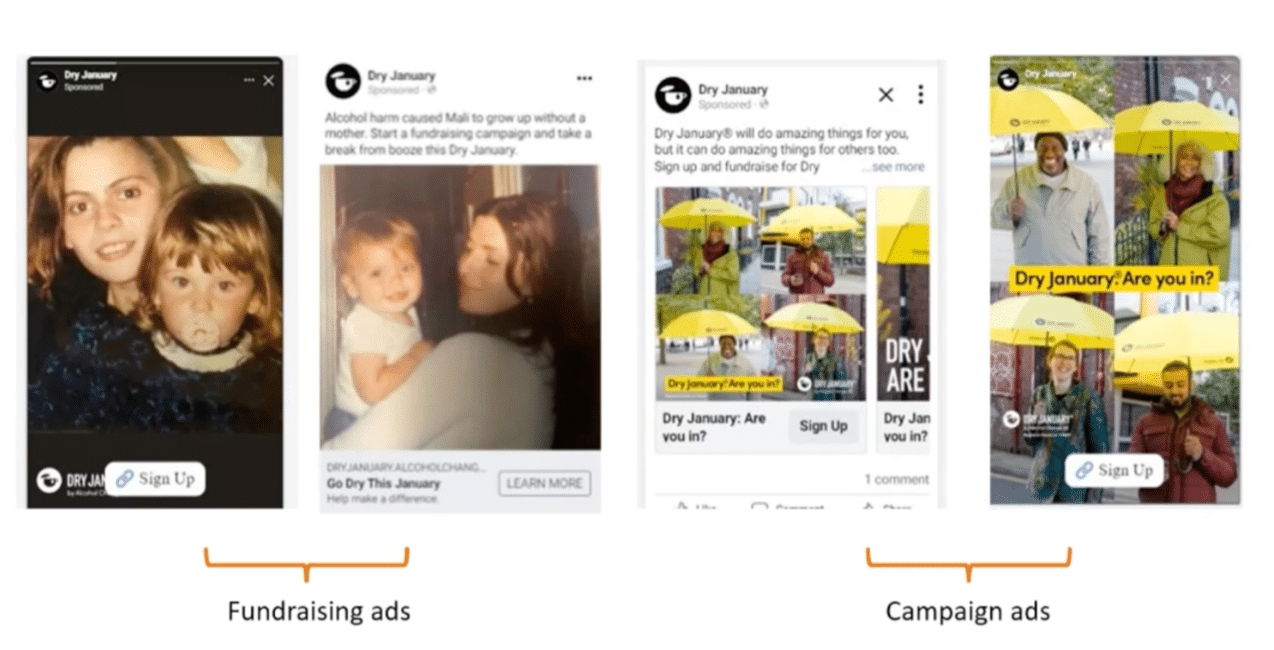 Key takeaways for the biggest impact possible
Robin says the tactics the charity goes back to year after year are:
A central donation and fundraising hub where people can go to fundraise, donate, and learn everything they need to know about your campaign. The quickest way is with Campaign Pages, which gets you a place to share your charity's story (including videos and livestreams), choose a collective fundraising target, showcase your fundraising, and get individual donations. Or you can make an extra-special tailored experience for your supporters with Site Builder!
Using incentives to encourage people to get their page activated.
Testing and keeping what works.
The three things that have had the biggest impact for Dry January® are:
The association between the campaign and the charity. When you have a campaign as well-known as Dry January®, it's essential people know your charity is behind it. Alcohol Change UK did this by embedding their charity name in the Dry January® logo, then ran ads to promote and strengthen this further.

Encourage quick start fundraising. They encouraged people to create their page earlier, which led to those fundraisers getting their first donation sooner. At JustGiving, we know this is a key behaviour that sees fundraisers go on to raise more.

Get more people involved. Alcohol Change UK focussed on converting people from simply participating in Dry January® to fundraising in it. From there, fundraisers were entered into the email journey so the charity could connect with them further.
---
ACCESS THE FULL SESSION
Huge thanks to Robin and the team at Alcohol Change UK for their expertise and for sharing their tips with us! We hope these lessons from 10 years running Dry January® help your charity better connect with your supporters and raise more money from your next event.
The full interview with Robin is available to Fundraising Everywhere members only. Find out more and check out other events on their website.
BUILD YOUR COMMUNITY WITH CAMPAIGN PAGES
Quickly and easily raise money online
Whether you're running a small event or national campaign, Campaign Pages are the most popular and easiest way to bring all your supporters together in one central hub.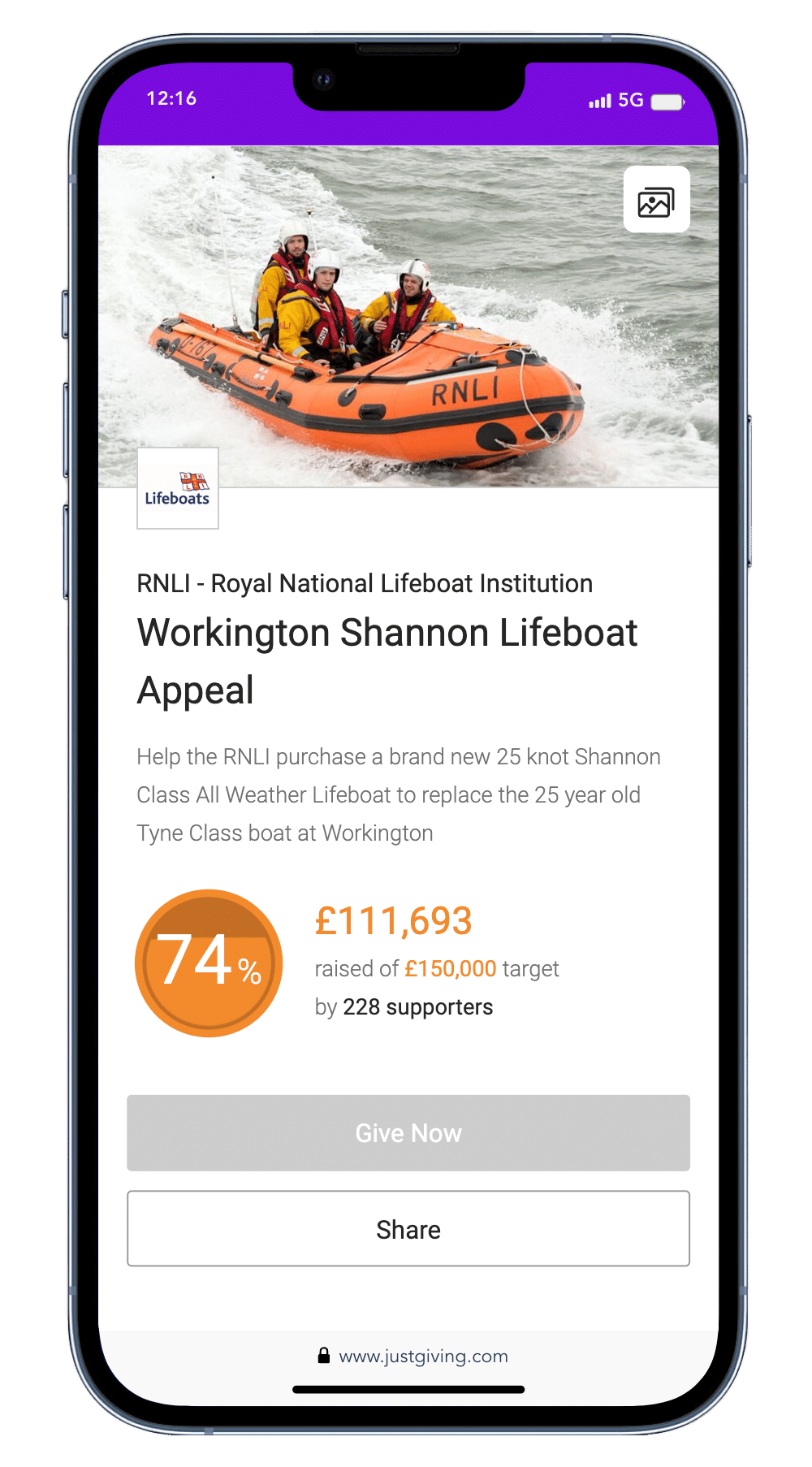 GET CUSTOMISED WITH SITE BUILDER™
Your campaign. Your brand. Powered by JustGiving.
See how your charity can build a customised, interactive, and unforgettable fundraising experience for your supporters with Site Builder.
Get inspiration in your inbox!
Don't miss out on digital fundraising tips, tools and trends.
Phoebe is a Customer Success Manager at JustGiving, working with charities to help them make the most of JustGiving's tools and insights.