Unleash the Power of Words: Introducing our AI-Powered Story Enhancer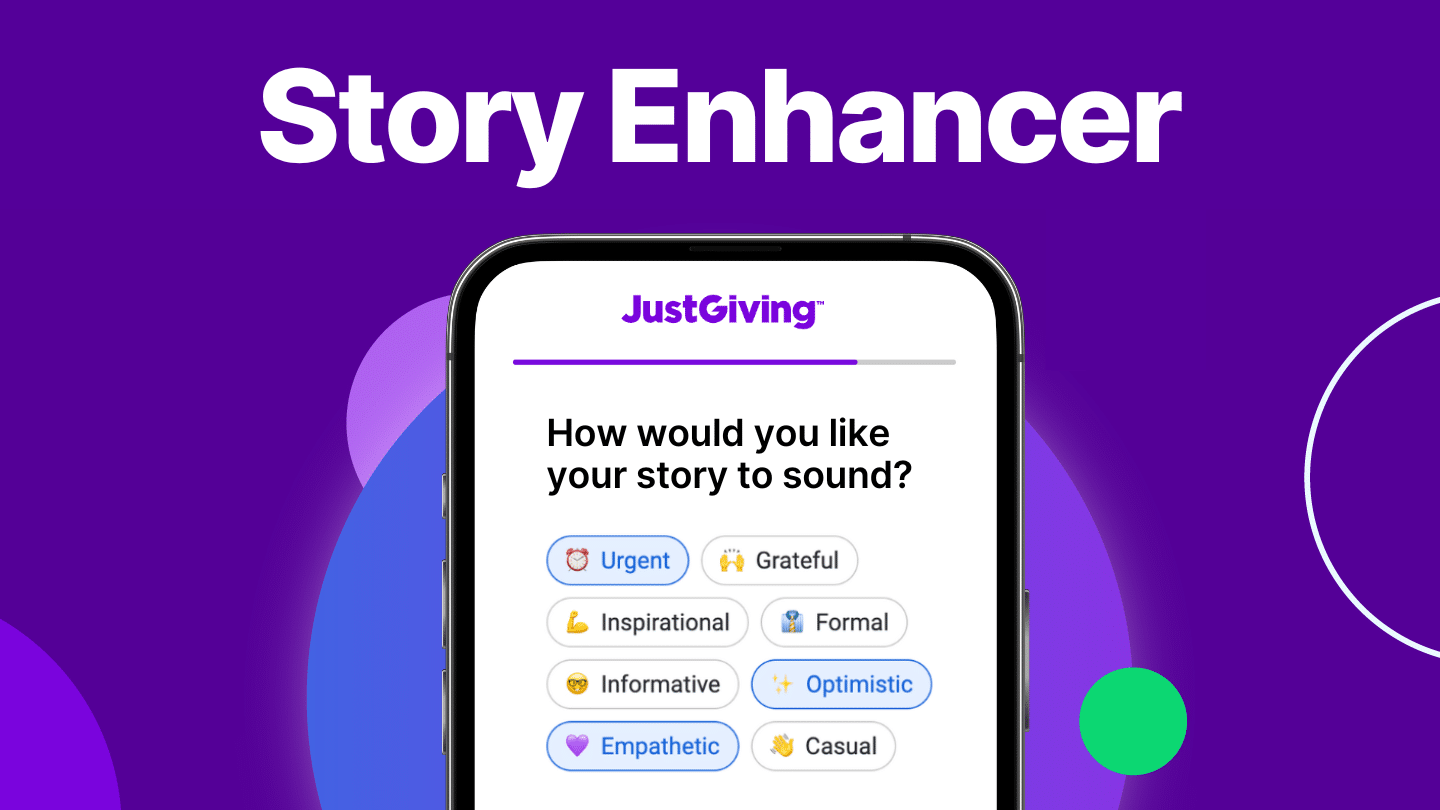 When it comes to raising money, storytelling can move mountains.
We see this first-hand every day. Fundraisers who write their own stories on their JustGiving Fundraising Pages raise an astronomical 65% more for good causes like yours!
But 35% of people use the default story (the one pre-written for them when they set up their Fundraising Page). Research suggests this is due to lack of time, confidence, and/or perceived skill.
Today, we're excited to announce our AI-powered Story Enhancer. A magical new JustGiving tool built to help fundraisers turn a good story into a great one…and raise more money for you in the process!
We're committed to helping charities and fundraisers enjoy the power of AI on JustGiving in a way that is fair, inclusive and reliable. And because it's changing so fast, we want to make sure it's safe for you and your supporters. Our Intelligence for Good vision helps guide us on these principles. Click here to find out more.
Introducing Story Enhancer
Story Enhancer is your fundraisers' storytelling sidekick.
Now your supporters can write compelling stories for their page in seconds, saving more time, inspiring more people, raising more money, and publishing their page with confidence.
We think your supporters are going to love it. And we know it will deliver some awe-inspiring outcomes for the 20,000+ charities using JustGiving.
In fact, Story Enhancer is already helping fundraisers launch their pages.
As an early test, we released this feature to 50% of JustGiving fundraisers to see how they'd use it when creating their page.
When these fundraisers used Story Enhancer, over 18% more Fundraising Pages were created and 5% more pages received their first donation!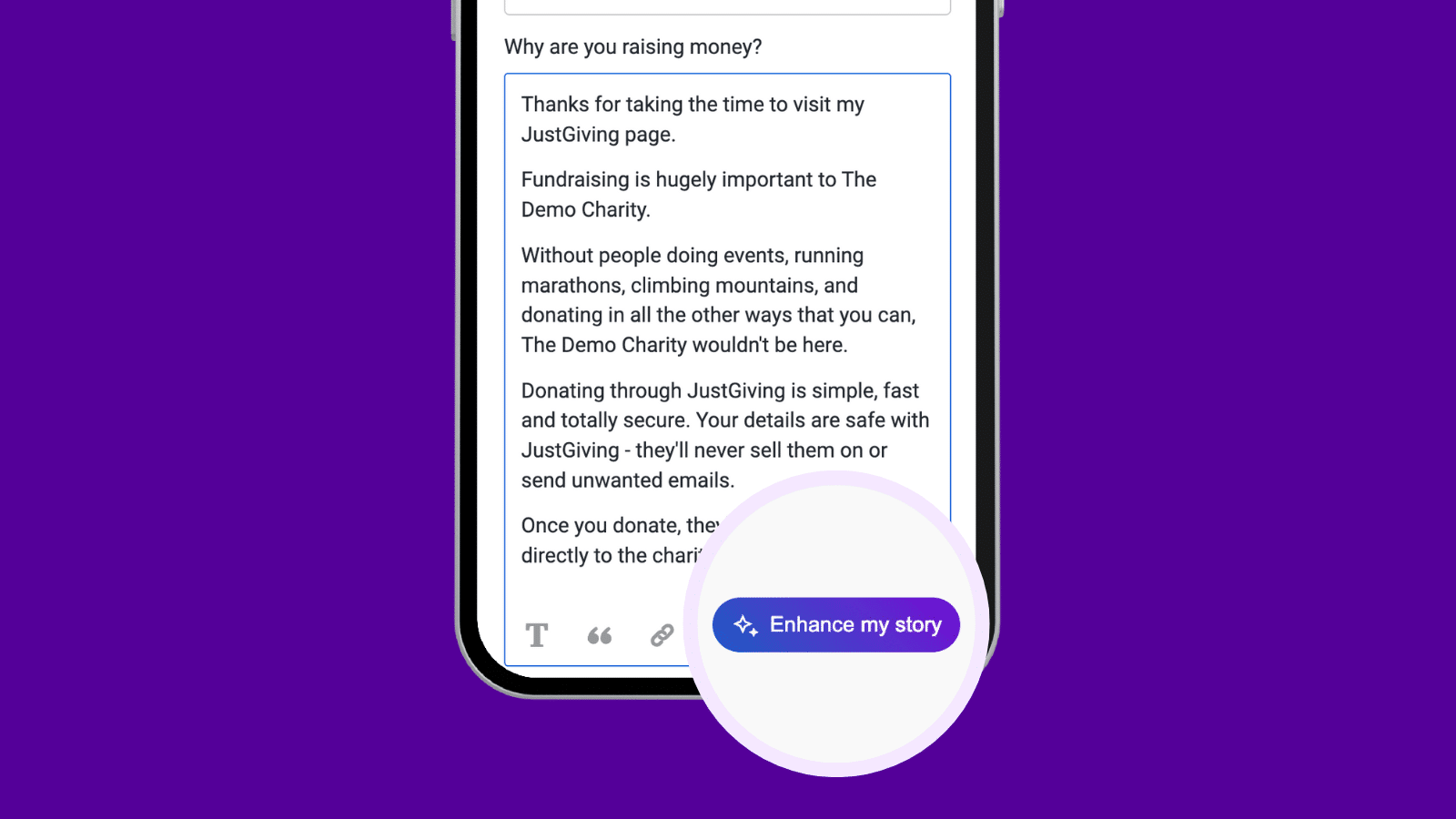 Try Story Enhancer now
Test drive the Story Enhancer interactive demo to see how your fundraisers can write richer, more compelling stories for their Fundraising Pages.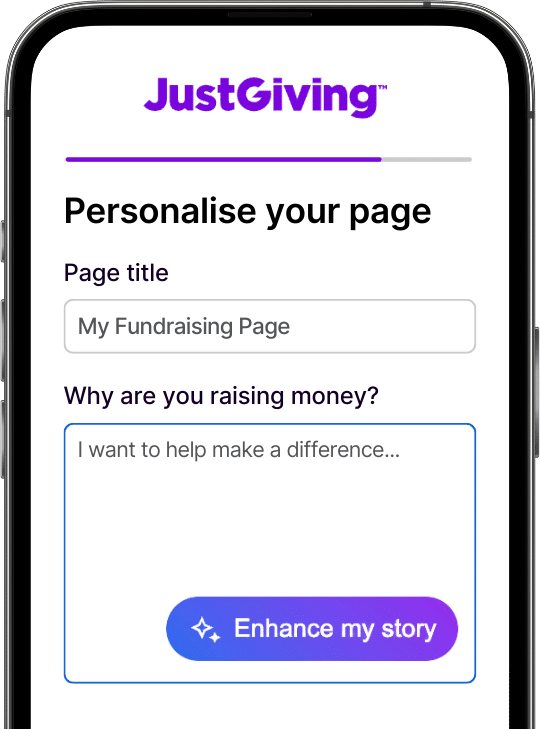 How does Story Enhancer work?
In 2022, over 850,000 JustGiving fundraising pages were created. And nearly two million people shared their pages, raising an additional £151 million for charities and good causes.
Story Enhancer is designed to help grow this even more by helping fundraisers create and launch their pages faster and with more confidence.
How it works
When creating a Fundraising Page, fundraisers choose the charity they're supporting, select their activity, and set a fundraising target. They can then choose to use Story Enhancer to further improve their page.
Using OpenAI's secure generative AI technology, Story Enhancer takes basic information a fundraiser shares and turns it into an awesome and descriptive story. Learn more about Story Enhancer and OpenAI, including privacy, data security, accuracy, and functionality.
With a click on "Enhance my story", Story Enhancer analyses the story's tone to tell them how it sounds already. This might be "Informative", "Grateful", "Inspirational", or other tones.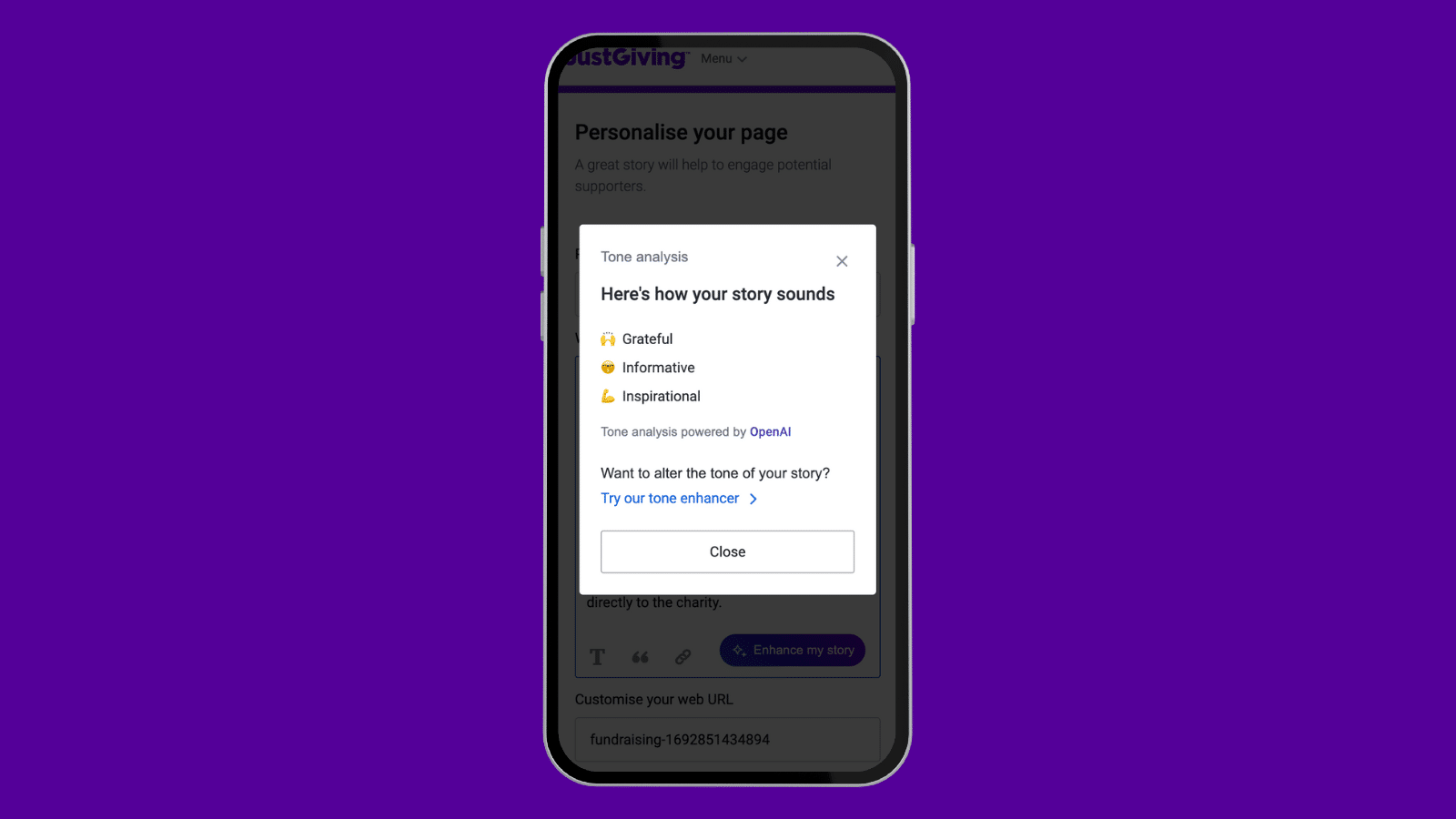 Say you're asking your supporters to help raise money for an emergency appeal. They can bump up their story's urgency by choosing an "Urgent" tone.
Or if your fundraisers are taking on a corporate challenge they want to promote far and wide, they might like to choose a "Formal" tone to make it a bit more buttoned-up.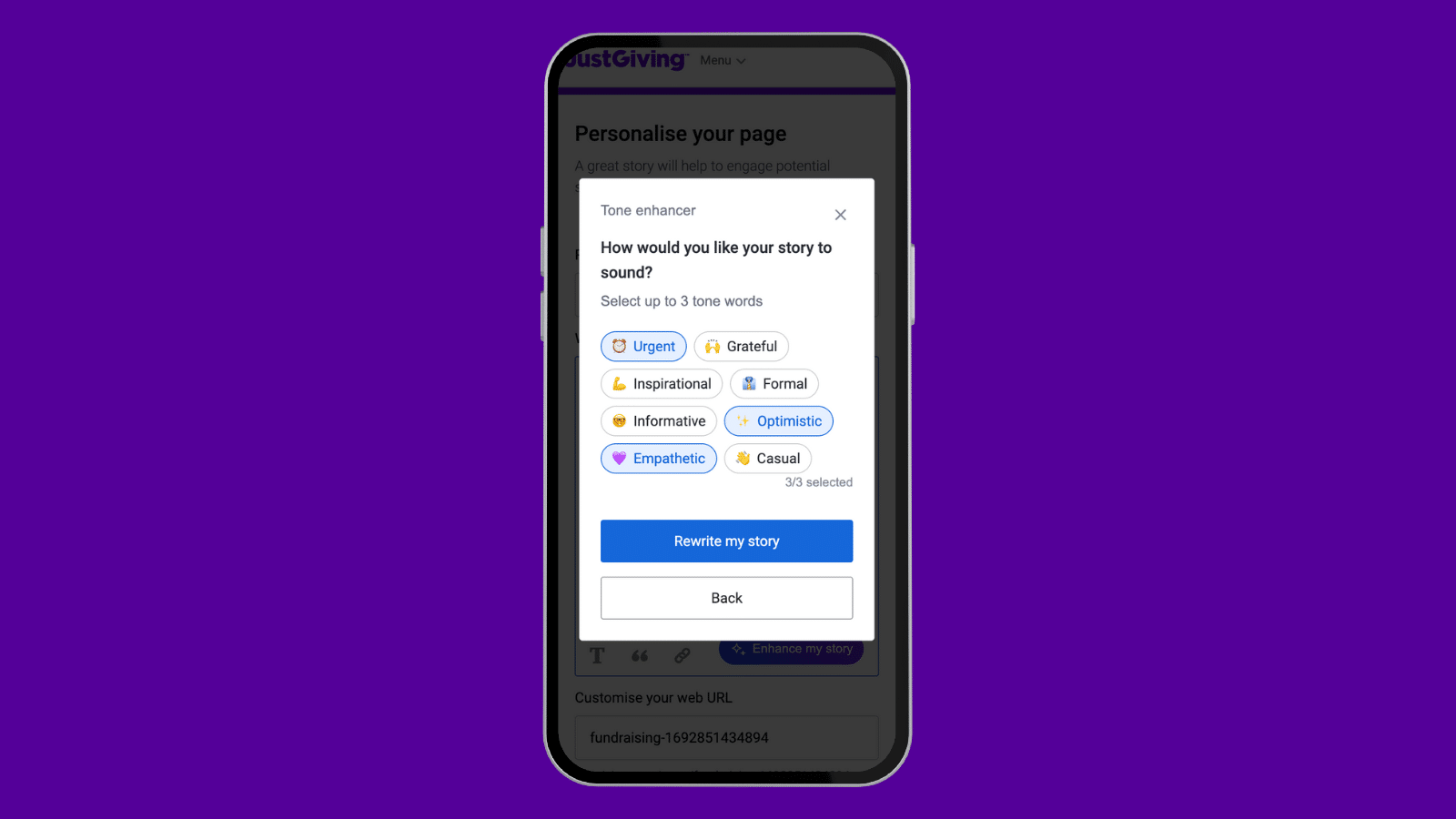 When they're ready, they can click "Rewrite my story". And like magic, it'll be rewritten, right in front of their eyes!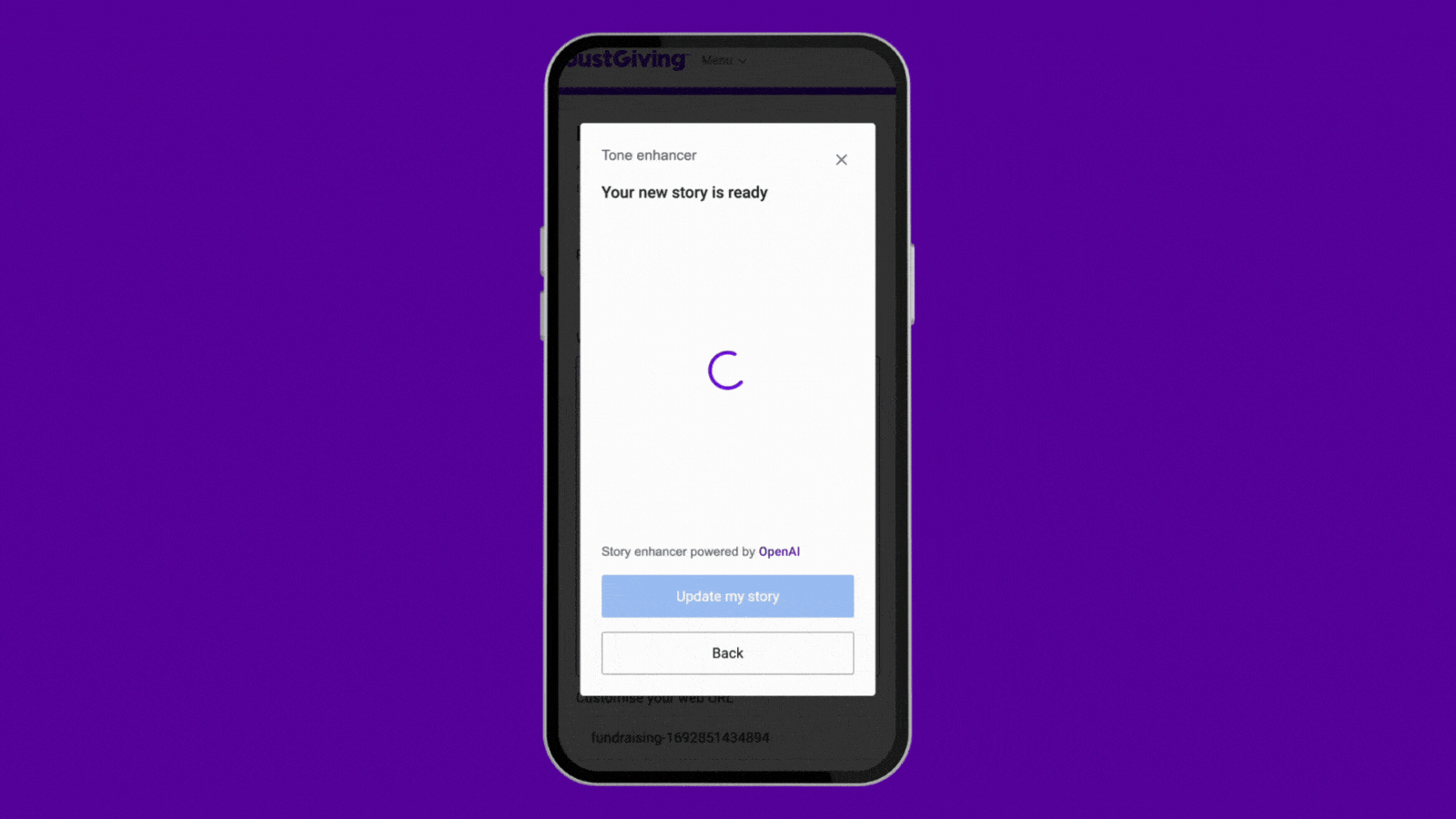 If the fundraiser writes their own story, they can use Story Enhancer to enhance it further.
If they try it using the default story, Story Enhancer will still provide a light update using the tones they choose (since we know personalisation is a major factor in good storytelling!).
And from there, they can edit it further, undo the changes, or stick with Story Enhancer's suggestions.
Story Enhancer is available now for all fundraisers on desktop and mobile worldwide.
Try Story Enhancer for yourself with our new interactive demo.
Transforming fundraising through innovation
We're committed to empowering you and your fundraisers with the best fundraising tools. And it's not only Story Enhancer. Earlier this month, we also launched an entire collection of new Fundraising Page features for your supporters!
We're excited to share these new features to help your fundraisers gain more confidence, inspire more people, and raise more money.
Our President and General Manager of JustGiving, Pascale Harvie, said,
Empower your fundraisers with Story Enhancer
Create a Campaign Page for your next event or appeal to enable your supporters to connect their Fundraising Pages and start writing even better stories.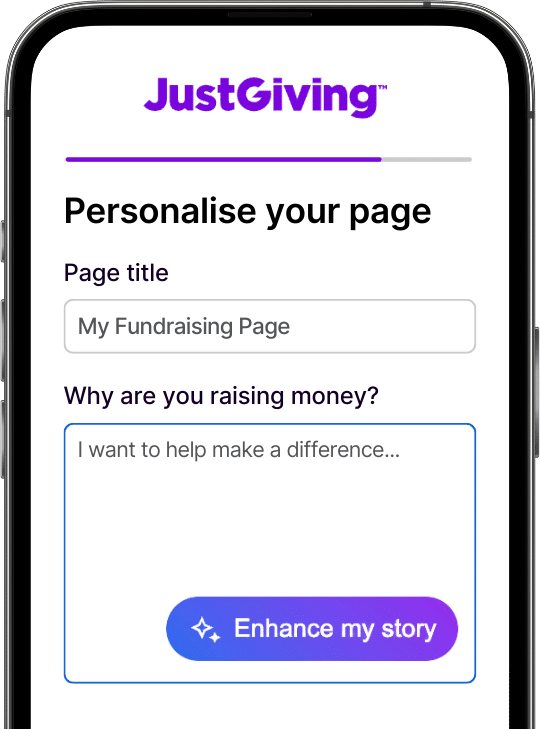 Get inspiration in your inbox!
Don't miss out on digital fundraising tips, tools and trends.
Mathew is a Senior Product Manger with over 6 years of experience. With a keen passion for improving the overall customer experience for users, Mathew's been a part of the Blackbaud/JustGiving family for 18 months, focussing on the fundraiser experience.