Arise, Captain Tom: lessons from a viral fundraising campaign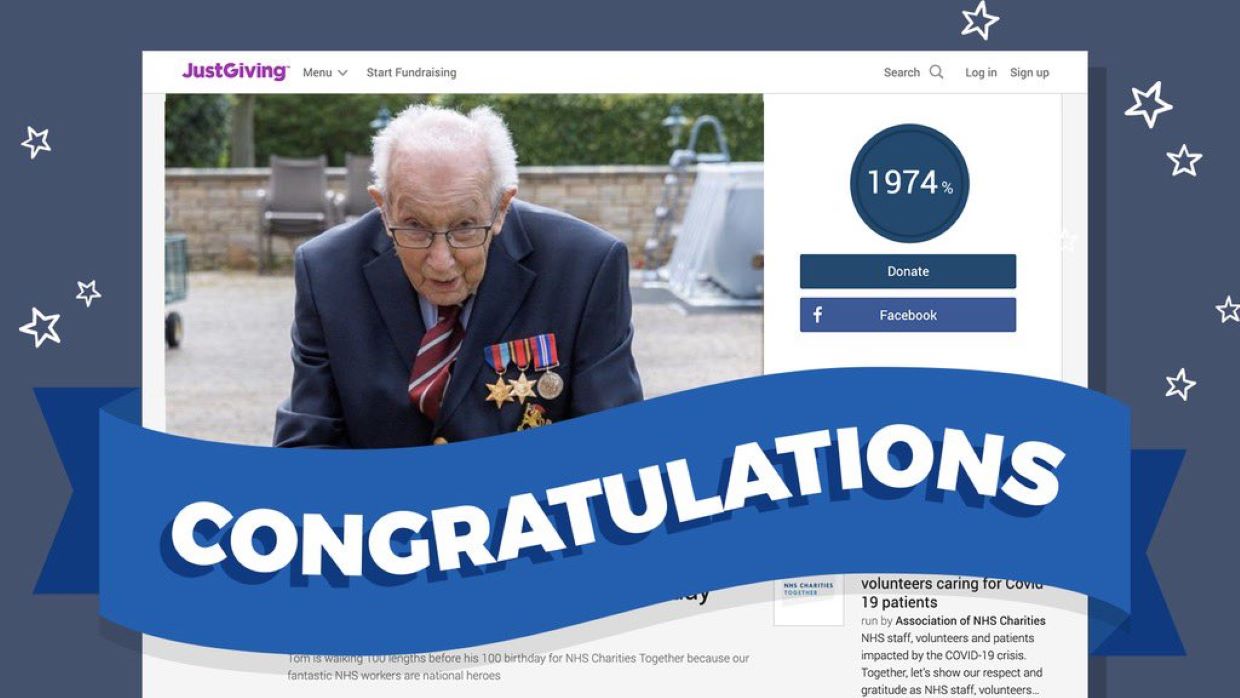 In April this year, Captain Tom Moore captured the heart of the nation, as well as the headlines, and made fundraising history after raising £32.8 million for NHS Charities Together. Captain Tom's decision to celebrate his 100th birthday by completing 100 laps of his garden for charity became a viral sensation. In the space of just a few weeks, he became the world record holder for online fundraising and JustGiving's most successful fundraiser to date. He also went on to receive a knighthood from the Queen for his services to NHS fundraising.
For the first time at this year's bbcon, Blackbaud's annual tech for social good conference, members of our team at JustGiving shared some behind the scenes insights from working on Captain Tom's campaign. The full, in-depth session is available to watch on-demand, however, we wanted to share with you today some of the numbers this incredible fundraiser achieved, and lessons we've learned over the last 20 years on what it takes to successfully support a viral fundraising campaign.
Captain Tom's Fundraising Page in numbers
The fundraiser started like any other Fundraising Page on JustGiving with a target of £1,400
It then went on to raise £33 million in total (excluding gift aid)
At its peak, the page raised £7 million in one day
50 million pageviews
Over 1.5 million donors
Donations came from 162 different countries
The average donation amount was £21.58
99% of donations were given within 25 days of the Fundraising Page going live
Look after your fundraisers
One of the most important things is to reach out and engage with your fundraiser early and often, offering them both moral and practical support. We gave Captain Tom's family a dedicated contact who was there to help them with anything they needed, whether it was adding an update to their Fundraising Page or just answering questions. We've learned over the years that 'going viral' can be incredibly intimidating for fundraisers and charities alike, as it's unlikely that many will have ever experienced being in the limelight in that way before, and then suddenly they become the focus of intense press attention in a very short period of time. We work hard to help protect them, which is why we put a lot into giving extensive PR support and supply fundraisers with the best advice possible on how to move forward.
Can your website handle a viral campaign?
During the peak weeks of Captain Tom's fundraiser we required our team of expert engineers to be on call, a.k.a available 24/7, to ensure that the platform could respond in real-time to the amount of traffic it was getting – at one point we were receiving 30 donations per second.
Our advice to charities is to think carefully about whether your own website is capable of handling the traffic if one of your campaigns went viral. There were moments when we had 90,000 people on the JustGiving website at any one time and the reality is that a lot of websites aren't designed for this in mind, simply because normally they wouldn't need to be.
When choosing an online fundraising technology partner, such as JustGiving, we recommend that you ask them about their experience and what their approach would be in a viral situation. On many occasions we've been able to support and partner with charities when their websites have been unable to cope with unprecedented levels of traffic, by redirecting traffic to JustGiving and ensuring a smooth experience for their donors. We have the infrastructure in place to scale, fast, and we're proud we can help charities when they need us most.
Marketing
"Campaigns like these are very hard to engineer. A key thing to note is to really seek out creativity and that special twist. For Tom Moore, it wasn't just Tom Moore's story – it was Captain Tom Moore. 100-year-old Captain Tom Moore, and that made it really special."
Our marketing team immediately started to think about how can we best amplify this campaign and help them raise more money? What content do we need to produce? The first step was making some small updates to the Fundraising Page so that it would be optimised for SEO and easier for search engines, such as Google, to find and display in search results. We also featured Captain Tom on our homepage so that people could easily access his page. Finally, we created Positive Postcards – an interactive web experience, allowing people to make a personalised digital postcard for him to show they cared.
Captain Tom's personal journey was key to why people were so engaged with his fundraising. If you want to help amplify one of your own campaigns then look for fundraising stories with a special twist that will capture the imaginations for your supporter base.
Teamwork and morale
Having a cross-functional team is vital when it comes to handling large campaigns or projects. You need everyone from across the organisation to pull together, including tech, product, analytics, marketing, etc. It's also important that everyone stays connected, so in our case, we created one dedicated comms channel so that we could quickly communicate with each other.
The other recommendation is to have senior leadership involved from the start so that if things need to move quickly and you need decisions made, they're already up to date and ready to help you move fast.
Our final piece of advice is about internal morale. We're really proud to have been part of Captain Tom's journey, but it required a lot of hard work and some long hours. It's critical that everyone is given enough time to rest, and to also take the time to share any wins or positive feedback. We saw some wonderful posts on Twitter from people recognising our efforts and it was a huge boost for us.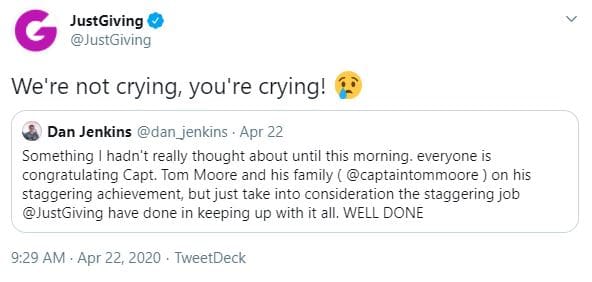 Get inspiration in your inbox!
Don't miss out on digital fundraising tips, tools and trends.
Toni Gregory is a Content Marketing Specialist and B2B copywriter.