Be a quitter – How to launch a 'Give it up' Campaign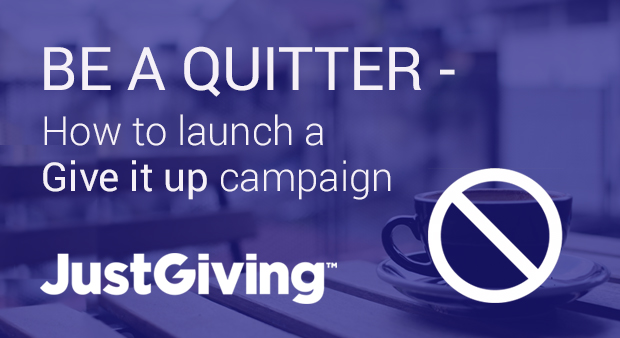 Month-long charity challenges like the Dryathlon and Stoptober campaigns have been massively successful in recent years. They encourage supporters to raise money for a cause close to their heart with the added incentive that they'll lose weight, feel better and save money at the same time. It's win win. Another yearly event that requires a few weeks of abstinence is Lent, and this year it starts on Wednesday 10th February. Why not challenge your supporters to give up their favourite treat for a while and see how much they can raise? Lots of charities have created various 'Give it up' Campaigns on JustGiving. Here are three of our favourites (plus one celebrity fundraising campaign!) to give you some ideas…
Give it up for GOSH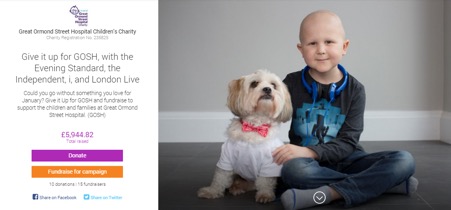 Great Ormond Street Hospital ran their Give it up for GOSH Campaign last month. They asked supporters to give up something they loved to show solidarity with children at GOSH who often have to give up things they enjoy during their treatment.
Survive Five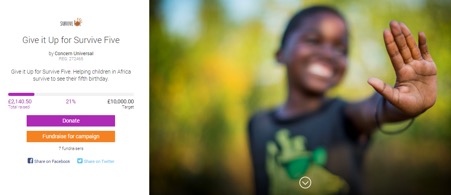 Concern Universal's Survive Five Campaign asks donors to give up takeaways, alcohol, driving, chocolate, caffeine or shopping for five weeks. They're raising funds to provide treatment for preventable diseases in sub-Saharan Africa for children under five.
Neuroblastoma UK
Neuroblastoma UK have just launched a Campaign asking supporters to give something up for two weeks starting on Monday 15th February – which is International Childhood Cancer Day – then donate the money they save over the two weeks. They ran this event last year and here's what Gail, one of the participants had to say:
"I gave up my daily cappuccinos and texted to donate £3 each day I walked straight past the coffee shop! It was a great feeling. In total I gave £42 plus Gift Aid to save children's lives. Who needs caffeine when you can get a kick from supporting such an amazing cause?"
Giving up social media
It's not just food or drink your supporters could give up. Last year, comedian Jason Manford raised over £14,000 by going on a 'Facebook fast' for a month.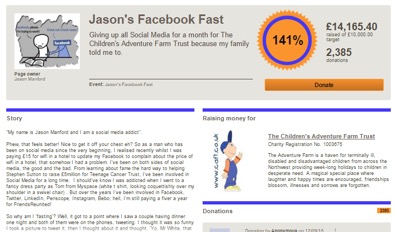 Ready to launch your own 'Give it up' Campaign? Just follow these three simple steps:
Include some ideas about what supporters could give up in the story section and let your them know how their donations will help
Promote your Campaign on your website, social media and on email
Get inspiration in your inbox!
Don't miss out on digital fundraising tips, tools and trends.
Camilla is a Customer Success Manager at JustGiving. She joined in 2012 to help bring JustGiving into new markets and is dedicated to ensuring charities from all over the world utilise the platform to its full potential and making sure they get the most out of our fundraising tools.