Best practice tips for online infographics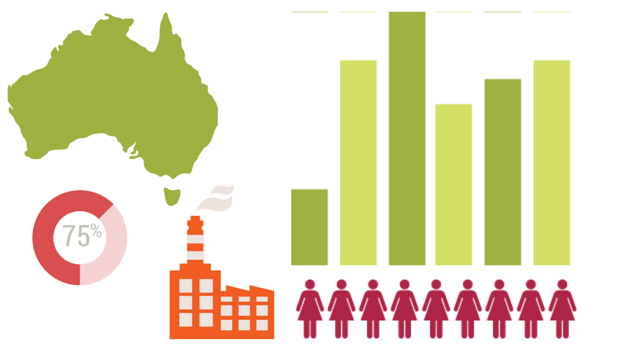 This post originally appeared on Nonprofit Tech for Good.
Any new media manager who has ever posted, shared, retweeted, pinned, or tumbled an infographic has first hand experience of how popular and powerful infographics can be online. Communicating your data and calls-to-action in visual format is smart strategy. However, you can have an exceptionally well-designed, useful infographic, but if its not compatible with social media and mobile devices, then it's unlikely to gain traction.
To ensure that your nonprofit's infographics have the best chance of success, then adopt the six best practices detailed below:
Upload your infographic in full-size as an image (not a PDF) to a landing page.
You'd be surprised how many nonprofits launch their infographics in PDF format. Doing so ensures that only a fraction of could be, would be supporters will view your  infographic. Your supporters will not be able to share, pin, or tumble your infographic if it is in PDF format and this will hamper your traffic and exposure. If you're going to invest time and financial resources into creating an infographic, then please also invest time and resources in launching it online. The first step is to embed a large version of your infographic (minimum 800 pixels in width) to a visually appealing landing page within your website (or blog). For example, the African Wildlife Foundation's "Africa's Poaching Crisis" infographic: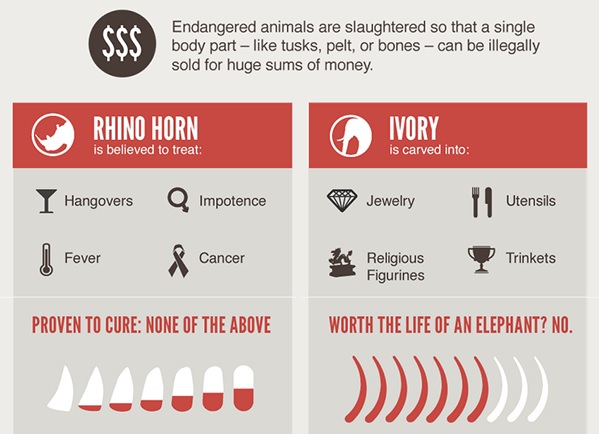 View the full infographic on their landing page
Crop and size sections of your infographic when promoting on social networks.
Ideally, your infographic is designed in blocks of 500 x 500 pixels and 500 x 250 pixels so that you can easily crop sections of your infographic to maximize promotion on social networks. This is not standard practice in infographic design, but doing so will increase retweets, repins, and shares and thus website traffic and the longevity of your infographic.
African wildlife will be poached into extinction in our lifetime unless we act now: http://t.co/qSo8zh4Z9c pic.twitter.com/r83RCt7MFK

— @NonprofitOrgs (@nonprofitorgs) March 27, 2015
Ensure that your infographic is sharable.
To maximize sharing on social networks, be sure that the landing page prominently features "Share" buttons and that when shared on social networks, the web page (or blog post) is formatted to generate visually appealing thumbnails and/or a full version of the infographic. You must also ensure that a well-written title and summary automates when shared on social networks. Finally, use keywords that describe the infographic and the word "infographic" in the page (or blog) title and summary to maximize SEO in search engines.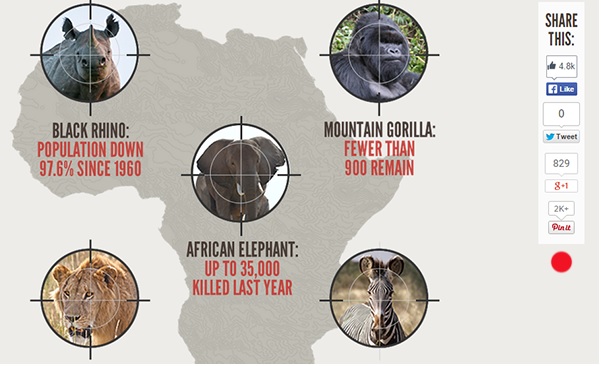 Pinterest automates a full version of the infographic.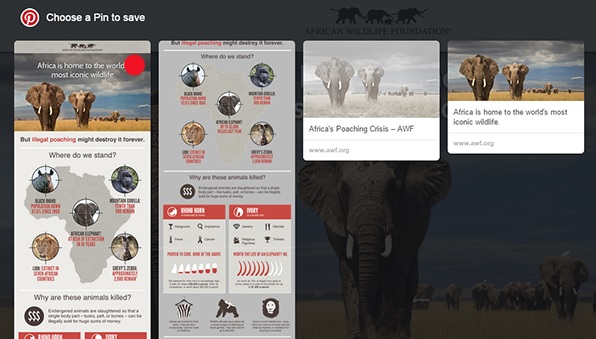 Ensure your landing page is mobile responsive.
To maximize traffic and social sharing, embed your infographic on a responsively designed landing page to ensure mobile compatibility. This infographic is over a year-old, but it is still getting online traction because of how well it was designed and launched online for PCs, tablets, and smartphones. Even if your nonprofit only produces one infographic a year, it can have a live span of months or even years, so do it right. It pays off in the end.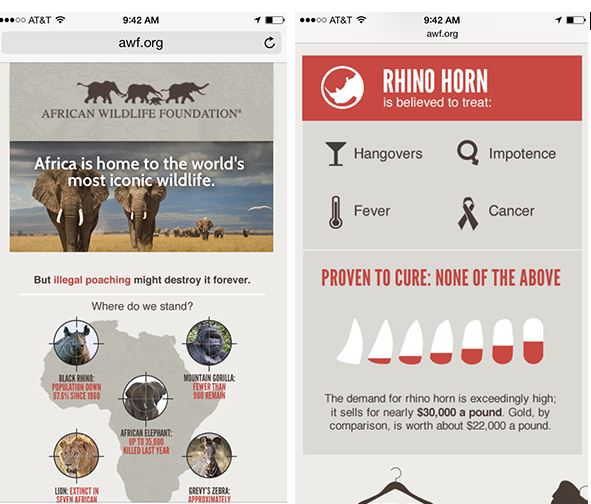 Prominently feature calls-to-action on your infographic.
It's good strategy to prominently feature calls-to-action on your landing page so you can convert infographic viewers into donors, followers, petition signers, e-newsletter subscribers, etc.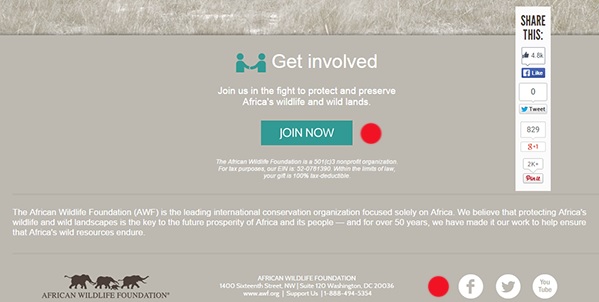 When promoting your infographic via email, send subscribers to your landing page.
Never promote your infographic by linking to a PDF in an e-newsletter. It's an outdated best practice and many supporters find PDFs annoying. When promoting your infographic via email, send e-newsletter subscribers to your landing page (via image link) where they can then share your infographic and be prompted to take further action.
When pitching your infographic to digital media or bloggers via email, sending a link to a PDF of your infographic is useless. Most will not know how to convert the PDF into an image and even if they did, why make them jump through hoops just to get a version of your infographic that they can use and promote? Even worse, nonprofits often pitch their infographic via email as an attached PDF! That may have worked five years ago, but today will only ensure that your pitch will be ignored.
Combine Heather's top tips with our free data and fundraising guide to create your own infographics.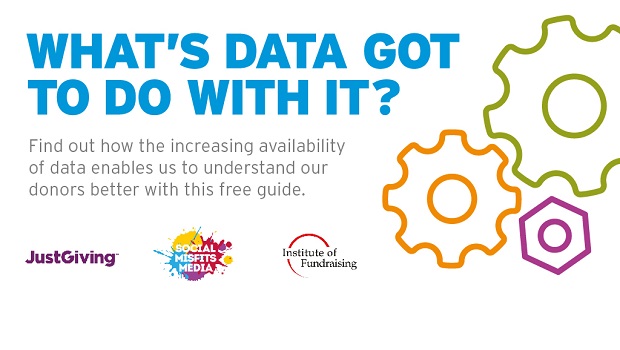 Get inspiration in your inbox!
Don't miss out on digital fundraising tips, tools and trends.
Heather Mansfield is the principal blogger at Nonprofit Tech for Good and author of the best-selling books Mobile for Good and Social Media for Social Good. She also created and maintains the "Nonprofit Organizations" profiles on Twitter, Facebook, Google+, LinkedIn, Pinterest, Instagram, and YouTube which cumulatively have more than one million followers. Heather has twenty years of experience utilizing the Internet for fundraising, community building, and advocacy. To date, she's presented more than 100 social media and mobile media trainings throughout the United States, Canada, Australia, New Zealand, India, and Southeast Asia as well as over 500 webinars to audiences worldwide. Heather was honored as a "Fundraising Star of the Year" by Fundraising Success Magazine in 2009 and was placed on Twitter's Suggested User List from 2010 to 2012. She was also named one of TIME Magazine's Best Twitter Feeds of 2013 and currently serves as an Honorary Ambassador for the World NGO Day Initiative.