Can offline marketing drive online engagement?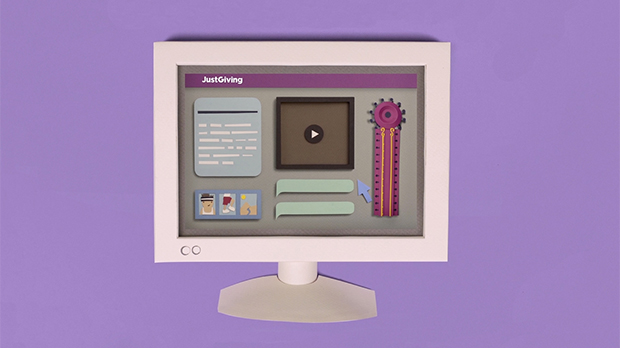 After attending a Fundraising Insights conference last February, Richard Brown – marketing manager at Acorns Children's Hospice – wanted to put the academic research he learnt into practice. Here's how he got on.
Getting supporters to set up a JustGiving page has proven to increase the amount of money they raise. Back in February I attended the Fundraising Insights conference where academic research carried out by the University of Bristol and the University of Warwick was shown to support this. It also went on to state that JustGiving pages which have a target receive more donations, have a higher average donation amount and ultimately raise more money. So it got me thinking…
How can we get more of our supporters to set up JustGiving pages?
Whilst all this was whirling around my head, we'd started looking at how we could develop our fundraising pack, in particular, for people doing events. We wanted to make the packs more supporter-focused and really help our fundraisers be the best they could possibly be. Our fundraising wall planner was born and we decided to trial it with our Great Birmingham Run (GBR) participants.
The fundraising wall planner is an A4 four-page booklet that opens out into an A3 wall planner. The planner spans six weeks and has a fundraising thermometer to colour in as you go. It also has spaces to write your JustGiving URL, JustTextGiving code and fundraising target, with the aim being to encourage people to use all of those tools. The wall planner isn't date specific so could be used for any event and has fundraising tips and messages of encouragement throughout the six weeks.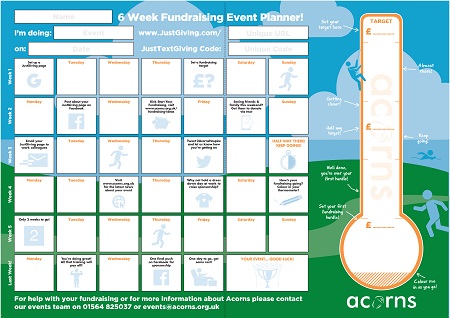 Could producing offline marketing materials help drive online engagement?
Out of the 157 people that had signed up to run the GBR in aid of Acorns, we sent half of them the fundraising wall planner and the other half our usual fundraising pack. The idea was to see if there was a difference in the amount of JustGiving pages set up between the two groups.
Here are our findings from the trial:
Aim:
To increase the number of Acorns GBR participants setting up a JustGiving page.
Results: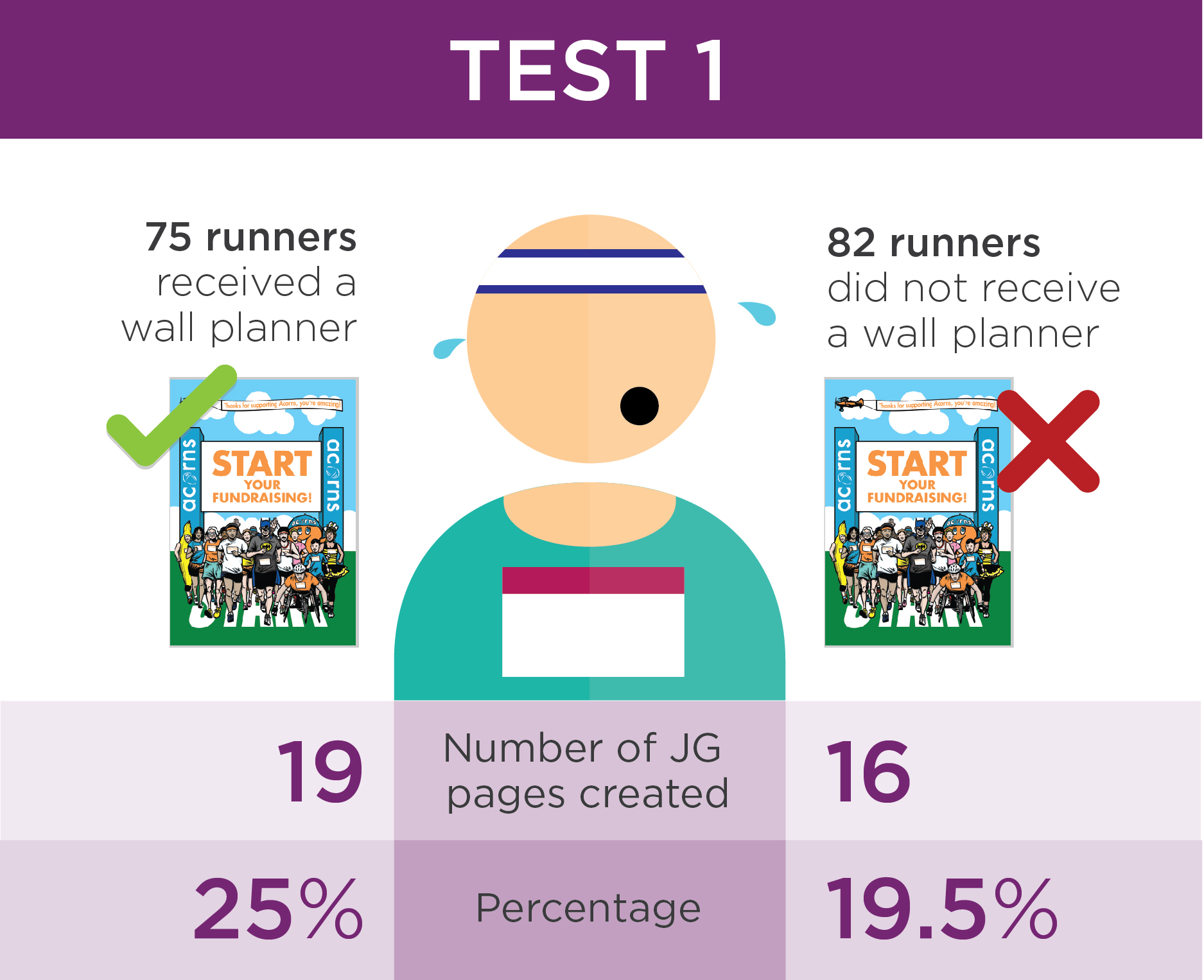 Conclusion:
The wall planner didn't have quite the impact we'd hoped, but what happened after the test was very interesting:
• When we sent the fundraising wall planner out it was part of a number of things our runners received.
• It was not the first communication our supporters had received from us about the GBR as they'd already had a 'thanks for signing up' letter.
• We'd sent the pack out to these 157 people because they'd signed up early and we wanted to send it out seven weeks before the event as we were providing a six week planner.
• Once that seven week threshold had passed we decided to send the wall planner out to anyone else that had signed up to do the GBR for Acorns.
It's the results from that last point which proved the most interesting: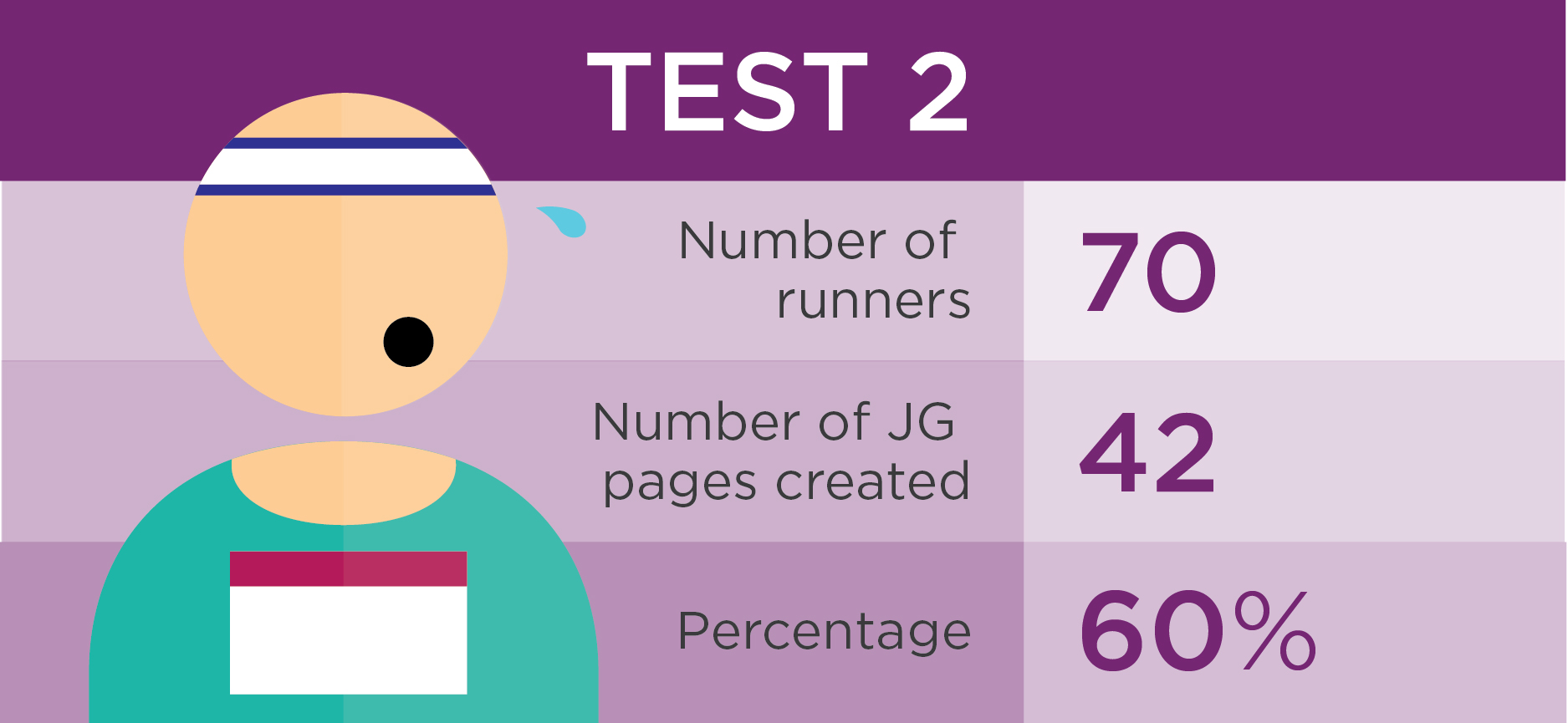 There was a significant difference between the amount of JustGiving pages set up from this group compared to the original trial. We believe the difference is down to when the wall planner was sent. In the original trial the wall planner was part of other communications sent out and wasn't their first correspondence from Acorns, whereas with this group it was the first correspondence they received.
In summary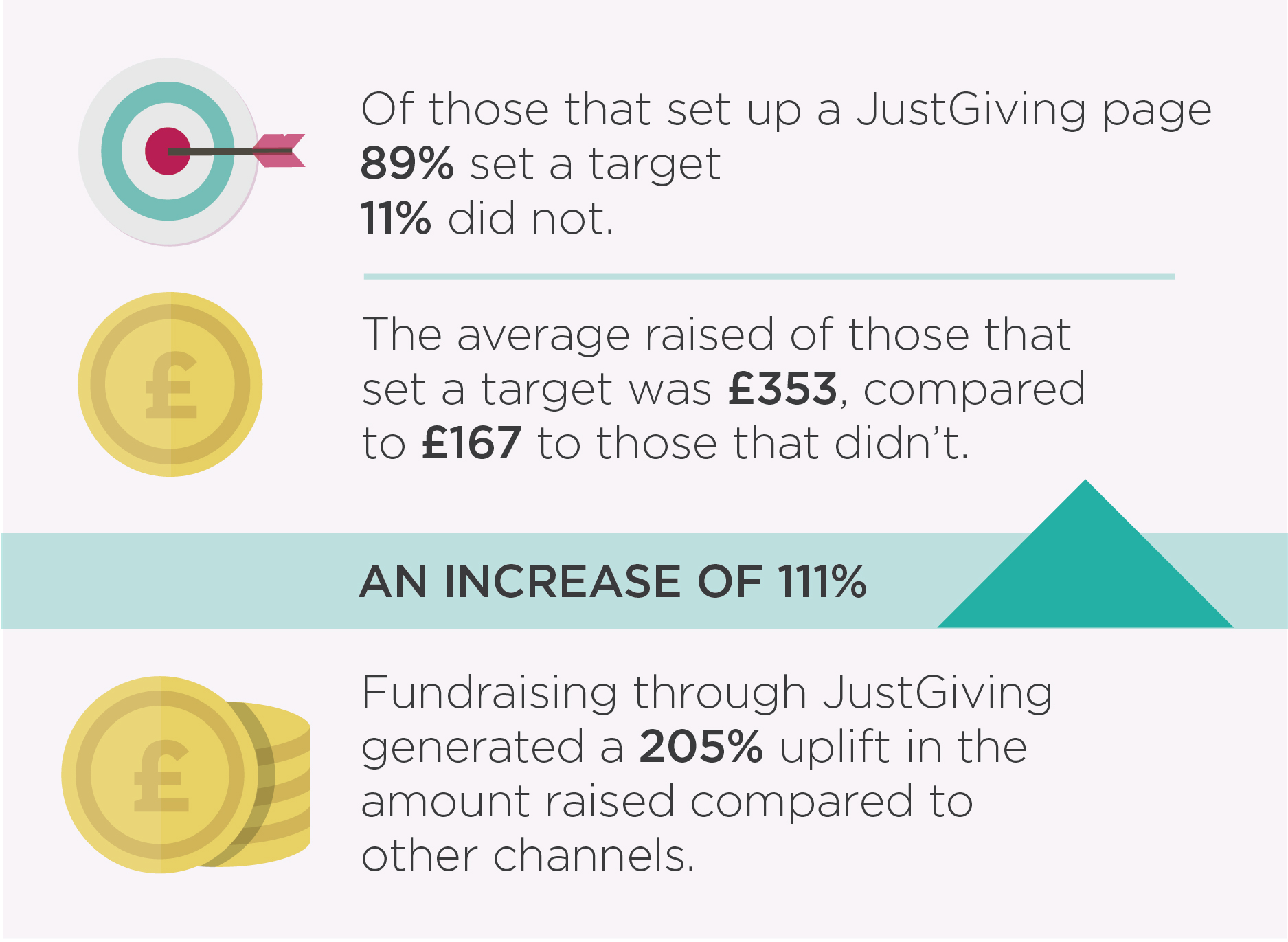 I realise that this test group isn't particularly large, however we feel the test certainly has had an impact. We will continue to use the fundraising wall planner across all our events and we've got plans to develop the idea further to help our fundraisers raise even more.
Has Richard's test inspired you to try something different with your offline materials to help drive online engagement?
Get inspiration in your inbox!
Don't miss out on digital fundraising tips, tools and trends.
Richard is the marketing manager at Acorns Children's Hospice and founder of The Joanna Brown trust, a charity he founded in memory of his sister. He loves being creative and using innovation to increase charity donations and supporter engagement. Golf enthusiast and 24 TV series addict. He lives on Twitter at @The_RichBrown