Captain Tom 100: A guide for charities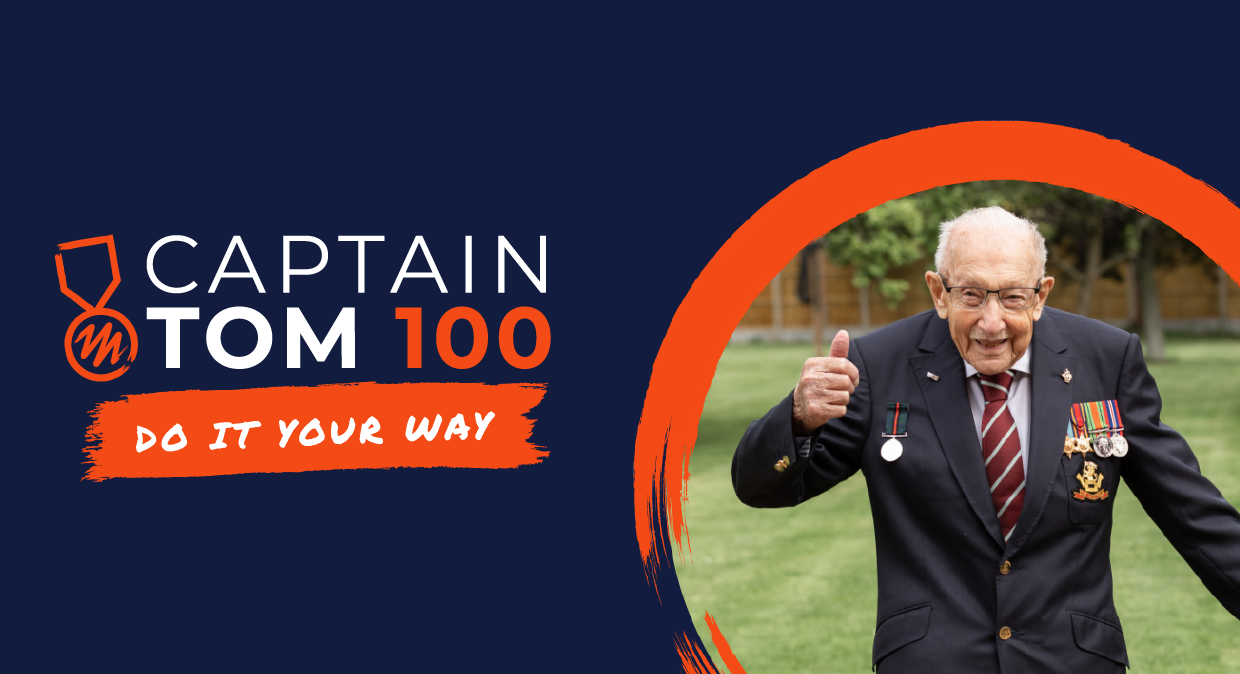 Last year The 2.6 Challenge, organised by London Marathon Events, raised over £11 million for UK charities. The challenge, which brought the nation together, asked the public to fundraise for their chosen charity by taking on a challenge of their choice relating to the numbers two and six.
Now, the organisers have created a brand-new fundraising challenge that your charity can take part in – the Captain Tom 100.
What is the Captain Tom 100?
Friday 30 April 2021 would have been Captain Sir Tom Moore's 101st birthday and the one-year anniversary of him completing the now famous 100 laps of his gardens. To mark this momentous date, the Captain Tom 100 asks people to dream up and complete a fundraising activity based around the number 100 between Friday 30 April to Monday 3 May, fundraising for a charity of their choice or the Captain Tom Foundation.
It's a wonderful opportunity to bring your fundraisers together to celebrate Captain Tom's fundraising spirit. The only requirement is that the activity must follow the Government guidelines on exercise and social distancing.
How your charity can get involved
If your charity is already a member of JustGiving then it is super easy to take part in the Captain Tom 100 – in fact, you don't even need to set up a Campaign Page as we've done it all for you! We'll soon be emailing you with a bespoke campaign link that you can use to promote the Captain Tom 100 and to encourage supporters to fundraise for you. Make sure that your account email address and preferences are up to date by logging in and going to your account settings. If you think you haven't received the email, it's worth having a quick check of your junk folder but email us at charities@justgiving.com to request for it to be re-sent.
We have also created a dedicated Captain Tom 100 landing page which lists all the charities that people can fundraise for, so you may wish to direct supporters here and ask them to search for your charity name.
Not already a member? It's free to join JustGiving and we charge 0% platform fees. There is a 5% fee for our optional Gift Aid service and standard payment processing fee of 1.9% +20p. When signing up enter the promo code 'CapTom100' to let us know you'd like to fundraise for Captain Tom 100 and we'll aim to prioritise your application. Find out more here.
Free marketing materials
All JustGiving charities will receive lots of helpful marketing and fundraising materials, including the bespoke link and landing page mentioned above. You will also be given access to a free event Toolkit, packed with helpful resources that you can share with supporters and use to motivate your fundraisers!

Promote the fundraising challenge to your supporters in four simple steps:
Get your personalised campaign link from JustGiving from 6th April (please contact charities@justgiving.com if you don't receive it)
Add it to your website and emails
Post it on your organisation's social media, including Twitter, Facebook and Instagram accounts
Encourage your supporters to share their activities and Fundraising Page links on social media using the hashtag #CaptainTom100
Do you have corporate or school supporters?
In a year where many people have been living, working or studying apart, the Captain Tom 100 offers a fun way to engage corporate department and teams, as well as school classes. Corporate and school supporters can easily set up a Fundraising Page in the usual way, adding their logo instead of an individual's image.
QR Codes: All JustGiving Campaign and Fundraising Pages come with a unique QR Code (quick response codes that can be scanned by a phone or tablet). The codes can be downloaded and saved in a matter of seconds, and when scanned they will take supporters directly to your page. The codes can be printed out and used on school posters or newsletters, they can be displayed online or offline, they can even be shared in emails. Asking people to donate to a page has never been quicker!
Feel inspired by the 2.6 Challenge
If there's one thing that we learnt from supporting last year's 2.6 Challenge, it's that your fundraising ask is key. Your supporters can be as creative as they like around the number '100', but it's important that fundraising is still at the heart of what they choose to do. Make sure that you communicate the purpose behind the challenge, the difference that their fundraising can make, and even share tips on how to set up a JustGiving Fundraising Page.
Fundraising ideas
We saw some unique fundraising ideas from fundraisers as part of The 2.6 Challenge, including balcony marathons and a 2.6 mile walk in pyjamas. Check out our round-up of 10 awesome examples of 2.6 Challenge fundraisers.
Here's a few other ideas you can use to inspire your supporters:
Cycle 100km
Learn 100 dance moves
Bake 100 biscuits
Walk 100 laps of your garden as an ode to Captain Tom
Go up and down your stairs 100 times
100 minute silence
Livestream telling 100 jokes
Need any help?
We're here to support you and to help you raise as much as possible from this campaign – so, if you have any questions about how to get started with your Captain Tom 100 campaign, then email us at charities@justgiving.com. You can also visit our dedicated Captain Tom 100 site.
Get inspiration in your inbox!
Don't miss out on digital fundraising tips, tools and trends.