Caroline Jones, charity shops and a brilliant fundraising campaign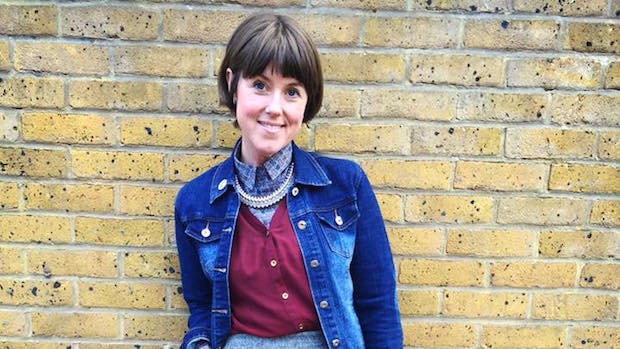 On New Year's Eve 2014 Caroline Jones, a fashion blogger and mum of three from Hertfordshire, decided to create a fundraising campaign as a tribute to her mother Mary, who she had lost to cancer that October.  The idea for the campaign was simple: she would post a photograph of herself on social media, every day for the whole of 2015, wearing clothes sourced from Cancer Research UK's charity shops.
Her initial hopes for the campaign were modest. Caroline thought that she would raise £500- £1000 via her JustGiving page, sourced from close friends and family. She was wrong. On day six the BBC wanted to interview her as the result of the interest in her campaign. They were swiftly followed by the Mail Online.  Ninety seven thousand people visited her Facebook page in the first week. By the end of 2015 Caroline had raised £50,000, and appeared on TV and radio numerous times, generating plenty of positive press coverage for  Cancer Research UK, and garnering her the JustGiving award for Creative Fundraiser of the Year. Astonishingly, Caroline had never fundraised before. So why was her campaign such a success and what can other fundraisers learn from it?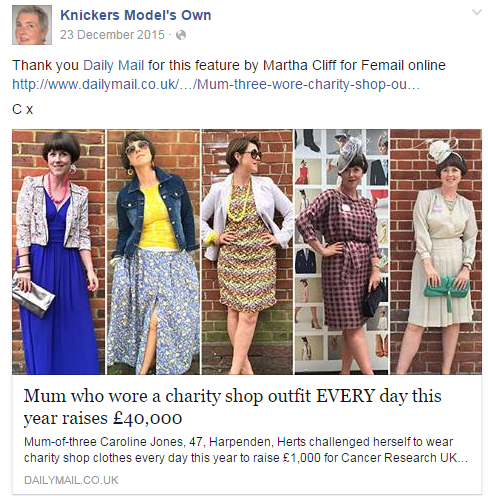 Be different. Caroline's campaign had a fun and playful side to it that isn't always seen in fashion and lifestyle content. Every outfit was different and this encouraged people to follow their creative side, rather than slavishly following style rules.
Keep people coming back. Caroline told me that she wanted to 'give people something back' and, as the campaign grew, was conscious that her followers were relying on her for a daily preloved style fix. Her commitment to the campaign as a tribute to her mother really came through when she explained to me that 'the product had to be good' and she didn't want to 'let standards slip.' She worked very hard to ensure that the visuals and the copy were high quality. As a result, Caroline's supporters were very engaged with the campaign. Many of them donated two or three times, whilst the average donation was £33. On Facebook, Caroline noticed that traffic to her page regularly peaked at 10am, 1pm and 1130pm; her content was habit forming.
Let your personality shine through. I think the secret of Caroline's campaign was partly about fashion, but mainly about how she is an inspiring, life affirming presence. She ran a very full on, high profile campaign whilst grieving for her mother, because it was the best way she could think of to pay tribute to her. People responded to her strength of character, determination and bravery.
Keep it simple. As she adjusted to the attention that her fundraising had received, Caroline realised that all she needed to do to run an effective campaign was to 'keep it centred' on posting pictures of outfits. She realised that she could 'shape her own rules' and that 'people were going to be supportive, not negative.' Caroline's content spoke to her community and involved them in storytelling, as in the post below. Fundraisers should focus on the essence of what they are trying to achieve with their campaigns and punchy key messages.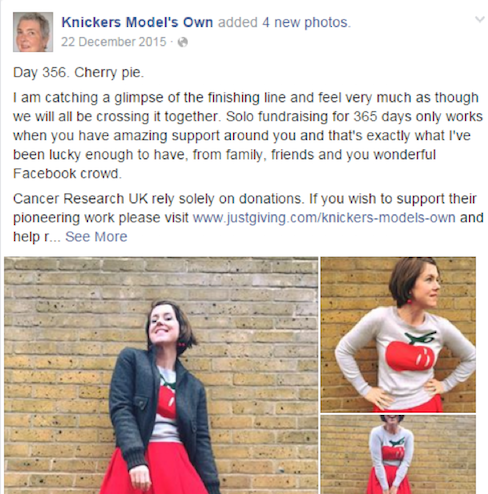 Use social media to 'go big.' Caroline advises fundraisers not to think of fundraising on a local level, but to 'tap into social media because it's massive.' By the end of the year she had gained 10,000 Facebook likes. Her audience was predominantly female and was a very active community who commented frequently. It wasn't unusual for her posts to achieve hundreds of likes. She also created bespoke content for every platform as she knew her audience on each was different. On Twitter, for example, she was followed by many retail brands who followed and frequently shared her content.
Don't forget about traditional media. Caroline found that TV appearances and print media led to spikes in fundraising. Speaking appearances also drove donations. At one particular conference she was invited to speak at, many of the audience members and fellow panellists we're inspired to donate.
Think about your campaign's legacy. Caroline believes that her campaign broke down age barriers, encouraged people not to 'blend into the background' with fashion choices and to enjoy shopping in charity shops. Simon Ledsham, director of trading and volunteer fundraising at Cancer Research UK said: 'Caroline's campaign has not only been a huge success in terms of fundraising, but also for raising awareness of Cancer Research UK shops and the great items that can be found in them.' What do you want people to say about your campaign after it has finished?
Caroline is writing a book about her campaign (out later in the spring) and still continues to post about fashion. After all her achievements, I'm excited to see what she does next.
Get inspiration in your inbox!
Don't miss out on digital fundraising tips, tools and trends.
Zoe is director of Zoe Amar Communications, a marketing and digital communications consultancy who have worked with leading organisations including ActionAid, Crimestoppers, Macmillan and Anglia Ruskin University. She blogs for The Guardian about charities and communications and is on the advisory board for The Guardian Voluntary Sector Network. She co-founded the charity #socialceos awards.