Celebrating $4bn raised for good causes in 15 years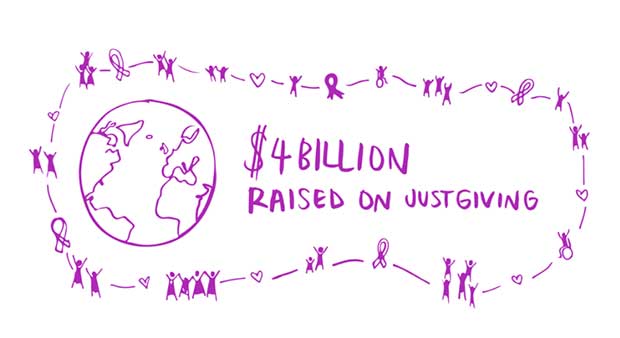 JustGiving launched in February 2001 to help people support the causes they care about more easily, and raise a whole lot more for charity as a result. Back then, the digital world was a very different place — e-commerce was in its infancy, social media unknown, and dial-up modems were the norm.
Fifteen years on and we are extremely proud that $4 billion has now been raised for good causes on our platform, $2 billion of which in the last four years.
At first, our fundraisers, charities and donors turned to JustGiving because of the ease of use, efficiency and reliability of our platform. In recent years, they've also come to trust JustGiving to help them extend their reach, and bring their story to a wider audience. It is this, the growing kindness of strangers, that is perhaps our greatest source of pride.
JustGiving would not have been possible, let alone sustained, without the trust of our charity partners, who put up with our constant experiments — many unsuccessful — to grow the world of giving. Our commitment to innovation and systematic re-investment is unchanged fifteen years on.
Crucially, none of it would have happened without the 26 million people who have given, fundraised, and campaigned for the causes and people they care about since 2001. It has been an honour to serve all of them.
Since 2001, they have funded the creation of children's cancer units across the UK; helped to reopen Manchester Dogs Home after it was burnt down; fundraised for Nepal in the aftermath of the 2015 earthquake, rallied in support of refugees stranded in Calais and Greece; funded research into diseases and debilitating conditions and helped countless other good causes get their funding. 
It has been a humbling and inspiring fifteen years, and we've only just started. Having enabled $4 billion in giving during that time, JustGiving will continue with its commitment to use the best the web has to offer to help great causes reach more people, and raise more money, than anywhere else.
Get inspiration in your inbox!
Don't miss out on digital fundraising tips, tools and trends.
Sally Falvey has worked in online fundraising for over 10 years, and is the Head of Growth Marketing at JustGiving. She's passionate about helping all charities use the latest technology to be more efficient and raise more money.