Digital fundraisers share inspiring insights at JustGiving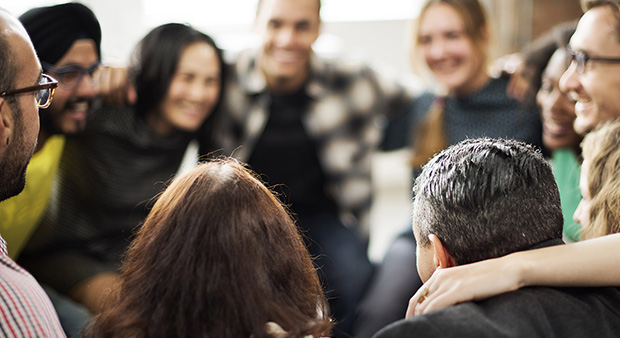 Full disclaimer: I love NFP Tweetup.
I've been going to this gathering of social media and digitally minded folk in the charity sector for more years than I care to remember. The people I've met and the things I've learned have shaped my career in more ways than I can count.
Last night, we celebrated at JG Towers with drinks, crisps and no small amount of those tasty M&S bites.
Here's three things we learned.
Invest in AdWords
Kate from Jo's Cervical Cancer Trust kicked things off with a presentation on the value of investing in AdWords.
All charities can get the $10,000 monthly grant, but how many get real results from it? Kate talked about how they worked with an agency to restructure their account and create brand new ads to make sure that not just more people, but the right people were coming to their site.
The results? More fundraisers, more signups to their forum and more people getting the potentially life saving information that Jo's provides. An inspiring case study of the value of investing in your search marketing.
Transparency pays
We were delighted that the marvellous Matt Jerwood, Head of Digital at Oxfam, came along to talk about the famous My Oxfam app and Oxfam's approach to digital fundraising in general.
Matt presented a deceptively simple vision for organising digital fundraising within charities. His team act as the enablers for the many other teams in the organisation, improving the quality and quantity of digital work taking place.
Matt even connected his phone screen to the big screen to demonstrate the My Oxfam app. It was a marvellous demonstration of how donors can be brought closer to the work they help fund.
Don't do digital *to* people
After more chats by the snacks table, Katie from Cancer Research UK took to the stage to tell us about how one the world's biggest charities tackles digital channels.
There were some excellent insights into the cultural and even psychodynamic factors that affect how an organisation of that size views digital work.
The top insight: words matter. Don't call it transformation, don't even call it digital. It only increases the perception that digital is done to people instead of for them.
The event closed, and many kept the enthusiasm going over in the pub. That's where the really interesting chats took place…
See you next time for more of the same!
Get inspiration in your inbox!
Don't miss out on digital fundraising tips, tools and trends.
Matt Collins is managing director at digital marketing agency, Platypus Digital, and tweets @charitychap