Introducing QR codes for charities and teams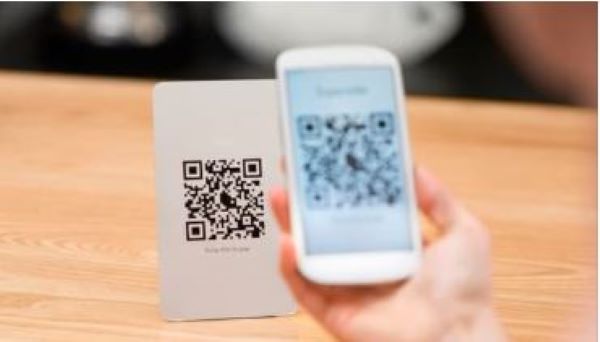 We're excited to share that we've recently launched QR codes for charities and teams fundraising on JustGiving, making it easy for people to quickly visit your website without having to type or remember a long web address.
QR codes (aka quick response codes) are images that, when scanned on a phone or tablet, take a person to a specific website page. This means, for example, that charities could use QR codes to quickly direct supporters to a donation page.
Most modern phone can scan QR codes using their cameras. Here's a quick read from Apple on how it works on an iPhone. Simply hold the camera in front of a code for two to three seconds and your phone will ask to re-direct you online.
How to get your Charity QR code
Charity QR codes are free for charities registered on JustGiving. To get yours, simply visit your Charity Profile on JustGiving and add "/qrcode" to the end of the web address.
For example, the web address for Save the Children's charity profile on JustGiving is www.justgiving.com/savethechildren/ and to get their QR code they would simply need to change the web address to www.justgiving.com/savethechildren/qrcode.
The page looks like this: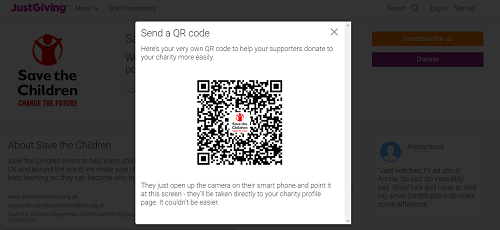 You can then save your code as an image to your computer or device ready to share where you like and making it easy for people to donate in a matter of seconds.
Your supporters can also get a QR code for their Team Pages on JustGiving. To get their QR code, they just need to visit their Team Page and add "/qrcode" to the end of the web address.
For example, www.justgiving.com/team/Maryann/qrcode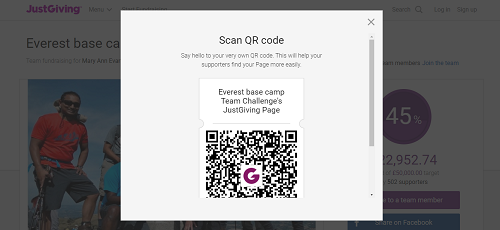 Great ways to use your charity's QR Code
Share offline on direct mail or fundraising packs
QR codes don't have to be shared on digital platforms and social media sites. You can add them to direct mail appeals or fundraising packs,  so people can scan your code to donate or to find out more information.
Display the code in your charity shops
Display your QR code in the window of your charity shop. This will help you to capture donations from people whilst they are already engaging with your charity. Window displays are also great as they mean people can make donations 24/7, regardless of whether your shop is open.
Include your QR code on collection buckets
You can print sticky labels with your QR code on and add it to the side of any collection buckets. This enables  you to collect donations from people even when they're not carrying cash!
Coming soon: QR codes for campaigns and fundraisers
This is just the start for QR codes on JustGiving. Very soon we'll be making QR codes available on your Campaign Pages and your supporters' Fundraising Pages. Watch this space!
Let us know what you think
Tweet us on @JGcauses to give us your feedback and any fun, inventive ways you're using QR codes.
Get inspiration in your inbox!
Don't miss out on digital fundraising tips, tools and trends.
Toni Gregory is a Content Marketing Specialist and B2B copywriter.