Why your charity website needs a job description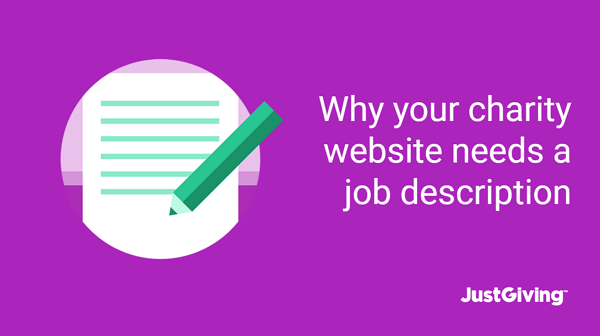 How often do you get supporters visiting you at your desk? For most charities nowadays, the vast majority of your supporters will never step a foot in your offices; they'll visit your website instead.
This makes your website the equivalent of a pre-internet receptionist. How did you expect your receptionist to react to visitors? You might want them to be presentable, knowledgeable, responsive and hard working.
You should expect the same from your website. Here's our charity website job description checklist, to help you to get it right.
Responsive
This never used to be such a big deal. Some websites were great on mobile, and others weren't. People largely accepted that some websites just weren't that responsive yet. But it is a big deal now. If your website is not mobile responsive, search engines will automatically bump it down the search listings.
In 2009, only 0.7% of searches were conducted on mobile, but even back then we were talking about the day when we would see more mobile searches that desktop ones, and that day came last year. 50.3% of searches in 2017 were on a mobile phone.
It's really important that you make sure your website works really well on mobile. If it doesn't, it's effectively the same as your receptionist treating half of the people who visit your offices badly. You'd fire them.
Presentable
Imagine if your receptionist came to work wearing a tracksuit and trainers when your dress code was smart casual. Would you expect people looking to support you to be impressed?
It's really important that you make sure your website is presentable. It should adhere to a set of brand guidelines, include imagery and videos, be accessible, and be easy to navigate.
Unfortunately, websites can be expensive, but we would really recommend that you find the money to make sure you have a good one. User testing with your current supporters can help show you what you need to include and how to structure it. Getting it right could be the difference between lots of donations, and none.
Hardworking
It might seem like an obvious one, but it's really important that your website works in the way you need it to. It is not entitled to sick days or paid holidays – it should be working well for you all of the time.
If your servers regularly go down, then you need to sort them out. If your donate page is complicated and not easy to use, then change it. Make sure that your website is doing what it needs to for you. Write down its objectives and give it a performance review. If it isn't ticking all the boxes, it's time for an overhaul.
Good communicator
Doesn't every job description ever ask for excellent communication skills? Your website is working for you, and it should be able to offer you the same. It should speak clearly to visitors about the work that you do, why they should get involved in helping you, and how they go about doing that.
You should definitely consider hiring a professional copywriter if you don't already have one. They'll be able to build your website content so that it helps your SEO ranking, and they can work with you to identify the best way to garner support for your cause. They come at a price, but they're worth it.
If you can, you should also be investing your time in writing a blog, or incorporating a news section on your website. Constantly refreshing your content not only invites your supporters back on a more regular basis to learn more about what you're doing, but also helps your SEO.
Get inspiration in your inbox!
Don't miss out on digital fundraising tips, tools and trends.