CiviCRM and using open source technology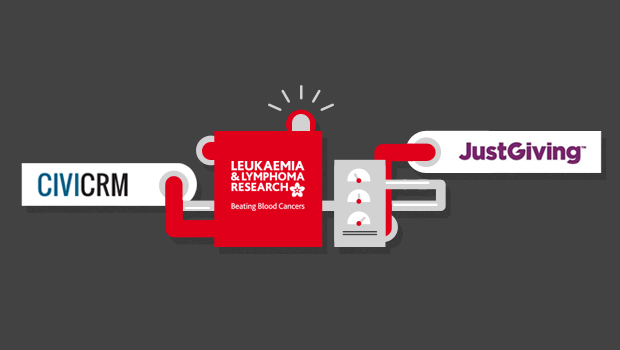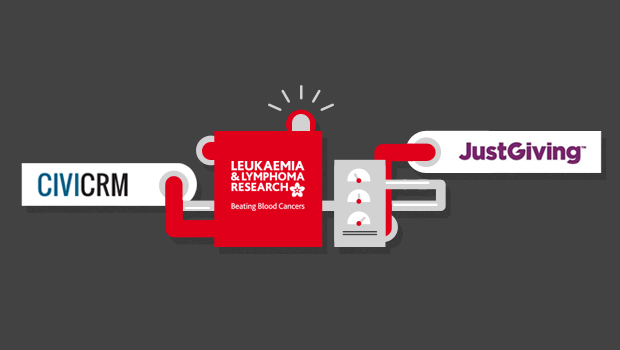 Guest blogger Thomas Muirhead, head of digital and CRM at Leukaemia & Lymphoma Research, shares how open source technology has added real value to his organisation and how you can add exactly the same to yours.
If you're responsible for the digital offering in a charity, you'll be well aware of the ever increasing complexity of the different tools, web services, applications and channels you need to weave together to get your team – and the whole organisation – to function as well as possible.
What this inevitably leads to is inefficiency. The processes involved in pulling data from these different systems are complex and time-consuming. The answer, where possible, is to automate it: integrate systems.
Integrating JustGiving with CiviCRM
One of the biggest third party providers of data and donations for us here at Leukaemia & Lymphoma Research is JustGiving. We analysed our processes and saw that days and days of time every month were being used downloading, tweaking, re-uploading, re-downloading and importing spreadsheets of data to and from JustGiving. As an organisation dedicated to improving things, big and small, it seemed a natural place to focus some attention.
So we've built an integration extension to CiviCRM – our open source CRM (customer relationship management) system – which allows all our JustGiving payments and donors to be pushed directly into our CRM system, thanks to the JustGiving Data APIs. Contributions get correctly assigned to contacts, issues can be resolved and corrected directly in the system and we can push it easily to our accounting software. Also, there's the option to soft credit the fundraiser with the donor's contribution.
It's saved the teams here a lot of time and ensured greater accuracy in our database. Also, the speed with which we understand what our supporters have raised on JustGiving has allowed us to improve our communications with them.
What is CiviCRM and why open source?
Adopting CiviCRM here at Leukaemia & Lymphoma Research was one of the best decisions we've made. Here's why in a nutshell:
As an open source tool we get so much more flexibility out of the system than we would with proprietary providers. We control how the system works.
It's really well integrated with our CMS system – we use Drupal but CiviCRM works out of the box with WordPress and Joomla too. This means all event sign-up, donation and direct debit transactions on the website flow into the CRM directly.
It's a really powerful CRM with everything from donation and form building to case management, grant tracking, automated communications planning and so much more.
We can work with other charities to build functionality together. This is one of the strongest arguments for open source generally – why are we all paying for the same software to be built when we could pay for it once together!
How can other charities do this?
The extension we've built is available to any charity using CiviCRM. It's open source software so anyone can use the code. Visit the CiviCRM site and you can download the extension and start using it immediately. Some charities such as Oasis and STOP THE TRAFFIK are already using a pre-release version of the extension.
CiviCRM is designed specifically for charities, and used by smaller charities like the Merton Music Foundation, medium-sized charities like us at Leukaemia & Lymphoma Research and huge organisations like the New York State Senate. It's free to download and free of monthly subscriptions. It's not straightforward to implement, so you may need to get help depending on the scale of your organisation.
What's next?
If you want to find out more about CiviCRM or our use of open source technology generally feel free to get in touch with me at tmuirhead@beatingbloodcancers.org.uk
Also, I'm presenting on the growth of open source CRM at the London CiviCon in the first week of October. I'd recommend anyone interested in CRM should attend to find out more about the direction of travel for CRM in the charity sector.
We'd like to continue to see JustGiving integrations built with other open source tools. For example, the front end page building API could be released as a Drupal or WordPress module/plugin.
If you are interested in guest blogging for We make giving social, drop us a line at wemakegivingsocial@justgiving.com
Get inspiration in your inbox!
Don't miss out on digital fundraising tips, tools and trends.
Thomas is the head of digital and CRM at Leukaemia & Lymphoma Research. He's dedicated to bringing digital tools - particularly open source technology - skills and knowledge in-house, because of the power it puts in the hands of the charity wielding it and the benefit it provides to other charities.