Cost of Living Crisis: How Charities Are Adapting to Help Those in Need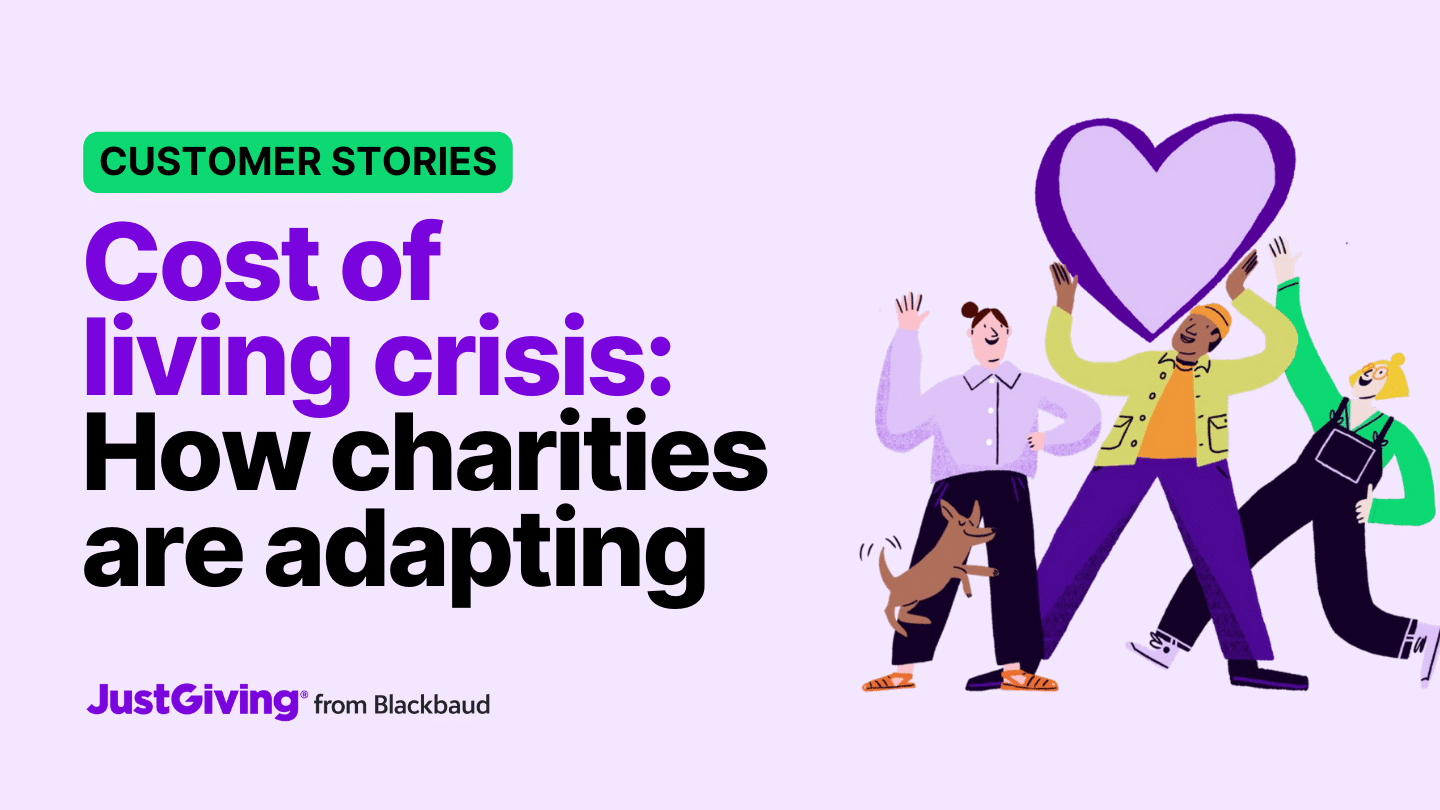 The cost-of-living crisis continues to impact charities. An increase in demand for services coupled with donors having less disposable income puts charities in a tough situation.
Despite these challenges, people do still want to help others. We're seeing incredible support on JustGiving for those impacted by the cost-of-living crisis, with now over 36,500 fundraising pages created and £15m raised since the start of 2022! Kindness and generosity continue to shine through.
Charities have responded as well, altering their fundraising strategies to best serve their beneficiaries and supporters alike.
We talked to over 80 charities about how they're approaching fundraising during the cost-of-living crisis.
Read on for their candid feedback on how they're navigating challenges, communicating with their supporters, and how you can get support as well. All responses were made anonymously to encourage honest and open insights. 
How are charities adapting to the cost-of-living crisis? 
While the cost-of-living crisis affects individuals, it also affects some of the most in-demand services. Here's how charities are adapting to limited fundraising resources. 
"We plan to scale back our community fundraising." 
Several charities report scaling back their community fundraising and focusing on one or two key events in 2023. Some say they're limiting their community events to save money and make more time to better understand the needs of supporters. 
"We plan to lower our donation and fundraising targets." 
Multiple charities aim to get more donors while lowering individual donation targets.
"We are looking at increasing our donor base. If more people are able to give, we can rely a little less on our regular individual donors." 
Learn how TRIBE Freedom Foundation used this approach to get more fundraisers for two massive fundraising events in 2022.
"We now have an emergency fund." 
One charity mentions setting up a dedicated fund to support beneficiaries who face cost of living related challenges. 
"We're leveraging our impact." 
"We have not changed our asks, but specifically talk about our charity's impact in our stories."
"We build in incentives for our supporters." 
Some charities are finding ways to continue providing support while also making it fun. One charity said their focus is on creating events that are enjoyable and engaging for participants. Another suggested giving supporters cash back on their giving: for every £100 donated, people get a £5 grocery voucher.
Get our 5 tips for boosting your donations during the cost of living crisis 
How are charities communicating with their supporters? 
Some supporters understand the difficulties of charity work and will support you, even in difficult times.  
Others may need extra education around how your charity has been affected by the cost-of-living crisis, the impact you're making, and that you appreciate every penny. Don't let their support go unnoticed.  
Looking for inspiration? Here's how charities are communicating with their supporters during the cost-of-living crisis. 
"We empathise with our supporters." 
Many charities check in on the welfare of their supporters. It's a great way to let your supporters know you care.  
"We call each donor just to check on them and find out how their family is doing, not asking for anything. Just showing love." 
"We provide the available resources and support available." 
"We won't delay our campaigns but will be mindful of our asks." 
"We tell our supporters exactly where their money is going." 
Keep your community in the loop to show them the difference they're making.
"We show people how essential our fundraising is so we can continue to provide food." 
"Say thanks for even the smallest of donations." 
Simply saying "thanks" is one of the best ways to show your community they're appreciated. 
"Thank people for even the smallest of donations." 
But it's not only what you do with your money that inspires people to give. People want to help you keep your charity going. 
"Be very honest, open, clear and transparent about your charity's costs. We have shown them our bills as scans to show we are not exaggerating." 
Read our 10 Creative Ways to Thank Your Supporters 
While the cost-of-living crisis impacts charities in many ways, the most successful are those trying new things and adjusting as they go.  
We hope you've found this article inspiring – which ideas will you be trying for your charity? 
Get cost of living resources for charities
As people's desire to support causes they care about remains strong, we'll be here to support you through the cost-of-living crisis and beyond.
See what other charities are doing, plus get the latest news and helpful tools to raise money and reach more people during the cost-of-living crisis. 
Get inspiration in your inbox!
Don't miss out on digital fundraising tips, tools and trends.
Sally Falvey has worked in online fundraising for over 10 years, and is the Head of Growth Marketing at JustGiving. She's passionate about helping all charities use the latest technology to be more efficient and raise more money.