COVID-19: 10 tips for working from home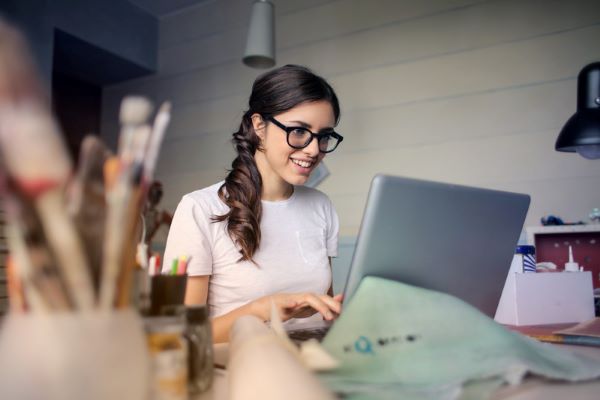 Working from home can be great – fewer distractions (potentially), access to coffee whenever you want it and a private bathroom. However, if you're not used to working remotely or you're an extrovert by heart, then being away from your normal set up at the office can feel disconcerting.
At JustGiving and Blackbaud, we've all been working from home for a couple of weeks now, so we've compiled 10 tips from the teams here on what's working well for them. We're all different though, so one person's remote-working nirvana, might not be yours. If you've got a routine, tip or activity that's working for you, tweet us @JGcauses – we'd love to hear your remote working stories!
1. Create a work space
Find a place in your home that you can turn into your own dedicated work space, which could be as simple as always working at a specific seat at the kitchen table. You might not be in an office, but if you can create a space that gets you into work mode then it could help you focus. Save your cosy spaces, like the sofa, for the end of the day when you need to switch off.
"I have a dedicated work spot and chair in my kitchen, I only sit there when I'm remote working and actively avoid it when I'm not. It helps to create the barrier between work and home life. Also when the day is up I put my laptop and everything away entirely 😊"

Lauren Butcher – Blackbaud Demand Marketing Executive
2. Stick to a routine
It can be helpful to have a morning routine that will help you to wake up, dust off the cobwebs, and get you ready to start the day. Get yourself into a working mindset by sticking to as much of your normal routine as possible.
"Find yourself a routine and stick to it. In the morning I wake up, take a shower and have breakfast like usual. I've also decided to go for a 10-15 minute walk before starting the working day, because the morning commute can help with waking up and feeling ready to work."

Katie Ager – Blackbaud Event Marketing Specialist
3. Prepare a timetable for you and the kids
Lots of us are having to adjust to new routines right now and for working parents, working from home whilst entertaining, feeding and teaching children takes juggling to a whole new level! Depending on the age of your children, you'll be facing different challenges. One thing that can help is to prepare a list of activities on your phone, so that you have a constant source of inspiration when the dreaded "I'm bored" words come your way.
"I've been dividing my time 50:50 between the office and working remotely for nearly a year now, so the new challenge is having my young children and husband home at the same time! We're tag-teaming by planning a couple of days in advance who does the morning shift 8-1 with the kids, whilst the other one works, and who does the afternoon shift 1-5. We have to flex a bit for calls that we each have to jump on, so we're embracing having kids on our work calls when our diaries clash… Hey Duggee and cookies seem to work wonders when we have no other choice but to bribe them! We've also got a shared list of activities to do with the kids, so that we can each look at it for inspiration. @busytoddler on Instagram is my top recommendation!"
Sally Falvey – JustGiving Head of Charity Marketing
4. Write out a clear to-do list
Either start or end each day by writing out a clear to-do list of your projects and tasks. Trello is a great tool that can be used to manage your to do list. Once you have you have everything written down, it might help to set alerts and add reminders into your outlook calendar or on your phone. This will help you to keep some structure to your working day. Plus, knowing exactly what you need to achieve in the day ahead will help to keep you motivated.
5. Remove any distractions
It can be tempting to procrastinate at the best of times, but when you're home and no-one will know…. Stop! Keep yourself focused by logging out of your social media accounts (sigh, bye Instagram) and turning off personal phone notifications. Internet browsers like Google Chrome also allow you to set up separate accounts with different internet toolbars at the top, meaning your favourite blog or game won't be lingering just a click away.
"I quite like using strict workflow, which I use when I need to focus but I find myself checking the news for coronavirus hysteria/updates… they block popular websites, but you can also add additional websites to "block" in the settings."

Gretta Fitzpatrick – JustGiving Digital Marketing Manager
6. Use technology to stay connected (and have fun)
Working from home can be great for focusing on your work, but it can also leave you feeling cut off from the wider team. If you would normally catch up with your colleagues over lunch, or ask project questions in person, then try to do the same using video chat. Your organisation might already have systems in place, such as Webex or Microsoft Teams. If not, then you can download a free version of Skype for call and video chat. Zoom is another popular tool for video calls, and Houseparty is a mobile app with a focus on video calls, games and fun quizzes to help bring people together online.
So far, we're seeing daily team coffee breaks on video calls, lunchtime yoga sessions and even a happy hour, which is helping everyone to feel connected and get some light relief from the important work we're doing to support charities and fundraisers.
7. Set some house rules
If you're sharing your home with friends or family, then it's beneficial for everyone to decide on some boundaries. Some things to consider are rules on playing music out loud, what happens if one of you is on a call or video chat, could you limit non-work talk until after your "office" hours. These things might sound pedantic, but they might help you to keep a harmonious home!
8. Take regular breaks
A key part of trying to get into a normal working routine is to stick to your typical break times. Even if it's just 15 minutes to get away from your screen and make a drink, make sure that you do it and give yourself some respite. It can be easy to feel a strange sense of guilt for taking breaks when you haven't even left the house, but you deserve to take five to recharge.
"I've blocked out 60 minutes in my calendar every lunchtime to make sure I take a proper break. I usually use 30 mins for run (or walk, let's be honest). I've also put in 30 mins at the start and end of the day with the whole team – there's no agenda, so it's a good substitute for the deskside chat we'd usually have and helps create a delineated start and end to the working day (even when we're remote, structure is important)."

Phil Hunt – Blackbaud Demand Marketing Manager

9. Have a clear end to your working day
Just as you need to switch into work mode in the morning, you need to turn your mind off and relax in the evening. When your working day is done, do something that marks a clear change. This could be getting out of the house and going for a walk down the road, changing your appearance in some way, or choosing a 'going home' song that you always play at the end of the day.
10. Be kind to yourself
If you're not used to working from home, then there will inevitably be an adjustment period. It might take a few days for you to find your working rhythm, but it will happen so remember to be kind and cut yourself some slack.
Get inspiration in your inbox!
Don't miss out on digital fundraising tips, tools and trends.
Toni Gregory is a Content Marketing Specialist and B2B copywriter.