DECHOX by British Heart Foundation – an interview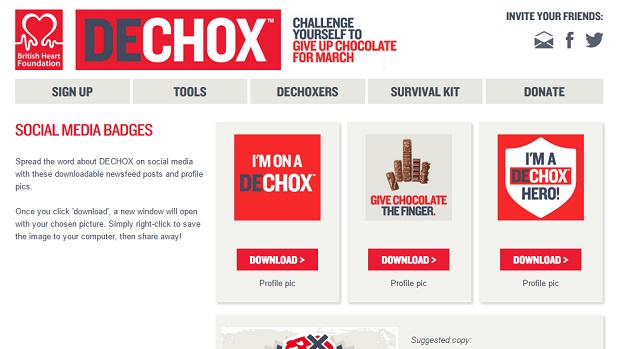 Kirsty Marrins, content and community manager at JustGiving, interviews Leah Mates, fundraising projects manager for new products at British Heart Foundation on their new fundraising campaign DECHOX.
[youtube id="_8ZVRUDT9aU" mode="normal" align="center"]
1. How did you come up with DECHOX as a fundraising campaign?
We recognised an increasing trend for abstinence events across the charity market and that they were delivering substantial gross income. We subsequently developed a product to capitalise on this growing trend and then tested a couple of ideas in focus groups to help us refine the concept. The great thing about DECHOX is that there is a really clear link between unhealthy foods and heart disease and so this product has a deeper resonance with our audience.
2. Were you inspired by similar denial challenge campaigns from other charities?
Yes. We recognised how successful other similar abstinence and digital fundraisers were within the sector and knew we had the added bonus of there being a really strong link between unhealthy foods and heart disease.
Abstinence challenges like this – where there is no need for the supporter to plan months ahead in terms of training or hosting an event – are a fantastic way for those who are time-poor to get involved with a positive cause, challenge themselves in a fun and un-preachy way, whilst raising money for lifesaving heart research.
3. What are the objectives of Dechox?
We aimed to engage not only with existing British Heart Foundation supporters, but more importantly to attract participation from new, younger and more digitally focussed audiences. Already we're over 13,000 sign-ups with registration still open for almost another week.
4. Who is the target audience for Dechox?
We had to ensure we had a clear idea of our target audience so that we could focus our marketing spend. From our focus groups and audience testing we knew that DECHOX appealed most to women aged between 25 – 45 years. However, this really is a challenge for any chocoholic and we've seen lots of men and a wide range of ages get involved too.
5. Have there been any challenges or obstacles you've had to overcome to launch the campaign?
The great thing about DECHOX is that it's a digital product. Because of this we've been able to launch it relatively quickly and with limited spend – all our materials are online to download and our communications with our Dechoxers are digital too (emails and a bespoke DECHOX Facebook page).
All Dechoxers are encouraged to raise their money through Justgiving and the sign-up process utilised the Justgiving API. As such we haven't encountered many of the obstacles usually incurred with events involving hard-copy fundraising packs, postage and offline cash donations.
The main challenge has been predicting how people will react to the product. However, we mitigated the risk by running focus groups and always ensuring our decisions were based around that insight, wherever possible.
Another potential challenge is ensuring that those that join actually raise money and this is why we have tried to make fundraising as easy as possible for our supporters, with the JustGiving API integrated into the sign-up process and then lots of tools and tips on the website.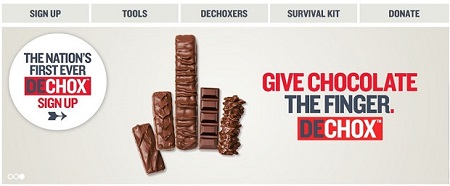 6. Why did you decide to use JustGiving's APIs and what has it enabled you to do?
We knew from the start that we wanted DECHOX to be a digital product to help keep the costs low and the income raised as high as possible. The Justgiving API was therefore an obvious choice as it meant we could drive as much income as possible through online donations and really make the most of gift aid too.
The API really works for a product like this, as the majority of people will raise their money through collecting sponsorship. By integrating the JustGiving API into our sign-up form, we hoped to make it simpler for our supporters to promote their challenge to their networks and to raise as much money as possible.
It's also enabled us to have a fun way of show-casing our Dechoxers' stories and fundraising efforts through our 'Top of the Chox' leader-board on the website – which is possible through the JustGiving API integration.
7. Do you have a Supporter Journey already planned post-Dechox?
We're working closely with other teams within the charity to ensure we have a relevant post-DECHOX journey for our supporters and will be using our bespoke DECHOX Facebook page to keep them engaged and inspired.
8. How important is social media to this campaign?
Social media has been instrumental to the success of this product. We decided to create a bespoke DECHOX Facebook page so that we could drive registrations via that and then subsequently engage with our supporters in a fun, informal and cost-effective way throughout the campaign.
9. The branding of Dechox really stands out. Was this done in-house or with an agency?
We worked with the agency Killer Creative to create the look and feel of DECHOX.
10. We love the tools section of the Dechox website. How important do you think supporting content like social media badges and ready-made emails are in the Dechox journey? Do you think it will help people raise more money?
We wanted to make raising awareness of their challenge and raising money as fun and easy as possible for our Dechoxers, so we created content that would help them to (chocolate) spread the word. Our pre-written emails and social badges are the most popular downloads from our site so far and we've already raised over £100,000 (not including gift aid or offfline donations) so it's great to see that the tools section is really working.
 If you're interested in how our APIs could help you, request a demo.
Get inspiration in your inbox!
Don't miss out on digital fundraising tips, tools and trends.
I am responsible for driving and managing the development and delivery of new mass participation fundraising products & campaigns for the British Heart Foundation. Previous to this I worked for 7 years at Breakthrough Breast Cancer in a variety of roles. My proudest moment (prior to launching DECHOX!) was developing and managing the 'Too Many Women' fundraising campaign: Winner of the Institute of Fundraising's 'Most Innovative Fundraising Campaign 2011' and a shortlisted finalist for the Third Sector Excellence Award for 'Innovation in Fundraising'.