Designing our way out of a microsite culture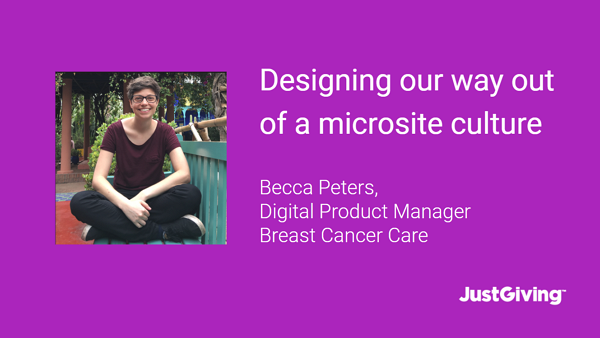 When I first started as a Digital Product Manager at Breast Cancer Care, I was aware that I had a limited window of impartiality, so I decided to use it to conduct a front-end audit of the site. I wanted to see what some of the main challenges of the role would be before I knew anything about our digital history or ways of working.
At the end of the audit, I'd examined every forgotten corner of the site, identified the areas I felt presented the biggest user experience challenges and created a list of seventy-six questions I wanted to spend the next few months gathering answers to, either internally or through user research.
The problem with microsites
One of the biggest issues I noticed was our tendency to create microsites for every new campaign or fundraising activity. Internally this was taking a great deal more time than it needed to, and meaning quite small pieces of work were stealing the team's attention for months at a time. Externally I worried about the user experience implications of treating each activity as separate from the site as a whole, particularly as the microsites were so difficult to navigate to and from, and often contained a number of subsidiary pages that took users away from the actions we wanted them to complete.
Talking to people around the organisation, I realised a lot of this practice had developed because the site offered internal teams no good alternative. We didn't have a sophisticated suite of content types to cater for the various ways we wanted to engage the outside world in our work, which left staff little choice but to begin almost entirely from scratch each time.
How we solved the problem
To solve the problem we started working with the design agency William Joseph to create a new suite of content types, so that the site could better cater to user needs as well as our internal requirements. The first type we began working on was a flexible, modular and mobile-first campaign template, which is currently being used to showcase eleven of Breast Cancer Care's key campaigns and fundraising activities.
Following the success of this approach, we have now been able to redesign and edit existing content types for the entire Breast Cancer Care website. Over the next few months, we'll be working with a developer to implement these, and then we'll have subtly modernised and improved the user experience of the Breast Cancer Care website from the inside out in just under a year.
If you'd like to see an example of a new campaign page in action, have a look at the page we developed for those who signed up to host an afternoon tea for us this summer.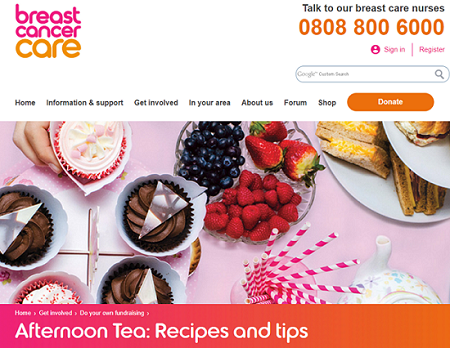 Get inspiration in your inbox!
Don't miss out on digital fundraising tips, tools and trends.