Practical steps towards a more diverse team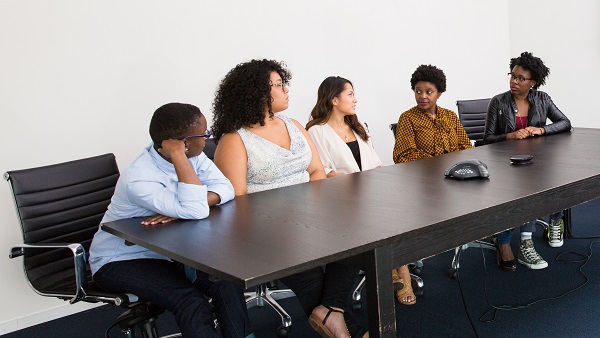 There are clear benefits to hiring a more diverse workforce. In teams, diversity brings with it better creativity, trust and innovation. EY found that diverse teams delivered an extra £76,500 of marginal income as a result of feeling more valued at work, a finding echoed in McKinsey's 'Delivering through Diversity' report.
In the charity sector, especially, it's important for us to represent the communities which we serve. Lived experience is key to our success, after all, and our understanding of the causes that we work on.
True diversity is more complex than a tick-box exercise or quotas. It involves acknowledging the unconscious biases that we apply to the way we see the world around us; it reflects an understanding that some have had to work harder for the same opportunities as everyone else, and that their diversity of background, experiences and thinking represent not a cultural misfit but a huge opportunity for us to grow and innovate in new and exciting ways.
So how do we change our recruitment processes now to reaffirm our spoken commitment to diversity and inclusion?
Recognise our tendency to be biased – and limit those opportunities
Humans are by nature unconsciously biased – and it does us no good as a sector to pretend otherwise. When we recruit based on culture or perceived fit, it actually deeply undermines diversity.
Evidence shows that challenging ourselves to confront our prejudices is easier said than done. In fact, a Yale study found that even when scientists were trained to be objective in their recruitment, they still hired more men, and paid them more than women. 
According to Professor Iris Bohnet, in the short-term we should be limiting any opportunities for unconscious bias in our existing processes. 
By using blind CVs, with names, genders, and identifying information removed, you'll ensure that you're screening people solely on the basis of their skills and experience, rather than any bias that may set in when you notice their names, schools or photographs.
Check job descriptions for language
Something as simple as the language you use in your job adverts might already be signalling to potential candidates their fit in your organisation. The average job ad contains twice as many words that have male connotations than female.
Remove any language that isn't inclusive by getting a third party (or a diverse panel) to review it, or run it through software like Gender Decoder.
Give candidates more flexibility
Asking someone to come in for an interview is a few hours of time out of your day, but can take up a whole day (or more) for your candidates. Getting time off work, buying a ticket, travelling to your office, or arranging accommodation are all barriers to entry that disproportionately impact people from lower socio-economic or disability backgrounds.
Offer interviews by Skype or telephone, or outside the standard 9-5, or even over a lunch break – a small sacrifice in your time can open up a world of opportunity for someone else.
Earlier this month, Emily Casson from Cat's Protection discussed how remote working helped her to develop a diverse workforce. By looking outside of London, which prioritises able-bodied people without family commitments who can travel easily, she was able to hire purely on the basis of skill and talent.
Give candidates real-world tests
Evidence suggests that standardised tests, or tests of cognitive ability, are the strongest predictors of job performance – and these tests should ask your candidates to try out the real work.
At the agency I work for, Platypus Digital, we often give candidates campaign briefs that we would be likely to get as part of our work. That way, we're not assessing them on their background or interview responses but on their ability to complete the work they would be doing every day.
Think outside the (advertising) box
Using places like university job boards, CharityJobs, sector groups – or even limiting our candidate pool to specific cities – means that our bias has shut people off to opportunities before they've even seen them.
Find more candidates by advertising in places that reach a broad range of people. General channels like Facebook and Google work well to cast a wide net. You can even advertise on specialized boards like Proud Employer, the Diversity Jobsite, Vercida or Evenbreak.
Standardise your interview questions
How can you evaluate your candidates on the same level if you're evaluating them on a different set of questions? Even Google took steps to standardise its interview process when it realised that its famed quirky questions were allowing implicit bias to creep in.
Ask candidates a standard series of questions on which to score them; any extraneous questions can be noted but not used as part of the selection process. Pre-commit to a set of 'decider' questions that are directly and specifically relevant to the job.
Remove the need for a university degree
Consultancy firm EY eliminated the need for a university degree as part of their recruitment process in 2015, arguing that by doing so they were opening up their talent pool and removing barriers to entry. 
Remove any university requirements for your role, unless they're essential to the job. Requiring your candidates to have a degree when it's not functionally needed, or they could have gained equivalent experience elsewhere, unnecessarily locks working-class candidates out of opportunities and hinders their upward mobility.
Recognise the relationship between personal wealth and upward mobility
Frequently, we in conflate volunteering and interning experience as interest in the sector. Many people in the charity sector got their start through these types of minimum wage or unpaid work. But research shows that people from less advantaged backgrounds are less likely to volunteer, with work commitments being the most cited barrier to volunteering.
Don't judge peoples' abilities and their passion for the work based on how much or how long they've volunteered and interned in the sector – this ignores the very real barriers that people face in order to volunteer. For example, people with physical or mental conditions may be limited in their ability to volunteer, as are women, who have larger household and family responsibilities. People with low personal wealth can't afford to work for free or at minimum wage, let alone move to charity hubs like London in order to do so. In fact, we could be losing out on really great experience by removing these people from our candidate pool.
Set targets
Regardless of how you feel about quotas, they have a powerful impact on putting diversity at the forefront of our minds when we recruit. Setting targets, and holding yourself accountable to them, will give you a direction in which to grow.
The private sector has set quotas on female and ethnic minority representation – and there's no reason why the charity sector can't do the same.
Next steps
It's clear that there's lots of potential for the charity sector to take progressive steps towards developing more inclusive and diverse teams, representative of the communities that we serve. If you'd like to learn more and be part of the discussion, the Institute of Fundraising (IoF) recently released their new Change Collective strategy to set out the approach the institute is taking to build a sector that's welcoming of people from all backgrounds. 
Get inspiration in your inbox!
Don't miss out on digital fundraising tips, tools and trends.