Donating in memory with Dignity Funeral Notices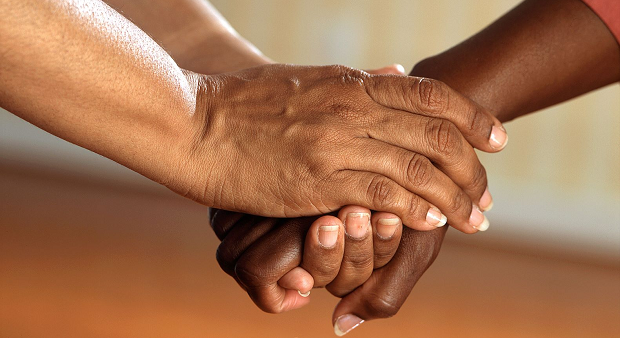 Two-thirds of people ask friends and family to make a charitable donation after the passing of a loved one. However, most donations are currently being collected as cash on the day of the funeral, resulting in hours of admin and the loss of gift aid.
We've been working with Dignity Funerals, one of the UK's leading providers of funeral services and prepaid funeral plans, to provide a solution that benefits bereaved families, funeral directors and charities of all sizes.
Dignity Funeral Notices
Organising a funeral can be a stressful and emotional process, so it's important to make in-memory giving as easy as possible. Dignity offers personalised web pages, known as Funeral Notices, which are used by the individual arranging a funeral to share an obituary, funeral arrangements, and any special requests.
Thanks to the partnership between JustGiving and Dignity, people now also have the option to search for a charity and add a donation button directly on to the Funeral Notice we page. This makes the process of setting up in-memory giving quick and simple.
It also benefits friends and family members, as Funeral Notices stay online for up to six months and have unique web links which can be easily shared. This means that regardless of location or ability to attend the funeral, anyone who wishes to contribute can still easily do so.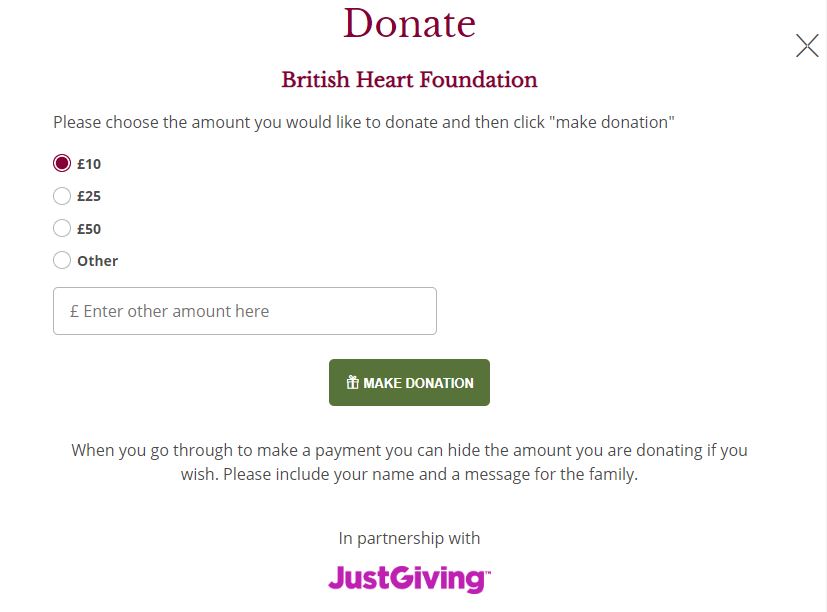 Why charities should be encouraging online in memory giving
There are several reasons why charities should be encouraging supporters to use online giving and facilities such as  Dignity Funeral Notices.
Supporters can easily add gift aid online, which means charities don't have to spend hours manually processing Gift Aid like they do on cash and cheques
Charities can keep track of how much is being raised via Funeral Notices in their JustGiving account. All donations received will have a Dignity reference number which can be found in your JustGiving Reports. Currently, the average donation given through Dignity is nearly £40 per person.
Consumer expectations have changed and they want to be able to remember their loved ones online. Nearly 70% of funerals Dignity arrange include raising money for charity and in the past 12 months alone over 26,000 donations have been made using the Dignity Funeral Notice option, raising around £1 million.
Telling your supporters about in memory giving
The Dignity Funeral Notice partnership was originally trialed before being rolled out nationwide earlier this year and nearly 800 charities have now received in memory donations through families choosing Dignity.
"I always mention that Funeral Notices uses JustGiving to process the payments. The ability to easily add Gift Aid makes sense to our clients, as they want to support and raise as much money as possible for the charities dear to them. I have received feedback from multiple clients that have used the Funeral Notice service that they were surprised at the amount they were able to raise, and doubt that this would have been achieved with offline donations.
JustGiving is a known and trusted brand, it has helped make the whole process easy; not just for us, but for our clients and their families."
– Shirley Fowler, Dignity Funeral Director
If you want to read more about our partnership with Dignity and how you can recognise if you're already receiving donations through Dignity Funeral Notices, then have a look at our helpful guide.
Get inspiration in your inbox!
Don't miss out on digital fundraising tips, tools and trends.
Toni Gregory is a Content Marketing Specialist and B2B copywriter.