How charities can get started with Facebook ads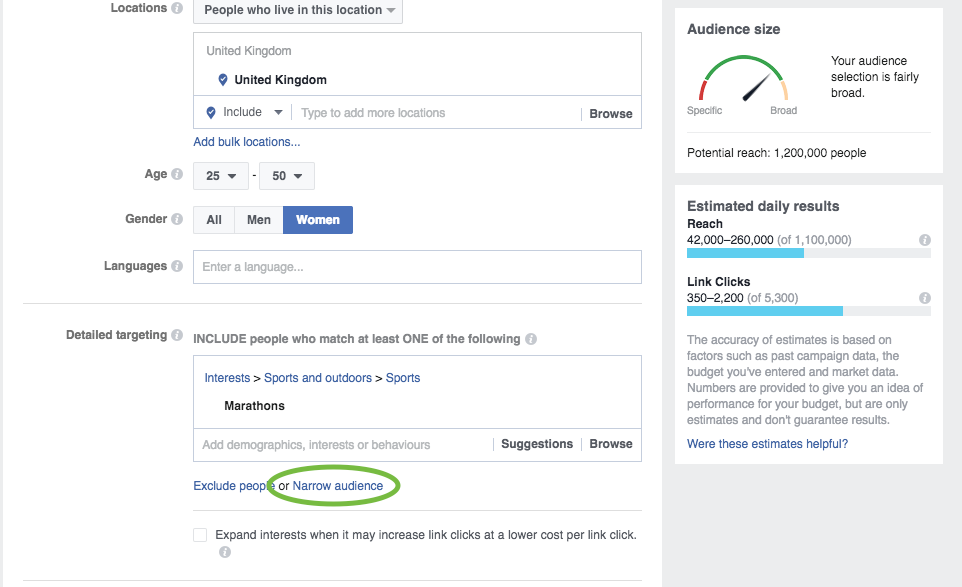 Lately I've seen more and more charity ads appearing in my Facebook newsfeed. With calls to action from signing up to challenge events to cash and regular donation asks, Facebook advertising is a hugely popular tool for charities.
You might be wondering whether Facebook ads are right for your charity, and how to get started. Here's a few ideas.
Why Facebook ads are amazing for charities
There's a range of ad formats: images, carousels, videos, slideshows and more.

You can use them for things like promoting your Facebook page or driving traffic to your website.

Facebook ads are cost effective.

AdEspresso reports that in the UK, cost per click averages around $0.32.

They're super flexible. You usually pay per click, only spending money when someone takes an action. You have total control of your budget.

You can create laser-targeted audiences, so you won't waste money reaching people that don't matter to you.

Testing with a small budget can help you to convince your team that this is a channel worth investing in.
In short, Facebook ads enable you to reach and engage more potential supporters than you'll ever be able to with organic posts alone. It's a great fundraising acquisition channel.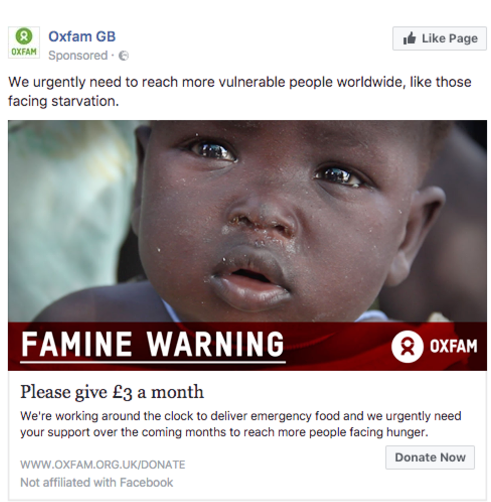 Structure of Facebook campaigns
So, let's take a look at how to set up a Facebook ad campaign. In your adverts manager, click the green 'create advert' button.
You'll be taken through a few simple steps (and if you get stuck there's always help at hand in the form of question mark icons).
Step 1: Campaign – set your objective
To start off, you'll probably want to select something from the 'Consideration' column. For example, choose 'Traffic' if you want to send people to a challenge event landing page on your website.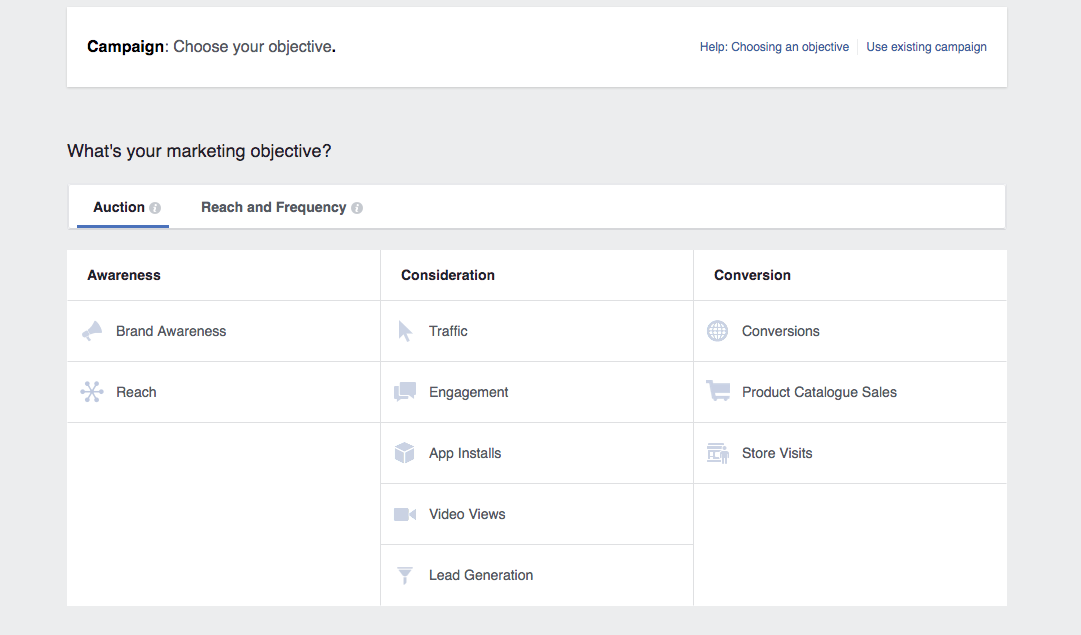 Step 2: Ad Set – choose your targeting, placement and budget
You can create audiences based on demographics and interests. The more targeted you can be, the better.
Really research who you are trying to reach. Don't just target women in the UK over 45! This is too broad and won't be a good use of your budget.
Refine the audience by targeting interests. Using our challenge event example, you could do something like this: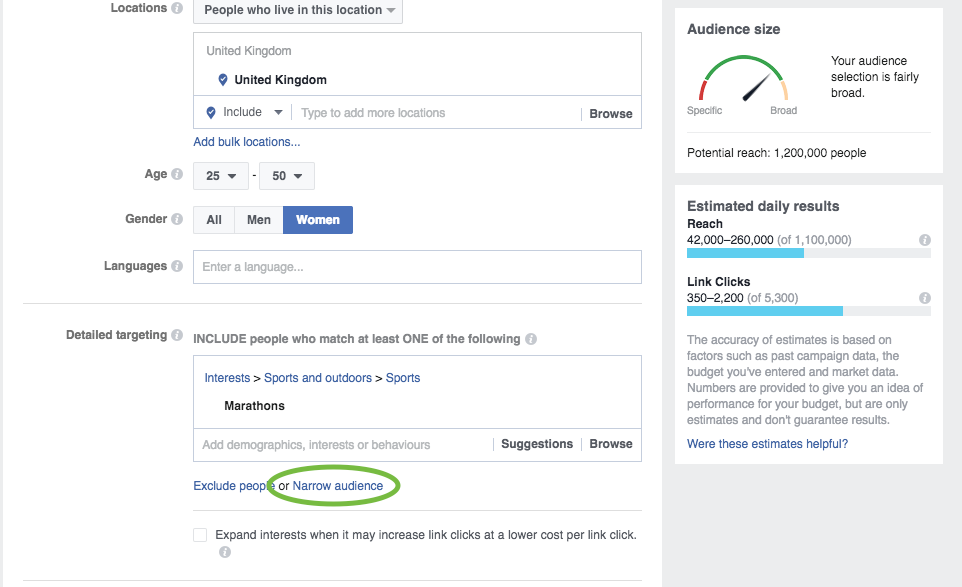 Choose 'narrow audience', and then 'narrow further' to get a really targeted audience.
We've narrowed the audience size down from a whopping 1.2million to 40,000 in this example (and we could still go further):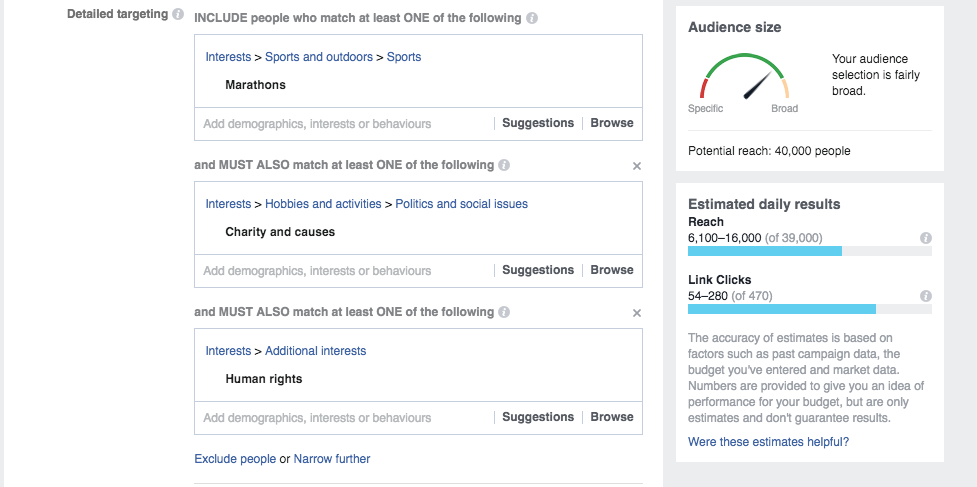 You'll also choose where your ad appears and set your budget and timeframe at the ad set level. Start small – run a campaign with £10 per day if you just want to test it.
Step 3: Ad – get creative!
Choose your ad format (depending which campaign objective you chose, you'll see different options here).

It's then really simple to add your copy and images or video. Facebook will also show you a preview of the different placements, like mobile and desktop, so you can check how it looks.
Here are some examples of charity challenge events ads we've seen recently: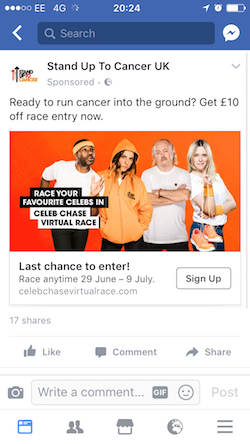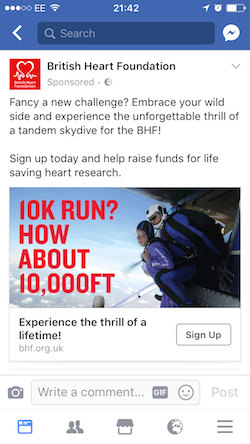 Once you're happy with your ad, click 'confirm'. Your ads will go to Facebook for approval, and will launch once approved. It usually takes just a few minutes.
This is the absolute beginner's guide to setting up charity Facebook ads, but we'll be blogging about them again. What would you like to know? Tell us by commenting below.
Get inspiration in your inbox!
Don't miss out on digital fundraising tips, tools and trends.