Five essential tips to help your fundraisers raise more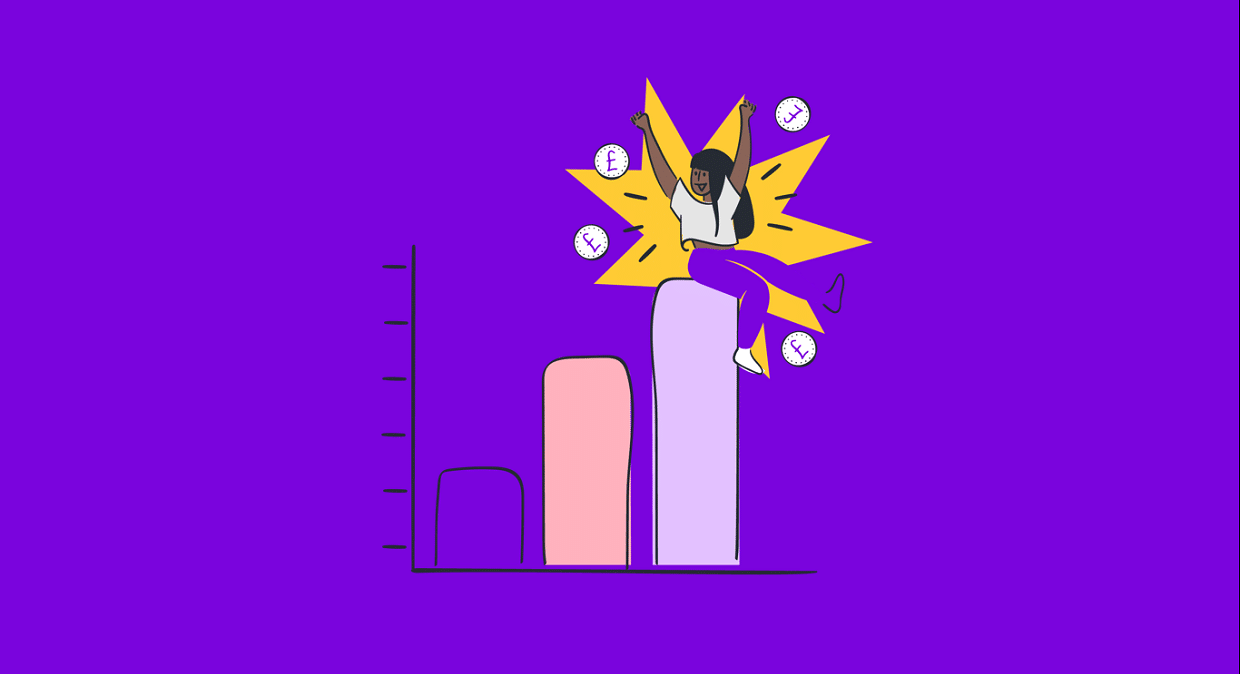 We've selected the five most important tips that deliver results time and again for charities looking to grow their events fundraising income on JustGiving.
These tried and tested tips come from over 20 years' of working with charities and analysing the behaviour of millions of successful fundraisers on JustGiving. Each one has been recommended by our customer success team who are experts in helping charities raise more online. If you'd like to chat to them about any of the tips mentioned in this post, you can book a charity chat with them any time.
1. Find out who has raised £0 (so far)
Helping people get their first donation as quickly as possible is something we're obsessed with and we monitor closely the 'activation rate' of people fundraising on JustGiving. The activation rate is the percentage of all Fundraising Pages that have received at least one donation. For example, if you've got 10 Fundraising Pages for an event, and six of them have a received a donation then you've achieved an activation rate of 60%.
But, that also means you've got 40% that need a helping hand to get started, and you can find out who they are in your Fundraising Page reports. Here's how to do it…
Log in to your charity account, click on the 'Reports' tab and select 'Fundraising Page Reports'
Filter your data by pages with event date and enter the date of your event in the date fields (top tip: save the template for future use, so it's even quicker to generate your report next time you need it)
Use the filter function in Excel to remove pages created for other events which take place on the same date. You do this by clicking on the column event name and choosing your filters
Look at the 'Total Donations' column to see how these fundraisers are doing, you can put a filter on this column to easily identify the fundraisers that have not yet received a donation.
Learn more simple reporting tips in this on-demand webinar.
2. Encourage your fundraisers to self-donate
Our research shows that your supporters will raise more money if they kick-off their fundraising by giving themselves a donation. For London marathon we've seen this boost the average raised by up to £800!
A fundraiser might not feel as proud to share their Fundraising Page when it's sitting at £0 raised, so kicking off the donations first can help boost their confidence. If your fundraiser self donates and chooses to show their name on their donation, they prove to other donors that they're backing themselves and are serious about the challenge ahead!
Often people don't know what an appropriate amount is to donate. The first few donations often set the expectation from the donors that follow, so the higher the amount the better!
Or consider asking your corporate partners to make the first move.
Asking a corporate partner to pop a £5 donation onto your event participants' pages does a few magic things:
It notifies them of their first donation (this boosts activation)
It gives your corporate partners a chance to show off their logo and send a message
Their message is seen by the fundraiser and any future donors
3. Tell your supporters to share their Fundraising Page
Our data shows a direct link between the total number of social shares and the overall amount that people raise online. For example, when we analysed the behaviour of London and Edinburgh marathon fundraisers, those in the top 20% posted an average of 12 times, the top 5% around 20 times, and then the top 1% posted an enthusiastic 35 times!
If you're thinking 'how can I ask our fundraisers to share on socials 35 times?' then don't worry. Not every post has to be a direct ask for donations. Instead it can be an inspiring update, a countdown or information about their training. The key is that their post links back to their Fundraising Page and clearly shares what they are doing and why.
We talk to people fundraising on JustGiving every day, and we're often asked by them how they can share regular updates with friends and family without being seen to be always asking for a donation.
JustGiving Shareables help fundraisers create fun, free, customisable images that are ready-made to share. Promote it to your event participants to make it easy for them to share their JustGiving page.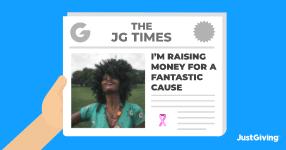 4. Reward and incentivise your fundraisers
There are some really fun ways to motivate your fundraisers to get more online donations. So what do you need to do? Start by setting and communicating a challenge, and if your fundraisers succeed within a set time frame they will be entered into a prize draw or offered some form of reward. The desired outcome is that your supporters will feel both appreciated and motivated to increase their involvement in the campaign.
Find out how British Red Cross used a reward and recognition scheme, asking their fundraisers to raise £50 within five days.
A nice example from JustGiving is a competition we launched to encourage people to use our Strava integration. Fundraisers were asked to create a picture using only their tracked running route on Strava and then post it onto social media using the hashtag #JGStravaArt. The prize was a £500 donation to the winner's Fundraising Page. Plus it gave fundraisers something fun to share with their friends and family… (see tip 3).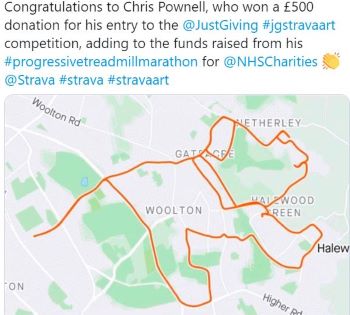 5. Encourage a bit of healthy competition
Using a Campaign Page to bring together your team of runners in one place is a great way to do this.
Tommy's, the official partners of the London Landmarks Half Marathon (LLHM), had great success with their 2021 LLHM Campaign Page and have already made brilliant use of their 2022 Campaign Page for this year's event. They've added engaging videos, photos and quotes to highlight the impact of their fundraisers and get 'Team Tommy's' inspired ahead of event day.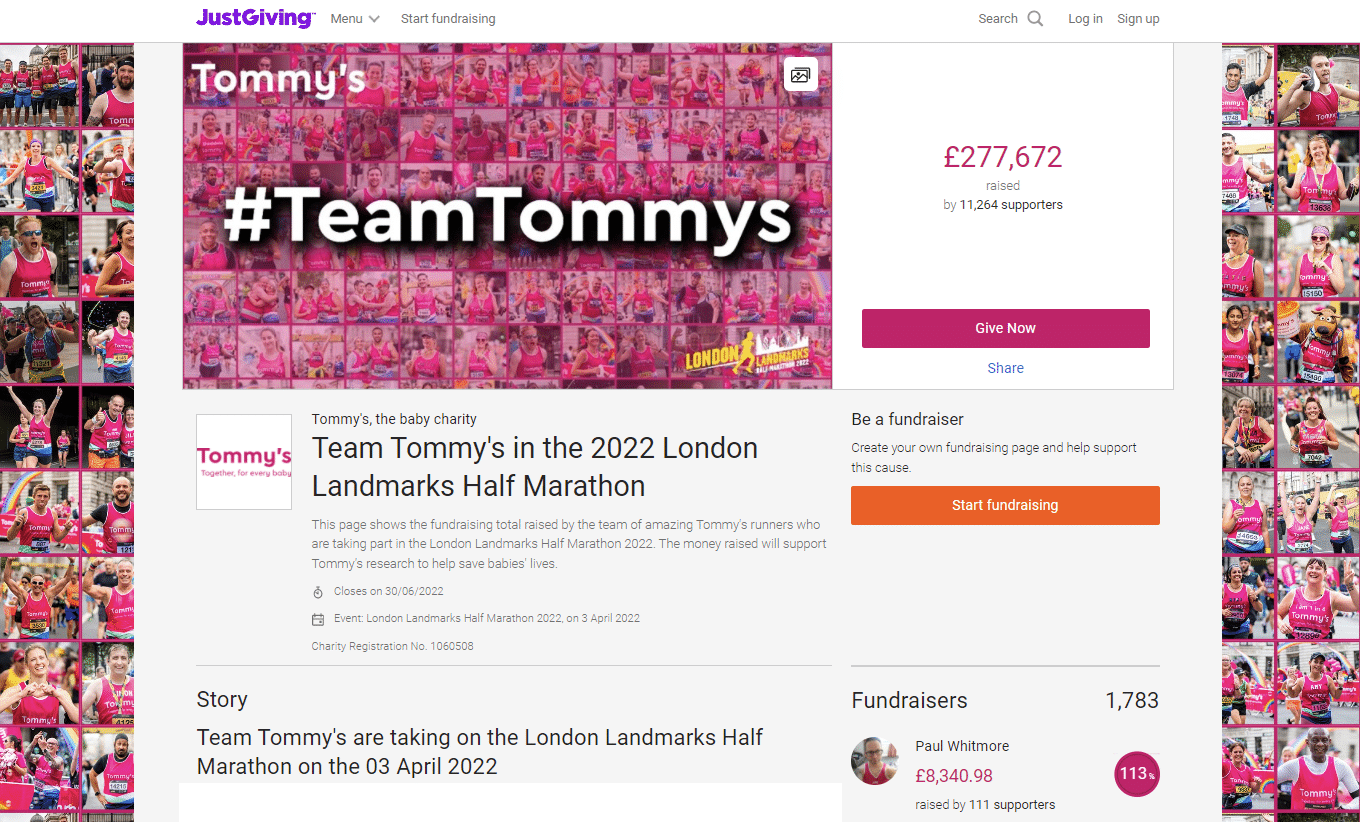 Your Campaign Page leaderboard orders fundraisers by the amount they've raised so far and shows how close each one of them is from their target too. Point this out to your event participants to introduce a little competition – everyone would love to be on that top spot!
Quick recap: Five essential tips to help your fundraisers raise more
Find out who has raised £0 (so far)
Encourage your fundraisers to self-donate
Tell your supporters to share their Fundraising Page
Reward and incentivise your fundraisers
Encourage a bit of healthy competition
Follow these simple tips and you'll be sure to see a growth in your events income on JustGiving. Here's a handy visual guide to helping your fundraisers achieve their targets to help you remember these ideas when planning a fundraising event.
Get inspiration in your inbox!
Don't miss out on digital fundraising tips, tools and trends.
Sally Falvey has worked in online fundraising for over 10 years, and is the Head of Growth Marketing at JustGiving. She's passionate about helping all charities use the latest technology to be more efficient and raise more money.