Five great charity social campaigns of 2015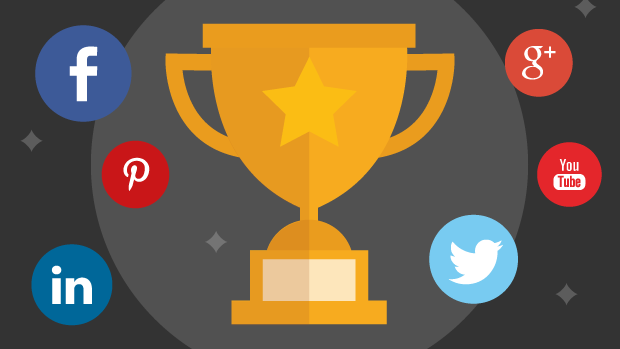 2015. The year that Instagram became bigger than Twitter, the NHS teamed up with Tinder and the whole world debated the colour of a dress…
Here's our roundup of the most powerful charity social media campaigns of 2015. 
#EndangeredEmoji by WWF
WWF used #EndangeredEmoji to save real animals from extinction. Supporters signed up to pay a small donation every time they tweeted one of the 17 endangered animal emojis. At the end of the month their total would be calculated and they could then donate their total amount voluntarity. The #EndangeredEmoji campaign was a more lighhearted campaign that allowed the charity to engage with a younger audience while raising vital funds to save the planet's most endangered species.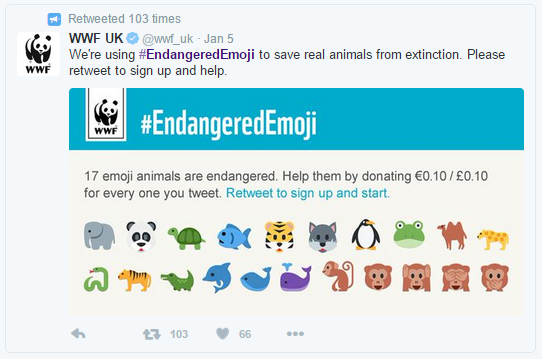 #TheDress – by The Salvation Army South Africa
Remember back in February when the world was divided into camp #whiteandgold or #blueandblack. Seriously, what colour was that dress?
The Salvation Army SA's next steps proved that charities can absolutely capitalise on the right social media meme to raise awareness of their cause. The hard hitting campaign featured a woman wearing the white and gold dress, covered in nasty looking bruises, along with the caption 'Why is it so hard to see black and blue?'
As a result of their quick thinking and willingness to join the social media conversation, their #StopAbuseAgainstWomen campaign became part of an international news story.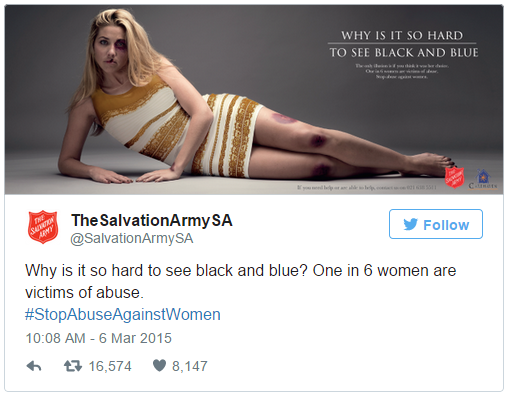 #NTChallenge by National Trust
National Trust has been one of the first charities to connect with their audience effectively via Instagram. With a community of over 400 million people uploading 80 million photos a day, Instagram is now much more than the home of a thousand egotistical #selfies – it's changed the way people around the world communicate, shop, discover and travel. It's become a powerful branding tool.
With the #NTChallenge, National Trust asked their followers to upload photos of National Trust protected buildings, landscapes and coastlines, choosing a winning photo every week. Their Instagram following is now over 50,000, proving that the #NTChallenge was a fantastic way to both celebrate their existing community while also attracting new National Trust supporters.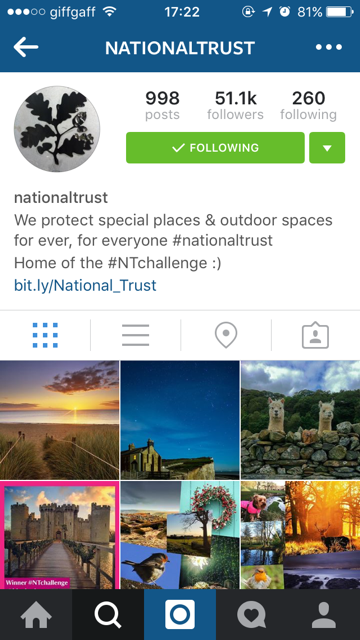 Flaw in the Law by NSPCC
We're cheating a bit here because this campaign was actually launched in 2014, but the NSPCC's Flaw in the Law campaign was so successful that it prompted a UK law to be changed in 2015. We think that definitely deserves a place on our list!
Unbelievably, whilst it is illegal to 'handle a salmon in suspicious circumstances', before last year it wasn't always illegal for an adult to send sexual messages to a child. The NSPCC took action to change that. A petition shared on social media was signed by over 50,000 people and, as a consequence, last year it became a criminal offence for an adult to send a sexual message to a child. The charity created conversation around their petition by highlighting some of the UK's more bizarre and ridiculous laws, which made the lack of a law protecting children seem all the more outrageous.
[vimeo id="119652924″]
Tea and Consent by Thames Valley Police
Thames Valley Police took to social media last year to tackle sex and consent with an unlikely comparison to tea. The video they shared is remarkably simple but the message was loud, clear, and reached thousands of people. Watch the video to see how they busted the myth that sexual consent can ever be a 'grey area'.
[iframe id="https://www.youtube.com/embed/pZwvrxVavnQ?feature=player_embedded"]
So there you have it – our top five charity social media campaigns of 2015. Think we missed something amazing? Let us know in the comments!  
Get inspiration in your inbox!
Don't miss out on digital fundraising tips, tools and trends.
Catriona makes sure the JustGiving Community is supported across our social and digital channels, whilst telling the stories of our amazing fundraisers and donors to help inspire others.