Five reasons to encourage team fundraising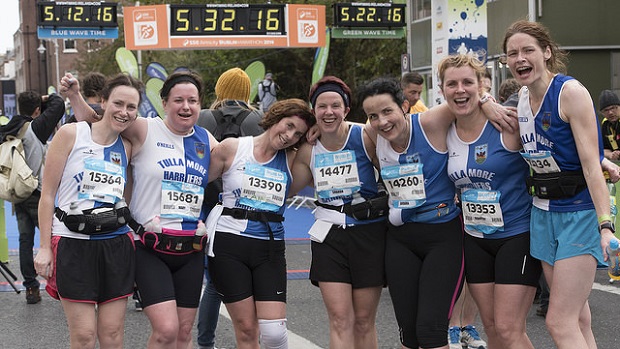 Whether it's a marathon, triathlon or a trek across the Sahara, training AND fundraising for an event can sometimes feel a bit daunting for your supporter. But you can make sure they don't feel alone by inviting them to join a Team Page on JustGiving. They'll be able to see all the other people supporting your cause AND they'll help you raise more money! Here's our top five reasons for creating a Team Page:
1. Bring your runners together
Training for an event, like a marathon, can be a lonely experience. With a Team Page you can make your fundraisers feel part of something bigger. Your supporters most likely won't know each other at the start of their fundraising journey, but by bringing them together as a team you can create a community where they can motivate and encourage each other.
2. Tell your story
You can brand your Team Page with a photo, logo and even a team story. Adding a story gives you an opportunity to tell the world about your amazing fundraisers and your charity. The Oswestry Bone Cancer Centre's London Marathon team page includes information about their current appeal, so it's clear where donations will be going and the impact it will have. Remember to add a link to your charity's website within your team's story so donors can discover more about your cause.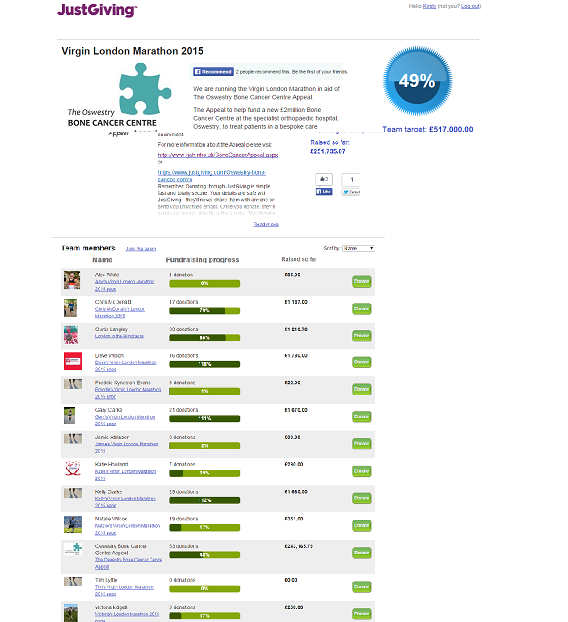 3. Increase your fundraising
We find, on average, people raise 10% more when their Fundraising Page is connected to a team on JustGiving. Your fundraisers can also see how much has been raised by other team members, which encourages a bit of friendly competition. Adding a target to your page also helps inspire your fundraisers to not only meet the target but exceed it too, thereby raising more for your cause.
4. Make reporting easier
Having all your fundraisers linked to the same team makes it easier for you to report on the event – just look for 'Fundraising Page Team' or 'Fundraising Page Team URL' in your JustGiving reports.
5. Reach more supporters
Sharing your Team Page on social media means you can reach more people, including potential supporters. Encourage everyone on your team to share the page to their own social networks and  you'll have the whole world knowing about your fundraising efforts in no time. RDA UK encouraged their supporters to get behind their team with these simple tweets:
And they're off! @RDAnational @londonmarathon team fundraising is gathering pace.Pls help them reach target(next Twt) pic.twitter.com/WdVbOkdWSj

— RDA (@RDAnational) January 22, 2015
Please RT and support our brave @londonmarathon runners it's very cold out there! Thank you https://t.co/ZOfNgV9rVF

— RDA (@RDAnational) January 22, 2015
Team Pages aren't just for marathons
Any event or campaign, where your charity has multiple fundraisers, could benefit from having a Team Page. The Big Sleep, as you can see in this image below, have recently grouped together fundraisers who are sleeping out in the Lake District.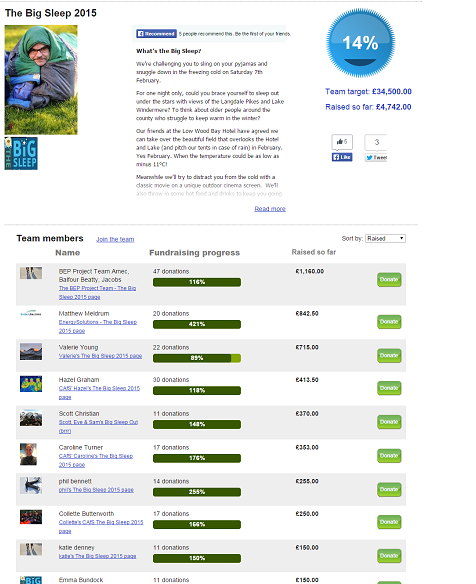 Don't forget that, on average, 20% of donations are made after the event so remember to update your team story to let supporters know how the event went and to congratulate the fundraisers who took part. It also gives you another reason to share your page on social media.
If you've been inspired to set up a fundraising Team Page for your charity, get started now.
Got any tips on team fundraising? Let us know in the comments box below.
Get inspiration in your inbox!
Don't miss out on digital fundraising tips, tools and trends.
Camilla is a Customer Success Manager at JustGiving. She joined in 2012 to help bring JustGiving into new markets and is dedicated to ensuring charities from all over the world utilise the platform to its full potential and making sure they get the most out of our fundraising tools.