Five top tips for using social media to maximise your event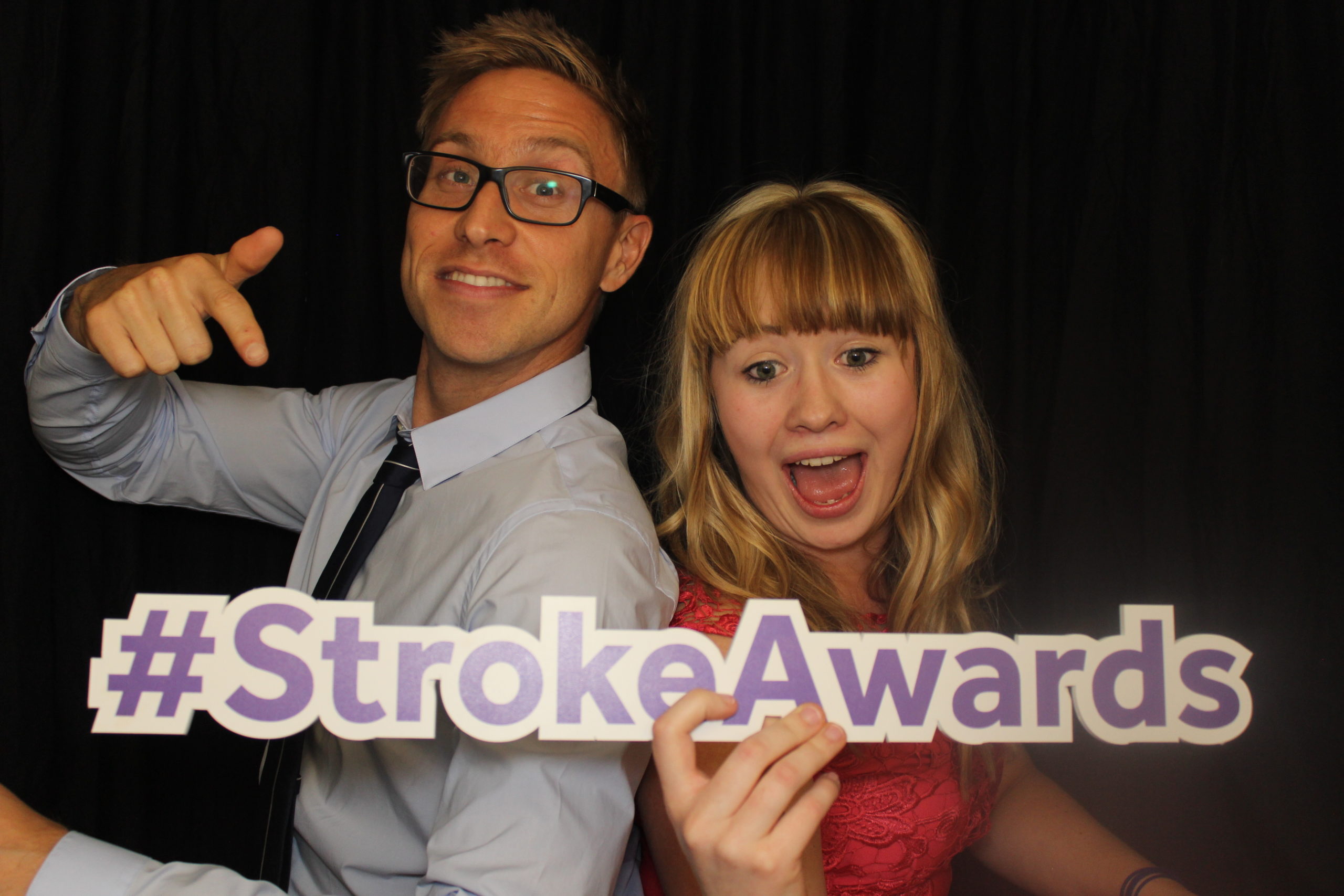 Since they began back in 1992, the Stroke Association's Life After Stroke Awards have always been about celebrating recovery and challenging the way people think about stroke. Tony Banks, event manager for the awards, shares how they used social media to create buzz around the awards and to reach a potential new audience. We want to put an end to the common belief that stroke is something that only happens to older people, that there's nothing that you can do if you have a stroke and that the condition means you can no longer achieve what you want to do in life. The awards recognise the achievements of everyone affected by stroke and this year, thanks to a carefully planned marketing strategy, we ensured more digital coverage than ever before through extensive social media, video and online campaigns.
Our hashtag #StrokeAwards made it into the top ten hashtags featured on Twitter during June within the health charity sector
It was mentioned 1,179 times in total. How did we achieve this? Simply by encouraging the use of our hashtag as widely as possible in the lead up, during, and after the event. Not only were we tweeting but our sponsors Toni & Guy were tweeting too. We also encouraged many of our celebrity supporters to tweet, including Jessie J, Hilary Devey and Lynda Bellingham. Having celebrities tweet gave us the opportunity to reach out to potential new audiences of millions of people.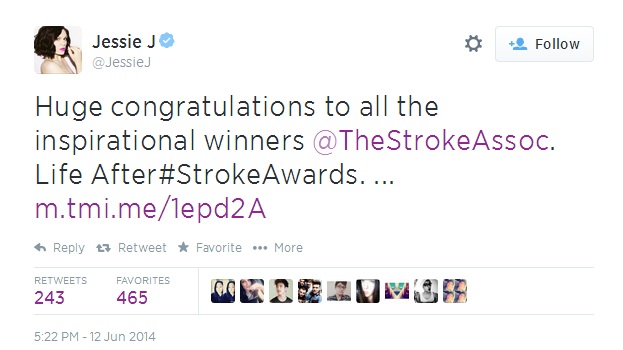 Check out Radio One DJ and Stroke Association ambassador, Greg James, encouraging people to show their support by using our hashtag the day before the awards: [youtube id="_MC7PQTB96U" mode="normal"]
Celebrity engagement was a core part of our social media plan
Celebrities' influence gave us a platform to connect with a wider audience. Celebrity support makes stroke less of a taboo subject, which means that the public become more aware of the condition. We ensured that we captured all of our celebrity supporters talking about why they support us as a charity and cut it together into a video that was released on the day of the event through our YouTube channel. [youtube id="H0WbO9zZd10″ mode="normal"]
The celebrities that attend aren't the stars of the show, our winners are
By celebrating their stories of recovery through our social media channels, we are able to show what being a stroke survivor means in the 21st century – it's often very different from what people imagine. One of this year's winners was Angharad Lloyd Thomas, pictured below with comedian Russell Howard. Angharad had a devastating stroke in December 2012 at the age of 20, whilst living with friends at university. Yet, only six weeks after her stroke, she returned to her studies as she didn't want her stroke to hold her back. With all the odds against her she went on to graduate. At this year's event we asked our winners, guests and celebrity presenters to show their support in our photo booth. The photos gave us some fantastic content to share on our Facebook page with our ever-growing community of over 33,000 supporters. It also gave us another opportunity to promote our event hashtag.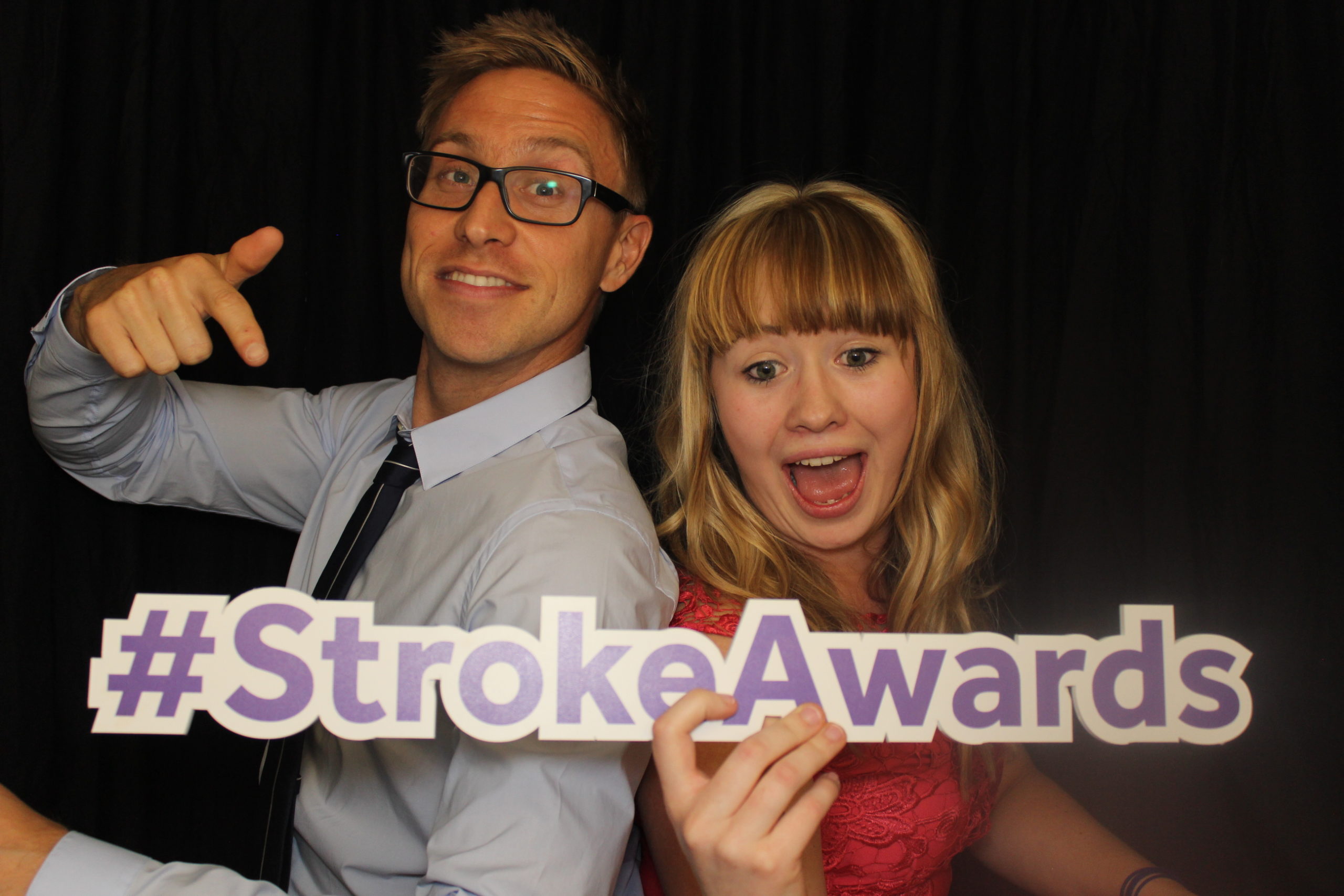 Five top tips for using digital and social media at charity events:
1. Plan accordingly
Develop your strategy and create plenty of engaging content in advance that you can share in the build-up to your event to amplify the excitement.
2. Select your hashtag wisely
Keep it short and unique to your event, and check that nobody else is using it. Once you have established your hashtag, promote it as widely as possible on your website, event marketing materials and anywhere else you can squeeze it in.
3. Allocate resources
Invite dedicated staff to attend to specifically generate social media and digital content. This will bring the event to life for those supporters who aren't there, ensuring that they still feel involved and part of the celebrations.
4. Enhance the live experience
Encourage guests to share their pictures and messages of support and post your own updates, pictures and videos through multiple social platforms. Ensure your venue has good WiFi access and that your guests have easy access to it. Your guests can be your biggest advocates on the day.
5. Extend the shelf life of your event
Capitalise on the post-event buzz. Share event content, upload video highlights and promote widely to remind people what a great event it was and why they should support your cause. Capture all the action in one place and tell your story, as we did, via Storify.
Have you got any further tips to add? Share your tips in the comments below.
Related reads:
Five tips for your next charity gala event How to create great social media content on a budget What's next for events? Part three: infectious fundraising  
Get inspiration in your inbox!
Don't miss out on digital fundraising tips, tools and trends.
Tony works as part of the marketing and digital team at the Stroke Association and leads on managing some of the charity's biggest special events, including the UK Life After Stroke Awards. He's passionate about recognising and celebrating the achievements of everyone affected by stroke. He tweets at @tonyleebanks.