Four agile working tips for charities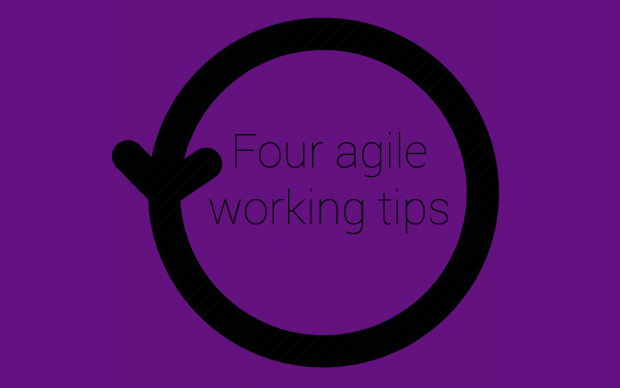 One of the things I hear repeatedly from charities at the moment is that they're keen to work in a more agile way. Having talked to lots of nonprofits about this issue, many of them have adopted everything from an agile approach to more sophisticated agile methodologies. So what is agile and what do you need to do to make it work for you?
Define what agile means to your charity.
There are two schools of thought here, which are not exclusive. Agile working is an approach centred on flexibility and remote working. Agile methodology is a specific way of working rather than a general approach. Agile methodology.org defines the latter as an alternative to project management, originating from software development, stating that 'it helps teams respond to unpredictability through incremental, iterative work cadences, known as sprints.'
Heather Smith is the Events and Fundraising Manager at Harrison's Fund, who have adopted an agile working approach. She says, 'We don't check up on each other, we trust each other to do the work and always allow time in our week to be responsive to new opportunities.'  Graeme Manuel, Digital Communications Manager at Diabetes UK, explains their approach to agile methodologies: 'Diabetes UK moved to Agile (Scrum) development in 2012, using it for our main website and other digital products. It's not pure Agile, i.e. not all under one roof with an in-house dev team, as we outsource our development.'
Articulate the benefits.
Diabetes UK have put user stories at the centre of their adoption of agile. Graeme Manuel told me, 'User stories and the concept of a backlog have been key here. We usually involve product owners and any wider project group in the development of user stories. And colleagues appreciate that even if their work cannot be done now, there is a backlog of user stories/potential projects, where they have contributed to prioritisation and can see an ordered list for future development. The format of user stories really helps people to focus on what outcomes are needed by our users rather than what bit of functionality or content we might second guess a need for, or might feel under pressure to produce just because it's new/exciting/charity X is already doing it.'
Meanwhile, the RNLI are currently running an internal campaign called Flexi Feb to encourage staff to discuss more flexible ways of working. Paula Marande, RNLI's Organisational Development Advisor, told me that, 'The Flexi-Feb campaign is an ongoing commitment to promoting the mutual benefit of embracing flexibility. The RNLI recognises that people perform better when they feel valued and can work in a way that balances their work and home life.'
Recognise the pros and cons. Graeme Manuel notes that, for Diabetes UK, 'Agile works especially well in "green field" new builds, as we can then start from scratch, work with the product owner to build decent budget with space for contingency and explain concepts like backlog. It doesn't work so well on improvements to the "big beasts" like the main website CMS.'
Understand what you need to do to embed agile. Paula Marande found that the RNLI needed to look at the technology required. 'Microsoft Lync (communication software including instant messaging, voice, desktop sharing, and video) and Sharepoint enables communication and collaboration with others in different locations,' she says. 'For example, this is useful for communicating with our 237 lifeboat stations and tireless fundraisers.'
Graeme Manuel thinks that buy-in from colleagues is essential: 'Explain the approach to your colleagues, show them that behind what can seem like jargon there's a simple approach that works. Encourage them to take responsibility as product owners and make sure they and other key people are involved collectively in the creation and prioritisation of user stories.' He advises other charities to, 'Make a virtue of the incremental approach – e.g. highlighting financial control and ability to adapt to changing needs – if you need to convince senior managers of the approach. But be clear that this might mean it costs more in the long run.'
In summary, if you're keen to use agile, make sure you're clear on why you're doing         it, what the organisation will get out of it, and how you'll know if it's been a success.   Agile can seem daunting and, like anything, it is a journey and the most important thing is to take the first step. As Paula Marande says, 'The RNLI is just embarking on         the journey to encourage a more flexible and sustainable approach, but by reducing the barriers and empowering and trusting our staff to trial new ways of working, we are already reaping the benefits.'
Get inspiration in your inbox!
Don't miss out on digital fundraising tips, tools and trends.
Zoe is director of Zoe Amar Communications, a marketing and digital communications consultancy who have worked with leading organisations including ActionAid, Crimestoppers, Macmillan and Anglia Ruskin University. She blogs for The Guardian about charities and communications and is on the advisory board for The Guardian Voluntary Sector Network. She co-founded the charity #socialceos awards.