Four top tips for organising a successful gaming event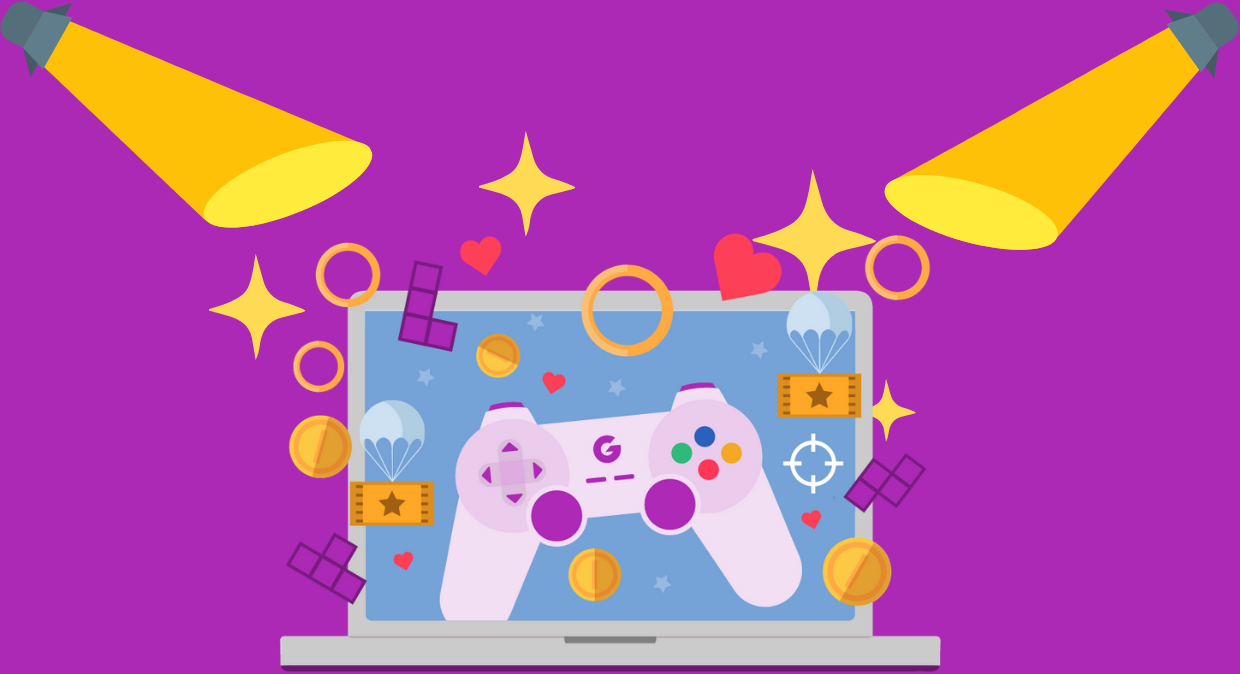 Gaming is all too often seen as an area that only those with gaming knowledge and experience can explore. However, that simply isn't the case, and with the number of gaming and streaming Fundraising Pages created on JustGiving quadrupling this January compared to last year, we're here to bust myths and share tips on getting start with organising a gaming for good virtual event.
Why should gaming be on your fundraising agenda?
Gaming is incredibly popular, and the number of people going online to play games or interact with gamers is growing more and more each year. To help put this into context, let's take a look some of the stats shared by the streaming platform Twitch:
200% year on year growth in 2020 across the Twitch platform
17.5 million average daily visitors
4 million unique creators streaming content online each month
Over £75 million raised for good causes through gaming and streaming on their site since 2012
Whilst Twitch streams more than just games, for example Autistica recently shared that they use the site to host 'donate and listen' panel discussions, these figures help us to understand just how well-liked online streaming and gaming activities are.
Who are "gamers"?
An annual gaming industry report published by ISFE revealed that in Europe:
45% of players identify as female
Video gamers have an average age of 31
25–34-year-olds are more likely to broadcast their own gaming streams compared to other age groups
There's also been an emergence of the non-gamer gamer (no, that's not a typo). These are people who spend timing gaming on mobile devices but don't view themselves as a "gamer". An interesting example of this was shared by IAB, who found that over two thirds of mums play video games on their mobile phone, with 74% of them playing daily.
All of these insights tell us that the stereotype of gaming being a teenage boy activity is long-outdated, and your network probably has more people interested in trying gaming events than you might think!
Gaming and livestreaming trends on JustGiving
In 2020, we saw that the average page value for personal gaming and livestreaming pages increased by 15%, indicating that those who love gaming for good and streaming are converting that passion into donations. We also learnt that Saturday was the most popular day for donations to streaming pages, which is something useful to consider when launching and promoting your own gaming events.
Finally, our data showed that gaming and streaming pages where the page owner had self-donated raised an average of 17% more compared to those where the page owner didn't. So, if you're brainstorming ways to help your fundraisers to raise more, then prompting them to kickstart their Fundraising Page is a great first step.
Tips for launching a successful gaming event
1) Identify your existing gamers
When launching a new gaming event, start by reaching out to supporters who have expressed an active interest in gaming as they may be more willing to either participate or help promote. The simplest way to identify who falls into this category is by looking at who has already set up a gaming Fundraising Page for you on JustGiving. Log in to your JustGiving account, download a Fundraising Page Report and filter the page titles using key terms like 'stream', 'gaming' and 'Twitch'. If people have opted in to being contacted then you have a warm contact list that you can reach out to about your event.
2) Don't forget about corporate partners and supporters
Do you have any corporate supporters or partnerships? Have you been selected as any organisation's charity of the year? If the answer is yes, then reach out and ask if they would be interested in promoting a gaming event to their employees. Depending on their size, corporate organisations already have pre-formed teams and departments that can easily translate into gaming teams. It's also worth noting that during COVID-19, many people are working remotely and so organisations are more likely to be open to ideas on how to keep colleagues connected. A company-wide gaming competition would help bring people together, contribute towards their CSR, and be a fun way to fundraise.
3) Don't assume that your audience isn't interested in gaming
Remember the demographic insights that we shared above telling us that many people who play games online don't realise they're "gamers". Don't automatically assume that your audience won't be interested in gaming until you test an event.
If you have a supporter base that is less inclined to want to play games, for example if they are older or predominately offline, they may still have a network of family and friends that could love the idea. When reaching out to them make sure that you include a call to action to share the details with others and to help get the word out.
4) Make the most of the platforms that your supporters already know and love
Gaming fundraising events might be a new area for you and your supporters, so help to make it feel familiar and accessible by setting up a JustGiving Campaign Page. If your supporters want to get involved in a gaming event then they set up a Fundraising Page in the normal way, with the main difference being that they can easily connect it to a livestream. For example, if they join a Twitch gaming event they can broadcast it on the Fundraising Page too, giving them one core place to direct people to if they want to watch and donate.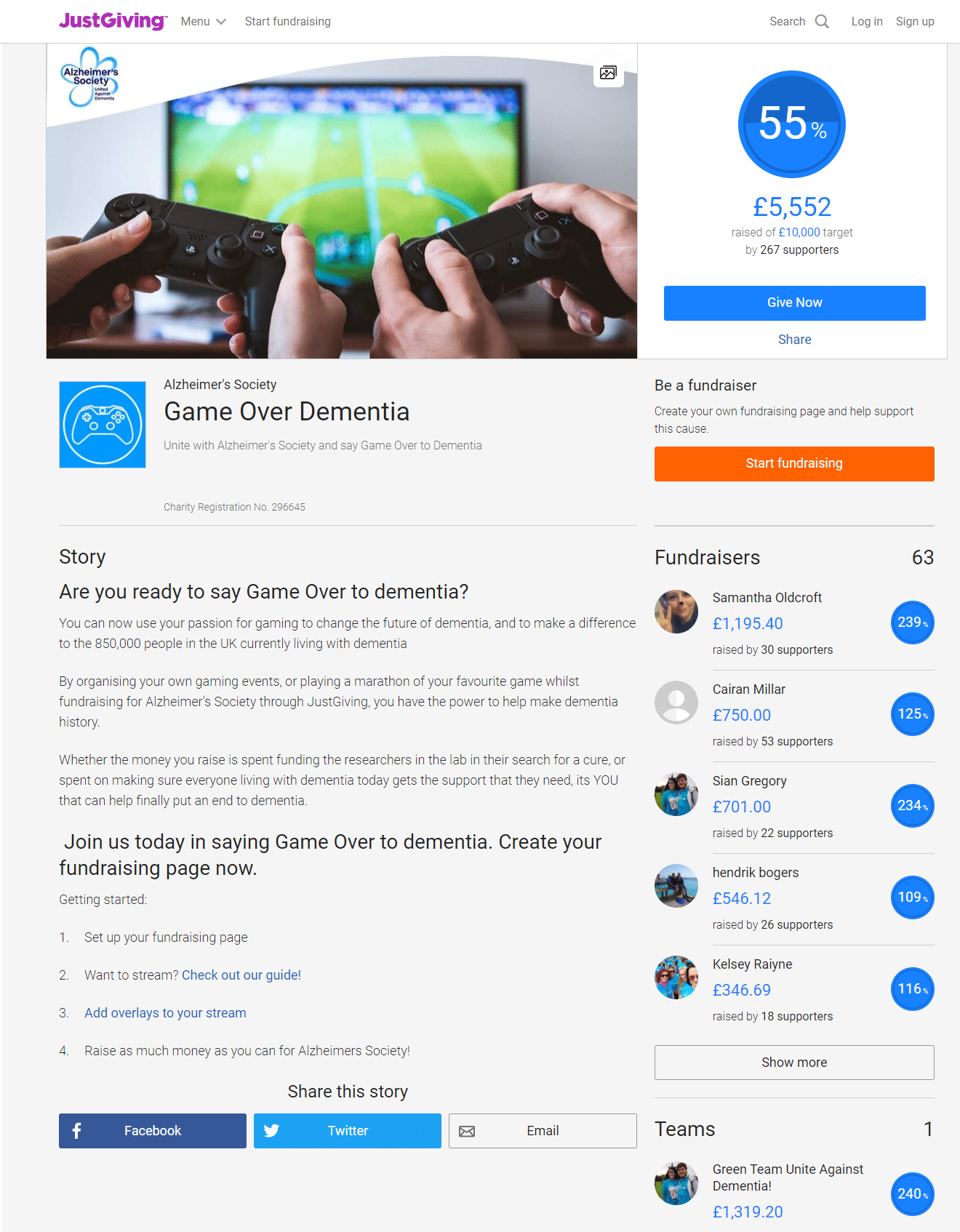 Alzheimer's Society Game Over Dementia Campaign Page is a great example of how you can use JustGiving to launch a gaming event. They used the story area to explain why people should get involved, followed by step-by-step instructions for setting up a page and links to helpful guides. With any event, especially a new one, you should remove any barriers to participation and make it as clear and easy for supporters to get involved as you possibly can.
Let's get gaming!
If you're feeling confident and ready to start putting your own gaming event together, then take the first step by creating a dedicated Campaign Page!
Alternatively, if you'd like to hear more gaming tips and insights, watch our on-demand Gaming for Good Webinar with guest speaker Will Robinson, Fundraising Manager at Become, as he talks about their experience of launching their first ever gaming event during COVID-19.
Get inspiration in your inbox!
Don't miss out on digital fundraising tips, tools and trends.
Toni Gregory is a Content Marketing Specialist and B2B copywriter.