Getting your charity noticed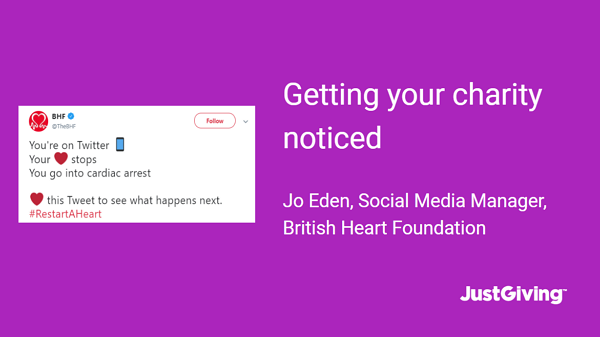 Working for charity, our endgame is to raise the profile of a cause – but that doesn't mean we're not also striving for approval or acclaim in our field.
These are my top tips for getting your charity (and your team) noticed.
Put your message first
When a new piece of technology drops, everyone tends to rush in to be the first to try it out. At the British Heart Foundation, we try to make sure we have a great use case for everything we do, rather than just an acceptable one.
In 2016, Twitter contacted me about working together on a world-first automated response campaign based on the Like button, possibly around fundraising or brand awareness.
I was excited, but we knew we needed something clever and relevant if we wanted people to connect with it in a meaningful way. We suggested CPR, which mirrored the act of pressing on the Twitter heart and would be our main focal point in the media 10 weeks later.
By balancing our objectives with Twitter's ambition, we were able to co-create the #RestartAHeart project. Without that perfect fit of cause and campaign, I don't think we would've been half as successful in the following awards season.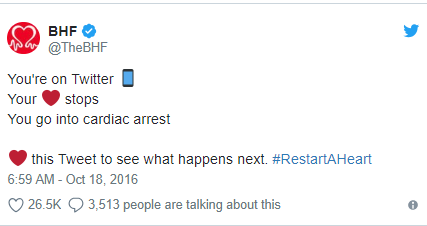 Credit where credit is due
I've never been that great at accepting praise, but if there's one thing I can't stand it's the people who fail to acknowledge the others responsible for a project's success. It's rare to find any successful campaign that's been run single-handedly, so there should never be one person taking the glory.
By recognising the integral role that everyone in a team plays, you build much happier and stronger working relationships. Those relationships not only make work more enjoyable but also more likely to succeed and continually achieve. A charity that manages to surprise and impress the public more than once are much more likely to be remembered and supported.
Don't be afraid to shout
It took me quite a while to realise that awards don't get dropped off at the front desk when you've completed a project – you have to go after them. Look at the big awards that are out there, and check out the past winners. Think carefully about your work and which category seems most relevant, and spend time on your awards entry. Struggling to get internal buy-in to pay an entry fee? If you believe in your work enough, it's worth the effort of convincing your budget holder to support you too.
Keep trying
I'll let you in on a secret: not everything we do at the BHF gets cut through. Sometimes, our 'trendjacking' tweets don't take Twitter by storm, our emotional case study videos don't get millions of shares, and our late hours of selling-in don't result in mass press pickup. When you pour so much of yourself into your work as a lot of charity people do, it's easy to feel disheartened when the public doesn't end up caring to the same degree.
But perseverance is so important and you can learn just as much from the things that don't go right as you can from the things that do. Watch other people's endeavours as well as your own (you'll see those commons issues we all face), never stop trying to problem-solve, and eventually, those lessons pay off.
Get inspiration in your inbox!
Don't miss out on digital fundraising tips, tools and trends.