Gift Aid innovation: JustGiving + Swiftaid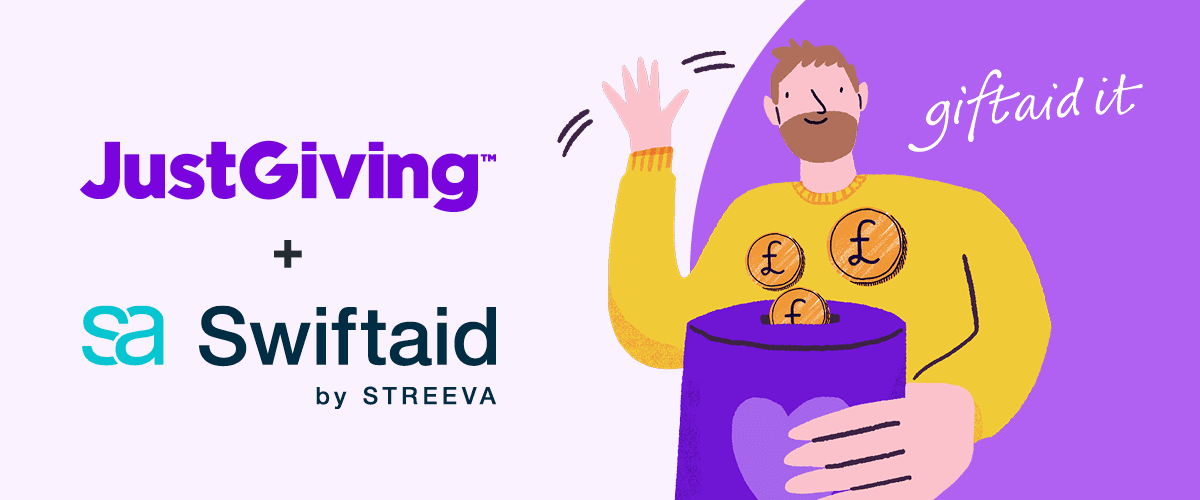 It's estimated that charities miss out on £564 million in Gift Aid every year. For big and small charities alike, processing Gift Aid often comes with a huge administrative burden and cost. And with new donation methods on the rise, such as contactless giving, charities are missing out on more Gift Aid.
It's time for Gift Aid innovation.
Imagine a world where Gift Aid just happened – no guesswork, no paperwork. Charities simply received an extra 25% from the government on all eligible donations from UK taxpayers.
Introducing JustGiving + Swiftaid
Meet Swiftaid. A new Gift Aid network that removes the need for donors to complete a Gift Aid form every time they donate. And with our new Swiftaid integration on JustGiving, we can help you automatically claim even more Gift Aid for your online donations.
Swiftaid. What is it?
Swiftaid is a new Gift Aid network and automation service that has been developed to reduce the £564 million of Gift Aid that goes unclaimed every year.
It removes the need for donors to complete a Gift Aid form every time they donate. Instead, donors simply need to make one Gift Aid declaration per tax year, which is then shared across the Swiftaid partner network.
"Gift Aid is hugely important for our charity and our partnership with Swiftaid will help make the entire claim process simple and easy.

It's reassuring that with Swiftaid's support this will have even more of an impact as we look forward to this year's Red Nose Day."

– Samir Patel, CEO of Comic Relief
Improved donor experience
Swiftaid has now been seamlessly integrated into the JustGiving donation flow, enabling people to register on Swiftaid and add Gift Aid to that donation.
Once registered on Swiftaid, Gift Aid is automatically applied in that tax year to any eligible donations that donor makes via JustGiving (or via other organisations registered on the Swiftaid network).
That means your donors only have to make one Gift Aid declaration on JustGiving per tax year, streamlining their donation experience and ensuring you get Gift Aid on ALL eligible donations.
£400,000 in Gift Aid unlocked on JustGiving
Our partnership with Swiftaid also means we will now double-check, every few months, whether we can give charities a Gift Aid boost, and in the last five months alone over £400,000 has been unlocked for charities in 'missed' Gift Aid.
"Just4Children is delighted that JustGiving, and its partner Swiftaid, with its new technology is enabling us to claim Gift Aid more efficiently and quickly to help our children receive the medical support they urgently need".

– Jeremy Marris, CEO of Just4Children
Find out more about this exciting Gift Aid innovation
Join us on Thursday 14th July at 11am (BST) to hear from David Michael (Swiftaid CEO and Co-founder) and Lauren Levy (JustGiving Customer Success Team Lead) on all things Gift Aid and how our partnership is helping charities raise more.
Get inspiration in your inbox!
Don't miss out on digital fundraising tips, tools and trends.
Sally Falvey has worked in online fundraising for over 10 years, and is the Head of Growth Marketing at JustGiving. She's passionate about helping all charities use the latest technology to be more efficient and raise more money.