Inspiring Giving Tuesday campaigns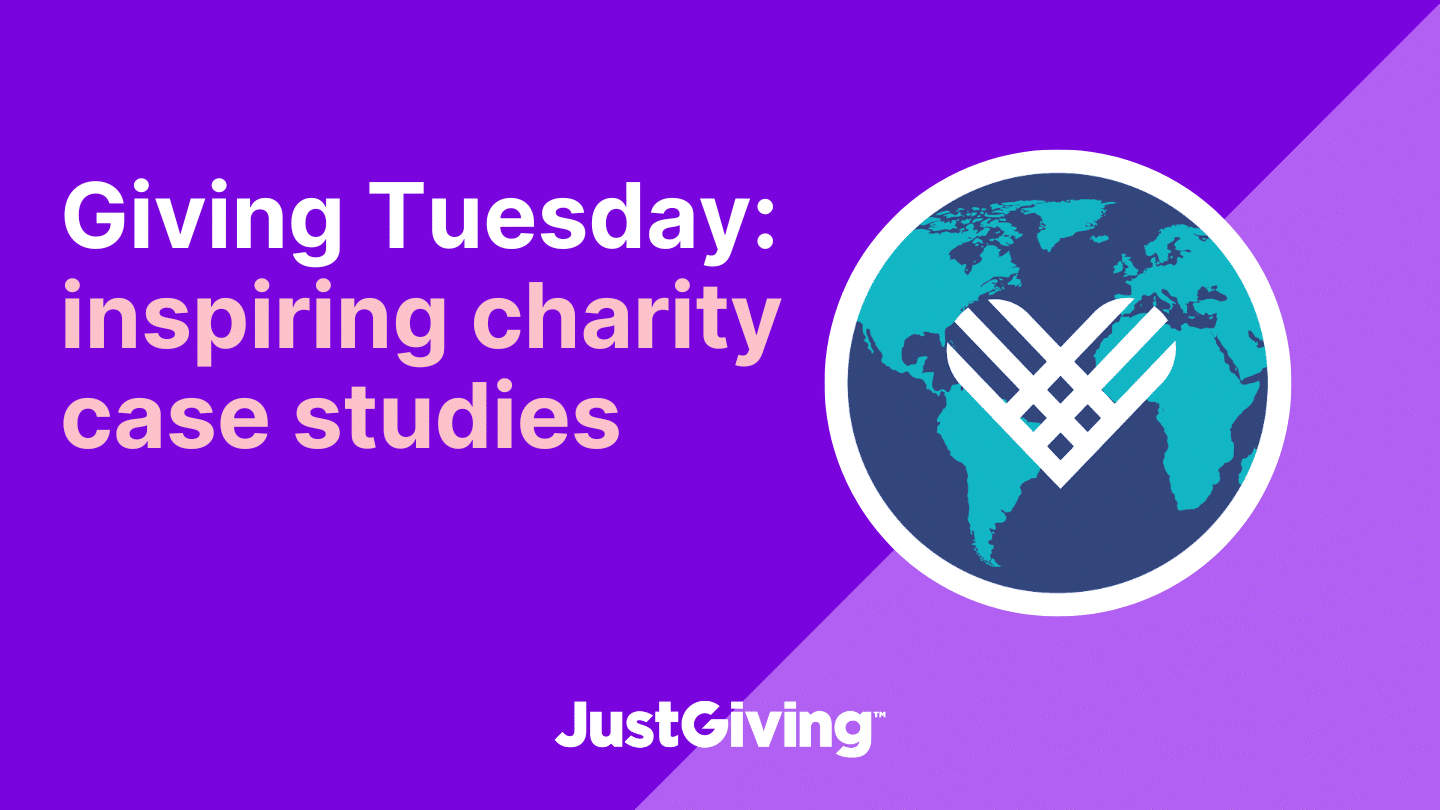 As if by magic, we're already at that time of the year again and #GivingTuesday is upon us. If you haven't already thought about #GivingTuesday, don't panic, you've still got a few days. If you've already got a Campaign Page running (for Christmas maybe?) think of ways to tie in the message of #GivingTuesday in a comms and social media push for your appeal. Have absolutely no idea what #GivingTuesday is? Read on and take a look at our three favourite 2017 #GivingTuesday Campaigns to give you some inspiration…
The Lily Foundation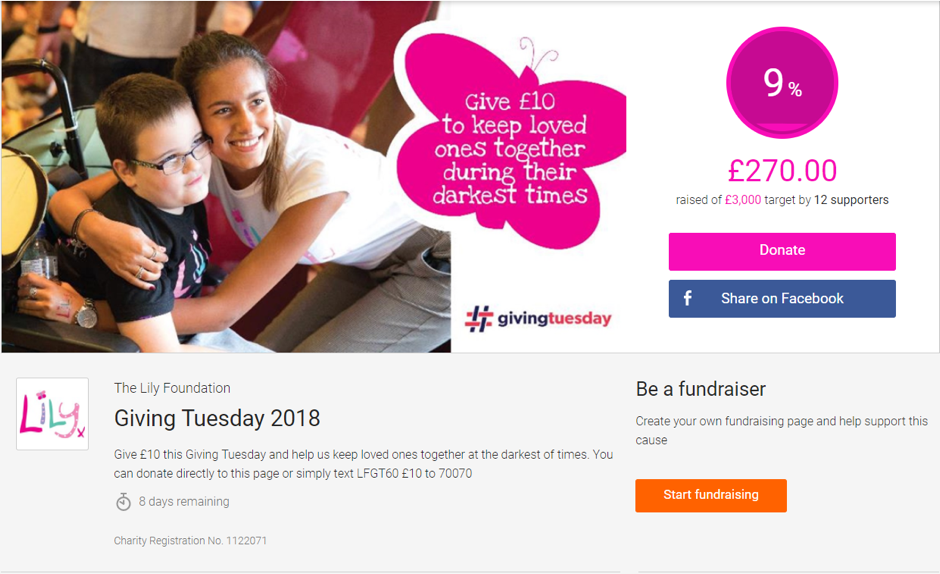 The Lily Foundation funds research into Mitochondrial Disease and other metabolic disorders. Their aim is to help give hope, support and answers to children and families affected by Mitochondrial Disease and to raise awareness. This year their #GivingTuesday Campaign Page asks individuals to enable them to continue to support families during challenging times by providing hospital accommodation. The appeal is already doing so well and we love that they're promoting a JustTextGiving code.
Visit their Campaign Page and for see our resources for creating the perfect Campaign page to find out how you can create a great Campaign on JustGiving.
Handicap International UK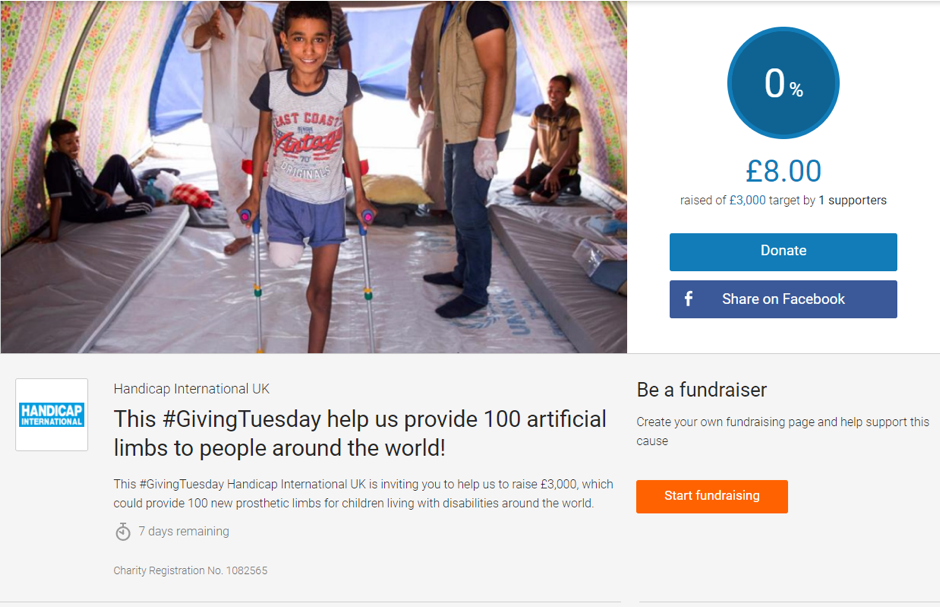 Handicap International UK work tirelessly in 60 countries alongside disabled and vulnerable people to improve their living conditions and promote respect of their dignity and fundamental rights. On the 28th of November this year, they're asking supporters to help them raise £3,000 which will provide 100 prosthetic limbs for children around the word. Take a look at their Campaign Page and read their story about Abdel Rahman, a twelve year old boy, who lost his right leg.
The Global Fund for Children UK Trust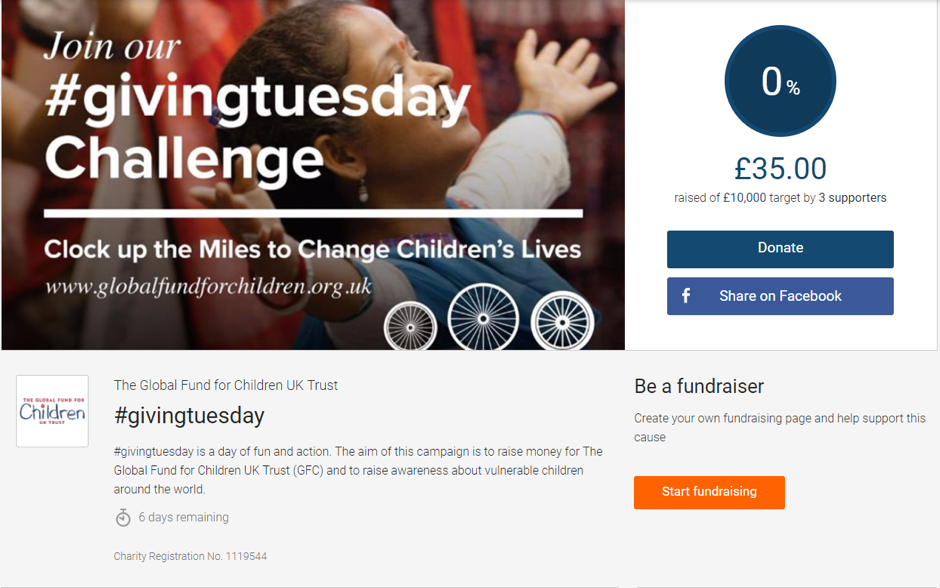 This year is the Global Fund for Children UK Trust's first #GivingTuesday appeal! The charity, which invests in small, locally led organisations that transform the lives of the world's most vulnerable children, is asking their corporate partners, friends and family to take part in their challenge to cycle 18,000 miles in just one day. Their appeal will enable them to support organisations such as Corpoacion Correcaminos in Colombia who tackle issues like school retention and unemployment in local areas. Take part in their challenge and learn more about their work on their #GivingTuesday Campaign Page.
Learn more
If you want to learn more about creating a Campaign Page in time for #GivingTuesday, take a look at our JustGiving Campaign resources.
Get inspiration in your inbox!
Don't miss out on digital fundraising tips, tools and trends.
Evey is a customer success manager at JustGiving working with charities to help them make the most of JustGiving's tools and insights.