Go Contactless with JustGiving + LibertyPay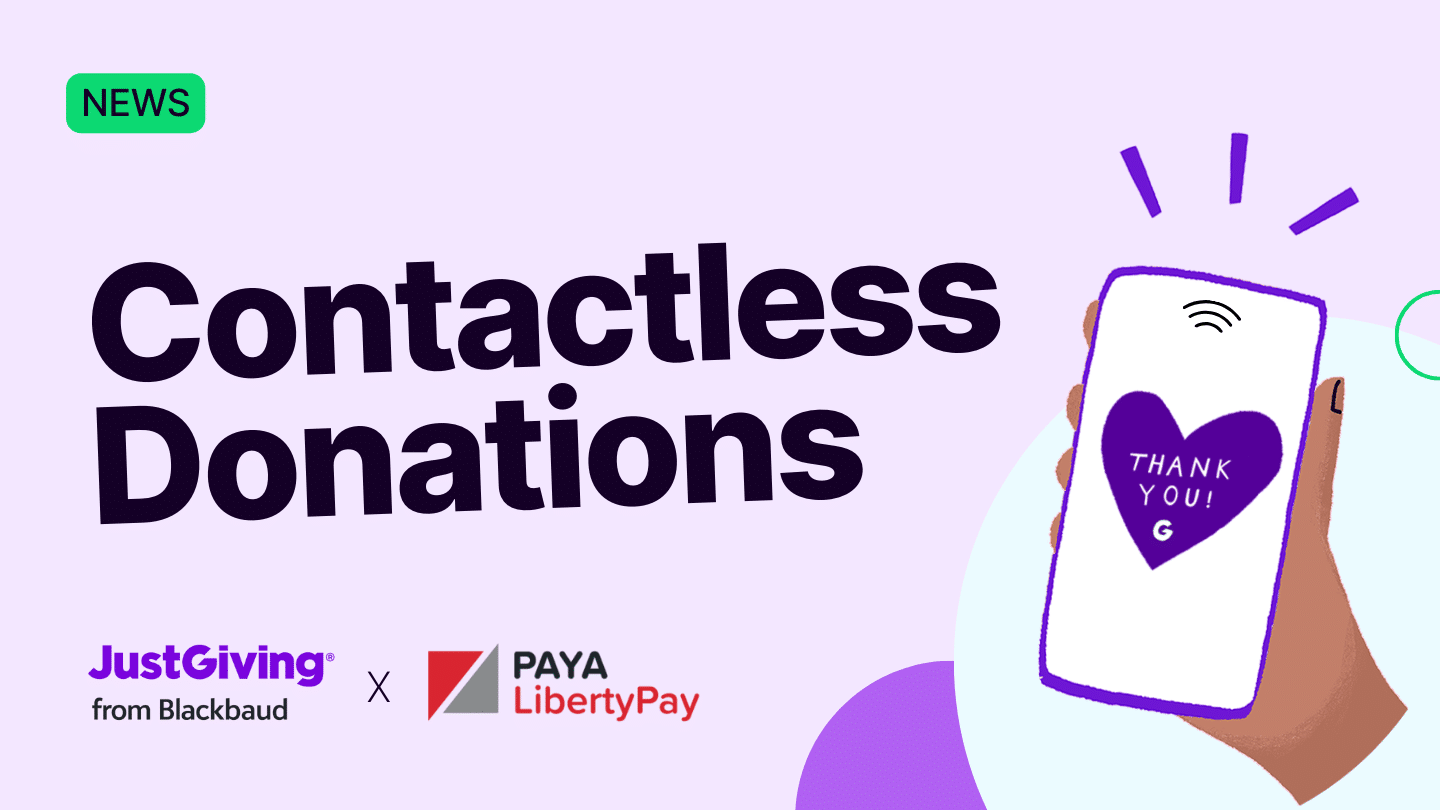 If you're like me, you have your phone in your hand all the time. Maybe even right now as you're reading this.
And I'm not alone: more and more of us use our phones, smartwatches, and other devices for everyday activities like banking, shopping…and donating to charity.
In fact, 80% of donations on JustGiving come from mobile devices! And seeing as nearly 90% of people use contactless payments at least one a month, it's clear people are moving away from cash.
But while contactless payments continue to rise and in-person events return to the calendar, one big question still needed an answer. What are best ways to donate to a charity safely and securely in person?
Enter our partnership with LibertyPay – the best way for your charity to accept contactless digital donations in person, get your reports in an instant, and get your money paid directly to your charity's bank account!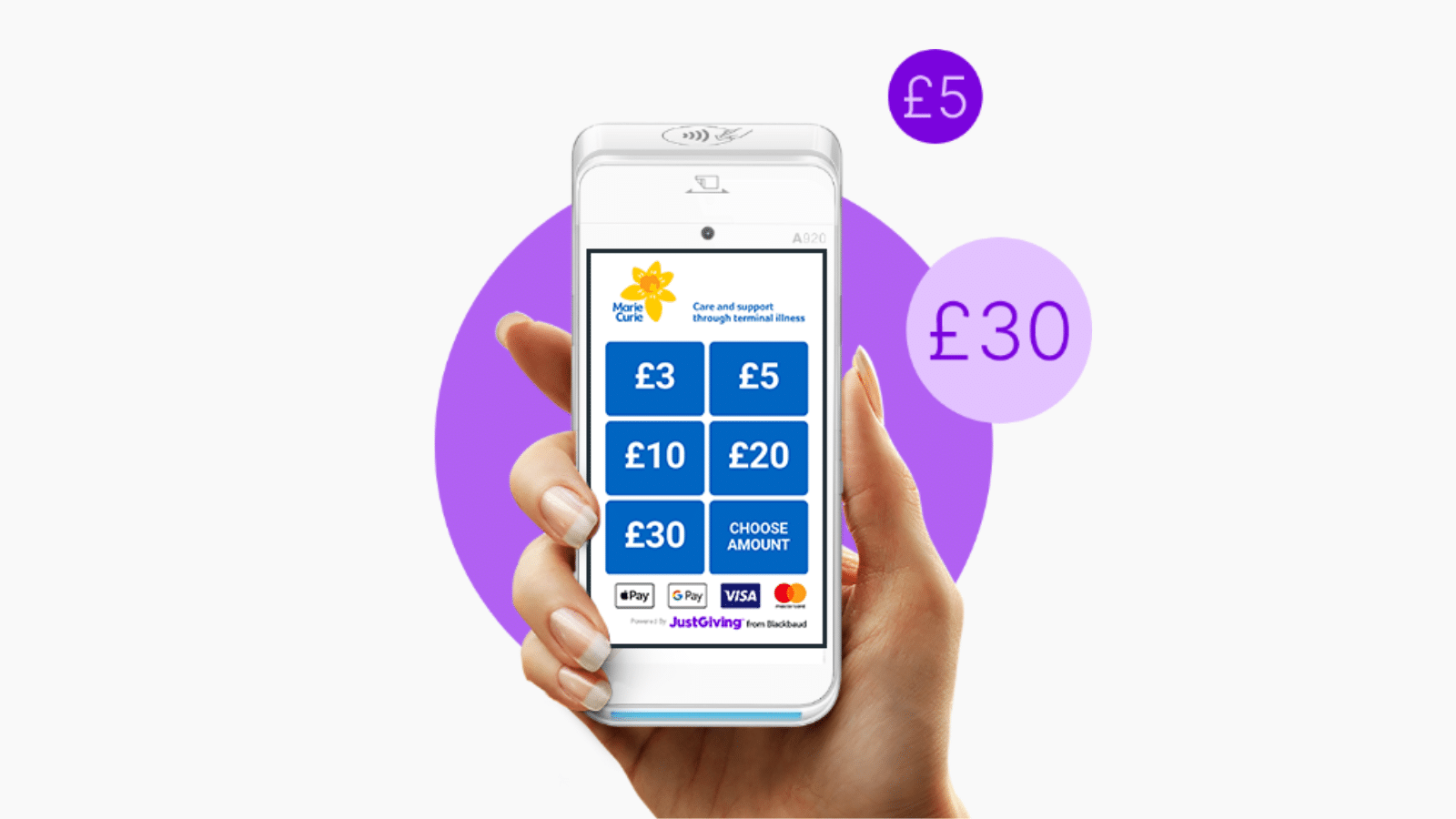 What's contactless fundraising?
Contactless fundraising is like a "digital donation box."
Rather than collecting cash, it lets your charity accept donations in the real world, but through digital devices. With LibertyPay, we've built three simple, fast, and secure ways your supporters can use this awesome technology.
Learn how to get your charity set up with contactless giving now
1. Portable and freestanding donation terminals
With these, people can donate the same way they tap their card or phone at the supermarket. You can let the donor decide how much to give, or set pre-defined donation amounts.
The best part? You can get them pre-linked to your JustGiving account, saving a heap of time and manual work!
Handheld devices are great for in-person fundraising events, or if you serve your beneficiaries at a physical location (like a food bank), you could keep a standup device at your building so anyone can drop by and donate easily.
Check out this creative example by Cancer Research UK. The charity placed a contactless donation device within an advertising board in Birmingham, which took their campaign even further by including messaging that targeted the people most likely to donate!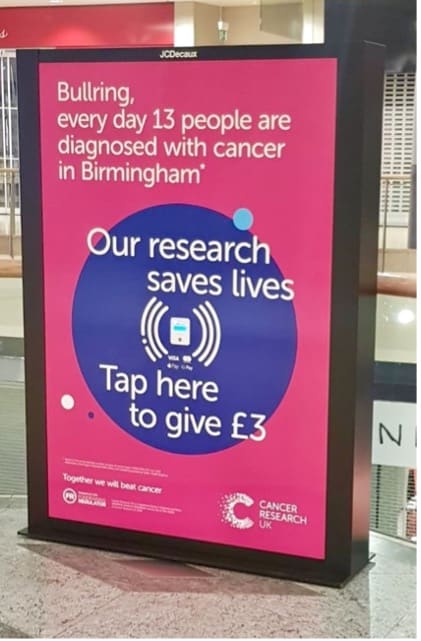 2. QR codes on fundraising materials
Whether you've used them to order from a menu, check in at a local business, or present your ticket at a concert, everyone's familiar with QR codes!
QR codes on printed or digital materials bring your charity's donations online, and the options are endless. Here are a few ways to work them into your strategy:
Print them in your charity's direct mail leaflets
Include them in a booklet of carols at your charity's live music event
Partner with a local restaurant and have table toppers on the tables
Print your QR codes on posters and share them on community centre notice boards
Include your QR code graphic as part of a rotating advert screen at a bus stop
Here's a great example of how to use QR codes to get donations. Myeloma UK and comedian Joe Lycett worked together to raise over £9,000 in total by giving audiences the option to scan using the campaign's QR code at a series of in-person comedy events!
Thanks to everyone who has donated at Joe Lycett's tour so far. Over £1100 was raised at last night's show at in Cardiff🧡

If you're going to a show next week, look out for your chance to donate by popping some money into the bucket collections or scanning the QR code. 1/3 pic.twitter.com/JG53IGSNOV

— Myeloma UK (@MyelomaUK) June 17, 2022
3. NFC tags for ultra-fast mobile donations
NFC (near-field communication) technology is the same tech that works in checkout portals but can be programmed and placed anywhere! And it's built directly into modern smartphones; it's how Apple Pay and Google Pay work wirelessly.

Charities can use NFC tags in their promotional material like signage or leaflets, automatically directing people to your donation page to complete the process.

All donors need to do is hold their phone near the tag!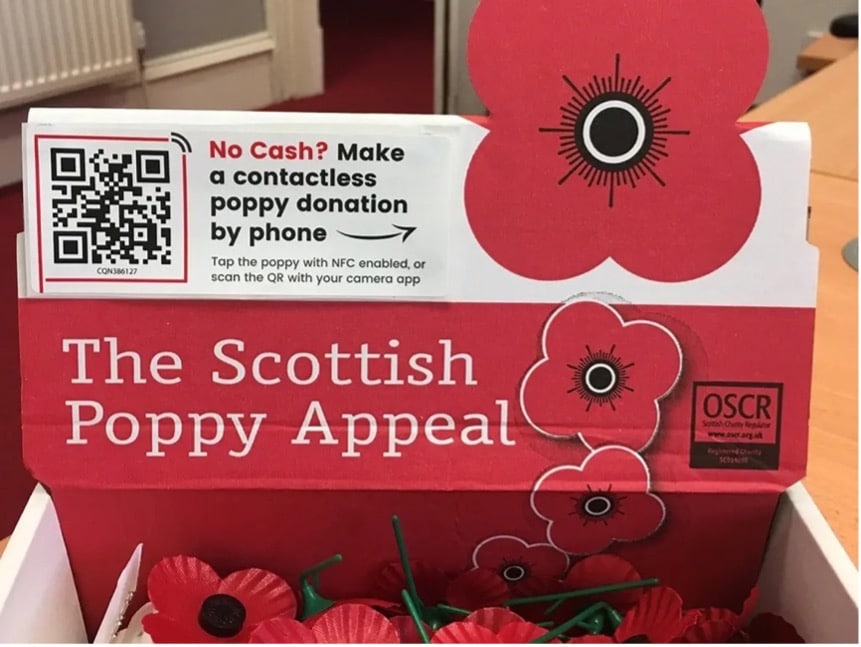 We've partnered with LibertyPay for more than just their market-leading contactless technology. The award-winning LibertyPay team has decades of experience and is dedicated to helping charities drive growth in the way that suits them best.
Why should your charity go contactless?
54% of the public believe contactless options would make donating easier. If your charity joins the movement, it makes it that much more likely for people to give. Plus, it's familiar, fast, and simple. People use contactless every day, and 34% of people expect the UK to be entirely cashless by 2039!
The world of fundraising is evolving, and it's vital your charity moves with it.
In 2018, card payments officially overtook cash payments in the UK. Now, 90% of people of all ages use contactless payments at least once per month!
In our Autumn Insights webinar, 47% of charities said they're already using some form of contactless giving. Check out this chart showing how much it's growing on JustGiving: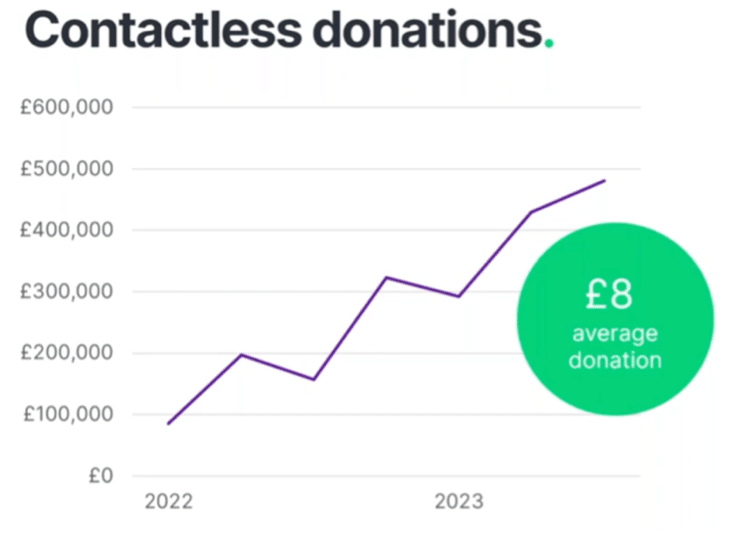 Your donors are ready for contactless giving – are you? Royal Trinity College found contactless giving to be a game-changer:
"This new technology has allowed us to successfully approach high street partners where customers don't handle cash. Those partners would have previously been reluctant to host a coin collection box."

Royal Trinity College, 2019
Go contactless with LibertyPay and JustGiving to make your charity's fundraising easier and more effective.
START ACCEPTING CONTACTLESS DONATIONS
Future-proof your charity
Keep up with donor demand and try contactless giving for your charity. Click Learn more to explore the options, get your questions answered, and book a demo.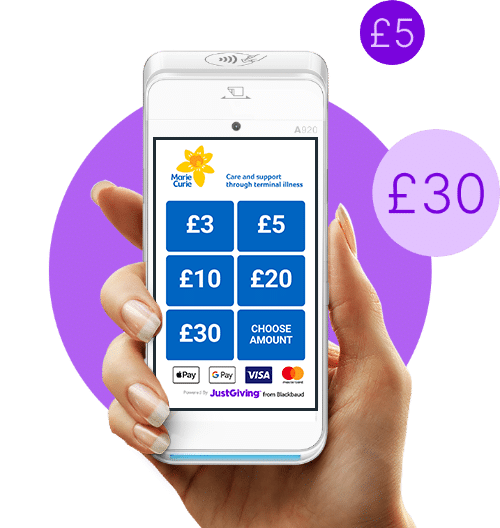 More contactless fundraising resources
Get inspiration in your inbox!
Don't miss out on digital fundraising tips, tools and trends.
Haya Barlas is Head of Product Marketing at JustGiving. She's passionate about bringing people and teams together to launch new products that help charities raise more for their causes.