Great North Run: 3 Mighty Fundraising Page Campaign Examples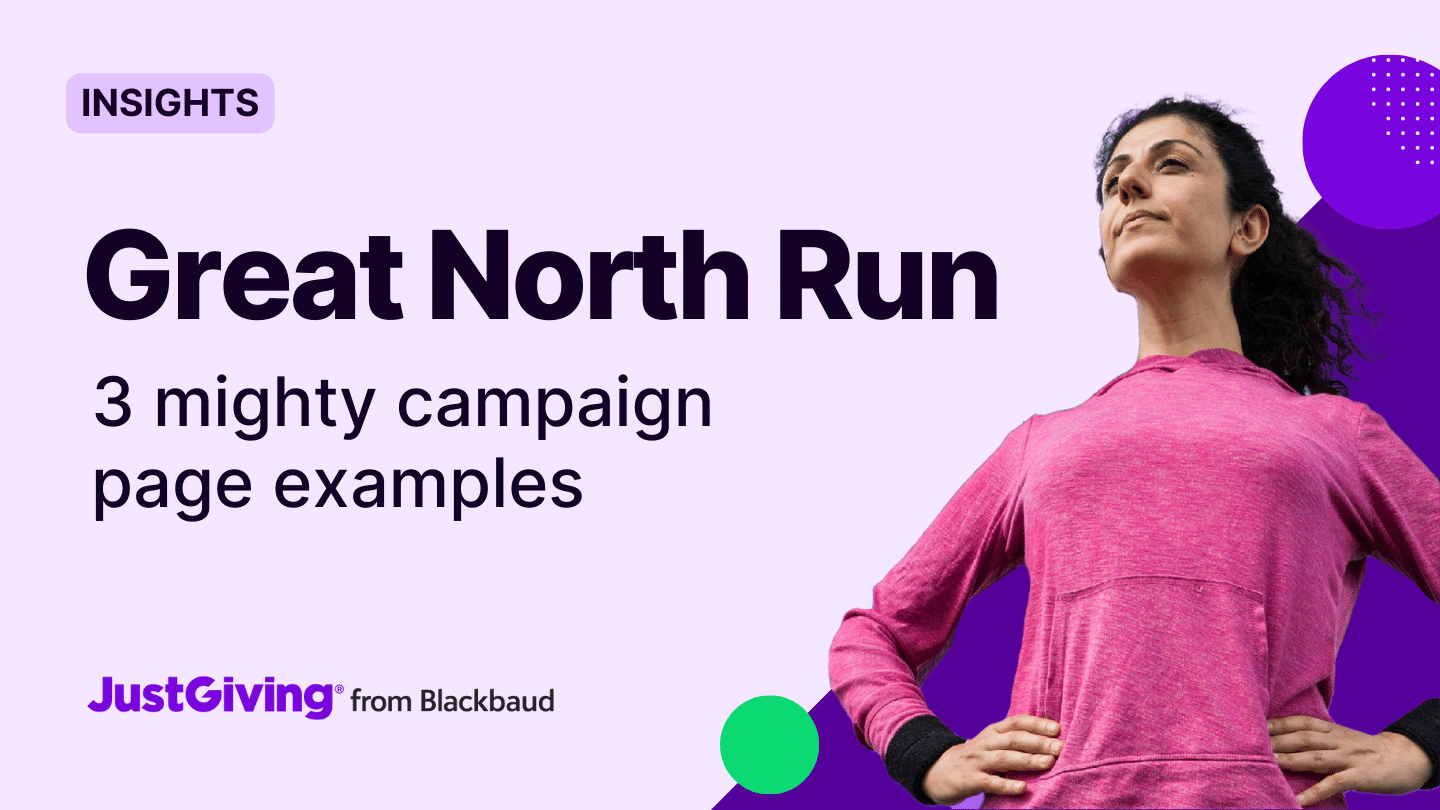 We're excited to share three fantastic examples of charities set up to raise money as part of Great North Run 2023.
Great North Run (happening this September) is known as "the world's biggest and best half marathon." It's a great opportunity for your supporters to raise funds for your cause.
The campaigns we'll highlight check all the boxes (and more) for the most possible donations and engagement!
We'll share…
Screenshots and links to the campaigns (so you can check them out for yourself)
The optimisation features and tools boosting each page's performance
Tips on how you can best use the same to make your campaign stand out too
Let's get started!
Motor Neurone Disease Association
#TeamMND
Motor Neurone Disease Association chose a £50,000 fundraising target, and the team is well on its way! Setting up their campaign page early helped the charity manage their fundraisers all in one place from the start.
That first donation is so important… In fact, the earlier someone gets their first donation, the more they go on to raise! Creating your campaign page early sparks a chain reaction. It encourages earlier fundraising, which leads to earlier donations, which leads to more raised for your cause.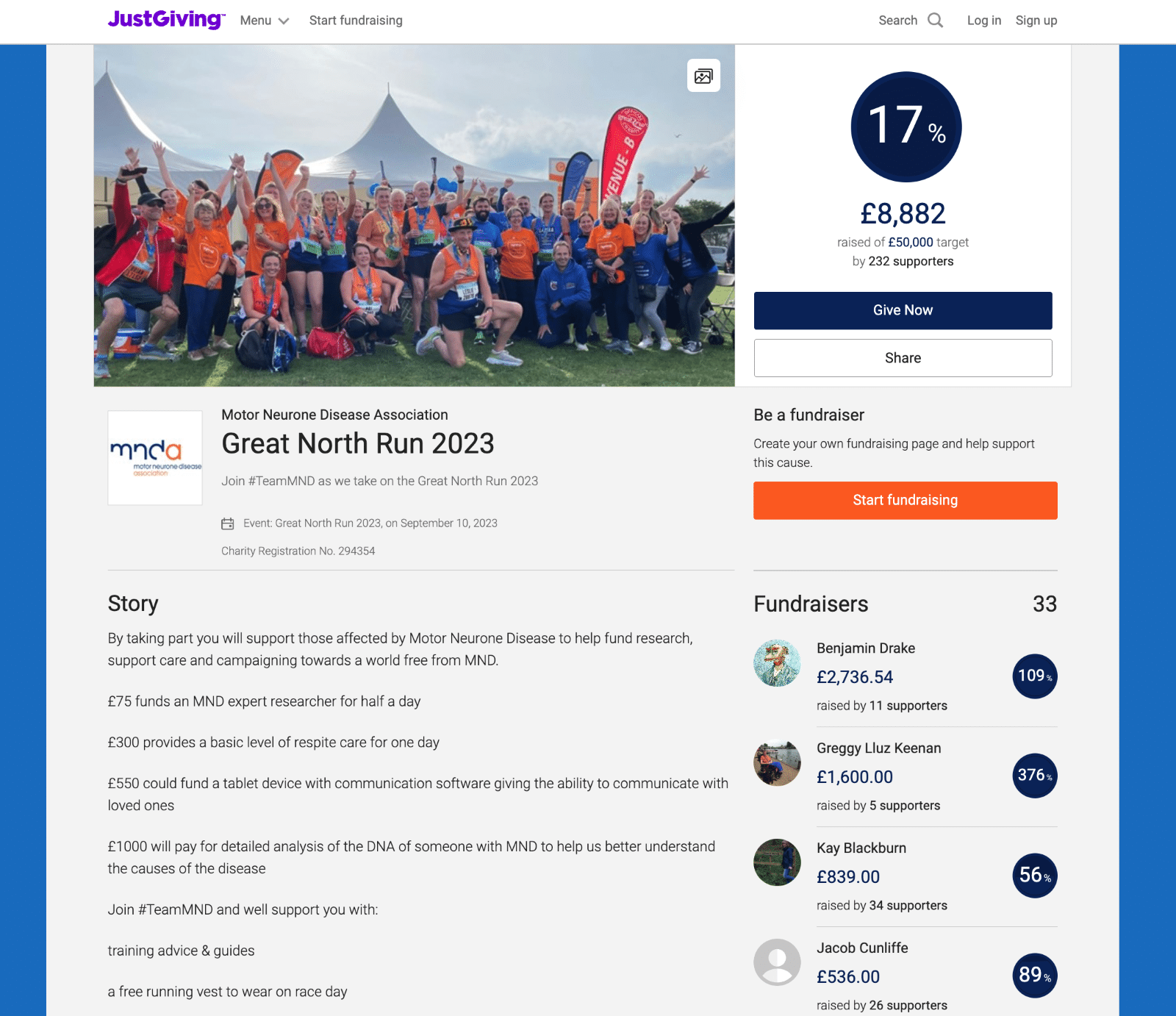 Why this campaign page works

Motor Neurone Disease Association talked specifics in the Story section, listing out exactly what different donation amounts would mean for their mission. Example: £300 provides a basic level of respite care for one day, £1,000 pays for the DNA analysis for someone with MND to help better understand its causes. This helps people contextualise the money they raise.

They've also emphasised how they'll provide participants with training advice, guides, and even free swag for race day to help incentivise their fundraisers even more.
Check out #TeamMND's Great North Run campaign page
Mind
#TeamMind
Team Mind is off to a stellar start for their 2023 Great North Run fundraising campaign and doesn't hold back for their JustGiving campaign page.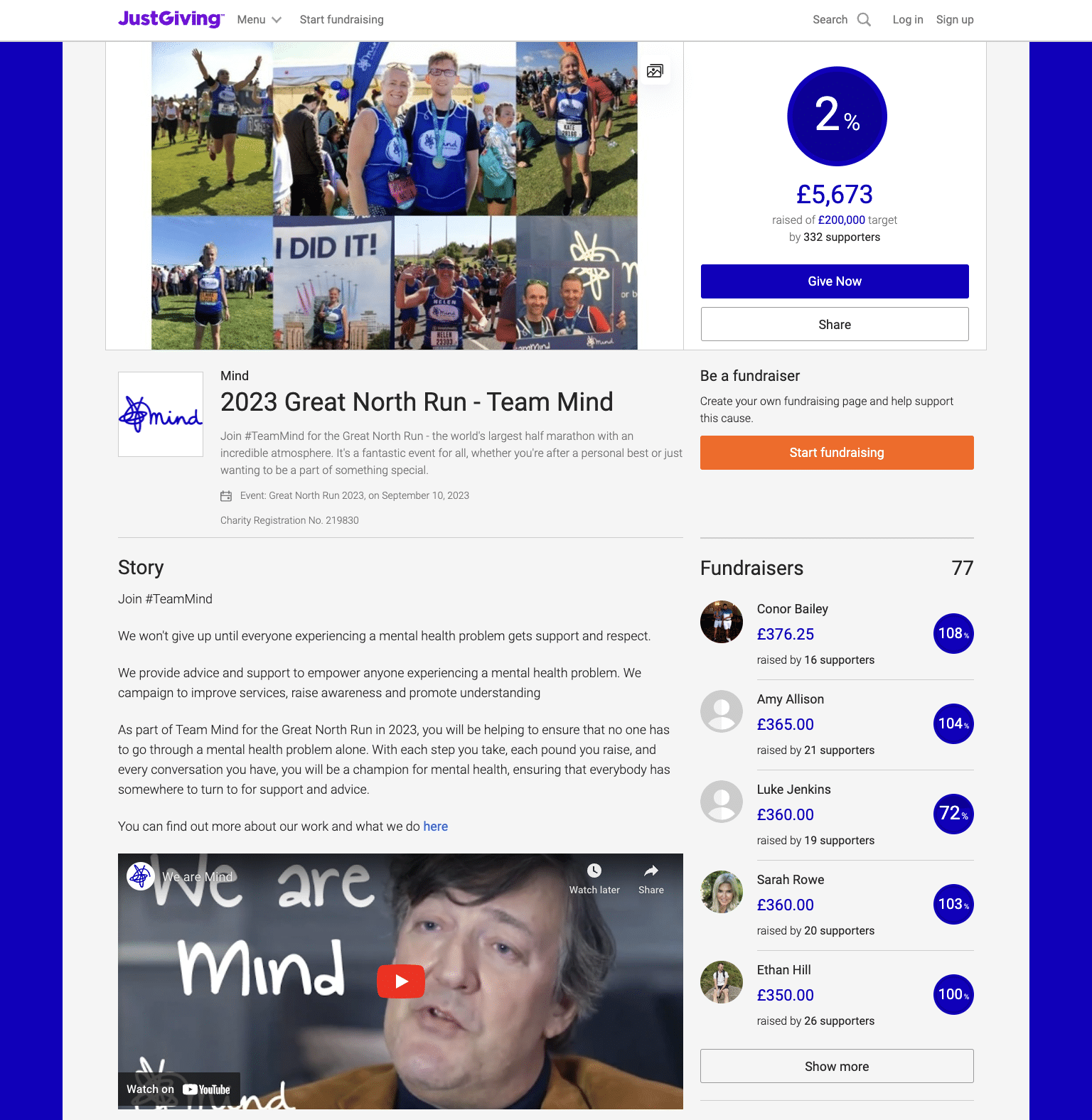 Why this campaign page works
The charity's highlights their supporters by featuring a photo collage of people running for the cause in past events at the top of the page. An excellent way to recruit newcomers and encourage repeat participation!

Mind has embedded a YouTube video, which takes its Story section to the next level. The video is a great addition because it's extra-engaging and shares even more about the charity's impact.
JustGiving's Visual Designer Annabel says, "Your cover photo is arguably the most important part of the page." Check out our expert guide to building your campaign page for even more campaign page game-changers.
Check out Team Mind's Great North Run campaign page
Muscular Dystrophy UK
#TeamOrange
Muscular Dystrophy UK is making every step count by going the extra mile with a JustGiving campaign page.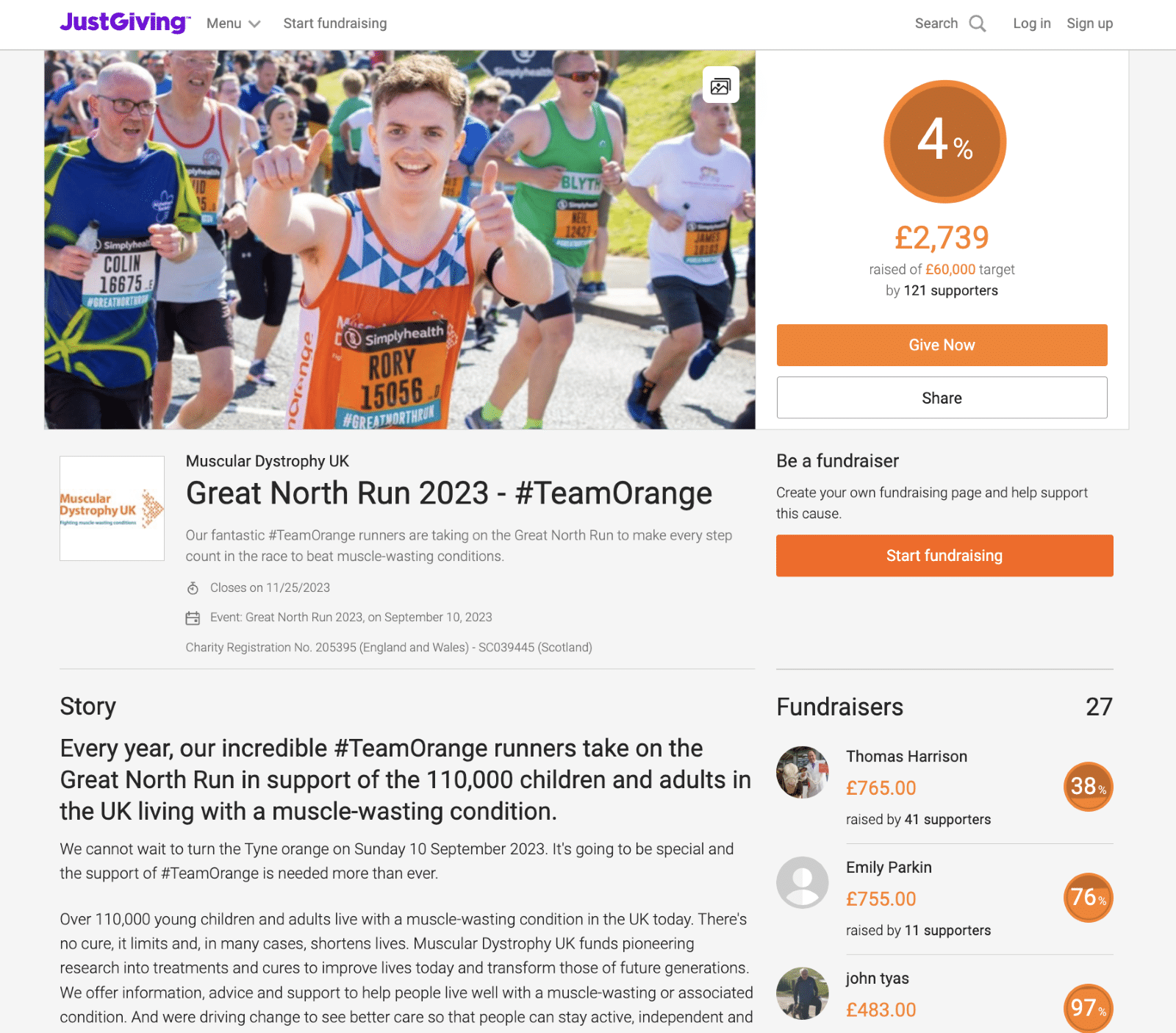 Why this campaign page works

This page instils extra confidence in potential supporters by sharing how #TeamOrange participates in Great North Run every year, raising money for the 110,000 UK residents affected.
The Muscular Dystrophy UK campaign uses the charity's signature orange colour online AND participant jerseys. This helps form the connection between what people see online and what they'll see on race day!
While campaign pages create an incredible sense of community, you can also build your own fundraiser leaderboard to fire up some healthy competition! You'll incentivise fundraisers to reach the top, encouraging them to go out and raise even more for your cause.
Check out Muscular Dystrophy UK's Great North Run campaign page
Launch your Great North Run campaign
Bring your community together for Great North Run and make an even bigger impact.
Learn how to quickly and easily add the event to your account, create your campaign, and start building your community.
Get inspiration in your inbox!
Don't miss out on digital fundraising tips, tools and trends.
Brian's on the Content & Community team at JustGiving. He's passionate about sharing online fundraising education and inspiration to help fundraisers raise more money, build their brand, and grow their cause.